The Best Student Credit Cards of 2023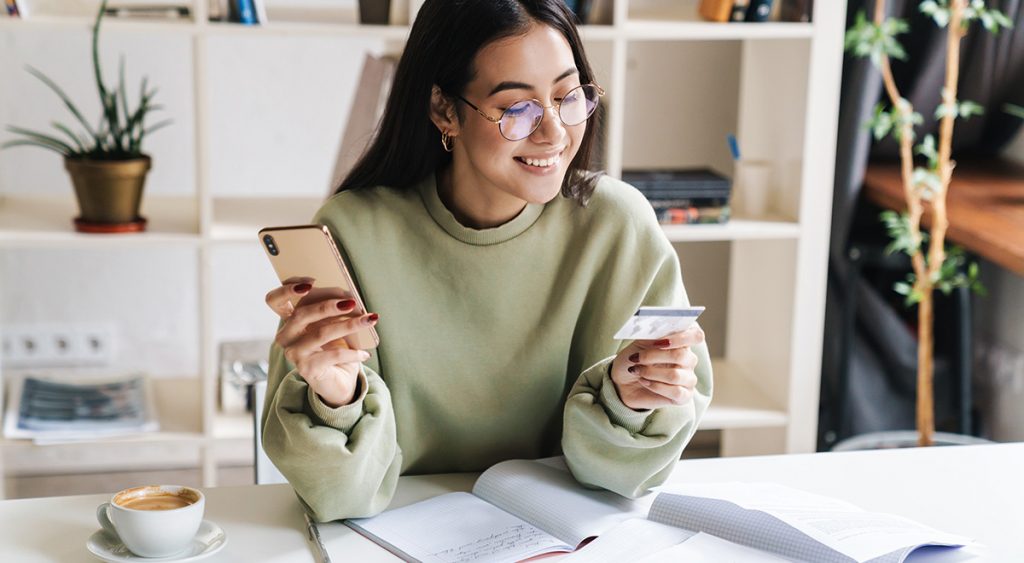 If you're in school and looking to build credit, student credit cards are the way to go.
These credit cards are made to make it easier for students with little to no credit history to build credit.
For the most part:
They function just like regular credit cards, but with higher interest rates.
Higher rates are customary since new cardholders have not yet shown a history of credit usage and repayment behavior.
To qualify for the best credit cards for students, you must be able to show an "independent means" of making monthly payments.
For example, your part-time job can help.
Otherwise, you may need a co-signer. (The co-signer can be anyone over 21, though many ask a parent or other family member.)
As with all credit cards, there are many options to choose from.
In our opinion, here are the best credit cards for students this year:
Best Credit Cards for Students of 2022
| Best Credit Cards for Students | Notable Feature | Who It's Best For |
| --- | --- | --- |
| Capital One Quicksilver Student Cash Rewards Credit Card | Earn unlimited 1.5% cash back on every purchase. | Students who want to earn cash back on their everyday spending. |
| Deserve EDU Mastercard for Students | No foreign transaction fees. | Students who are studying abroad. |
| Capital One Platinum Secured | A secured credit card with an extremely low initial deposit requirement to help rebuild credit immediately. | People who have poor credit and don't have a lot of cash for a big security deposit. |
Deserve EDU Mastercard for Students: Best for Cash Back
Deserve EDU Student Credit Card Pros & Cons
Pros
Cons

Simple cash back program
No annual fee and no foreign transaction fees
Comes with many userful perks for students
The Deserve EDU Mastercard is a simple student credit card with flat 1% cash back rewards on all spending.
Additionally, there are no foreign transaction fees (great for studying abroad too).
It also offers cellphone protection (up to $600) when you use the card to pay your monthly cellphone bill.
The card has no annual fee.
Read the full editor's review of the Deserve EDU Mastercard.
Capital One Platinum Secured: Best for No Credit History
Capital One Platinum Secured Pros & Cons
Pros
Cons

Start with a refundable minimum security deposit as low as $49
Automatic credit line reviews
No annual fee
The is a great credit card for college students with no credit history.
This card has no annual fee, but it requires a security deposit to act as collateral. Use this card responsibly for at least 12 months and you may be able to then qualify for a regular credit card.
Bonus: this card comes with a free credit monitoring tool to help you track your credit score progress as you go.
Read the Capital One Platinum Secured editor's review.
Journey Student Rewards Credit Card from Capital One: Best for Building Credit
Capital One Journey Student Rewards Card Pros & Cons
Pros
Cons

Earn 1% cash back on all spending
Credit line increase in as little as 6 months
No foreign transaction fees
No annual fee
The is a student credit card that helps teach good credit behavior.
Capital One will increase your credit line when you make on-time payments. There's also a free tool that provides a credit score to help students track their credit improvement.
A credit score simulator shows what happens when certain credit activity occurs. For example, a student can see how their credit score changes when they miss a payment, pay off the balance, and more.
Read the Journey Student Rewards Card editor's review.
---
How We Picked
We analyzed more than 20 credit cards that would be appropriate for college students of at least age 18 based on the likelihood of approval and compared their card fees, interest rates, and benefits.
These cards were then ranked according to how each card would provide overall value to the student.
Note: Some of the cards are from advertisers on MyBankTracker, but they are truly the best cards that we'd recommend even if they weren't affiliated partners.
---
How to Qualify for Student Credit Cards
Due to the financial regulations, many college students will still need income or a co-signer to be approved for a credit card.
Credit card companies will view your credit report to see your income or assets and debt. They'll look at things like your debt-to-income ratio and debt-to-assets ratio to assess your ability to repay debt.
Unfortunately, issuers don't reveal the exact requirements needed to become eligible.
When applying for any credit card, including student credit cards, you'll be asked a variety of questions. That could include your annual income, a source of income, and monthly housing costs.
You may also be asked about any liquid assets you have.
Without enough income or assets, you may need a co-signer.
A co-signer agrees to take on responsibility for the card in the event that you miss payments. The co-signer can be anyone who is at least 21 years old with good enough credit to be approved. You could ask parents, guardians, family members, significant others, and friends to co-sign for you.
Why You Should Know Your Credit Score
Many credit card issuers provide ways for customers to track their credit scores (for free). The belief is that people who track their scores are going to be more responsible with their credit.
Although there are many credit scores out there, the FICO credit score is the industry standard.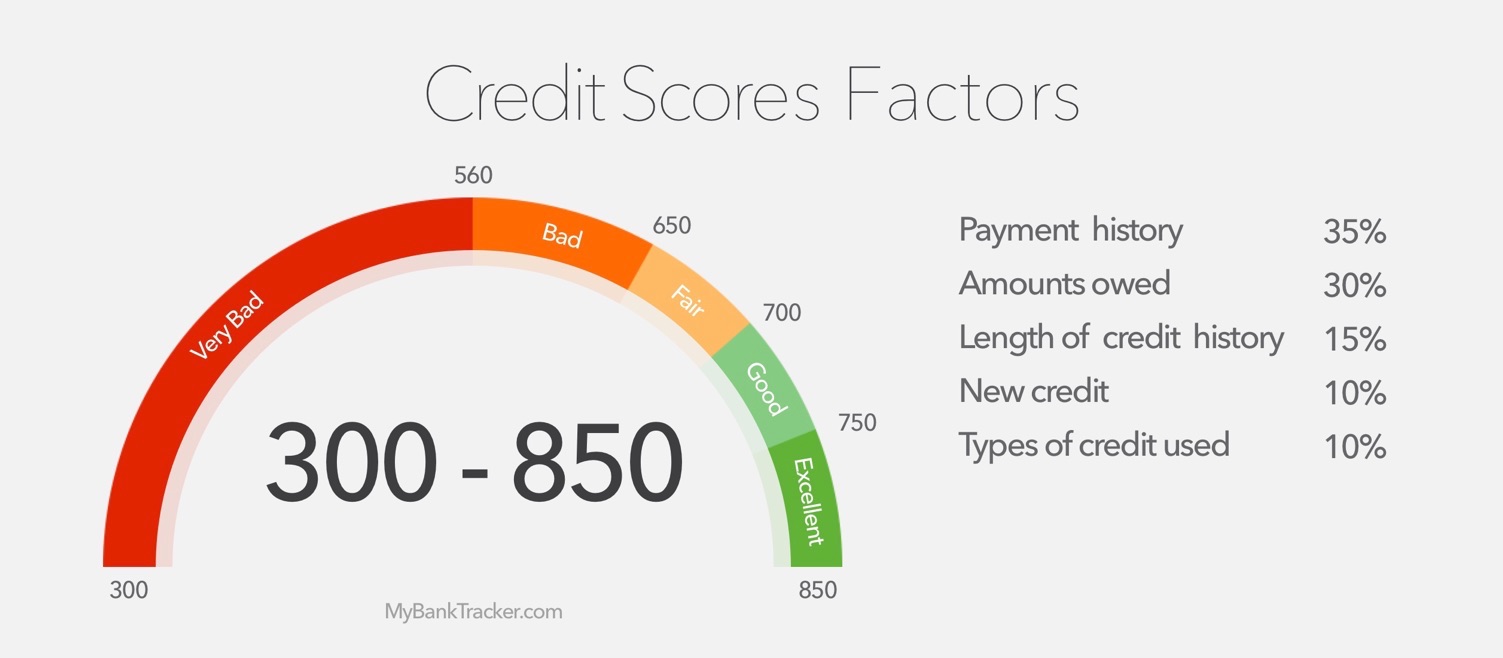 A FICO score ranges from 300 to 850. The higher, the better. This score takes five different factors into the calculation.
Credit Score Ranges and Quality
| Credit Score Ranges | Credit Quality | Effect on Ability to Obtain Loans |
| --- | --- | --- |
| 300-580 | Very Bad | Extremely difficult to obtain traditional loans and line of credit. Advised to use secured credit cards and loans to help rebuild credit. |
| 580-669 | Bad | May be able to qualify for some loans and lines of credit, but the interest rates are likely to be high. |
| 670-739 | Average/Fair | Eligible for many traditional loans, but the interest rates and terms may not be the best. |
| 740-799 | Good | Valuable benefits come in the form of loans and lines of credit with comprehensive perks and low interest rates. |
| 800-850 | Excellent | Qualify easily for most loans and lines of credit with low interest rates and favorable terms. |
So, if your credit score isn't on your credit report, how can you view it?
More and more credit card issuers are giving their customers free access to their scores. This is a great perk for students who want to start building their credit and monitor their progress as they go.
That way, when the time comes, it will be easier to qualify for major loans such as mortgages and car loans. With these major loans, your credit score will make a huge difference not just in your approval, but in how much you'll pay in interest.
APRs on student credit cards depend on credit score
The interest rate you receive on a credit card will vary based on your credit score.
With higher credit scores, you're more likely to get a lower APR. As a student, you may think that you have no credit history because you've never had a credit card before. However, if you've taken out a student loan or a car loan, you're already building credit.
Stick with student credit cards in the beginning. Keep showing positive payment behavior, and you'll move on to an even better credit card with a lower APR.
When you don't pay your card balance on time
If you don't make your minimum payment on time, you'll get charged a late fee. The first time this happens, you might get it waived, but not usually after that. The late fee will vary depending on the credit card, but it's usually capped at $35.
When a late payment is made, the credit card issuer may also decide to hike up your interest rate to the penalty APR. This is not as easy to get waived as a late fee - and it can cost you big. Once you get charged the penalty APR, that becomes your new purchase APR.
If you forget to make a payment on time, the repercussions can be extremely detrimental.
How to Check Your Free Credit Reports
The three major credit bureaus (Equifax, Experian, and TransUnion) are responsible for maintaining credit reports for everyone in the country. If you've never opened a credit card or taken out a loan, your credit report is essentially blank. That means you have no credit history.
A credit score is calculated based on the information on a credit report. They are not the same thing.
When lenders check your credit reports and don't see a history, many of them will be hesitant to give you a credit card or loan.
If this happens to you, a secured card is the best way to go.
Unlike a regular credit card, a secured credit card requires you to deposit cash as collateral. This cash is what makes you more likely to get approved. It acts as insurance for your lender in case you should default. Just like a regular credit card, the secured card is reported to the credit bureaus. It only takes a year or less of responsible usage of a secured card to improve your credit score enough to be approved for a traditional card.
How to Choose and Use Your Student Card
Picking the right major, earning good grades, and carving a career path are some of the most important things a college student can do. And so is building a credit history. Until it comes time to pay student loans, a mortgage, or an auto loan, a credit card is your tool to build credit.
Thinking of applying for a student credit card but still not sure about using credit? Here are a few credit card tips to help.
1. Choosing between low APR and rewards
There is a large variety of student credit cards that offer travel rewards, cash back, or other perks.
However, most credit cards that offer rewards and perks come with higher interest rates. Generally, that's okay if you're able to pay off your monthly balances in full. That's the only way to avoid the danger of high interest charges.
If you don't pay off your balance at the end of the billing cycle, the interest charges you pay can easily outweigh the value of the rewards. Therefore, you'd save more money by getting a low APR credit card.
For many college students who are just starting to learn about credit, it may be wiser to not get a rewards credit card and instead opt for a low-interest credit card.
2. How to pick the right student card
Don't assume that because your credit history is limited that your choices of a credit card should be. Think about what your immediate needs are and how the card can benefit you best.
You could consider a secured card to build credit. Then, you can graduate to a card with more benefits. And don't fall into the trap of thinking you need to have a revolving balance to earn credit.
All you have to do to earn credit is use it - so use your credit card but pay it in full every month. That way you can build credit and avoid debt.
3. Buy small, not big
Speaking of purchases, it can be tempting to put some big-ticket buys on your card.
After all, the money doesn't need to be paid back right away. But this can put you at risk for debt, which can damage your credit score and your financial health.
Instead of using the credit card for big purchases, try using it for small, everyday items like gas and groceries. By keeping your purchases frequent but your balance manageable, you'll be able to ensure that you can pay your bill in full every month.
4. Don't juggle too many cards
Less can sometimes mean more, especially when it comes to credit cards. While it may seem that it's better to have more cards, that's not always the case.
No matter how much you want to impress future lenders, it's more important to create habits that will keep your finances healthy and growing.
It can sometimes be beneficial to have multiple cards for different rewards, but when you're just getting started, keep it simple.
Stick to just one or two for now (perhaps one secured card and one basic student rewards card) and switch them up from month to month and purchase to purchase.