TD Bank Personal Loans 2023 Review: Should You Apply?
Learn more about the interest rates, fees, and benefits of the unsecured personal loans from TD Bank and compare it to options from the top online lenders.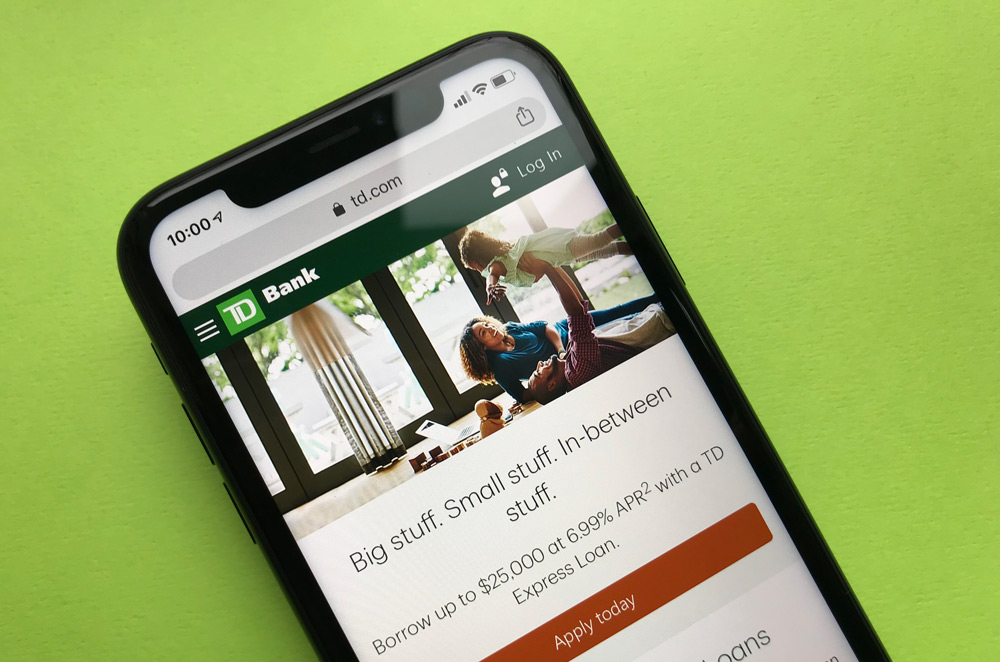 TD Bank Personal Loans Website
When you need to borrow money, there's more than one option for getting cash. Taking an advance on your credit card is one possibility.
But, between the cash advance fee and the higher annual percentage rate you'll pay, it's an expensive way to borrow.
A personal loan, on the other hand, may carry fewer fees and have a lower APR.
Personal loans can be used for just about anything. That includes debt consolidation, home repairs or improvements, taking a vacation, or paying for moving expenses.
Secured personal loans require some kind of collateral. You don't need any collateral for an unsecured loan, on the other hand.
TD Bank, one of the nation's top 10 largest brick-and-mortar banks, offers unsecured personal loans to qualified borrowers.
If you're in the market for a loan, in this review learn what to expect with a TD Bank unsecured personal loan and what you need to do to get approved.
TD Bank Personal Unsecured Loan Highlights
TD Bank Unsecured Personal Loans Pros & Cons
Any time you're looking for a personal loan, there are certain things you'll want to know right off the bat.
Here are answers to the most pressing questions you might have about TD Bank unsecured personal loans:
How much can you borrow?
This is important because it can help you determine whether a loan is going to fit your needs.
TD Bank currently offers personal loans ranging from $2,000 to $50,000.
There's also another product called a TD Express Loan that's designed for borrowers who need between $2,000 and $25,000.
The loan limits are fairly generous for the unsecured personal loan. With $2,000 to $50,000, you could finance needs both big and small.
There are some online lenders, however, that double the maximum borrowing limit to $100,000.
If you need more than $50,000, a loan from TD Bank might not be the best fit.
How long is the loan term?
Aside from knowing how much you can borrow, you also need to know how long you'll have to pay it back.
At TD Bank, loan terms range from 12 months to 60 months, depending on how much you borrow.
The bigger the loan, the longer you can stretch out the repayment to keep the payments manageable for your budget.
Your payment is based on your APR and loan term but the minimum payment is never less than $125.
Remember, the longer it takes to repay your loan, the more you'll pay in interest overall.
What are the minimum requirements to qualify for a loan?
Every bank has certain criteria for approving borrowers for personal loans. Two of the most important things banks look at include your income and your credit score.
The bank will also look at your expenses to see how much of your income goes toward debt each month.
Together, these factors give the bank an idea of how likely you are to repay what you borrow.
Typically, there's a minimum credit score and minimum income needed to get a personal loan.
TD Bank doesn't list a minimum income threshold on their website but there is a specific credit score you'll need for approval.
For both Personal Unsecured Loans and the TD Express Loan, a score of 680 or better is required.
How quickly are loan funds received?
Loan funding times can vary from bank to bank. At TD Bank, the approval process for an unsecured personal loan typically takes about two days.
Once you're approved, the funds are usually made available to you within 7 to 10 business days.
If you're getting a TD Express Loan, the funds are available within 48 hours.
If you need money quickly, the Express Loan might be the better choice for speed. The catch is that you can't borrow as much.
If you need more than $15,000 and time is of the essence, an online lender could be preferable.
Many online lenders can fund loans within a day or two and offer higher borrowing limits to boot.
What are the fees for an unsecured personal loan?
At some banks, getting a personal loan means paying a handful of fees. For example, there's the origination fee, which banks charge to process your loan application.
Some banks also charge an annual fee for each year your loan is in repayment. There may also be a prepayment fee if you pay the loan in full ahead of schedule.
Fortunately, TD Bank doesn't add on any of these charges. The only fee you need to be aware of is the late payment fee. This fee is 5% of the minimum payment due or $10, whichever is less.
An easy way to get around this fee is to schedule automatic payments to your loan each month from your checking account.
Is the APR fixed or variable?
This is an important question because the answer can determine how much your loan costs.
A variable rate loan has an APR that's tied to a market index, like the Prime rate. If the index rate increases, the APR on your loan also goes up. This kind of loan can be less expensive when interest rates are low, but cost you more if rates climb.
A fixed rate loan, by comparison, has an APR that stays the same for the life of the loan.
The TD Bank unsecured personal loan is a fixed rate loan. That means your monthly payments are always predictable and you can calculate the interest costs up front. That's helpful as you compare the APR other lenders are offering.
TD Bank Personal Loan Calculator
Get a Discounted Rate as a TD Bank Customer
If you have a checking account with TD Bank already, you can score an interest rate reduction on a personal loan.
Your rate is discounted by 0.25 percent when you schedule automatic payments to the loan from a TD Bank checking or savings account.
Your APR is based in part on your credit score so a discount can be valuable if you don't qualify for the lowest rates.
Getting Approved for a Personal Loan With TD Bank
There are a few basic things you'll need to apply for an unsecured personal loan with TD Bank. They include:
Your Social Security number
A list of your expenses, including your mortgage or rent payment
Your employment history and income, including bonuses, overtime, and income from other sources (such as child support, alimony or a side hustle)
You can fill out the application online and it takes about 15 minutes. Once you've submitted the application, a TD Bank loan specialist should contact you within one business day.
Getting approved for a loan
Applying for a personal loan doesn't guarantee approval. If you're hoping to get a personal loan from TD Bank, here are some tips for making your application as strong as possible.
Check your credit report and score
Before you fill out your application, take a glance at your credit report and score.
Remember, you'll need a score of 680 or better to get approved. If your score falls below that mark, you'll either need to work on improving it or consider a different lender.
Also, check your credit report for errors that could be dragging your score down.
If you spot any, don't hesitate to dispute them with the credit bureau that's reporting the information.
Check your debt to income ratio
Your debt to income ratio (DTI) is the percentage of your income you're spending on debt repayment each month. The lower this number is, the better.
If you've done the math and you're spending 30, 40, 50 percent or more of your income on debt, you'll likely have a harder time getting a new loan.
Paying off a credit card or two first could help reduce your DTI ratio and increase your approval odds.
Scale down your other expenses
Besides paying down some of your debt, you may also want to think about reducing some of your other expenses.
When you have less money going to expenses, that leaves you with more disposable income. That, in turn, puts you in a better position to repay a personal loan.
Get organized
TD Bank streamlines the application process by letting you apply for a loan online but you still need to be prepared.
Get all of your paystubs and tax documents together, and write out an accurate list of your expenses beforehand. This way, you don't run the risk of leaving out something important that could affect your chances of getting approved.
Comparing Your Personal Loan Options
TD Bank isn't the only bank that offers personal loans. You shouldn't commit to any loan until you've had time to consider what other lenders bring to the table.
As you compare lenders, here's what you should be focusing on:
APR - Is the APR fixed or variable? Are rates tiered, based on how much you borrow? What's the APR range?
Fees - Is there an origination or annual fee? How much is the late fee, if any? Will you be penalized if you pay your loan off early?
Speed - How long does it take to apply for a loan? How long is the processing time? If you're approved, when will you have the money?
Amount - What's the least and most you can borrow? Can you take out more than one loan at a time?
Terms - How long will you have to repay the loan? Can you choose your loan term or does the bank pick one for you, based on what you borrow?
Final Verdict: Is TD Bank the Right Lender for You?
An unsecured personal loan from TD Bank might be more appealing to some borrowers than others.
If you're already a TD Bank customer, for example, the interest rate discount might catch your eye.
Overall, this loan is better suited for borrowers who have a strong credit score and don't object to waiting a week or more to get loan funding.
If you need funding faster, want to borrow a larger amount or don't meet the minimum credit score requirement, you may want to check out a different lender instead.