The Best Mobile Apps to Track and Split Group Expenses
Find out which mobile apps are the best to help you, your friends, and family keep track of and split group expenses so that everyone pays their fair share.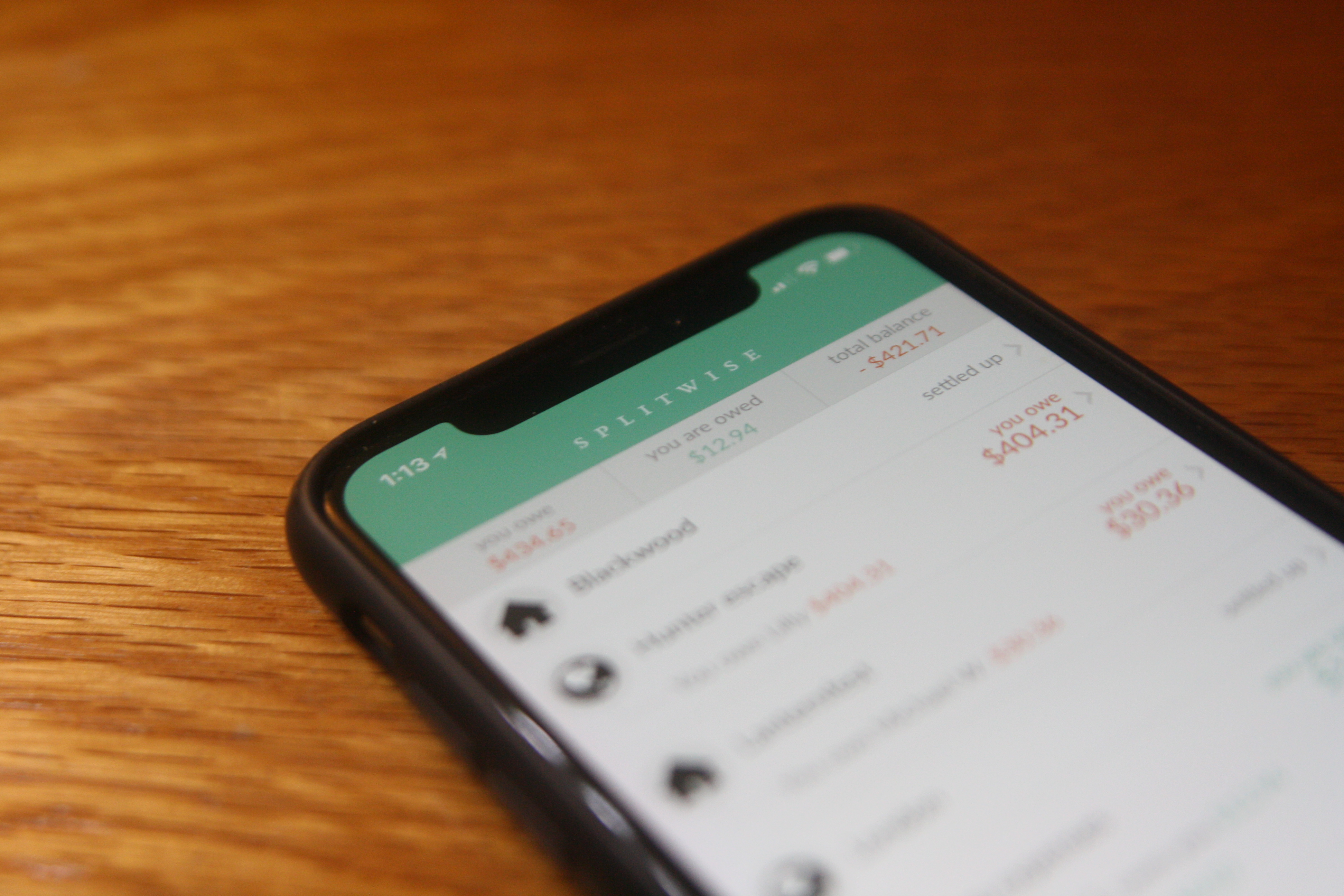 Going out with friends for a meal or drinks can be fun, but dealing with the bill at the end of the night can be a headache.
Figuring out who owes how much and collecting all the money is difficult.
Thankfully, there are a number of apps designed to make it easy to track and split group expenses.
Splitwise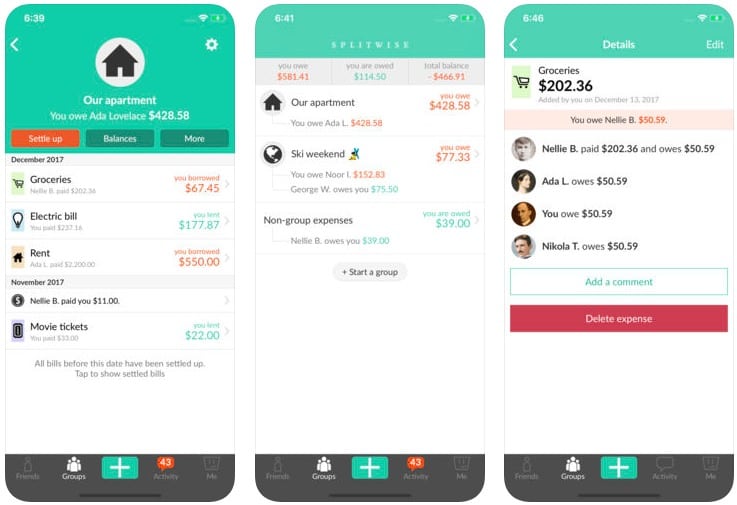 Splitwise is a great tool for splitting expenses with individuals. It does not work as well when splitting expenses with a group of people.
You can download Splitwise to iOS and Android devices, or use its website, making it easy to access. Once you open the app, you'll be prompted to enter the name of the person you're splitting expenses with. Once you've entered a name, simply enter a description of the expense and the amount.
Splitwise will evenly split the expense and keep a record of it. If you want, you can manually set how much of the expense to split, or add an image of a receipt.
Splitwise keeps a running tally of expenses and calculates who you owe and who owes you, along with how much each person owes. You can settle up from the app using PayPal or Venmo, or just tap the settle up button when you are paid some other way.
Splitwise is free to use, which makes it a great choice for people who want a simple way to split joint expenses.
Splittr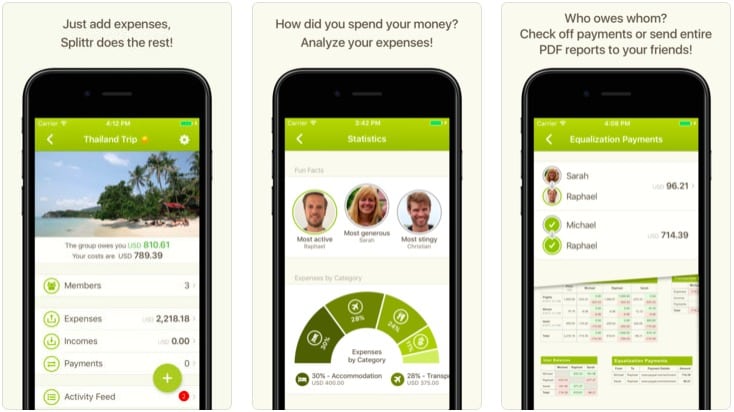 Splittr is a free app available on iOS. It's specially designed to help larger groups split expenses.
When you install the app, you will be prompted to create an account, though you can decide to continue without one.
Once you've opened the app, you can create groups of people that you regularly split expenses with. For example, you might have one group for your roommates and another for your coworkers. You can add people to these groups, even if they don't have Splittr.
If your friends do have Splittr, you can invite them to the group so everyone can track their expenses simultaneously.
Each time you make a purchase, enter it in the app and indicate which members of the group are involved. You can also enter each time you receive payment from someone in the group.
Splittr will track how much you've spent, how much your group owes you, and the amount each individual owes.
Because everyone in the group gets to see the same information, it makes it easy for people to settle up individually if different members cover bills on different occasions.
Evenfy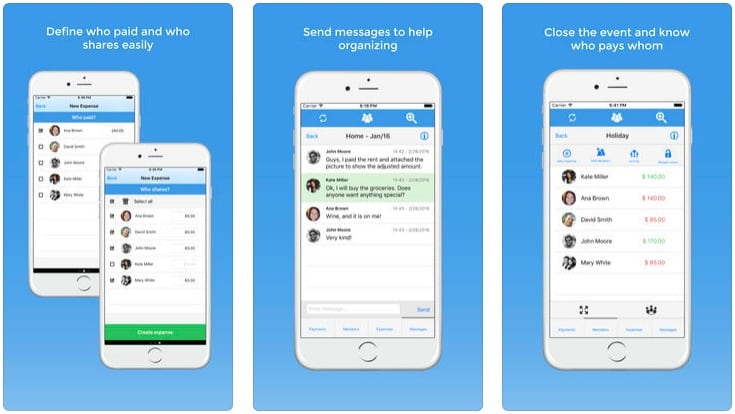 Evenfy is another app that focuses on group expenses. It is available for both iOS and Android phones. You can also access the app from your PC or tablet.
When you open the app you can set up groups for splitting expenses over the long term, or events for short-term expense splitting. You can add expenses to your group or event, and upload pictures of receipts to keep records of what exactly was purchased.
The app will automatically create a ledger that tracks people's balances over time. Evenfy will also learn about common group expenses and make suggestions so you don't forget the recurring expenses.
If you need help figuring out the best way for all the members of a group to settle up, Evenfy will calculate the easiest way to get everyone's balance to $0.
Evenfy is free to use, but after six months you will be limited to track 10 expenses per month. To get full access to Evenfy with unlimited expense tracking, you'll have to pay $.99 per month.
Tab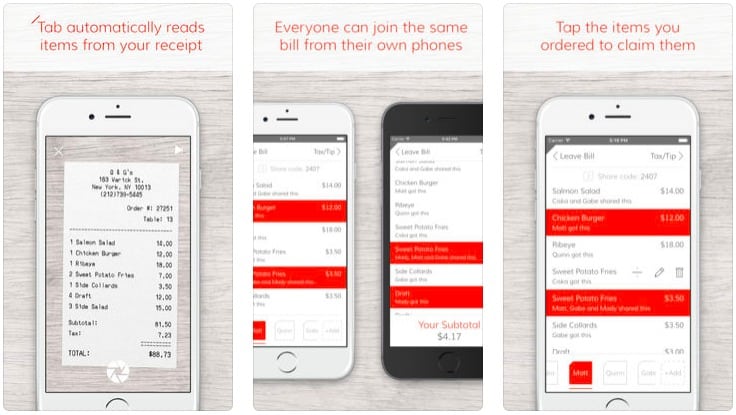 Tab is an iOS and Android app that helps people split restaurant bills.
When you get your receipt at a restaurant, use Tab to take a picture of the bill. Enter the name of everyone at the table, then assign each item on the bill to the person who purchased it.
Tab will automatically calculate how much each person owes based on what they purchased.
Enter the tax and amount you'd like to tip, and Tab will calculate how much each person owes too.
That makes it easy for people to pay exactly what they owe when they go out to eat.
What to Look for in an Expense Splitting App
When choosing an expense splitting app, there are a few things to look for.
First, you want to choose an app that is easy to download and sign up for.
These apps work best if everyone involved has the app, so making it easy for your friends to start using them will be key. Choose an app that has simple or no registration requirement.
You'll also want to choose an app that makes it easy to settle up.
Look for apps that let you settle up in the app, or calculates the simplest way for a large group to settle up.
Tips for Using an Expense Splitting App
If you want to use an expense splitting app, follow these simple tips.
Inform the group of expense-splitting
Money can be a very touchy subject for a lot of people. Even the closest of friends can feel awkward when discussing money, so make sure to avoid springing anything involving money on your group.
Bring up your plan to use an expense splitting app before the expenses occur.
Let everyone know which app you plan to use and how you plan to split the expense.
For example, will the restaurant bill be split evenly or based on what each person ordered?
This can help avoid any surprises and bad feelings within the group.
Letting everyone know ahead of time also means you can decide which app to use as a group.
If everyone feels like they had some part in deciding how to handle splitting expenses, they'll feel better about the whole process.
Announce different ways to send/receive money
If you're covering an expense and want to be paid back, make it as easy as possible for people to send you money. These days, there is no end to apps that people can use to transfer money, so you should be familiar with the options.
Zelle is one easy way to transfer money among friends.
Most major banks have Zelle built into their checking accounts and online apps. You can send money using Zelle, even if the recipient hasn't set Zelle up. The recipient will be notified of money waiting to be claimed and prompted to set up a Zell account.
The best part of Zelle is that there are no fees and the money moves from one account to the other very quickly. Other than cash, it's one of the quickest ways to transfer money.
You might also want to set up accounts with apps like Venmo, Square Cash, or PayPal. Each of these apps lets people transfer money electronically and brings different benefits and drawbacks. The more options you give people to pay you, the quicker you will get your money.
Of course, some people still like using cash. Keeping some cash on hand -- so you can provide change as required -- is a good idea.
Offer to pay (and earn credit card rewards)
If you have the opportunity, try to be the person who pays for expenses up front. So long as you trust your group to pay you back, being the person to cover a bill can be lucrative.
Rewards credit cards offer cash back and points every time you make a purchase. Some cards offer as many as five points per dollar spent. These points can be redeemed for cash, gift cards, electronics, home goods, and travel. If you use the right card when covering your friends' expenses, you can rack up a lot of reward points.
This is also a great way to reach the spending requirements for credit card sign-up bonuses.
Conclusion
Because it is pretty common to have to split expenses, people are constantly running into this "chore."
Using an app can make the process much easier.
Choose an app that will help you split expenses with groups of people, and that makes it easy to figure out how to settle up.