What to Do When the ATM Eats Your Check After an Unsuccessful Deposit
Find out what steps you should take right after an ATM steals your check after it couldn't complete the deposit successfully.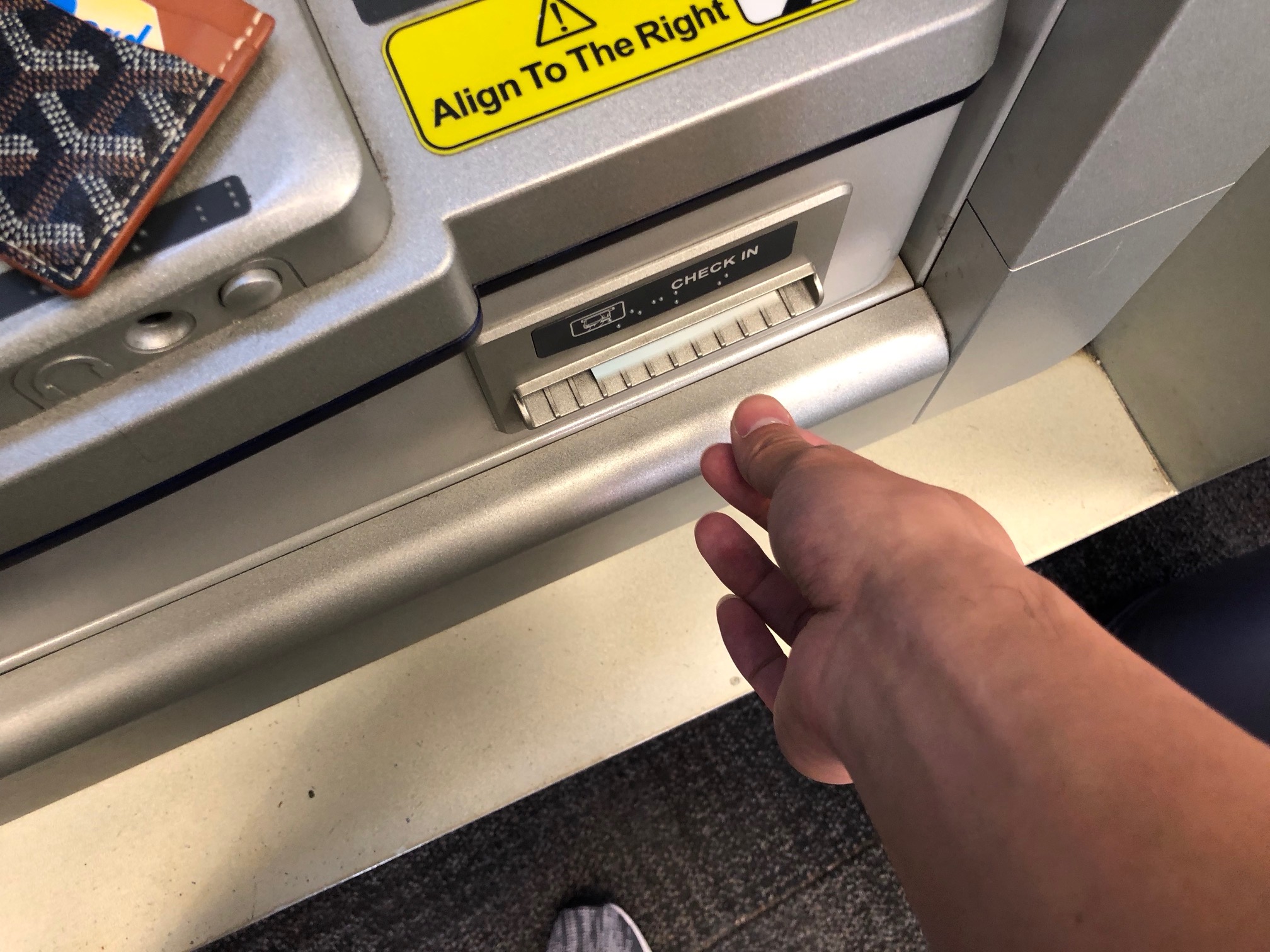 ATMs are historically very reliable machines, with billions of dollars in transactions completed each year in the U.S.
When a deposit or withdrawal is not completed, and either cash, an ATM card, or a deposit is lost, the banking customer may experience frustration, the inconvenience of not having access to funds or possibly even identity theft.
One type of failed ATM transaction that can cause a major headache is a failed check deposit.
Paper Checks Still Used to Make Deposits
There are no statistics published for the frequency of ATM deposit malfunctions, and banks aren't exactly proud to disclose how often these malfunctions happen.
However, we know ATM deposit loss does happen from time to time because lots of consumers have complained about it.
Most major bank ATMs have eliminated the use of envelopes at ATM. This transition reduced paper waste and more significantly, eliminated a common type of "empty envelope fraud" where criminals would put empty envelopes into an ATM in order to get fast access to large amounts of cash.
New envelope-free ATMs would scan cash and check deposits in real time.
By creating an immediate image of the check, banks were able to verify deposits in real time.
However, these envelope-free ATMs also eliminated the eventual human reconciliation and verification.
When ATMs "eat" checks and hold them, customers have no access to their funds and no understanding of when they will.
Depending on the situation, funds could be held as long as 10-14 days while the bank investigates the incident.
What to Do If an ATM Doesn't Return Your Check
If you have lost a check in the process of attempting to deposit it, try the following steps:
1. Cancel the transaction if possible
If the machine has not malfunctioned, it is possible the machine will return the check to you.
If you are able to get the check back, you can deposit the check at a branch location, or via mobile deposit.
2. Gather evidence
If you have a smartphone on you, take pictures. If an error screen displays or a receipt prints note exactly what it says.
Note the address of the ATM, the amount of the check, and any other pertinent or relevant details.
Once you report the incident, your bank will investigate, and the information you provide will be used to determine what happened.
3. Contact your bank immediately
If the ATM is on bank premises, and the bank is open, your quickest communication will be with the branch staff.
They may be able to open up the ATM and retrieve the check for you. If the ATM is not located on branch premises, call the number to your bank, and report it.
All major banks have investigative departments that will assist.
It is possible that the bank will issue a provisional credit while the incident is being investigated. It is also possible that you will be able to cancel the transaction altogether.
Time is of the essence. Do not wait to contact your bank.
Machines are serviced regularly, and the check the ATM ate will be collected within a short period of time.
Once your check has left the ATM, the investigation will take longer as your bank will have to track down the check and investigate what happened.
4. Contact the check issuer
Depending on the source of funds, it may be easy to have a new check issued.
If the payer can provide you a new check, and put a stop payment on the old, you may not have to deal with an investigation and lack of access to the funds, for however long the investigation takes.
Ask your bank if this is advisable and/or permissible. If there is the possibility of a returned check fee if you can cancel the deposit, it may be more hassle than it is worth.
5. File a complaint with the CFPB
The Consumer Financial Protection Bureau is the government agency responsible for ensuring that you, the consumer, are treated fairly.
If you are unable to reach a resolution and get access to the funds you lost, you may submit a complaint online.
The CFPB will review the case and attempt to mediate a resolution.
Prevent ATM Deposit Issues in the Future
You can find endless stories on the internet about ATM deposits that went terribly, terribly wrong, resulting in vanished money, vanished records of the deposit, and drawn out, dragged out investigations.
Lost ATM deposits have common themes of frustration and helplessness.
Prevent issues with deposits by taking control of your finances. Avoid putting a paper check into an ATM unless you absolutely must.
In most cases, you can find safer and more secure alternatives to depositing a paper check into an ATM.
If your deposit is important, particularly if you need immediate access to your funds, consider making your deposit via an app (where you keep the paper check), or at a branch, where you immediately receive confirmation and a receipt.
Alternatively, you could have the check cashed somewhere, although most check-cashing places charge fees.
If you have had a negative experience losing a check to a defective ATM, you probably will want to avoid using ATMs for deposits in the future.
Despite their reliability, it only takes one bad experience to change trust forever.
The increasingly popular method for depositing paper checks is via mobile check deposit. It is easy and free to deposit your check into your bank using your smartphone or tablet.
Use mobile deposit
As described above, most major banks and credit unions now allow you to deposit checks quickly, securely and easily using their smartphone app.
You simply take a picture of the front and back of the check and confirm the amount.
Depending on the check, and your bank, your funds may be available immediately, or within a certain period of time.
Due to its simplicity and convenience, mobile check deposit is a very popular feature, and very easy for even the most non-technical person.
You retain the check, which you can keep in a safe place in your home and eventually destroy at a later date, once a reasonable amount of time has passed after the check has been deposited.
Most banks recommend you write "deposited by mobile app" to avoid the possibility of you or someone in your household accidentally depositing the check a second time.
This error could result in "duplicate presentment" fees.
Mobile deposit limits do apply to check deposit made via a smartphone. Banks put a cap to combat check fraud, so the limits do apply for this feature, whereas there isn't a limit to ATM or teller deposits.
Mobile check deposit limits at top 10 banks
National Banks
Limits

Bank of America

Customers with accounts opened for fewer than 3 months: $2,500 per month
Customers with accounts opened for 3 months or longer: $10,000 per month
Customers in the Preferred Rewards program for the first 3 months: $25,000 per month
Customers in the Preferred Rewards program for more than 3 months: $50,000 per month

Wells Fargo

All customers: $2,500 per day and $5,000 over a 30-day period

Chase

All customers: $2,000 per day and $5,000 over a 30-day period

Citibank

Customers with accounts opened for fewer than 6 months: $500 per day and $1,500 per month
Customers with accounts opened for 6 months or longer: $1,000 per day and $3,000 per month

U.S. Bank

Personal accounts: Varies from $500 to $2,500 per day, depending on account relationship

Capital One

Limits vary for each customer account: Typically $5,000 per day (according to Capital One banker)

Truist

Customers with accounts opened for 6 months or less: $1,000 per check and $3,000 per month
Customers with accounts opened for more than 6 months: $8,000 per month
Private clients: $25,000 per month

PNC Bank

Customers with accounts opened for less than 30 days: $1,000 per day and $2,500 per month
Customers with accounts opened for 30 days or longer: $2,500 per day and $5,000 per month

TD Bank

Customers with accounts for 3 to 6 months: $1,000 per day and $2,500 per 30-day period
Customers with accounts for 6 to 12 months: $2,500 per day and $3,500 per 30-day period
Customers with accounts for more than 1 year: $2,500 per day and $6,000 per 30-day period
Deposit with a teller
The traditional way of bringing a check for deposit at a human teller is a foolproof way to avoid having lost check deposit.
The teller will confirm the check details and ensure that the deposit is submitted correctly.
Sign-up for direct deposit
If you receive a paper check as a regular source of funds, talk to the issuer about more convenient ways for them to pay you, or you to receive money.
Most major banks offer checking-account incentives such as monthly service fees waived when you set up a bank account with direct deposit.
Banks like direct deposit because it assures them a regular stream of deposits – and your business.