Alliant Credit Union High-Rate Checking Account 2023 Review
Learn more about the Alliant Credit Union High-Rate Checking Account and compare it to interest checking accounts from online banks.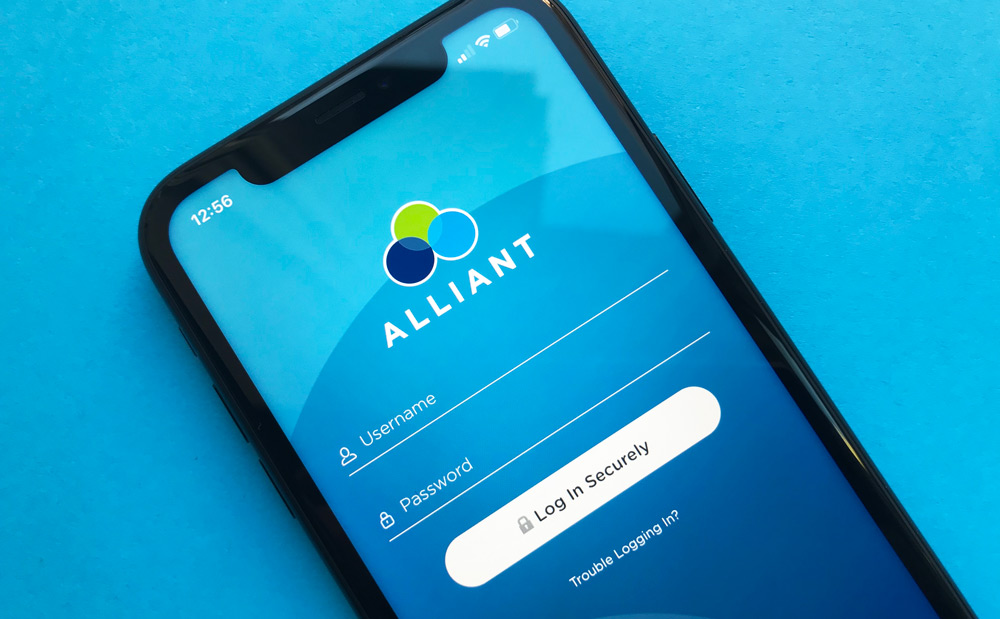 Alliant Credit Union iPhone App
Alliant is an online credit union that looks to bring the customer-focused business strategy of credit unions to the internet.
It is the 5th largest credit union in the United States, serving more than 350,000 customers across the world.
Alliant offers a full set of financial services, including deposit accounts, lending, and investing services.
One of the accounts available from Alliant is the Alliant High-Rate Checking Account. It offers the liquidity of a standard checking account with the interest earning a potential of a savings account.
If you're looking to open a checking account, in this review learn everything you need to know about the Alliant High-Rate Checking Account.
Earn a Market-Leading Interest Rate
Alliant CU High-Rate Checking Account Pros & Cons
Like it says in the name, the Alliant High-Rate Checking Accounts pays a fantastic interest rate on deposits.
Most people put money into their savings account if they want to earn interest.
Banks pay interest on these deposits because they treat those deposits like loans. Banks pool the balances of all the accounts at the bank and use that money to invest or makes loans.
The bank pays some of the returns it earns to account holders and uses the rest to pay for the bank's operating costs.
Because people don't withdraw money from savings accounts very often, it's easy for the bank to use the money in savings accounts to make more lucrative, long-term investments.
Money moves in and out of checking accounts far more often.
That makes it hard for banks to use the money deposited in those accounts to generate a return. That's why checking accounts pay so little interest compared to savings accounts.
Alliant is a credit union operates like an online bank, but it still has 12 branches.
Most banks that operate branches usually cannot offer amazing rates, but Alliant provides stellar interest rates on all its accounts, including its High-Rate Checking Account.
The account handily beats other checking accounts' interest rates, paying more than 9 times more interest than the average. In fact, The High-Rate Checking Account pays more interest than many savings accounts do.
If you don't have a savings account or just want to earn a return on your checking account balance, this alone could make it worth opening an account at Alliant.
80,000 surcharge-free ATMs and $20 in Fee Refunds
One of the biggest concerns that people have about online banks is whether they'll be able to withdraw their money easily.
Alliant looks to make it as easy as possible for customers to withdraw cash from their account.
Alliant offers a network of 80,000 surcharge-free ATMs that you can use without paying a fee. You can withdraw and deposit money at these ATMs without any issues.
If you're not near a fee-free ATM, you can use any other ATM in the United States to make a withdrawal.
If the ATM charges a fee, Alliant will reimburse you, up to $20 per statement. That lets you avoid having to pay for the privilege of accessing your own money.
Easy to Use, Fully Featured Online Banking and Mobile Banking Apps
One of the most important things for an online bank is to offer an easy to use experience. Since you can't walk into a branch and talk to someone if you have issues, it's important that you be able to handle common banking needs yourself.
Alliant makes it easy to manage your account through its intuitive online account portal and smartphone app.
When you log in to your Alliant account you'll see your dashboard. That lets you look at your accounts at a glance to make sure everything is as it should be. You can also view your transaction history and future scheduled transactions.
If you want to schedule a transaction, it's easy to do. You can set up a one-time or a recurring transfer between your accounts easily. Recurring transfers make it easy to set up a savings plan and automatically work towards your financial goals.
You can use the smartphone app to do many of the same things as you can online.
You'll never be restricted in your ability to manage your account just because you're away from your computer. You can even deposit checks using the app, making it easy to get more money into your account.
Courtesy Pay and Overdraft Protection Benefits
Though no one wants to let it happen, sometimes you write a check for more than is in your account or use your debit card when you have a low balance.
Letting a check balance or having your card denied can be embarrassing, so Alliant offers two options to avoid this happening.
The first courtesy pay, which is available to all Alliant customers that have had their checking account for at least six months and received $600 in deposits in the past 30 days.
With courtesy pay, Alliant will allow you to spend more money than is available in the account, covering the difference for you.
Your account's balance will go negative when you use this feature. Additionally, you'll be charged a $28 fee for each overdraft that Alliant covers with courtesy pay.
This can be helpful in a pinch but is a very expensive way to get a short-term loan, so it is best to avoid it when possible.
If you also have an Alliant Savings Account, you can take advantage of overdraft protection.
If you try to spend more than you have in your checking account, Alliant will automatically move money from your savings account to cover the transaction. This service is free, which can help you avoid making costly mistakes.
Minimum Deposit and Monthly Fee
For most people, the biggest barriers to opening a bank account are the minimum deposit and the monthly fee.
Alliant wants anyone to be able to open a High-Rate Checking Account so it does not impose a requirement for its initial deposit. You can open the account with any amount of money.
Once the account, there's no minimum balance you need to maintain and there are no monthly fees to pay. That lets you keep your money in the account and working for you.
Other Fees
The Alliant High-Rate Checking Account charges other fees that are standard among checking accounts.
Beyond the overdraft fee, which you can avoid by setting up a savings account with overdraft forgiveness, you're not likely to encounter most of them on a regular basis.
Alliant High-Rate Checking Account Fees
| Type | Fee amount |
| --- | --- |
| Monthly Maintenance Fee | $0 |
| Out-of-Network ATM Fee | $0 |
| Overdraft Fee | $25 |
| Overdraft Transfer Fee | $0 |
| Returned Item | $25 |
| Stop Payment | $25 ($0 when submitted online or by phone) |
| Deposited Item Returned or Cashed Check Returned | $15 |
| Incoming Domestic Wire Transfer | $0 |
| Incoming International Wire Transfer | $0 |
| Cashiers Check | $0 |
Other Alliant Checking Accounts
If you're interested in becoming Alliant banking customer, but aren't sold on this checking account, check out some other checking account options also offered by this bank:
Alliant Free Checking
Alliant's Free Checking account features all of the necessities of a basic checking account, plus no monthly maintenance fee or minimum balance requirement.
In addition to those perks, this account comes with a free box of checks, up to $20 a month rebates in ATM charges, and free overdraft protection.
Convenience
The Alliant High-Rate Checking Account offers a lot of convenience features that will make your life easier.
On top of the ability to bank on the go using the Alliant smartphone app, you'll be able to pay your bills from anywhere.
In the past, people had to collect paper bills, fill out checks, and mail them to pay their monthly utility, rent, and other bills.
Alliant offers a free bill pay service that lets you pay your bills online.
Just enter how much you need to pay and who you need to pay it to. Alliant will take care of the rest, transferring the funds electronically or by writing out a check on your behalf.
Those features, combined with the ability to use any ATM in the U.S. and get fees reimbursed, make the account very easy to use.
How Does It Compare?
The checking account is the most common type of bank account in the US. That means that you'll have a lot of accounts to choose from when you're looking to open a checking account.
When you're looking for the right checking account, don't just go with the first one you find. Online banks, or branch-less credit unions like Alliant, tend to charge lower fees and pay better rates.
Small, local credit unions can provide a more flexible and personalized experience. It's all about what you're looking for out of your banking experience.
Other than the fees you'll pay and how easy it is to access your cash, you should consider these factors when choosing a checking account:
Minimum deposit
Fee waiver requirements
Interest rates
The Final Verdict
The Alliant High-Rate Checking Account pays a great interest rate and offers a swath of features that make it a great choice for most consumers.
If you're looking for an easy to use checking account that you can access from anywhere, the Alliant High-Rate Checking account might be right for you.