The Best Checking Accounts in Louisiana for 2023
See the best checking accounts offered by local banks in Louisiana -- chosen based on their account fees, features, and convenience factors.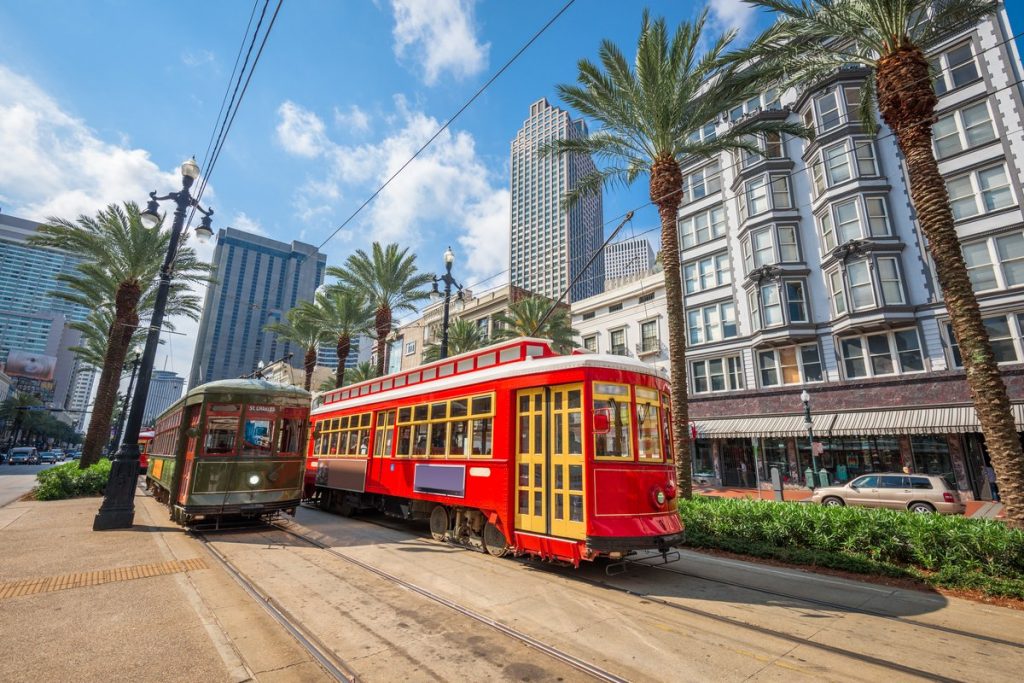 Managing finances can be complex if you don't have the right tools. One of these tools that may help manage your money is a checking account.
Checking accounts allow you to monitor your income and expenses in a single place. You can have your paycheck direct deposited and pay for bills out of this account.
Checking accounts vary from bank to bank, though. Some charge high fees that make people reconsider having a checking account at all. Others are virtually fee-free to use on a day-to-day basis.
To help you find a checking account that makes managing your money easier, we've taken a close look at the options available in Louisiana. Here's what you should know.
Compare Checking Account Options
Make sure that you look at other checking accounts that could be better for you:
The Best Checking Accounts in Louisiana
First Horizon Bank - FirstView Checking
First Horizon Bank's FirstView Checking account may be an account worth considering. After making a minimum initial deposit of at least $50, you get access to a checking account with no monthly service charges as long as you sign up for paperless statements.
The account also offers free digital and mobile banking, a free debit card, and a relatively small 600 ATM no-fee ATM network. This bank account does not pay interest, but you get access to a complimentary traditional savings account as a FirstView Checking account holder.
Red River Bank - Totally Free Checking Account
The Totally Free Checking Account at Red River Bank has no service charges or minimum balance fees. As an account holder, you get access to internet banking, mobile banking, free bill pay, and free eStatements.
The account does not pay interest. Unfortunately, you have to pay $12 to get a check card issued to you. Once you have the card, you can make unlimited transactions for free. You get unlimited check writing transactions, too.
Gulf Coast Bank & Trust - FREE Checking Account
Another account worth looking into is Gulf Coast Bank & Trust's FREE Checking Account. This account has no monthly service cycle fee and no minimum balance requirements.
You must opt-in for eStatements with this account. If you don't, your account will be converted to a different account type which charges a $4.85 monthly paper statement fee unless you meet certain qualifications.
The FREE Checking account comes with a free debit card, free online banking, free mobile banking, and free mobile deposit.
JD Bank - ZydeCash Checking
JD Bank's ZydeCash Checking account is a rewards checking account that offers a 1.65% APY on balances of up to $10,000 if you meet specific requirements. If you qualify, balances above $10,000 earn 0.10% APY. If you do not qualify, all balances earn 0.05% APY.
To qualify for the higher interest rate, you must have ten debit card transactions, at least one direct deposit or automatic payment, receive e-statements, and access online banking each monthly qualification cycle.
The account has no monthly service fees. It offers a free debit card, online banking, mobile banking, a mobile wallet, and doesn't have a minimum balance requirement. You also get your first box of ZydeCash checks for free and refunds on ATM fees nationwide if you meet all qualifications, up to $25 per statement cycle.
Sabine State Bank & Trust - Sabine Elite Checking
Sabine State Bank & Trust's Sabine Elite Checking may work for your situation. It has no monthly maintenance fee and only requires $50 for an initial deposit.
You get a free debit card, free online banking, free bill pay, and free eStatements with the account. The bank has a tiny ATM network of 83 ATMs. There are no minimum balance requirements and the account comes with unlimited check writing privileges.
How we picked these accounts
MyBankTracker looked at the top 50 banks by deposit market share to pick our top five Louisiana checking accounts. This was based on the FDIC's June 2022 data, which includes coverage of major cities such as New Orleans, Baton Rouge, Shreveport, Lafayette, and Lake Charles.
When looking at these banks, we choose our top five accounts based on the following factors:
Low or no monthly service fees
Simple methods to waive any monthly service fees (if they exist)
ATM networks
Other convenience features
Big Bank vs. Online Banks
While we've listed the best banks in Louisiana, other types of banks exist that you may want to consider.
Bigger regional and national banks may provide a wider variety of banking services, including checking accounts. Alternatively, online bank checking accounts may offer lower costs and higher interest rates.
Here's what you may want to consider about these other options.
Pros of Big Banks
In-person customer service
Some people prefer to fix problems face-to-face. This may be a possibility with a big bank if their local customer service representatives at a branch can help.
Online banking
Online banking makes everyone's life easier. Big banks know this and offer online banking as another option to access your accounts. The experience may not be as polished, though.
Physical branches
The key feature of big banks is their large branch network. If you like to make banking transactions in person, these branches may make your life easier.
A wide array of banking products
Bigger banks have more regional and corporate support. This allows the banks to offer more specialized banking and lending products a smaller bank may not have the staff or expertise to support.
Cons of Big Banks
Avoiding fees is complicated
You might be able to get specific fees waived but likely have to complete a significant requirement or two to do so.
Bureaucratic processes
As organizations get larger, expect to deal with more bureaucratic procedures to get a task completed. This could slow down processing time for certain banking aspects.
Don't expect interest
Most checking accounts at big banks either pay no interest or a meager interest rate not worth mentioning.
Many fees
Most big banks have a long list of fees they charge to remain profitable. Some of these fees may be high cost and others may seem counterintuitive to everyday users.
Benefits of Online Banks
Access when and where you need it
If you have access to the internet, you can access your online bank account any time and anywhere.
Better fee structures
Expect fewer and lower cost fees from online banks. They can offer these features because they don't have to pay for physical branches.
FDIC insurance
Online banks are usually FDIC member institutions. This means they have the same FDIC insurance your local and national brick-and-mortar banks offer.
Interest
While interest is rarely stellar, online banks tend to pay higher checking account interest rates than physical banks.
Top-notch mobile apps
Online banks focus on offering superior and easy-to-use apps and online banking technology. They know this is the primary way customers will bank, so they ensure it is a top-notch experience.
Drawbacks of Online Banks
Depositing cash is cumbersome
You can't take your cash to a local branch to deposit it because branches don't exist. Your online bank may have other more cumbersome options, though.
Must have internet access
Without internet access, using an online bank is difficult or impossible. This can be a problem during internet outages, natural disasters, or power outages.
No branches
You benefit from an online bank not having branches, but there are no physical locations to visit if you have a problem.
Picking the Best Checking Account
Each person may decide a different checking account is the best for them. This is easy to understand once you realize you should pick your account based on your situation and needs.
While some features may be nice, they're not valuable for you if you don't use them. When considering checking accounts, look at the following aspects to see if they may be a good fit for you.
Banking accessibility
Accessing your bank account and money within it is vital. An online bank won't be a good fit if you plan to visit branches to take care of most of your transactions.
On the other hand, those that never use branches and don't deposit cash may benefit from using an online bank with a great mobile app.
How many fees do you pay and how much they cost
Fees are a huge factor to consider when picking a checking account. Ideally, you can use your account without incurring a fee for your usual services.
No bank is genuinely 100% fee-free, though. Look up the fees for services you may use, such as stopping payment on a check or making a wire transfer.
Then, consider picking a bank that allows the lowest fee cost for your needs.
Mobile and online banking
Almost every bank offers mobile and online banking. However, some charge fees for certain services, such as bill pay.
While these options are almost always available, the user experience is not the same across all banks. Online banks usually offer the most well-polished experience, with bigger banks closer behind.
That said, local banks now have several online banking and mobile app solutions that can get the job done, too.
Other banking services
Chances are you're mainly looking for a checking account. It doesn't make sense to ignore a bank's other features, though.
When considering a checking account, look for other services you may use at a bank and how much they cost.
You may decide to pay a small fee for a checking account if the bank fulfills the rest of your banking needs in a cost-effective way.
You may want to look for services, as well as the costs for these services, such as:
Wire transfers
Lending products and loan officers at your location
Financial advisory services
Personal banking services
Will you earn interest
A checking account may pay interest and it can even help your finances if all other features of the checking accounts are otherwise equal.
Online banks tend to offer the highest interest rates on checking account products.
That said:
Local checking accounts may offer a different type of checking account that pays even more interest.
Rewards checking accounts may pay you a significant interest rate if you meet the account's requirements each month. This often involves making several debit card transactions and other requirements.
The higher interest rate usually applies to a set balance in your checking account. While it isn't unlimited, it could help bolster your finances.
Finding Your Ideal Checking Account
Remember, you're looking for a checking account that fits your needs. This isn't the same as the ideal checking account for someone else.
After making a list of your requirements, consider the banks we've listed above in Louisiana. You can also compare them to big banks and online banks before deciding on the best fit for you.