The Best Checking Accounts in Tennessee for 2023
Check out the best checking accounts available from Tennessee banks based on their account fees and consumer-friendly features.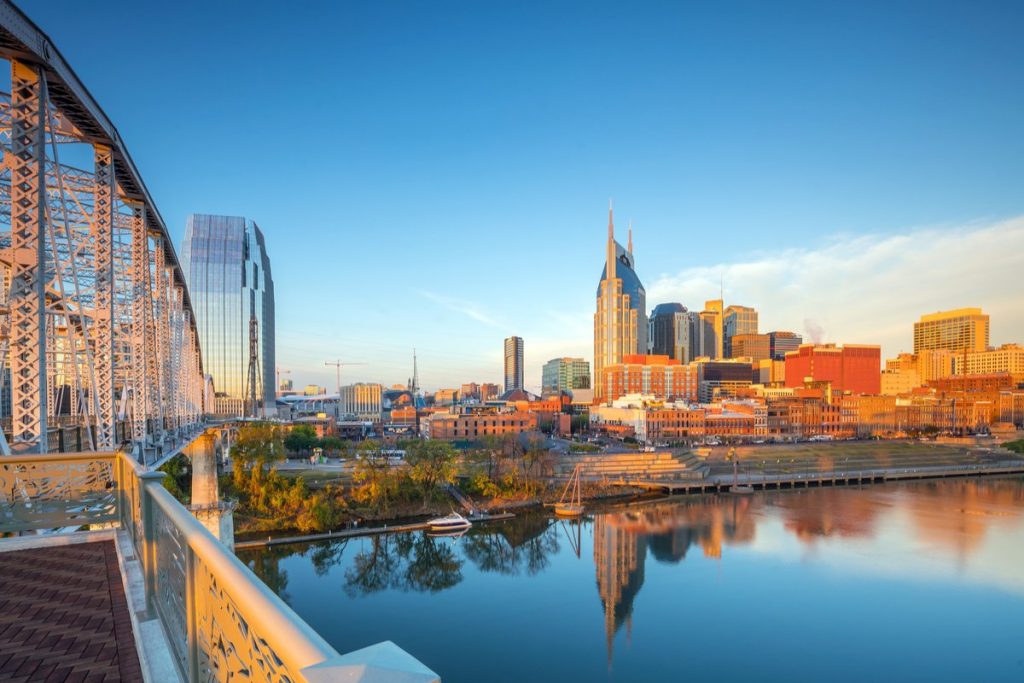 Checking accounts help you manage your money in one place. You can have your paycheck deposited into the account and use your debit card, checks, or ATM withdrawals to spend money from the account.
Unfortunately, some checking accounts come with cumbersome fees that drain your account balance. Not all banks do this, though. Some banks have relatively fee-free checking accounts for day-to-day tasks.
To help you find a good checking account rather than a mediocre one, we've researched the best checking accounts in Tennessee. Here's what you need to know.
Compare Checking Account Options
Make sure that you look at other checking accounts that could be better for you:
The Best Checking Accounts in Tennessee
First Horizon Bank - FirstView Checking
First Horizon Bank's FirstView Checking account is our top choice out of their three options. You won't earn interest but you don't have any monthly service charges as long as you sign up for paperless statements. A $50 minimum deposit is required to open an account.
You get access to a free standard debit card, digital banking, mobile banking, and no ATM fees at over 600 in-network ATMs. You also get access to a complimentary traditional savings account.
Pinnacle Bank - Basic Checking
Pinnacle Bank has five checking accounts to choose from, but we prefer their Basic Checking account. This account has no balance requirements and no maintenance fee if you select electronic statements. Otherwise, paper statements cost $5 per month.
You get access to the following features with this account:
Free online banking with bill pay
Mobile banking
Debit card
Unlimited transactions and check writing
FirstBank - FirstRewards Checking
FirstBank's FirstRewards Checking is our pick for the best of their five checking accounts. It has no minimum deposit or balance requirements and no monthly service charge.
If you meet certain qualifications, you can earn 1.51% APY on daily balances of $0 to $25,000 and 0.15% APY on balances over $25,000. If you do not, you earn a 0.01% rate on all balances.
To qualify, you must have the following each monthly qualification cycle:
At least one ACH debit or ACH credit post and clear
Receive an eStatement
Ten debit card purchases post and clear
Benefits of this account include:
Free online banking with Bill Pay
Free mobile banking
Free debit card
Unlimited check writing
Non-FirstBank ATM fees are refunded each month with qualifying activities
Fifth Third Bank - Fifth Third Momentum Checking
Fifth Third Bank's Fifth Third Momentum Checking is our favorite checking account out of their options. This option doesn't charge a monthly service fee or minimum balance fee. You also get access to over 50,000 in-network ATMs fee-free.
You get the following features with this checking account:
Direct deposit paychecks up to two days early, if possible
Online and mobile banking
Free contactless debit card
If your account is dormant for 12 months, you may have to pay a $5 dormant account fee monthly.
Wilson Bank & Trust - WBT Cash Back Checking
Wilson Bank & Trust, WBT for short, has five checking accounts to choose from. The WBT Cash Back Checking fits our criteria the best. As long as you have e-Statements, you don't have to pay the $5 monthly account fee. You need $100 to open an account, but there is no minimum balance requirement to earn rewards.
If you meet specific criteria, you can earn 4% cash back on debit card purchases of $5 or more, up to $8 per monthly cycle. You can get nationwide ATM fees of $4.99 per less refunded, up to $20 per month, if you meet the criteria, as well.
The criteria to earn the above benefits include:
Having one direct deposit or automatic ACH payment post and settle each month
Having 15 debit card purchases of $5 or more post and settle each month
Enroll and agree to receive e-Statements
Enroll and log in to online banking monthly
Other benefits of this account include:
Online banking
Online Bill Pay
Mobile banking
e-Statements
Debit card
24-hour telephone banking
Unlimited check writing
How we picked these accounts
We started by identifying the top 50 banks in Tennessee by deposit market share according to the FDIC's June 2022 data -- serving consumers in major cities including Nashville, Memphis, Knoxville, Chattanooga, and Clarksville. We looked at the checking account options at these banks to find the best checking accounts in the state.
We determined our top choices by looking for accounts with low or no monthly service charges, ways to waive monthly service charges if they exist, ATM network accessibility, and convenience features the bank offers.
Big Banks vs. Online Banks
Local banks provide a very useful service for many customers. However, online banks and big banks offer a different set of features you may be interested in. Here's what you need to know about these other types of banks.
Benefits of Big Banks
Branch network
Big banks have many branch locations throughout the areas they serve. This often gives customers a convenient location around their home, workplace, or where they run errands.
Product options
Due to their size and corporate support, these banks can often offer several types of checking accounts and other products, such as loans.
In-person customer support
Branches allow you to visit a bank in person and get help without calling a call center.
Digital banking solutions
Big banks have online and mobile banking options to allow you to bank anywhere, but their features may not be the most comprehensive in the industry.
Drawbacks of Big Banks
Fees
Large banks often have a long list of fees, many of which may have high costs. These fees help a bank earn profit and pay for the cost of their expensive branches.
Interest rates
Checking accounts at these banks usually don't offer interest or offer rates incredibly close to zero.
Hard to achieve fee waivers
Fee waivers may exist but may be unattainable to everyday people. For instance, you may need to keep thousands of dollars in a checking account to waive a monthly fee.
Big organization slowdowns
Large organizations have several processes and layers of management that may slow decision-making and execution.
Pros of Online Banks
Better fee schedule
Online banks often have lower overall costs. They pass this on to their customers with a shorter fee schedule that often has lower fee costs.
Interest rates
You will likely find these banks pay interest. While the rate may not be extremely high, it's often several times the national average.
Technological advantage
Technology makes banking more accessible and online banks know this is the primary way their customers interact with them. For this reason, they often have the newest features that make a customer's life easier.
Access to funds
As long as you have access to a device and the internet, you can usually bank from almost anywhere.
FDIC insurance
As long as your online bank is FDIC insured, you get the same insurance that brick-and-mortar banks offer.
Cons of Online Banks
No physical locations
Online banks cut costs by not having a branch network. This means you can't make transactions in person.
Cash deposits can be tricky
Depositing cash at a branch isn't possible. Other options may exist but may not be as straightforward.
Must have internet access
If you don't have access to the internet, banking with an online bank is more complicated. This can cause problems during natural disasters with extended outages or if you have a spotty internet connection.
Finding an Ideal Checking Account
The ideal checking account will differ from person to person based on their needs. Before you start your search, identify what is most important to you. Then, search for an account that meets your needs. Here are some ideas that may help you figure out your priorities.
Accessibility
A checking account should be accessible to deposit and withdraw money easily. An online bank will likely work fine if you find yourself using technology and ATMs to do these things. If you need a physical branch to process cash, a local or big bank may be a better option.
Fees
Fees take away from the money in your account. Look at the fee schedule to see what fees you may incur and select an account that minimizes expenses for your everyday banking needs. You should be able to find an account that doesn't charge fees for your day-to-day banking activities.
Interest rates
Interest isn't a significant feature of checking accounts because most people looking for interest seek out savings accounts. It is a nice bonus if everything else is equal between the two accounts you're considering.
Local and big banks often pay no interest or very low rates on their checking accounts. Online banks may offer rates several times the national average, but it still isn't much in the big scheme of things.
One exception that may be worth seeking out is a rewards checking account. These accounts may pay interest rates at or above 1% if you meet specific requirements. These may be onerous, such as having ten debit transactions, logging in to online banking, and opting for eStatements every month.
If you meet the requirements, you're rewarded with a higher rate on a limited balance. If you don't, you normally receive very little or no interest. Balances above the limit similarly earn no interest or a low rate in most instances.
Other features
Don't forget to look at other products and features at a bank. A less-than-perfect checking account may be acceptable if the bank offers a great savings account with a stellar interest rate. Other services worth considering may include:
Investments with low fees and an advisor you can speak with
Loans with many options and low interest rates
Safe deposit box, cashier's check, and money order costs and availability
Technology solutions
If you plan to do most of your banking using online or mobile banking, make sure it has the features you need before signing up for an account. Getting a checking account and realizing you don't have access to mobile check deposit could be a deal-breaker.
Check mobile app reviews to see if a bank's mobile app has high reviews for ease of use. You can also search negative reviews for missing features and other downsides to the app.
Time to Find and Open an Account
Now that you've identified your priorities, it's time to search for your best checking account. Look at our list of the top checking accounts in Tennessee to start. Then, compare your top choice with online and big bank accounts.
Don't forget to take action. By opening an account, you can move on from your old checking account. This is essential if you're paying maintenance fees or other fees that are slowly draining your account balance each month.