The Best Checking Accounts in Vermont for 2023
See which local Vermont banks offer the best checking accounts based on account fees and features that make it easier for customers to manage their money.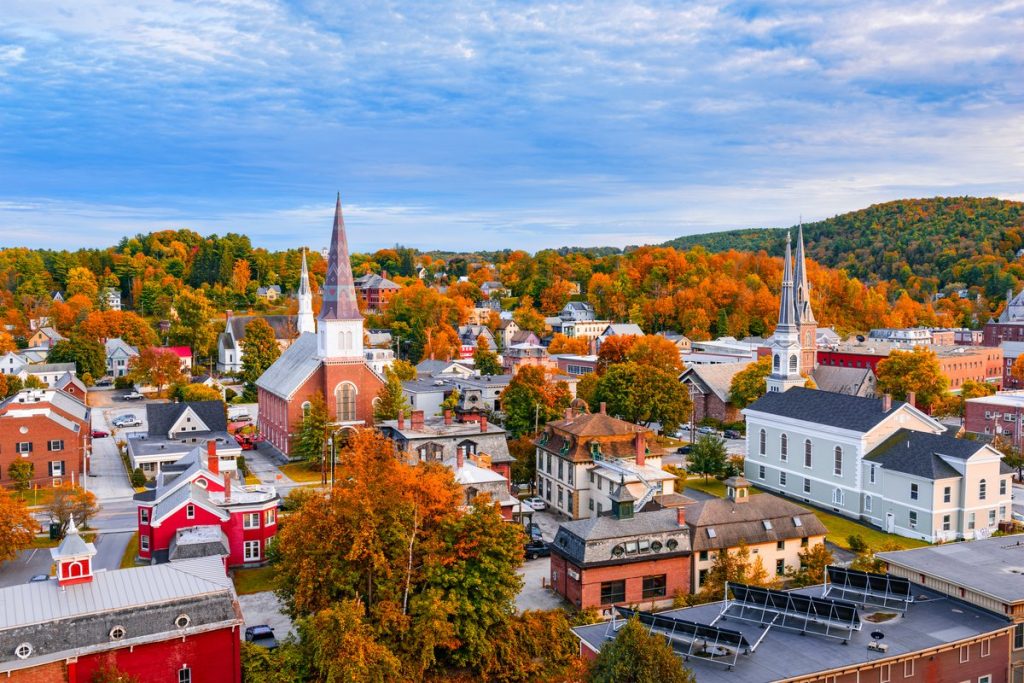 Checking accounts can make managing your finances easier. They allow you to deposit your income and manage your expenses in one single place.
Some banks view these accounts as a way to build a relationship with a customer. These banks tend to offer relatively low-fee options. Others view these accounts as a way to make money and charge several fees.
If your checking account charges fees or you don't have a checking account, finding a good account can feel overwhelming. To help, we've identified the top checking accounts available in Vermont. Here's what you should know.
Compare Checking Account Options
Make sure that you look at other checking accounts that could be better for you:
The Best Checking Accounts in Vermont
Community Bank - Carefree Checking
Community Bank's Carefree Checking account has no monthly service charges or minimum balance requirements after the initial $50 minimum deposit to open an account. You don't have to pay a fee for eStatements, but paper statements cost $2 per month.
As an account holder, you'll get the following features:
$25 check or debit card buyback for turning in your old bank account's checks or debit card
Free online banking
Free mobile banking
Free debit card
Free bill pay
Access to My Finance tool
Northfield Savings Bank - Free E-Checking
Northfield Savings Bank's Free E-Checking account doesn't have a monthly service charge as long as you opt for eStatements and eNotices.
You have access to over 55,000 Allpoint and Falcon no-fee ATMs with this account. You also get access to online banking with Bill Pay and check images. You need $10 to open a Free E-Checking account.
KeyBank - Key Smart Checking
KeyBank's Key Smart Checking account doesn't have monthly maintenance fees or transaction minimums. You only need $20 to open an account and don't have to pay ATM fees at KeyBank and Allpoint ATMs.
The account comes with:
Debit card
Online banking with bill pay
Mobile banking with check deposit
1,000+ branches
40,000 ATMs
Community National Bank - Community Checking
Community National Bank's Community Checking account is our favorite option this bank offers. You only need $1 to open an account. You don't have to pay monthly service charges and there are no minimums to keep your account open. You need a $500 collected daily balance to earn interest.
You must opt for eStatements to avoid a monthly statement fee. Account holders get a debit card and electronic banking services in the form of online, mobile, and telephone banking.
Passumpsic Bank - Kasasa Cash Checking
You'll need $25 to open a Kasasa Cash Checking account with Passumpsic Bank. The account doesn't have a monthly service charge or a minimum balance requirement
If you meet the qualifying requirements, you can earn up to 0.95% APY on balances up to $15,000 and 0.20% APY on balances over $15,000. You earn 0.05% APY on all balances if you don't meet qualifying requirements. You can also get up to $20 of ATM fees that cost $4.99 or less per transaction reimbursed each month you qualify.
To qualify for these benefits, you must:
Have 12 debit card transactions post and settle each month
Make one direct deposit or ACH debit transaction each month
Receive electronic statements monthly
All checking accounts at this bank come with free internet banking, free online bill pay, and an ATM/debit card.
How we picked these accounts
To find the best checking accounts in Vermont, we first identified the top 50 banks in Vermont by deposit market share using the FDIC's June 2022 data -- covering major cities including Burlington, South Burlington, Rutland, Hartford, and Montpelier.
Next, we examined the checking accounts available at these 50 banks to determine our top picks.
We looked for accounts that had no or low monthly maintenance fees, a way to waive any monthly maintenance fees that existed, the banks' ATM networks, and other convenience features offered by the bank.
Big Banks vs. Online Banks
In addition to the banks listed above, you may want to consider an online bank or a big bank. These banks have different benefits and drawbacks, but may fit your needs better. Here's a highlight of how these banks work.
Pros of Big Banks
Account and loan options
These large banks have a support system that allows them to offer more niche account and loan types to their customers.
Banking technology
Big banks should all have mobile and online banking options. That said, they may not provide the most cutting-edge features.
In-person customer support
You may be able to get problems solved at a local branch rather than calling a call center.
Physical branches
One of the biggest benefits of big banks is their vast branch network. If you pick the right bank for your area, there should be plenty of locations near where you live and work.
Cons of Big Banks
Bureaucracy
Big banks have many layers of management and corporate oversight that may slow down some processes.
Fees
To pay for the expensive and large branch networks these banks offer, you usually have a long fee list with some high cost fees.
Interest - Most checking accounts at these banks pay no interest. If they pay interest, the rate is usually close to zero or has demanding requirements to earn interest.
Poor fee waiver requirements
The bank may offer fee waivers, but they often have steep requirements. To avoid a monthly maintenance fee, you may need to keep thousands of dollars in a checking account.
Positives of Online Banks
Accessibility
Online banks allow you to access your money as long as you have a device and an internet connection.
Better interest rates
Many online checking accounts pay interest several times the national average.
FDIC insurance
Online banks that are FDIC members offer the same FDIC insurance as brick-and-mortar banks.
More advanced technology
Online banks work to offer helpful and more advanced technology solutions to help you manage your money easily.
More friendly fee schedule
Online banks don't have branches. They save a lot of money through this and often have a more customer-friendly fee schedule due to this.
Negatives of Online Banks
Accessibility without internet
Online banks rely on the internet and phone calls. If you face an outage of these services due to a temporary or a longer-term natural disaster, you may have problems accessing your funds.
Depositing cash
With no branches, depositing cash at a branch isn't an option. You may have other options, but they could be more challenging to use.
No branches
Online banks don't have branches. They won't be a good fit for you if you need in-person customer support.
How to Identify a Suitable Checking Account
Finding a suitable checking account for your needs depends on your specific situation. You have to identify your priorities before searching for an account to find the best fit. Here are some ideas of features you may want to focus on.
Access
How you access your money can determine the type of account you choose. A local or big bank is your best bet if you need a branch location.
People who prefer online banking or ATM banking may like an online bank.
Fees
The fees charged by a bank will directly impact your bank balance. Most people will aim to minimize fees for using their accounts. It should be relatively easy to find a bank account that doesn't charge monthly maintenance fees or fees for day-to-day tasks. Expect to pay money for premium features, such as wire transfers.
One way to examine this aspect is by looking at a fee schedule and adding up the fees you'd likely have to pay in a typical month. Then, you can pick an account that offers the best fee structure for you.
Interest
Checking accounts don't usually focus on interest rates, although exceptions exist. Instead, people generally put the money they want to earn interest in a savings account.
Still:
Many accounts do offer interest and it may be a tie-breaker if all other features are fairly equal between two accounts.
Local and big banks typically pay close to no interest or no interest at all. Online banks may pay several times the very low national average. An exception exists with rewards checking accounts that may result in decent interest rates.
Rewards checking accounts may pay 1% interest or more if you meet their qualifications monthly. Interest is often limited to a certain balance in the account.
The criteria are often onerous and may include making ten or more debit card transactions, having eStatements, logging in to online banking, and having a direct deposit each month.
Online and mobile banking
Online and mobile banking are vital features for most people today. Verify the online and mobile banking services offer the features you need, including bill pay and mobile check deposit. You should also check the bank's mobile app reviews to see if the app is missing any features or is difficult to use.
Other banking features
Banks offer other account types and features. If you plan to open a checking account, it makes sense to consider a bank's other features. You may find yourself accepting a checking account that's second or third on your list if the bank's other features are outstanding.
Other features and products to consider may include the following, depending on your needs:
Investment accounts with low fees and an on-site financial advisor
Several loan options with competitive interest rates
Safety deposit boxes, cashier's check, money order, and other banking services along with their costs
Take the Next Step
After you understand your banking priorities, consider our list of the top five Vermont checking accounts to see if one is a good fit for you. Then, compare potential accounts from the list to big banks and online banks.
Once you've found the best checking account for you, move forward to open an account. This way you can start taking advantage of the lower fees and other features your new account offers as soon as possible.