The Best Checking Accounts in Wisconsin for 2023
Learn about the best checking accounts offered by local Wisconsin banks based on their account fees and features that help customers manage their money.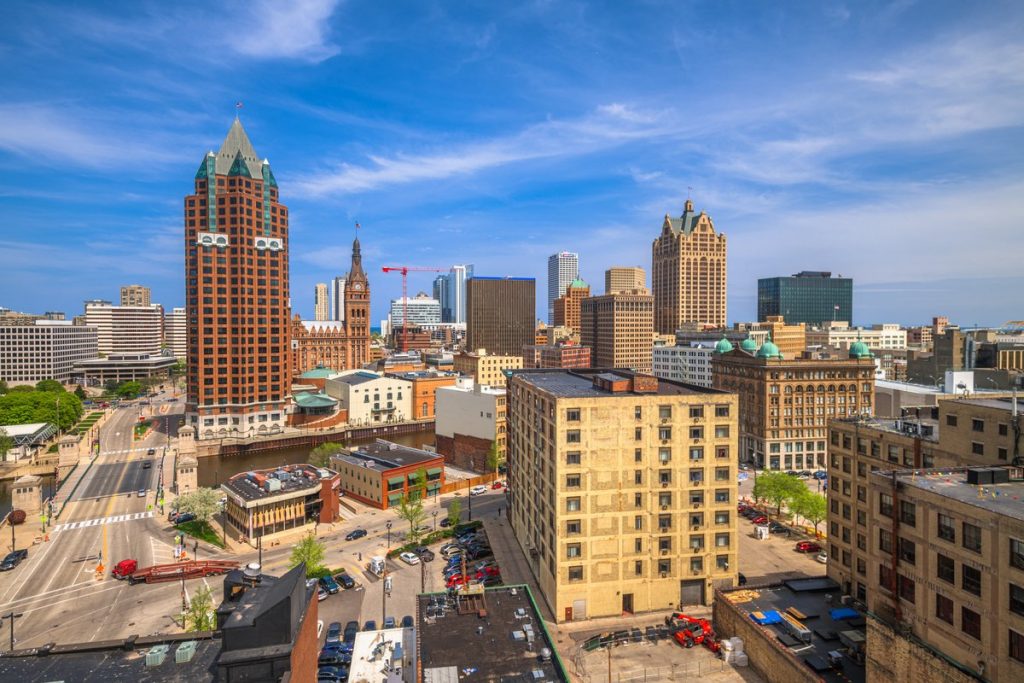 A checking account is a powerful tool that helps you manage your money. It gives you an overview of your income and expenses all in one place. Some people don't have one. Others may have a poor excuse for one and not know it.
A good checking account that doesn't nickel and dime you. Finding a checking account in Wisconsin isn't hard. That said, finding one of the best accounts in Wisconsin takes a bit more work.
We've done the legwork to narrow down Wisconsin's choices to the five best checking accounts in the state. Here's what you should know.
The Best Checking Accounts in Wisconsin
BMO Harris Bank - BMO Harris Smart Advantage Account
BMO Harris Bank's BMO Harris Smart Advantage Account doesn't have a monthly maintenance fee. While you do have to pay $2 per month if you want paper statements, paperless statements are free. To open an account, you'll need a minimum of $25 for an initial deposit.
The account comes with the following features:
Over 40,000 fee-free ATMs
Digital banking with Bill Pay and mobile check deposit
Zelle person-to-person transfers
Debit card
Online chat support
Associated Bank - Associated Access Checking
Associated Bank's Associated Access Checking account is our top pick out of their three checking account options. There are no monthly maintenance fees or account minimums, but you have to pay $4 per month if you want paper statements. Those that opt for eStatements can avoid the $4 fee.
After you open an account, you get access to these features:
Zelle person-to-person payments
Online and mobile banking
Mobile check deposit
Bill Pay
30,000+ surcharge-free ATMs
Debit card with design options
Johnson Bank - Digital Checking
Johnson Financial Group has three checking account options. We feel their Digital Checking account provides the most value. The account has no monthly fees or minimum balance requirements if you opt for eStatements, but you need $100 to open an account.
If you choose to get paper statements, you have to pay a $5 fee per month. You also get charged $5 per paper check you write against the account.
You get the following with this account:
Debit card
Online and mobile banking
A fee-free ATM network
Zelle person-to-person payments
Mobile check deposit
Bill Pay
MyFinance manager software
Nicolet National Bank - Value Checking
Nicolet National Bank's Value Checking account doesn't pay interest, but it is still our favorite version of their checking account. You don't have to pay a monthly maintenance fee, but a $4 per month paper statement fee exists. You can waive this in one of three ways:
Enrolling in eStatements
Maintain a $2,500 daily balance
Using your debit card reduces the fee by $0.20 per use.
The account comes with online banking with Bill Pay. It also provides a debit card and has a Nicolet Bank ATM network for fee-free ATM transactions.
Town Bank - Total Access Checking
Town Bank has a dizzying nine checking account options. After researching each one, we found the Total Access Checking account to be the best value. The account has no monthly fees but requires a $100 minimum initial deposit. Features for this account include:
ATM fee reimbursement for out-of-network ATMs
Debit card with design choices
Online and mobile banking
Remote check deposit
Bill Pay
eStatements
How we picked these accounts
To identify the best checking accounts in Wisconsin, we started by finding the top 50 banks in the state by deposit market share -- serving major local markets including Milwaukee, Madison, Green Bay, Kenosha, and Racine. We used the FDIC's June 2022 data to identify these banks.
We examined the checking account options at these banks by looking for accounts with no or low monthly maintenance fees, ways to waive any monthly maintenance fees that exist, the banks' ATM networks, and other convenience features each bank offers its customers.
Big Banks vs. Online Banks
Local banks fit a critical need in the banking world, but you have other options you should also consider. Online and big banks have pros and cons worth considering before deciding on a checking account.
Pros of Big Banks
Account types available
Bigger banks have more resources to provide different account types for different customers. This can include checking accounts, loans, and more.
Branches
These banks have several branch locations in the areas they serve. Their service area is often massive. This gives you more options for banking in person.
Digital banking available
Mobile and online banking are offered by virtually all large banks. This makes banking convenient when you don't want to head into a branch.
In-person assistance
If you need help, you can visit a local branch instead of calling a call center.
Cons of Big Banks
Bureaucracy
Large banks have many layers of management and processes. This can slow down certain actions that may be faster at a more agile local bank.
Difficult requirements to waive fees
You may have options to get fees waived, but they normally have onerous requirements to do so. You may need to keep thousands of dollars in a checking account to waive a monthly fee.
Fees charged
Big banks have long lists of fees. Many of those fees come with high costs.
Interest
Most brick-and-mortar banks don't pay interest on checking accounts. If they do, the rate is very close to zero in most cases.
Benefits of Online Banks
Accessibility
Online banks allow you to bank anywhere as long as you have a device and internet connection.
Better interest rates
These banks tend to offer interest more often. When they do, it's typically multiple times the national average for brick-and-mortar banks.
FDIC insurance
Online banks that are FDIC members offer the same FDIC insurance as physical FDIC member banks.
Improved fee schedules
Online banks save money by not operating branches. These savings are partially passed on through a shorter fee schedule with lower fees in most cases.
Newer technology options
Since you transact mostly online, these banks focus on offering technology to make banking easier. These banks may offer technology big banks haven't supported yet.
Drawbacks of Online Banks
Depositing cash
Depositing cash at a branch isn't possible. Other options may exist but are likely less convenient.
Internet required
Most people have internet access around the clock. However, power outages or extended outages from natural disasters can make it difficult to access your money.
No branches
Online banks don't have branches. This means you can't visit a physical location if you're having issues.
How to Decide on Your Next Checking Account
Each person uses their bank account differently. For this reason, you need to find a bank that works for you. Focus on figuring out which features are most important to you before evaluating checking accounts.
Here are some ideas to help you decide what you may need from a checking account.
Fees
Fees are often one of the most significant factors in finding a checking account. Pointless monthly maintenance fees can eat away at your bank balance month after month. You should be able to easily find a bank that doesn't charge maintenance fees or other monthly fees. You likely will have to pay fees for specialty services, such as wire transfers.
Some banks have more friendly fee schedules than others. Look at what fees you'd incur over an average month to determine which bank may work best for you.
Accessibility
Having access to your funds is one of the main reasons to have a checking account. Make sure you can access your money how you prefer. Those that prefer to visit a physical branch will need a local or big bank. People who only use mobile apps and ATMs may like an online bank's benefits better.
Interest
Most banks don't advertise interest as the main feature of their checking account.
In fact:
Brick-and-mortar banks often have interest at or near 0%.
Online banks may offer rates several times the very low national average, but it usually isn't enough to make much of a difference.
Rewards checking accounts may be the exception to the rule, though. These accounts may pay 1% interest or more on a limited balance if you meet certain requirements each month. These requirements aren't easy and you may earn a low interest rate or no interest at all if you don't meet them. Example requirements could include:
Making ten or more debit card transactions monthly
Signing into online banking each month
Enrolling in eStatements
Having a direct deposit or ACH transfer
Technology
If you plan to use mobile or online banking, make sure the bank's technology has the features you want. These could include bill pay or mobile check deposit. One way to see if a bank has an easy to use mobile app is checking the app's reviews before you sign up for an account.
Other products and services
You're shopping for a checking account, but other features at a bank may make you consider switching banks altogether. In these cases, you likely want the best overall bank even if it means getting the second or third best checking account for your situation.
Look for these other banking features when shopping for a checking account if you're considering moving all of your banking needs to a new bank:
Savings account with high interest rates
Whether you can invest with a bank, the fees, and investment options
Types of loans offered and interest rates for those loan types
Convenience features such as money orders, cashier's checks, safety deposit boxes, and their relevant costs.
Pick Your Next Checking Account
After you know what you value in a checking account, you can start narrowing down your list. You can start by checking out our five favorite checking accounts in Wisconsin. Then, compare your top choices to the best big banks and online banks.
Don't put off switching to a new checking account. Moving to a bank that doesn't charge you maintenance fees can make your checking account balance last longer.