The Best Checking Accounts in New York for 2023
Find out which local banks in New York offer the best checking accounts and compare these accounts to the online checking accounts from top online banks.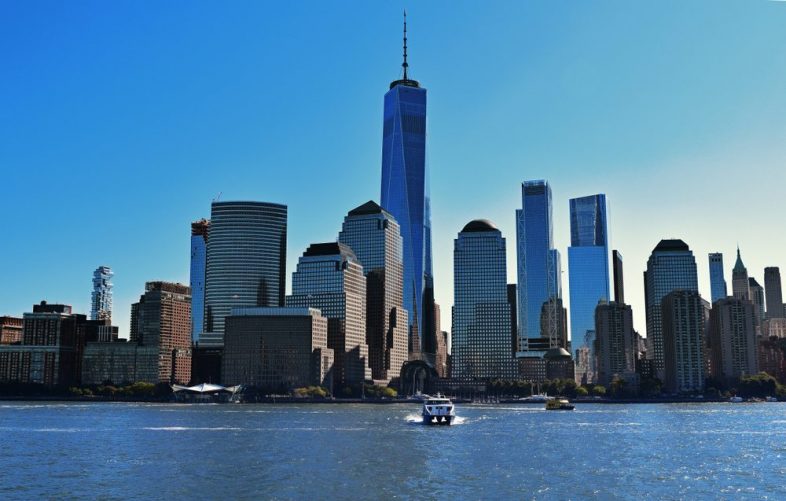 Wall Street is home to many of the largest banks in the world, so it's no surprise that New Yorkers have lots of choices when they're looking to open a bank account.
The most common bank account in the United States is the checking account. It serves as the hub of the average person's financial life, so there is fierce competition amongst banks for checking account customers.
If you live in New York and want to open a checking account, this article will outline your options.
The Best Checking Accounts in New York
Valley National Bank
Valley National Bank offers five different checking accounts to its customers.
The Perfect Checking account is a full-service account that gives you all of the basic features you need. The minimum balance to open the account is low, and the monthly fee will be waived with a daily balance of just $99.
The VNB My Choice Checking account is designed for young adults between the ages of 17 and 25. It requires $25 minimum balance and charges no monthly fee. As a bonus, customers can get up to $20 in ATM fees reimbursed each statement period.
The Basic Checking account is the most basic checking account offered by Valley National Bank. It requires a $25 minimum deposit and charges a $3 monthly fee. The fee cannot be waived.
You're also limited to writing eight checks per statement. Each additional check will cost 50 cents.
The Alternative Checking account is another basic checking account, requiring just a $25 minimum deposit.
It charges a $5 fee monthly, but that fee can be waived. Just post a $250 direct deposit, make 3 VBankWorks payments, or make 10 debit transactions in one month.
Finally, the NOW Checking account lets accountholders earn interest on their balance. You'll need a $100 minimum deposit to open the account, but you'll pay a $15 fee if your balance falls below $1,000.
Popular Community Bank
Popular Community Bank is a local New York bank that offers three different checking accounts.
The Popular Basic Checking account is a no-frills account that gives you a safe place to keep your cash. You need a $25 minimum deposit to open the account and will pay a $3 monthly fee.
You can make up to eight transactions each month without paying a fee. Additional transactions, including debit card purchases, incur and $1 fee.
The Popular Everyday Checking account is a step up, not charging any transaction fees. It requires a $25 minimum deposit to open and charges a $10 monthly fee.
You can avoid the fee by maintaining a $1,000 average balance or receiving direct deposits worth $750. You'll also want to enroll in electronic statements to avoid the $2 paper statement fee.
The Popular Prestige Checking account is Popular Community Banks premium checking account. It requires a minimum deposit of $25 and charges a $12 monthly fee.
To avoid the fee you'll need to maintain a $2,000 balance or have a combined balance of $5,000 across all accounts at the bank.
In return, you'll earn interest on your balance and be eligible for the Popular Rewards program. The program offers additional bonuses and fee waivers to high balance customers.
Apple Savings Bank
Apple Savings Bank offers three choices of checking account for its customers.
The BasicValue Checking account is, as the name implies, Apple Savings Bank's basic account offering. It requires just a $10 minimum deposit to open. It charges a $3 monthly fee.
The Free ExtraValue Checking account offers the benefits of the BasicValue Checking account, without the fee. To open the account, you'll need to make a $100 deposit.
The Grand Yield NOW Checking account lets customers earn interest on their balance. There's a $100 minimum required to open the account and you'll need to maintain a $2,500 balance to avoid the $10 monthly fee.
No matter which account you open, you'll be eligible for Apple Savings Bank's Direct Deposit bonus. Just sign up for a recurring direct deposit of at least $500, and Apple Saving Bank will give you an extra $100 within three months the first deposit.
How we picked
MyBankTracker applied a methodology when choosing our best checking accounts in New York. Our top accounts were picked based on a thorough analysis of the top 50 banks by deposit market share in New York (based on FDIC June 2023 data)--covering major cities including New York City, Buffalo, Rochester, Yonkers, Syracuse, and Albany.
We focused our selections on checking accounts with low monthly maintenance fees, the least demanding requirements to waive these fees, the bank's ATM network, and other features included to make a person's banking life more convenient.
Checking Accounts Available Nationwide
Many people are used to doing their banking in person. Plus, it's convenient to have a place to go when you have questions about your account.
Still, online banks are a good option for most consumers. They're very convenient, letting you do your banking from anywhere. Most online banks also have 24/7 customer service lines, making it easy to get help when you need it.
More Features Without More Fees
Another major benefit of online banks is that they charge lower fees than physical banks.
Physical banks are very expensive to run because of how expensive it is to operate a branch of a bank. The bank needs to buy or rent the land for the branch, then pay to outfit the building properly. It also needs to pay for security, utilities, and employees.
By contrast, online banks only need to operate their main office. Centralizing operations reduces costs significantly, letting the banks save money. They then pass those savings on to customers in the form, of higher interest, lower fees, and features like ATM fee reimbursement.
FDIC Insurance Covers Your Online Bank
Many people feel uncomfortable about online banks because they perceive online banks as less safe than local banks.
The reality is that online banks are just as safe as any bank in New York. The Federal Deposit Insurance Corporation insures all banks equally. That means that your money is equally safe, whether it's at an online or local bank.
The FDIC insures a maximum of $250,000 per account type, per depositor at a bank. So, if you have a savings account and checking account, you could deposit $250,000 in each and it would all be protected.
So long as the bank you choose is insured by the FDIC, you cannot lose the money you have in a checking account.
You can expect the following options from these banks:
How to Make the Most of a Checking Account from a Local New York Bank
National banks tend to offer the same accounts to customers in any state. That means that every customer earns the same interest, gets the same features, and pays the same fees.
Local banks often try to offer attractive features tailored to customers who live in the area. That helps them entice customers who might be more familiar with the national brands.
Pros and Cons of Local Banks
Local New York banks can be a better value for local consumers because they work hard to serve local consumers' needs. They also tend to have fewer customers, letting them customize each customers' experience.
Advantages and Disadvantages of Savings Accounts from Local Banks
Benefits
Drawbacks

Lower fees than national banks (but not always)
Personal service for account management

Smaller branch and ATM networks
Interest rates are not the highest available
What Kind of Account is Right for You?
If you're still debating whether you should open an account at a local bank or an online bank, ask yourself these questions.
Are you comfortable with technology? Then, using an online bank will be easy for you. In fact, it will probably be easier than using a local bank.
If you adapt to new technology more slowly, you might need to put in some effort to adapt to online banking.
Do you visit your current bank branch on a regular basis? If it isn't often, online banking might be a good choice.
However, if you're the kind of person who goes to the bank all the time, it might be better to stick with a bank that has a branch near you.
What are you willing to pass up on to have a branch to visit? Online accounts almost always charge fewer fees and pay better interest. How much are you willing to pay in additional fees and lost interest to keep your account at a local New York bank?
Most Important Features in a Checking Account
Choosing the right checking account is an important part of your financial life. The primary things you should compare when making your decision are:
Monthly Fees
An account's monthly fees directly reduce your account's balance, thereby reducing your spending power. Look for an account that charges no fees or that has fee waiver requirements you can easily meet.
ATM/Branch Access
The point of a checking account is that you can get your money back easily when you need it. Make sure the bank you choose has a branch or ATM near your home, work, and common hangouts.
Interest
Interest might be more important for savings accounts, but there's no reason you shouldn't earn interest on your checking account's balance. Choosing an account that doesn't pay interest when one that does is available is like passing up on free money.
Mobile Banking Features
Our lives are becoming more and more mobile so mobile banking is essential to a good banking experience. Make sure the bank you choose has a smartphone app. Then make sure you can do basic things like check your balance, deposit a check, and transfer funds through the app.