KeyBank Student Checking Account 2023 Review
Learn about the student checking account offered by KeyBank, including its fees and features that may be useful for college and high school students.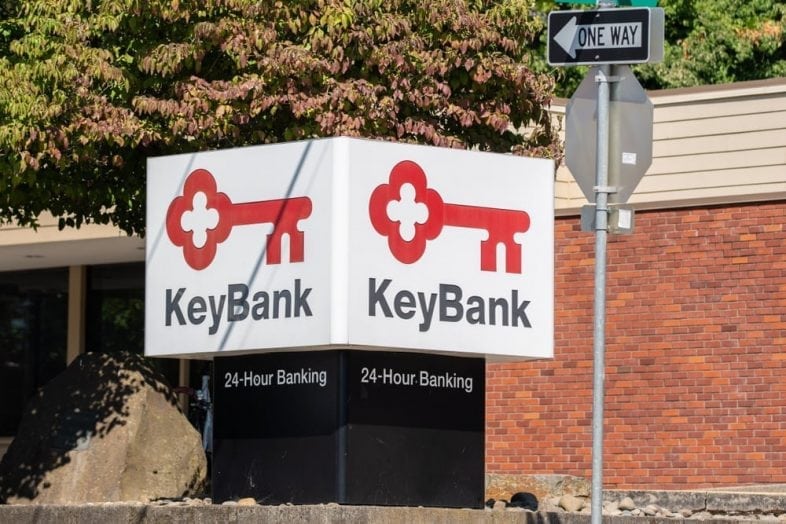 KeyBank, based in Cleveland, Ohio, is one of the United States' largest banks.
It operates a network of nearly 1,200 branches and 1,600 ATMs across 15 states.
Like most banks, KeyBank offers a wide variety accounts, including checking accounts. It also offers specialized student checking accounts.
Because banks want to draw in college students in hopes of making them lifelong customers, they offer special accounts just for students.
If you're a student and you're looking to open a new checking account, this review will tell you everything you need to know about the Key Student Checking Account.
Free Access to HelloWallet, a Financial Wellness Tool
It's a well-known fact that most college students don't have much extra money to go around.
Many college students don't have a job and rely on student loans to get them through the semester.
That means that budgeting and money management is incredibly important for college students.
KeyBank helps make things easier by offering HelloWallet, a free financial wellness tool, to account holders.
How it works
HelloWallet gives you a way to see a complete picture of your financial situation.
It is designed to help you track where you've been and to see where you're going.
It also helps you create plans and strategies to reach your financial goals.
When you open HelloWallet, you'll be greeted by a dashboard that lets you view all of your financial accounts. You can even add accounts from other financial institutions, including banks and investment brokerages.
That means you can easily get the full details about all your accounts at a glance.
HelloWallet will also automatically calculate a financial wellness score for you.
Your financial wellness score is a numerical representation of how healthy your financial situation is.
The score is determined using your current account balances, income, and spending history, and any other information HelloWallet is able to gather about your financial activities.
The score is automatically updated every time you log in to your account. HelloWallet also tracks your score's history so you can see patterns and determine what makes the score rise and fall.
In addition to your financial wellness score, HelloWallet provides a peer score.
This score compares your financial situation to others who are similar to you demographically.
You'll be compared to other people students of similar age, location, et cetera. This can give you an idea of whether you're on track when compared to your peers and give you some incentive as you try to one-up your peers.
If you have a KeyBank savings account, HelloWallet can help you earn more interest.
Enrolling in the program gives your savings account interest rate an automatic boost on balances up to $25,000.
Send Money to Your Friends Using Zelle
Students, having grown up with the internet, are particularly heavy users of online services, so it's understandable that they would want a way to make their financial lives more digital.
Still, cash has remained one of the most common ways to settle small debts with friends and colleagues.
Though cash might seem like the most convenient way to pay people, it introduces its own complications.
You have to hope that you're able to pay the exact amount that you owe or that the person that you're paying can make change. You also need to make sure you carry around cash regularly, which means you'll be a frequent visitor to ATMs.
To make paying people easier, KeyBank offers a digital payment service called Zelle.
Instead of using cash, you can use Zelle to send money directly from your account to theirs, with no cash involved. Best of all, Zelle is free to use.
When you open Zelle, all you have to do to get started is enter the recipient's phone number or e-mail.
You don't need to know anything about where they bank or what kind of bank accounts they have. All you need is a way to contact them.
You'll then be prompted to enter the amount you'd like to send. Sending and receiving limits can vary from bank to bank. Usually, you'll be able to send enough to cover all but the largest payments.
Hit send, and the recipient will be instantly notified that they have a transfer pending. If the recipient has already set up Zelle, the money will be removed from your account and arrive in their bank account within three business days.
If the recipient hasn't yet set up Zelle, they'll be prompted to set up their profile.
As soon as they do, the payment will be released and the transfer will complete within a few days.
Available to More Than Just College Students
Many student checking accounts specifically target college students, excluding other people who might still be pursuing education.
The KeyBank Student Checking account is less restrictive, allowing more than just college students to open the account.
High school juniors and seniors can open the account, giving them a chance to get used to having a bank account.
Students under 18 will need a parent or guardian to open the account with them.
The account is also available to people who are "enrolled in a post-high school educational curriculum."
This means people attending trade school or pursuing other forms of post-high school education are eligible.
ATM Fee Reimbursements Each Month
KeyBank has ATMs spread across 15 states, but only about 1,600 ATMs in its network.
That means that you may have trouble finding a KeyBank ATM that you can use without paying fees.
If you find yourself unable to visit a KeyBank ATM, you can visit another bank's ATM to make withdrawals.
Don't worry.
KeyBank doesn't charge you to use another bank's ATM.
Even better:
KeyBank will reimburse up to $6 of these ATM fees each month, letting you visit any ATM without having to worry about paying to get to your own money.
Normally, the ATM's owner charges a fee.
How to Waive the Monthly Fee
Oddly, unlike many other student checking accounts, the KeyBank Student Checking Account carries a $5 monthly maintenance fee.
There are two ways to avoid the fee.
If you make five transactions in a month, the fee will be waived for that statement period.
Any kind of transaction, including deposits, withdrawals, or transfers counts towards the five transaction requirement.
You can also avoid the fee by receiving at least $200 in deposits in a month.
Other Account Fees
Monthly maintenance fees are the most common type of fee you'll have to pay on a checking account.
However, there are other fees that the bank might charge.
Some of the fees that may apply to the Key Student Checking Account are listed below.
Key Student Checking Account Fees
| Type | Fee |
| --- | --- |
| Monthly Maintenance Fee | $5 |
| Non-KeyBank ATM | $0 |
| Overdraft Fee | $34 |
| Overdraft Protection Transfer Fee | $10 |
| Returned Item | $34 |
| Stop Payment | $34 |
| Deposited Item Returned | $15 |
| Domestic Wire Transfer (incoming) | $20 |
| International Wire Transfer (incoming) | $20 |
| Cashiers Check | $8 |
Convenience
The KeyBank Student Checking Account offers the convenience features that you need from a checking account.
You can easily manage your account through the bank's website or smartphone app.
When you log in, you'll be able to see your account balance, transaction history, and future scheduled transactions. You can also schedule new transactions if you'd like.
The account also offers bill pay service. You can pay your bills using the bank's website rather than writing and mailing checks every month, which can save you a lot of time.
What Happens When You Graduate?
When you graduate or turn 24, your KeyBank Student Checking Account will automatically become a KeyBank Key Express Checking Account.
This account offers very similar features, with the biggest difference being that it does not reimburse ATM fees.
The fee waiver requirements are also slightly higher: eight transactions or $500 in deposits in a month.
Other Options for Student Checking
Student checking accounts are offered by many other banks.
So:
You have plenty of options to choose from if you're looking to open an account. That means that you should take the time to try to find the best deal.
When you're comparing checking accounts, fees are the first thing to look at.
You want to make sure that you won't pay any maintenance fees. If the account does charge a monthly fee, make sure that you can meet the fee-waiver requirements each month.
Other things to consider when comparing accounts are:
Minimum deposit requirements
Fee waiver requirements
Interest rates
ATM access
Convenience features
The Final Verdict
The Key Student Checking Account is relatively unexciting.
There are many student accounts out there that are truly fee-free or that offer better features.
You should consider an online bank if you need a new checking account.
Online checking accounts rarely charge fees, even for non-students, and tend to offer great features.