Chase Student Checking Account 2023 Review
Learn about all the details of the Chase Student Checking Account, including its fees and features. Compare it to other college student checking accounts.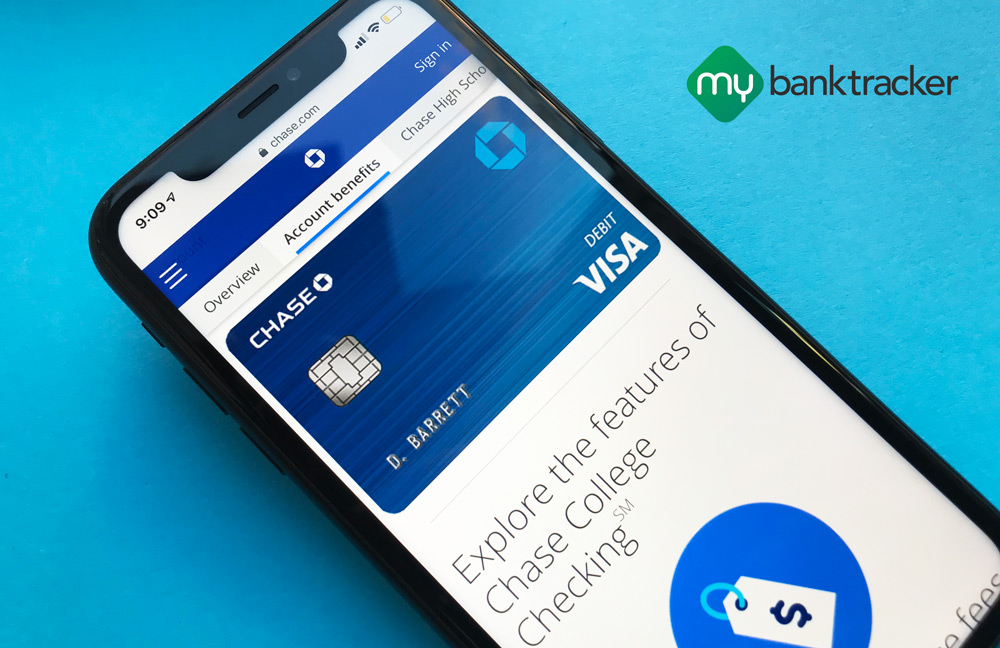 Chase Student Checking Account
As one of the nation's largest banks, with thousands of ATMs across the country, Chase Student Checking offers an excellent package for college students.
They combine a high level of account access with no monthly fee for student enrolled in college.
The account is available for students between the ages of 17 and 24.
Find out all the detail about this popular student checking account and compare it to similar offerings to see if it is the right one for you.
In this Chase Student Checking Account review, we'll compare rates, fees, and services to other national and online banks.
No-Fee Checking for College Students
Chase Student Checking provides students with three ways to avoid paying the regular $6 monthly service fee:
The fee is $0 for up to 5 years while you are in college (up to age 24), or
You receive a monthly direct deposit from either ACH credit, payroll, pension or government benefits, or
You maintain an average ending daily balance of $5,000 or more in the account
The first option will be easy enough to manage, and you'll probably have little trouble setting up the second option after five years.
Chase Student Checking Account Pros & Cons
Learn what happens to student checking accounts after graduation.
Overdraft Protection for Debit Card Transactions
Most banks will simply not honor a debit card transaction if your account has insufficient funds.
If you sign up for overdraft protection and extend the coverage to debit card transactions, Chase Student Checking will waive overdraft fees if you make a deposit in your account by the following cutoff times:
At a Chase branch before it closes.
At an ATM or when using the Transfer Money option on Chase.com or Chase Mobile before 11:00 PM, Eastern time.
Using Chase QuickPay with Zelle to receive funds before 10:00 PM Eastern time.
It doesn't give you the ability to carry an ongoing negative balance.
But if you need to pay a bill or make a purchase, and there isn't enough money in your account to cover it, you'll have some breathing room to make a deposit and avoid overdraft fees.
Be aware that check deposits usually won't qualify, since there is often a hold on the funds extending to at least the next business day or longer.
ATM Access at Thousands of Locations
Chase Student Checking provides a Chase debit card giving you access to more than 16,000 Chase ATM machines, as well as 5,100 Chase bank branches.
There is no fee for using the debit card at Chase ATMs or bank branches.
However, Chase does charge a small fee ($2.50) for use of the card at non-Chase ATMs, and advises you may also be subject to an additional fee by the ATM owner.
Chase strongly recommends restricting card use to Chase ATMs only.
No Interest Earnings
Chase Student Checking is not an interest-bearing account.
That shouldn't be a problem, since most college students are primarily looking for their checking accounts to provide multiple easy payment solutions, and are very likely to carry minimal balances anyway.
Other Fees for a Chase Student Checking Account
Chase Student Checking charges fees similar to other major banks.
For example, if you overdraw your account, they will charge an insufficient funds fee for each item, up to a maximum of three fees per day.
However, the fee will not be charged if your account is overdrawn by no more than $5 at the end of the business day, or on a charge of $5 or less.
And once again, you can avoid the overdraft fee entirely by making a deposit before the end of the business day.
Also be aware that Chase charges a fee if you use your Chase Debit Card to withdraw cash from a bank/ATM that is not Chase.
You can avoid this fee by using the card withdraw cash at a Chase bank branch.
Chase Student Checking Account Fees
| Type | Fee |
| --- | --- |
| Monthly Maintenance Fee | $6 |
| Non-Chase ATM | $2.50 |
| Overdraft Fee | $34 |
| Returned Item | $34 |
| Stop Payment | $30 |
| Deposited Item Returned | $12 |
| Domestic Wire Transfer (incoming) | $15 |
| International Wire Transfer (incoming) | $15 |
| Cashiers Check | $8 |
Easy Account Management
Chase Student Checking offers you your choice of check designs. The cost of check supplies will depend upon the specific design you select.
But checks and your debit card aren't the only way to access your Chase Student Checking account. Other access services provided with the account include:
Chase QuickDeposit
You can make mobile deposits just by taking a picture of your check using your smartphone.
It enables you to deposit checks anywhere at any time. In most cases, deposits submitted before 11:00 PM Eastern time on a business day will be available the next business day.
Deposits submitted after 11 PM will be available on the second business day.
The mobile deposit limits are:
$2,000 per day and $5,000 over a 30-day period
Direct deposit
This is an excellent way to get instant access to regular payments received, including payroll checks or government benefits.
Your money is available as soon as it's deposited, and there's no need to go directly to a branch to make it happen.
Online bill pay
Using the Chase Mobile App, you can add payees and schedule payments as necessary.
You can even set up automatic payments to make sure you're never late.
Online Bill Pay can be used for any expense, including rent, credit card bills and your car payment. There is no additional fee for this service.
Chase QuickPay with Zelle
You'll have the ability to both send and receive money in a matter of minutes, to or from anyone, using Zelle.
You can download it on the Chase Mobile app, then send or receive money, even people who are not Chase customers. All you need is an email address or a mobile phone number.
You can even set up recurring payments.
There are no limits on how much money you can receive, but you are limited to sending no more than $2,000 per day, or $16,000 in a calendar month. This is another free service.
Chase Student Checking also comes with Account Alerts, providing you with alerts by either text or email.
You'll be notified in the event your account has a low balance, has a large transaction, when payments are made, or has suspicious account activity.
Compared to Other Student Checking Accounts
Chase Student Checking is certainly not the only bank that offers checking accounts for college students with no monthly fee.
TD Student Checking
TD Student Checking from TD Bank also offers no monthly fee. They require no minimum initial deposit to open the account, however the fee to use non-TD Bank ATMs is $3.00 (remember Chase is at $2.50), and they have fewer ATMs available than Chase does.
Bank of America Advantage Plus Banking
Bank of America's Advantage Plus Bank works much like Chase Student Checking, and waives the monthly fee for students under the age of 24. It also requires a minimum opening deposit of $25, and charges $2.50 for use of non-Bank of America ATMs.
Wells Fargo Everyday Checking
Wells Fargo offers their Everyday Checking, with monthly fees waived for students 24 and under (the normal monthly service fee is $10). It works similar to Chase Student Checking, but offers 3,000 fewer ATMs.
Among the major banks offering checking accounts for college students with no monthly fee, Chase Student Checking is at least equal to the competition.
How Does It Stack Up to Online Checking Accounts?
Many large banks offer student checking accounts with no monthly fee, and typically under the same terms as Chase Student Checking.
The main factor to consider – beyond the zero monthly fee arrangement – is access to funds.
Since virtually all checking accounts now come with debit cards, the major factor is the number of ATMs available. Chase is particularly strong here, with one of the largest ATM networks in the country.
Other features include mobile deposits, bill pay, and an instant transfer method, like Zelle. Chase Student Checking has all these features.
You might also consider online checking accounts from online banks.
They normally have no monthly fee, but it pays interest on your balance, and there is no minimum balance requirement.
Furthermore, they might waive and refund ATM fees, which allows you to use any ATM for free.
Should You Open a Chase Student Checking Account?
A Chase Student Checking Account is an excellent choice for most college students.
It's especially good for students who will be attending a college where Chase bank branches and ATMs are common. That will provide the student with a large number of fee-free access points to his or her account balance, as well as in-person assistance when needed.
Due to the fee that Chase charges for non-Chase ATMs, it may not be a good choice if your school is located in an area that is not served by Chase ATMs or branches.
In that situation, online checking accounts may be the better choice, since it charges no fees on out-of-network ATMs.