What Happens to Student Checking Accounts After Graduation?
Learn what happens to your student checking account after you've graduated and you're no longer considered a college student.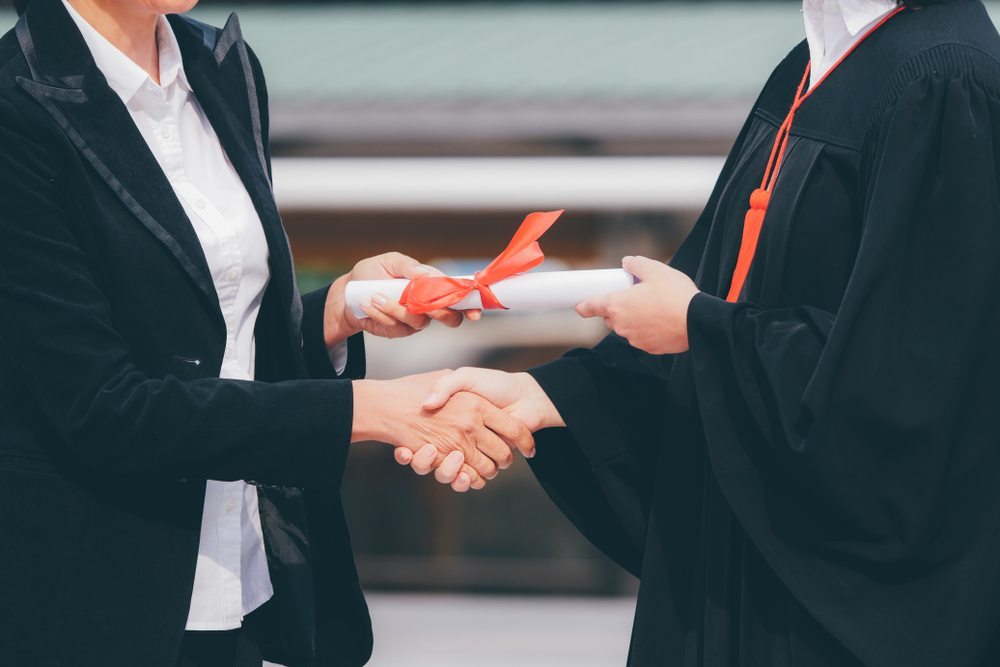 College students can take advantage of many local perks and discounts, from annual back-to-school discounts at the Apple Store to discounts at local movie theatres.
Students also have a wide range of choices when it comes to choosing a bank during their college years.
Many banks and credit unions offer competitive student checking accounts.
These "student checking accounts" are usually free of typical monthly maintenance fees, and others offer discounted checking account fees.
Most student banking packages also offer a free savings account as well.
But, the special account pricing for students doesn't last forever.
Find out what happens to your student checking account after graduation and the steps that you can take to avoid paying monthly fees.
What is a Typical Student Checking Account?
Almost all banks offer some sort of student checking or discount for young adults age 17-24.
Banking customers in this age range generate big business to banks, and banks are willing to incentivize students to come and bank with them.
For example, Wells Fargo does not offer a dedicated Student Checking account, but customers between the ages of 17-24 receive a $5 discount off the $10 monthly service fee on their checking account.
This monthly service fee can be waived if the banking customer keeps a $1,500 minimum balance, receives direct deposits each month totally $500 or more, or makes 10 or more debit card purchases each month.
The best checking account for you may not be a "student" checking account, it may be a free checking account with an online bank or credit union.
If you need access to cash frequently, you may want a bank with a large network of ATMs.
If you will be studying abroad, look for a bank that will not charge you foreign transaction fees.
Tip: Wherever you decide to bank, look closely at the overdraft protection options available, and consider not enrolling.
Although "overdraft protection" is offered as a "free benefit", the only one benefitting is the bank, when they collect your fees.
Yes, your transaction will be approved when you have overdraft protection and there are no funds in your checking account. But the price you pay is enormous.
You're better off to have a transaction declined than pay an expensive overdraft fee.
What Happens After Graduation
When you graduate or leave or your school (have a change in student status), your bank account may also have a change in status.
Student Checking Accounts Monthly Maintenance Fees
| Bank Account | Monthly Fee | How to Avoid Fee |
| --- | --- | --- |
| Bank of America Advantage Plus | $12 | Monthly fee waived if enrolled in college and under 24, or a monthly direct deposit of $250, or $1,500 avg. daily balance |
| Wells Fargo Everyday Checking | $5 | Monthly fee waived with 10 debit card purchases/payments, $500 in total direct deposits, $1,500 minimum daily balance, or linked Wells Fargo Campus ATM or Campus Debit Card |
| Chase College Checking | $6 | Monthly fee waived with if enrolled in college, or have a monthly direct deposit, or a $5,000 avg. daily balance |
| Citibank Student Account *no longer available | $0 | Graduation or when no longer enrolled in school |
| U.S. Bank Student Checking | $0 | |
| PNC Bank Virtual Wallet Student | $7 | Monthly fee waived with if enrolled in college, or $500 total direct deposits, or $500 avg. daily balance, or avoid using a PNC branch |
| Capital One 360 Checking | $0 | |
| TD Bank Student Checking | $0 | |
Your student checking account is likely to change based on:
When you graduate, or
The age of the account (usually 4-5 years), or
Your age
Your bank will still want your money and business when you are no longer a student, so they will not close your account.
In the most likely scenario, your bank will convert your account to a standard checking account.
When you graduate
Your bank could automatically convert your student checking account to a regular checking account once it knows that you have graduated.
Because you're no longer a college student, you lose the student pricing.
The account age
The typical college student will complete their degree within 4 to 5 years, which is the reason why some banks use this time frame.
Once this period of time has passed since you've opened your student checking account, it automatically gets converted.
If you remain a student after this time, you may ask the bank to extend this time frame.
Your age
Similar to the account age, a bank may use an estimated at which you're likely to no longer be considered a full-time student.
This fee waiver may be extremely generous. For instance, a bank may wait until you are age 24 before converting the account.
Whichever comes first
Your account may use a mix of the above three rules that determine what happens after graduation.
Usually, whichever factor is met first will trigger the account conversion.
How Does Your Bank Know You Graduate?
Whether or not your bank knows you graduate will depend on where you bank, and what information you disclosed when you opened your account.
If your bank asked your anticipated graduation date when you first opened your account, your student checking account expiration may be based on this date.
What If You Didn't Graduate on Time?
If you end up having to spend another semester or year in college, notifying your bank may be low on your priority list as you focus on completing college and graduating.
It is possible though, your bank may be able to extend your college checking account benefits until you graduate and avoid unnecessary checking account fees.
The terms of your checking account will likely specify how long you are eligible to receive student checking benefits.
Even if you are ineligible based on the terms of your account, it is possible that the manager of the bank or credit union can waive fees for several months to help you out until you graduate.
Finding A Better Checking Account
Once you graduate, the great college checking account you had during school may turn into a not-so-great checking account with monthly maintenance fees equal to several trips to Starbucks or a week's worth of gas.
Although almost all banks offer free checking with a minimum average daily balance, many new college graduates are not able to maintain minimum balances, which may be as high as $5,000. This is common.
Fortunately, you have many options available to not pay maintenance fees, with banks that offer free online checking accounts.
Do not stay with a high-fee, no-interest checking account simply for convenience.
You can save money and avoid headaches with a free checking account.
Benefits of online checking accounts
Although you will not receive face-to-face customer service at a local bank branch, online-only banks offer many advantages over brick and mortar banking, including higher interest rates and fewer fees.
Most banks now offer easy check deposits through apps and some banks offer incentives and rewards.
They also often come perks such as ATM fee refunds, which allow you to use any ATM without worry of fees (essentially).
Conclusion
While most college students will not carry high balances at their bank, college students are attractive customers to banks and credit unions for other reasons.
As students gain financial independence, they are likely to make occasional (hopefully not frequent) banking mistakes that will result in fees.
For example, a simple overdraft of a debit card while buying an energy drink at the local student store, could result in a $37 overdraft fee to your bank. That's an energy drink – and mistake- that no student can afford.
Banks want college student customers for more than just overdraft fees.
College students are likely to need other financial services as they navigate the college years, including a credit card and possibly private education loans or vehicle loans.
Possibly, a few years later and after graduation, these graduate may just stick with the bank. The future may also include a home purchase that requires a mortgage. All of these financial services will generate revenue to the bank.
So, although you will not be carrying a high balance when you open up that student checking account, you will be providing a steady stream of income to your bank over the years as a customer.
Knowing what happens after graduation means that you can use your power as a consumer to either:
stick with the newly converted account, or
find a better, more affordable option
Graduation is the best time to review if your bank is still the best option for you.