Wells Fargo Student Checking Account 2023 Review
Learn about the checking account that Wells Fargo offers to college students and find out what features are offered, including how to avoid the monthly fee.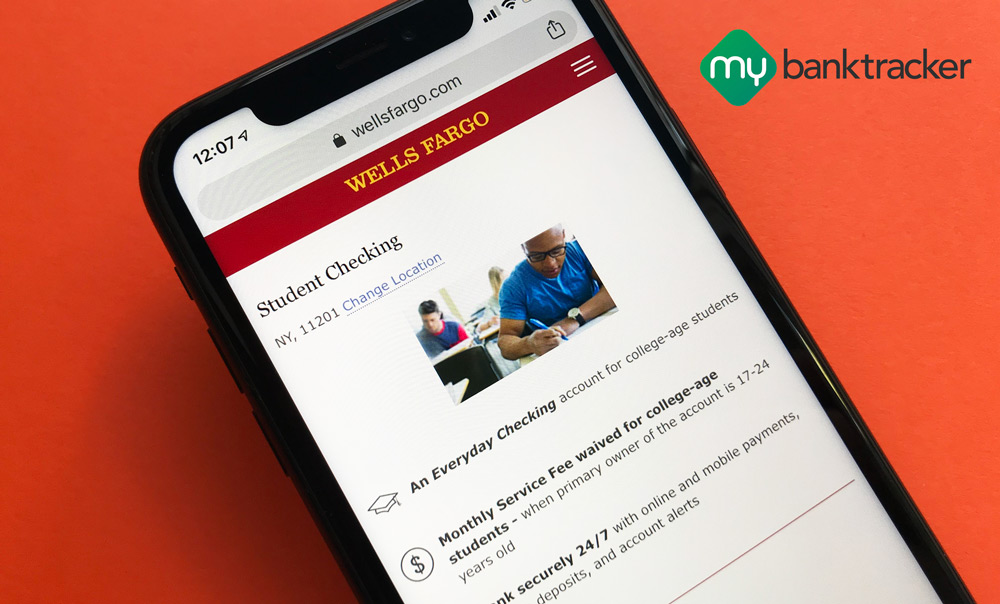 Wells Fargo Student Checking Account
Wells Fargo is a multinational bank with more than 5,800 branches and 13,000 ATMs across the United States.
Among the many financial services offered by Wells Fargo is the Wells Fargo Student Checking Account.
Really, this is just the Well Fargo Everyday Checking Account, but students 17-24 years old get a $5 discount on the monthly fee.
This means that it won't cost you as much if you are unable to meet the standard fee-waiver requirements.
If you're a student who needs a checking account, you need to know whether the Wells Fargo Student Checking Account is right for you.
In this Wells Fargo Student Checking Account review, we'll compare rates, fees, and services to other national and online banks.
Learn about the account's features and fees to help you make that decision.
Ways to Avoid the Monthly Fee
Wells Fargo Student Checking Account Pros & Cons
The Wells Fargo Student Checking Account charges a $5 monthly fee to keep the account open.
The fee can be waived if you meet any of the following requirements:
Maintain a $1,500 minimum daily balance during the statement period
Make 10 or more debit card purchases in a statement period
Receive at least $500 in direct deposits in a statement period
Have a linked Wells Fargo Campus ATM or Debit Card
Wells Fargo Campus Card
Some colleges and universities in the U.S. have partnered with Wells Fargo to offer Wells Fargo Campus Cards.
These cards combine campus ID cards and debit cards into one easy to use card. You can use this card to make deposits and withdrawals at any Wells Fargo ATM on or off campus.
If your college does not offer Wells Fargo Campus Cards, you will still receive a standard ATM or debit card.
You can use the card, fee-free, at any Wells Fargo ATM. If you visit another institution's ATM, you'll have to pay a $2.50 fee, plus any fee charged by the ATM's owner.
Get Overdraft Transfers from a Linked Wells Fargo Way2Save Savings Account
It's no secret that most college students live on a very tight budget. College is expensive, and classes, homework, and projects leave little time to add a part-time job to the mix.
Even if you do have a part-time job, your income will still be low enough that you're likely to have to keep close track of your finances.
If you do find yourself in this kind of situation, you may worry about overdrawing your checking account.
An overdraft can be a painful experience because you spent money you didn't actually have and the bank will charge you a large fee for the privilege of doing so. That puts your balance further into the negative, leaving you with a deep hole to dig yourself out of.
If you have a linked Way2Save Savings Account, you can sign up for overdraft protection services. This will help you avoid overdrawing your checking account and incurring the related fees.
With this service, any time you would overdraft your checking account, money will instead be transferred from your savings account.
You'll incur a $12.50 fee for each time you use this service, but that fee is much smaller than the actual overdraft fee. That can save you a lot of money in the long run if you wind up overdrawing your account a few times.
Zero Liability Protection
One of the main reasons that people use credit cards is that they provide extensive consumer protections. If someone gets access to your credit card and uses it without your permission, you won't be held liable for the charges.
Debit cards are riskier. If someone gets your debit card and starts using it, the money they use is immediately deducted from your checking account. Worse, the consumer protections on debit cards aren't as strong as the protections that are offered by credit cards. You could be left footing the bill that a fraudster incurred.
Wells Fargo wants you to feel safe when you use your debit card, so it offers zero liability protection to its customers. If someone uses your debit card for purchases or ATM transactions without your permission, you won't have to cover the charges.
The only requirement is that you must report the loss of your card as soon as you notice it. You must also immediately report any unauthorized charges. Assuming you keep track of your accounts, you should easily notice when something is amiss and be able to report it.
To make this easier, Wells Fargo offers automated account alerts.
You can be notified of suspicious activity, low balances, and payment due dates by text message. Wells Fargo also has a 24/7 fraud monitoring system that will automatically contact you if it notices something strange going on with your account.
Manage Your Account from Your Phone or Computer
College students are constantly on the go. You have to make it to class, meet with your project groups, do your homework, study, and find time to socialize and relax.
You don't have time in your schedule to fit in a visit to the bank to deal with deposits, transfers, and other things related to your account.
Wells Fargo offers a powerful online dashboard that lets you look at all of your accounts at the bank.
You can see your account balance, previous transactions, and future scheduled transactions all from the bank's website. You can also set up withdrawals, deposits, or transfers from the site.
You can do everything that you need to do to manage your money without leaving your home.
Wells Fargo also has a smartphone app (on iOS and Android devices) that gives you access to your account while you're on the go. It offers the same features as the Wells Fargo website, letting you view your account and historical transactions.
You can also use the app to make transfers or set up future transactions.
For mobile check deposits, the limits are:
$,2500 per day and $5,000 over a 30-day period
For Zelle person-to-person payments, the limits are:
$2,500 per day and $4,000 per month
Other Fees
The monthly maintenance fee is the most common fee you'll have to worry about with this bank account.
Most of the other fees that may be charged are not common, but they're still good to know about.
One of the other most common fees is the overdraft fee.
If you ever try to spend more money than is in your account you'll incur an overdraft fee if Wells Fargo decides to allow the transaction to go through. If this happens, your account balance will go negative and the fee will be assessed.
The overdraft fee for the Wells Fargo Student Checking Account is $35, with a limit of three overdraft fees charged per day.
Some other fees that you may see are (same as the Everyday Checking Account):
Wells Fargo Everyday Checking Account Fees
| Type | Fee |
| --- | --- |
| Monthly Maintenance Fee | $10 |
| Out-of-Network ATM Fee | $2.50 |
| Overdraft Fee | $35 |
| Overdraft Protection Transfer | $12.50 |
| Returned Item | $35 |
| Stop Payment | $31 |
| Deposited Item Returned or Cashed Check Returned | $12 |
| Incoming Domestic Wire Transfer | $15 |
| Incoming International Wire Transfer | $16 |
| Money Order | $5 |
| Cashiers Check | $10 |
How It Compares
Checking accounts are the most common type of bank account in the United States.
What that means is that there are many options for you to choose from when you decide to open an account. You should take the time to shop around to make sure you find the best deal.
When looking for a new checking account, make sure to look into local banks.
These banks often offer better deals that meet the needs of local customers. Online banks excel at offering low-fee accounts that are great for college students.
Beyond the fees that you'll pay and how easy the account is to use, there are some other things to keep in mind when comparing accounts.
You should think about these factors when making your decision.
Minimum deposit
Fee waiver requirements
Interest rates
ATM access
The Final Verdict
All in all, the Wells Fargo Student Checking Account is a relatively basic account. It offers the services you need without bells and whistles.
If you can meet the requirements to waive the monthly fee, it isn't a bad choice.
Otherwise, it is best to look else for a student checking account that doesn't come with a monthly charge -- an online checking account is worth considering.