U.S. Bank Student Checking Account 2023 Review
Learn about the student checking account option offered by U.S. Bank and compare its fees and features to the other student checking options available.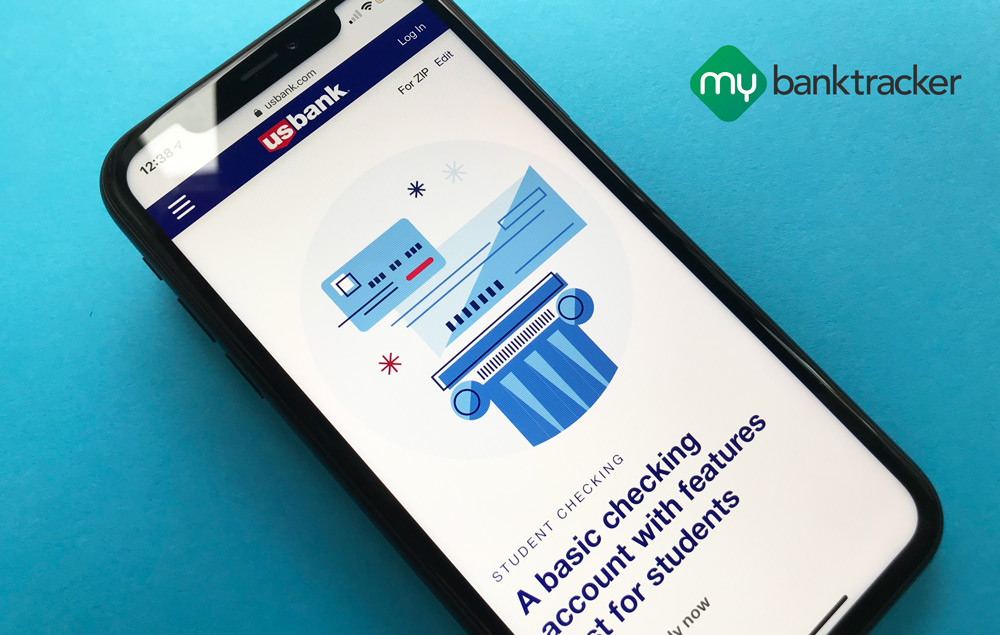 U.S. Bank Student Checking Account
Your college finances need a checking account at its very center.
So, the right checking account is important. 
On your search, you're likely to come across U.S. Bank, the 5th largest bank in the United States with a network of 3,106 branches and 4,842 ATMs -- concentrated in the Midwest.
The bank's Student Checking account is a solid option because it has no monthly fee for students and a great ATM policy.
If you're a college student and need a checking account, learn everything you need to know about the U.S. Bank Student Checking Account.
In this U.S. Bank Student Checking Account review, we'll compare rates, fees, and services to other national and online banks.
Easy to Open and Manage the Account
U.S. Bank Student Checking Account Pros & Cons
College students are always busy.
You need to balance classes, studying, handling daily chores like cooking and getting groceries, and maybe even working a part-time job.
Finding time to deal with your bank can be difficult.
U.S. Bank understands that students lead a busy lifestyle and aims to make things easier for them. You can open your account in just minutes by visiting U.S. Bank's website and filling in the application form.
The only thing you need to do is provide a $25 minimum opening deposit.
You don't even have to leave your home to open the account. And you can rest assured that your financial data is safe thanks to U.S. Bank's strong data encryption.
Once the account is open, it's very easy to use. You can log in to your online account to manage your money. You can view your account's balance and see your transaction history and a list of future scheduled transactions.
If you want to move money to another account, you can do so from your phone or computer. You can also visit a branch if you'd rather make the transfer in-person.
You can also set up automatic recurring transfers. This is a great idea if you want to start saving money towards a trip or other large purchase.
Set up an automatic transfer to a linked savings account.
Each month, money will be moved from your checking account to your savings account. You don't have to do anything but watch your savings grow.
You can also make deposits while you're on-the-go using the U.S. Bank app's mobile check deposit feature. That makes it easy to get money into your account. When you want to get money out of your account, you can visit any U.S. Bank ATM.
Discount, Customizable Checks
Though more and more transactions are moving online sometimes you need to use an old-fashioned check.
When you sign up for the U.S. Bank Student Checking Account, you'll get your first order of checks free.
You can use these checks to make any payments you need to, such as rent, utilities, or paying friends back when they spot you cash during a night out.
If you get a part-time job, you might also need to provide a voided check to set up direct deposit for your paychecks. It's a good thing to have checks on hand, even if you rarely use them.
If you want to add some flair to your financial life, U.S. Bank offers a 50% discount on customized checks for student account holders.
You can add a number of designs to your checks, including logos from dozens of universities, giving you the chance to show some school pride.
Four No-Fee Withdrawal from Non-U.S. Bank ATMs
You might want to have some extra cash on hand for a night out but won't have enough time to visit the bank.
You might also find yourself somewhere where there are no U.S. Bank ATMs in sight.
A great perk for students:
U.S. Bank Student Checking Account holders get four (4) no-fee withdrawals from non-U.S. Bank ATMs per month.
Note: The phrase fee-free means that U.S. Bank won't charge you any fee. It does not mean that the ATM's owner won't charge you a fee.
If the ATM's owner charges a fee for using the ATM, you'll still be on the hook for that.
After that, you'll pay $2.50 per withdrawal. This benefit can help you save some money when you're out and about.
Because U.S. Bank's ATM network focuses on the Midwest, you probably won't have much trouble finding a U.S. Bank ATM if you stay near your school.
If you ever wind up traveling outside the Midwest, you might not be able to find a U.S. Bank ATM as easily. That is when you'll make the most use of this benefit.
No Monthly Fee
There is no monthly fee to keep the U.S. Bank Student Checking Account Open.
However:
There is a fee to receive paper statements, which would come to your door every month.
If you receive paper statements, you'll pay a $2 fee for each statement mailed to you.
You can avoid this fee by signing up for eStatements.
Other Fees
The most common fee you'll see charged on a checking account is the monthly maintenance fee.
Though the U.S. Bank Student Checking Account doesn't charge a maintenance fee, there are some other fees that you should be aware of.
U.S. Bank Student Checking Account Fees
| Type | Fee |
| --- | --- |
| Monthly Maintenance Fee | $0 |
| Monthly Paper Statement Fee | $2 |
| Non-U.S. Bank ATM | $2.50 (after the first 4) |
| Overdraft Fee | $36 |
| Overdraft Protection Transfer Fee | $12.50 |
| Returned Item | $36 |
| Stop Payment | $35 |
| Deposited Item Returned | $19 |
| Domestic Wire Transfer (incoming) | $20 |
| International Wire Transfer (incoming) | $25 |
| Cashiers Check | $8 |
Convenience
One of the most important aspects of a checking account is how convenient it is. Your checking account is the center of your financial life, so you want it to be easy to use.
The U.S. Bank Student Checking Account offers the basic convenience features you'd expect. You can manage your account online and make mobile deposits.
The fact that you can make 4 ATM withdrawals at non-U.S. Bank ATMs without being charged a fee by U.S. Bank adds to the convenience. Where the convenience fails is when you travel outside of the areas served by U.S. Bank.
You may have trouble finding a fee-free ATM to use.
What Happens When You Graduate
To be eligible for a U.S. Bank Student Checking Account you have to be a full-time student in college.
When you do graduate, the checking account will automatically be converted into a U.S. Bank Easy Checking Account.
You should be prepared for this happening because the U.S. Bank Easy Checking Account charges a $6.95 monthly fee.
To avoid the fee, you must receive $1,000 in direct deposits each month, or maintain an average balance of $1,500.
How Does It Compare?
The checking account is the most popular type of bank account in the United States.
Nearly every bank offers one, so you have a lot of options to choose from when you're looking to open a checking account.
That means that you should take the time to shop around to find a good deal.
When you're shopping for a new checking account, don't just look at national chains of banks.
Consider local banks too.
They can often offer better deals that meet the special needs of local customers.
Online banks also offer checking accounts. They tend to have low or no fees, and high interest rates. That combination can make online checking accounts ideal for students.
All in all, you should consider these factors when comparing checking accounts:
Minimum deposit requirements
Fee waiver requirements
Interest rates
ATM access
The Final Verdict
The U.S. Bank Student Checking Account doesn't really do anything to set itself apart from the competition.
It's a no-frills account without any features to draw customers, other than its lack of fees.
If you're a student looking for a checking account, consider opening an account with an online bank. They offer perpetually fee-free accounts, unlike U.S. Bank.
They also tend to offer ATM fee reimbursement, giving you truly fee-free ATM use throughout the United States.
As a bonus, you can open an online savings account to link to your online checking account, giving you the chance to earn interest on your savings.