PNC Bank Student Checking Account 2023 Review
Find out what checking account is offered by PNC Bank for college students. Compare its features and fees to those from other student checking accounts.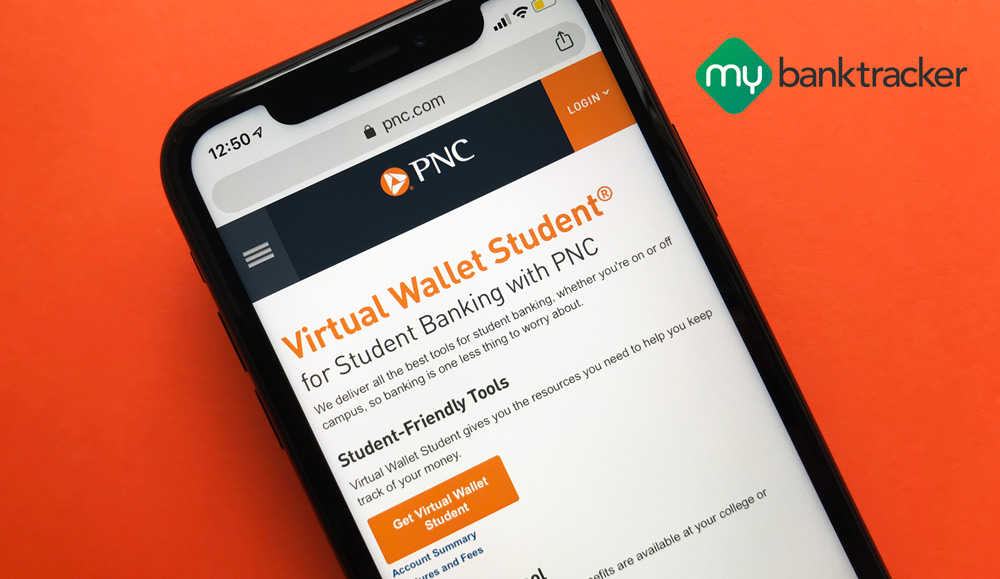 PNC Bank Student Checking Account
When you're looking for a student checking account, PNC Bank is a destination that you might consider.
With its 2,600 branches and 9,000 ATMs across 19 states, PNC Bank is among the options for anyone, including college students.
The bank's Virtual Wallet Student includes a checking account with student-friendly tools.
It also includes other unique features to keep their money on track as they complete their education.
In this PNC Bank student checking Account review, we'll compare rates, fees, and services to other national and online banks.
Spend and Grow Your Money
PNC Bank's Virtual Wallet Student is different because it offers three accounts in one.
When you apply for Virtual Wallet Student, you'll receive a Spend account which functions as a primary checking account.
If you have a part-time or full-time job, or receive money from your parents, you can deposit cash or checks into this account.
Here's the interesting part:
Along with a primary checking account, Virtual Wallet Student also comes with a Reserve account and a Growth account.
The Reserve account is for short-term savings goals. Maybe you're thinking about getting a new laptop or taking a trip with friends.
Your Growth account, however, is for long-term savings goals. Use this account to save a down payment for a house after graduation.
The difference between the Reserve and Growth account is that the latter features a higher interest rate to maximize your earnings.
PNC Student Checking Account Pros & Cons
Avoid Fees with Overdraft Protection Services
With a Spend account, there's the option of opting into overdraft protection services.
This helps you avoid expensive overdraft fees.
How it works:
You'll link your Spend account with your Reserve and Growth accounts.
This provides peace of mind in the event that you forget to record a transaction and overdraw your account.
Your Reserve account serves as your main account for overdraft protection. If you don't have enough cash in your Spend account to cover a transaction, funds from your Reserve account will transfer to your Spend account to avoid an overdraft.
In the event that you don't have enough funds in your Reserve account for overdraft protection, your Growth account is the backup account.
The good news is...
There's no overdraft protection transfer fee.
This is different from other banks. Some banks charge a fee for each day that an overdraft transfer occurs.
Keep in mind that if you don't sign up for overdraft protection, PNC Bank may charge a $36 overdraft and returned item fee if you don't have money in your account to cover a transaction.
Tip: PNC does offer its customers "one" courtesy fee refund on a returned item that occurs within the first 12 months of opening an account.
Open an Account With Little or No Cash
Getting started with Virtual Wallet Student is easy because there's a low minimum deposit to open an account.
You can apply for an account in-person at a branch or online.
If you open an account in-person, the minimum opening deposit requirement is $25.
If you're cash-strapped and need to open an account with less money, there's no minimum deposit requirement when applying for an account online.
Convenient ATM Access Near Campuses
A Spend account comes with an ATM card that also serves as your debit card.
Use this card to withdraw cash from PNC Bank ATMs and non-PNC bank ATMs.
There's never a fee to withdraw money from a PNC Bank ATM.
But be aware, there's a $3 fee each time you take money from a non-PNC Bank in the United States, Canada, Puerto Rico, and the U.S. Virgin Islands.
If you're traveling abroad with family or friends on vacation, feel free to take cash from a non-PNC Bank ATM for a $5 fee.
Now as a student, depending on your college or university, you may be able to access a PNC ATM on campus.
Or, you might find branches within walking or driving distance of your campus.
Some colleges and universities even partner with PNC Bank, allowing student ID cards to function as ATM cards.
What You Need to Know About Rates
Unfortunately, a Virtual Wallet Student Spend account isn't an interest-bearing checking account.
So don't expect to earn interest off of your deposits.
You can, however, earn interest from your Reserve and Growth accounts when you apply for Virtual Wallet Student.
You'll earn interest on balances of $1 or more.
With that being said, it's important to get into a regular habit of depositing cash into your savings accounts.
The interest rate with the Reserve account is on par with other brick-and-mortar financial institutions.
The interest rate with the Growth account is tiered. So your rate increases as your balance increases. Growth account rates are competitive and comparable with rates offered by online banks.
Don't Pay a Monthly Fee as a Student
Virtual Wallet Student is also unique because students don't have to pay a monthly service fee under certain conditions.
If you open a PNC Bank account as a student, you must notify the bank of your student status before you can attain student benefits.
Be prepared to provide proof of active enrollment in school.
After graduation
You can enjoy the student monthly waiver for as long as you're enrolled in a qualified educational institution.
But only up to a maximum of six years.
What happens is...
You can keep your Virtual Wallet account once you're no longer eligible for student benefits, but you'll have to pay a monthly service fee of $7 per month.
You can avoid the fee by maintaining a combined $500 average monthly balance in your Spend and Reserve accounts. The bank will also waive the fee if you have $500 in qualifying direct deposits per month.
What Other Fees Can You Expect?
Be mindful of other bank fees you're responsible for with Virtual Wallet Student.
Although the bank charges an overdraft and returned item fee for insufficient funds, there's no fee when your account is overdrawn by $5 or less.
Understand that if your account remains overdrawn for five or more consecutive days, PNC Bank charges $7 per day that your account is in the red, up to $98.
Be aware that there's a $7.50 fee to replace an ATM or debit card. And if you use your debit card internationally, there's a 3 percent foreign transaction fee.
Also, if you close your Spend account within 180 days of opening the account, the bank will charge a $25 early closure fee.
PNC Student Checking Account Fees
| Type | Fee |
| --- | --- |
| Monthly Maintenance Fee | $0 |
| Non-PNC ATM | $3 |
| Overdraft Fee | $36 |
| Returned Item | $36 |
| Stop Payment | $33 |
| Deposited Item Returned | $12 |
| Domestic Wire Transfer (incoming) | $15 |
| International Wire Transfer (incoming) | $15 |
| Cashiers Check | $10 |
Manage Your Account From Anywhere
Here's the bad part:
Virtual Student Wallet doesn't come with free checks.
Even so, you can take advantage of online and mobile banking features. This results in seamless, simple account management.
Both options include a wide selection of services and benefits to accommodate your banking needs.
Check your account balance 24 hours a day, seven days a week from any location. You can also transfer money between accounts and schedule online bill pay for free.
You can avoid branch visits by using the mobile app to deposit checks from your smartphone or tablet.
Other convenient mobile and online features include:
PopMoney (send and receive money electronically from anywhere)
Text Banking
ATM Locator Tool
Online Statements
PNC Deposit Easy
Tips to Compare Other Student Checking Options
Student checking account features vary from institution to institution.
So make sure you research and compare banks to find an account that's right for your situation.
No two banks are alike.
For this reason, not every bank offers student-friendly tools. As you compare student checking options, look for accounts you can open with no minimum deposit requirement.
Also, find a bank that offers ways to avoid the monthly service fee — as a student and beyond.
Avoiding monthly fees is particularly important if you're a student with limited income.
Also, don't forget to ask questions about the status of a student checking account once you're no longer enrolled in a qualified educational institution.
Will you be able to keep the checking account? Or will you have to switch to a different type of account?
Finally, is this bank convenient for you as a college student and for your parents, who may need to deposit funds into your account?
Student Checking Accounts Monthly Maintenance Fees
| Bank Account | Monthly Fee | How to Avoid Fee |
| --- | --- | --- |
| Bank of America Advantage Plus | $12 | Monthly fee waived if enrolled in college and under 24, or a monthly direct deposit of $250, or $1,500 avg. daily balance |
| Wells Fargo Everyday Checking | $5 | Monthly fee waived with 10 debit card purchases/payments, $500 in total direct deposits, $1,500 minimum daily balance, or linked Wells Fargo Campus ATM or Campus Debit Card |
| Chase College Checking | $6 | Monthly fee waived with if enrolled in college, or have a monthly direct deposit, or a $5,000 avg. daily balance |
| Citibank Student Account *no longer available | $0 | Graduation or when no longer enrolled in school |
| U.S. Bank Student Checking | $0 | |
| PNC Bank Virtual Wallet Student | $7 | Monthly fee waived with if enrolled in college, or $500 total direct deposits, or $500 avg. daily balance, or avoid using a PNC branch |
| Capital One 360 Checking | $0 | |
| TD Bank Student Checking | $0 | |
Final Verdict: Is Virtual Wallet Student for You?
PNC Bank's Virtual Wallet Student is worth consideration if you're looking to open a checking account with a bank that has a strong presence on or near college campuses.
Keep in mind that PNC Bank is only in 19 states. So make sure there are locations in your hometown and your campus town before signing up. Also, check with your college or university to see if it partners with PNC. If so, you might be able to use your student ID as an ATM card.
The downside to the Spend account is that it doesn't earn interest. But once you graduate, find a job, and are able to maintain a larger balance in a checking account, you can always explore other options. This includes an interest-bearing online checking account. This account will likely have a higher rate than those offered by a local bank.