USAA Student Checking Account 2023 Review
For college students in military families, the student checking account from USAA Bank offers great perks - especially ATM access - for no monthly fee.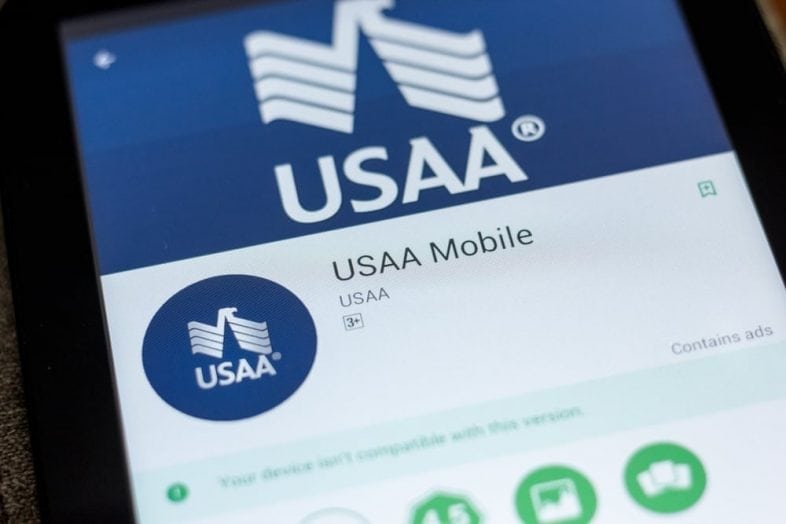 As a student, your checking account is your financial lifeline.
Therefore, you're right to put a little time into finding a good one.
And, with a great track record of strong customer service, USAA is definitely an option for students to consider.
The USAA Classic Checking Account for College Students is a very attractive choice because it has no monthly fees.
Now:
Unlike a typical bank, USAA does have eligibility requirements to become a customer.
For students, it might be tough to meet this requirement.
Before you go on to open this account, learn about its features and potential fees first.
In this  USAA Student Checking Account review, we'll compare rates, fees and services to other national and online banks.
USAA Eligibility Requirements
USAA was founded with members of the armed services in mind.
USAA Student Checking Account Pros & Cons
To ensure that it can provide the best customer service it can, USAA restricts who is allowed to become a member of the institution.
Members of the following groups are eligible to open accounts at USAA:
Active duty members of the Air Force, Army, Navy, Marines, or Coast Guard
Persons who retired or were honorably discharged from one of the above branches of the military
Spouses and children of a USAA member
Attendees of a US service academy
Students in advanced ROTC or attending college on an ROTC scholarship
Officer candidates within 24 months of commissioning
People who are not in one of these groups cannot open accounts at USAA.
These restrictions help USAA focus on providing services tailored to the unique needs of members of the armed forces.
Of course, because the account is a student account, you also must be a student to be eligible.
Monthly Fee
There is no monthly fee to keep the USAA Student Checking Account open.
No matter your account's balance, you'll never pay a monthly maintenance fee. There aren't any other monthly fees, such as a paper statement fee, either.
Top-Notch ATM Access
With how busy student life can be, you might find it hard to visit a USAA branch every time you need to handle basic transactions.
Widespread ATM Network
One of the top benefits of using USAA:
Access to more than 60,000 ATMs nationwide.
Now, the bank doesn't actually operate this large ATM network directly.
Instead, USAA is partnered with various ATM networks to increase the access to surcharge-free ATMs.
For students, this means that you're more likely to have free access to an ATM access near your college campus or where you live.
If you're not near a USAA ATM, you'll have to use another bank's ATM. USAA does not charge a fee for the first 10 transactions you make at other banks' ATMs each month.
However:
For the 11th and future transactions, there will be a $2 fee charged.
The owner of the ATM that you use may charge a fee for each transaction. USAA will reimburse the first $15 in fees that you pay each month.
Even regular ATM users won't have to worry about ATM fees thanks to this benefit.
Other Account Fees
The most common checking account fee is the monthly maintenance fee.
Overdraft fees are also common, but those aren't the only fees that you can be charged.
You should be aware of the other fees that may be charged on your checking account, such as:
USAA Student Checking Account Fees
| Type | Fee |
| --- | --- |
| Monthly Maintenance Fee | $0 |
| Non-USAA ATM | $2 (waived 10x/month) |
| Overdraft Fee | $29 |
| Returned Item | $29 |
| Stop Payment | $29 |
| Deposited Item Returned | $5 |
| Domestic Wire Transfer (incoming) | $0 |
| International Wire Transfer (incoming) | $0 |
| Cashiers Check | $5 |
Pay Your Friends Easily Using Zelle
People's daily lives are growing more digital by the day.
This is especially true for younger people, such as students, who have grown up in a fully online world.
Still, cash remains a common way for people to settle small debts with friends, such as paying for their share of a restaurant tab.
But, it often introduces its own complications.
Paying people with cash also means that you have to carry around enough cash to pay for purchases. That means you'll probably be a frequent visitor to local ATMs.
Quick payments to friends
USAA has partnered Zelle to make it easy to pay anyone with a bank account without having to use cash.
Zelle is a completely free service that lets you send money to anyone else with an account at a bank that offers Zelle. You're not restricted to sending just to other USAA members.
To get started, log in to your bank's website or app and open Zelle. Enter the recipient's phone number or e-mail and the amount of money that you want to send.
When you confirm the transaction, your account will be automatically debited for the amount.
The recipient will receive an e-mail notification about the transaction. If they haven't yet set up Zelle, they'll be prompted to do so. The money should arrive in their account within three business days.
Keep Up to Date with Free Text Alerts
College students are notoriously busy. They have to balance classes, homework, studying, household chores, a social life, and possibly a part-time job. That doesn't leave students with a lot of time to manage their money.
Students also tend to not have much money to spare.
Even if you have a part-time job, you'll find that your money is spent on books, class materials, and nights out with friends.
If your checking account's balance is perpetually low due to these high expenses and lack of income, you put yourself in danger of overdrawing your account.
USAA tries to make it easy to keep tabs on your checking account. You can set up automatic text alerts to inform you when your balance drops below a certain amount. The alerts can also inform you when large transactions clear your account.
Receiving these updates can make it easier for you to track your account's balance, which can help you avoid overdrafts.
What Happens When You Graduate?
You won't be a student forever, which means you can't keep your USAA Student Checking Account forever.
When you graduate, your account will automatically be converted to a USAA Classic Checking Account.
This account has all the same features and has no monthly fees, so you won't notice much change at all.
Remember to Compare to Others
The checking account is the most common type of bank account in the US. That means you have a lot of options to choose from when you're opening a new account.
When you're looking for a new checking account, don't just consider national bank chains.
Local community banks can offer better deals that meet the needs of local customers.
Credit unions tend to be very customer-focused because they are owned by their customers. Online banks offer low-fee accounts with high interest rates.
Overall, you consider the following factors when comparing checking accounts:
Monthly fee (if any)
ATM and/or branch access for parents and student
Digital banking features
The Final Verdict
The USAA Student Checking Account is a great choice for students that are eligible to join USAA.
It offers great features and no monthly fees, with no surprise fees after you graduate.
Opening the account also gets you into the USAA ecosystem.
With a wide range of other financial accounts and services that you'll have access to, your money would thank you in the long-term.