TD Bank Student Checking Account 2023 Review
Learn all about the fees and features of the TD Bank Student Checking Account (plus what happens after graduation) and compare it to other options.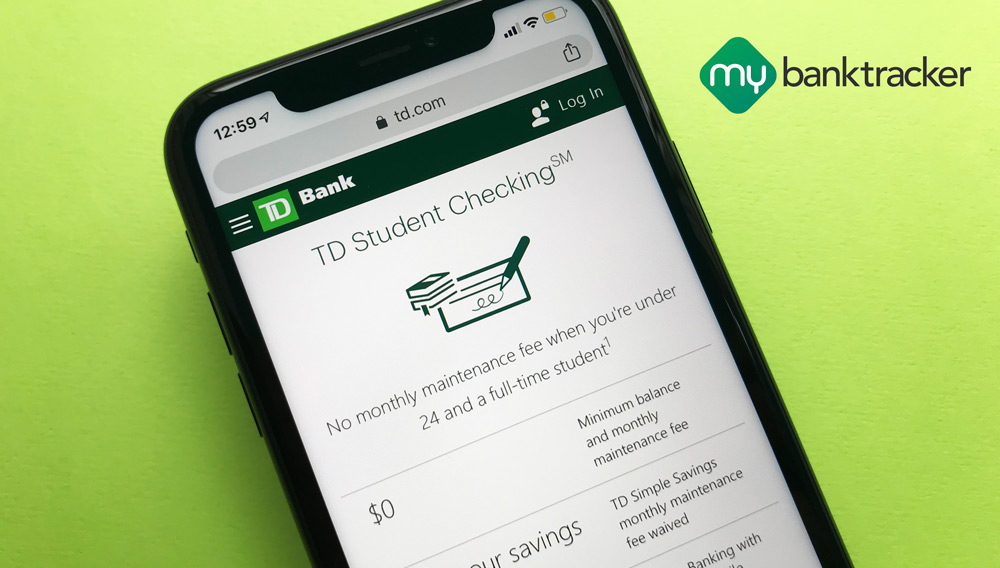 TD Bank Student Checking Account
TD Bank is the 8th largest U.S. bank -- it's no surprise that you are considering it for a student checking account.
With more than 1,300 locations (mostly along the East coast), you're likely to have a TD branch near you.
If you're in need of a checking account while in college, find out whether TD offers the right option for you.
In this TD Bank Student Checking Account review, we'll compare rates, fees, and services to other national and online banks.
For starters:
It doesn't charge a monthly fee for students. That's just one of the perks that you'll get with this account.
Convenient Branches Open Early and Late, 7 Days a Week
TD Bank Student Checking Account Pros & Cons
Everyone knows that college students live a busy lifestyle. You need to balance going to class, studying, handling day-to-day chores like getting groceries and cooking, and possibly a part-time job.
You might need to go to the bank but find yourself without the time to make it to a branch during standard business hours.
The fact that most banks close early on Saturday and don't open on Sunday doesn't make things any easier.
TD Bank's slogan is "America's Most Convenient Bank" and it tries to live up to that slogan.
That is:
The vast majority of TD Bank locations open early and stay open late, making it easy for students to visit a branch when they are free.
Most branches are also open seven days a week, which makes visiting a branch even easier.
If you like doing your banking in-person, but have a busy college schedule, the branches with longer operating hours can be a big help.
Overdraft Transfer Fees Waived
It's no secret that college students tend to live on a very tight budget. Most students only have a part-time job, or no job at all, instead relying on savings or loans to get them through each semester.
The problem with living on such a tight budget is that it makes it much easier to overdraft your checking account.
If you ever try to spend money that isn't in your account, the bank may decide to approve the transaction anyway. When this happens, your account's balance will go into the negatives.
Even worse:
Most banks charge hefty fees for each overdraft, causing your account to go further into the negatives.
That $5 sandwich you bought for dinner could turn into a $35 meal after you add in overdraft fees.
If you open a TD Simple Savings account, you can sign up for overdraft transfers.
With this service, you can have TD Bank automatically move money from your savings account to your checking account when you would overdraft the account.
Here's the deal:
Usually, there is a fee for this service, though the fee is lower than the usual overdraft fee.
TD waives this fee on student accounts because it knows that students are more likely to overdraft their accounts.
As a bonus, the bank will also waive account fees for a TD Simple Savings account if you have a TD Bank Student Checking Account, letting you save even more money.
No Minimum Opening Deposit
One of the hardest parts of opening a bank account is meeting the minimum deposit requirement.
Many banks won't let you open an account unless you can deposit between $25 and $100 upfront.
This requirement helps the bank ensure that the expense of managing the new account is worth gaining the new customer.
If you only keep a few dollars in a bank account, the bank is likely to lose money due to the costs of maintaining the account.
The truth is:
College students are very likely to have trouble meeting minimum deposit requirements.
Most students don't have an income, or only have a part-time job to make money, so getting together a $100 minimum deposit can be difficult.
The best part is that:
TD Bank recognizes this and completely waives the opening deposit requirement.
You can open an account, even if you can't deposit any money.
You can get your ATM card and other account details and make a deposit at a later time when you are able.
ATM Network Focuses on the East Coast
College students are notoriously busy, and you might not always have the time to visit a branch of your bank when you need to withdraw cash.
That's when being able to visit an ATM is important. ATMs let you make deposits or take cash out of your account while you're on the go.
TD Bank operates a network of ATMs all along the east coast from Maine to Florida. It also operates ATMs in eastern Canada, so you're covered if you travel up north.
There are no fees for transactions made at TD Bank ATMs.
You will, however, have to pay fees for any transactions you make at non-TD Bank ATMs, and TD will not reimburse you for those fees.
The fee is $3, plus any fees charged by the ATM's owner. Given that TD Bank is based on the east coast, you'll have trouble finding fee-free ATMs if you travel west.
If you don't expect to travel much, this won't be an issue, but you might find yourself paying a lot of ATM fees if you do wind up going on a trip.
Earn No Interest
Some checking accounts offer interest, but the TD Bank Student Checking Account does not.
If you want to earn interest on your money, open a TD Simple Saver savings account.
One of the benefits of having a TD Bank Student Checking Account is that the bank will waive the fees on a linked Simple Saver account.
No Monthly Fees
The TD Bank Student Checking Account charges no monthly fees.
There are no hoops to jump through or requirements to meet.
There simply are no monthly fees.
Other Fees
The most common fee you'll face from a checking account is the monthly maintenance fee.
Even if your checking account, like the TD Bank Student Checking Account does not charge a monthly fee, there are other fees to consider.
Some of the fees you may face include:
TD Bank Student Checking Account Fees
| Type | Fee |
| --- | --- |
| Monthly Maintenance Fee | $0 |
| Non-TD ATM | $3 |
| Overdraft Fee | $35 |
| Returned Item | $35 |
| Stop Payment | $30 |
| Deposited Item Returned | $5 |
| Domestic Wire Transfer (incoming) | $15 |
| International Wire Transfer (incoming) | $15 |
| Cashiers Check | $8 |
Best for East Coast Residents
TD Bank aims to live up to its motto of "America's most convenient bank." For the most part, it succeeds thanks to its network of ATMs and branches with long operating hours.
The main problem is that TD's convenience breaks down once you leave the East coast. As you move west, you'll find fewer TD Bank branches and ATMs, making it difficult to do your banking without paying fees.
TD Bank does offer basic mobile banking features such as mobile check deposit. You can also use the bank's website or app to view your accounts and make transfers.
Still, you sometimes need to visit an ATM to get cash or go to a branch to speak to a person.
If you're ever outside of the regions that TD Bank serves, you'll have trouble working with the account.
What Happens When You Graduate?
To be eligible for a TD Bank Student Checking Account you must be a full-time student under the age of 24.
You will become ineligible for the account when you graduate or turn 24.
When this happens...
Your account will automatically be converted into a TD Convenience Checking Account.
This account is largely the same as the TD Bank Student Checking Account.
The main difference is that you will be charged a $15 monthly fee unless you maintain a minimum daily balance of $100. You will also have to start paying overdraft transfer fees if you've signed up for that service.
So long as you don't let your account balance fall below $100, you're unlike to see a difference in your account when you graduate.
How Does It Compare?
Checking accounts are the most common type of bank account in the United States.
That means you have plenty of options to choose from if you decide that you need to open a checking account.
Taking the time to shop around can help you find a great deal.
When you're looking for a new checking account, don't just look at national bank chains. Consider local community banks too.
They tend to offer better deals that meet the needs of local customers. Online banks are also good for low-fee accounts that can be ideal for students.
All in all, consider these factors when comparing student checking accounts:
Minimum deposit requirements
Fee waiver requirements
ATM access (for student and parents)
What happens after graduation
The Final Verdict
The TD Bank Student Checking Account is a great choice for students who are based on the east coast and don't expect to travel west.
It's convenience and low fees make it easy to use.
If you do expect to travel a lot, consider a different bank that has a wider network of ATMs and branches, or an online bank that you can use anywhere.