Regions Bank Student Checking Account 2023 Review: Should You Open?
Find out about the different features and the account fees that come with the Regions Bank Student Checking Account and compare it to other checking accounts.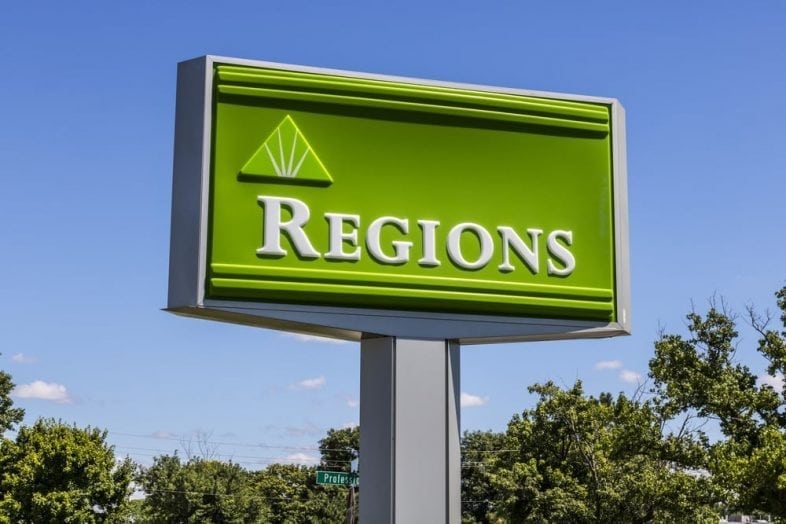 Regions Bank, headquartered in Birmingham, Alabama, is a bank that focuses on serving customers in the South and the Midwestern United States.
The bank operates a network of more than 1,500 branches and 1,900 ATMs, making it a popular choice for consumers in its service area.
Checking accounts serve as the hub of people's financial lives, but most are designed with older adults in mind.
To meet the need of students, Regions Bank offers the Regions Bank Student Checking Account.
If you're looking to open a new checking account, this review will tell you everything you need to know about the Regions Bank Student Checking Account.
Regions Student Checking Account Pros & Cons
Rewards
One of the main reasons that many people use credit cards instead of debit cards is that credit cards often pay rewards.
These rewards cards give consumers miles, points, or cash back every time they make a purchase.
Given that some cards can give you as much as 5% of the value of your purchase back in the form of rewards, using a debit card entails a significant opportunity cost.
The problem for students:
Many students struggle to qualify for rewards credit cards. Most of the student cards that offer rewards don't offer great rewards rates.
The Regions Bank Student Checking Account gives students a chance to earn rewards by using your checking account.
Relationship rewards
One way to earn rewards is the Regions Relationship Rewards Program.
You can earn points for making ATM deposits, signing up for electronic statements, or using online bill pay.
Once you've earned the points, you can redeem them towards:
airfare
rental cars
travel packages
electronics
gift cards
cash
Cash back rewards
You also get access to the Regions Cashback Rewards Program. You'll see this program when you log in to your online account. There will be a list of offers that you can add to your debit card.
These offers will come in the form of "Spend $X at a specific retailer and get $Y back."
For example, you might get an offer to spend $50 at Amazon.com and get $10 back.
All you have to do after adding the offer to your debit card is to use your card to make purchases as usual. If you satisfy the requirements of the offer, the rewards will be deposited to your checking account automatically.
Use Insights by Regions to Help Manage Your Money
Personal finance is complicated. It's difficult to know how to manage your money, pay your bills, and save towards your goals.
Things get especially difficult if you're dealing with any kind of financial stress.
That said:
Regions Bank offer Insights by Regions to try to make managing your money a bit easier. Insights include tools, tips, and calculators that you can use to figure out how to best allocate your money.
For example, you can read about saving towards retirement and use a calculator to see how much you should save each month.
Even students can get benefits from Insights, with calculators that can help you save for books or see how much your student loans will cost.
Pay Your Friends and Colleagues Using Zelle
While people's everyday lives are constantly growing more digital, many aspects of financial life have stayed physical.
Cash remains a popular way to pay for goods and services and to settle small debts with friends, roommates, or colleagues.
Cash might seem like the best option when you're paying your share of the rent to splitting a restaurant tab, but it does introduce a number of complications.
For example, you have to make sure you have the right bills to be able to pay in exact change. If you can't, you have to overpay or hope that your friend can make change for you.
Paying with cash also means carrying around cash, which means regular visits to banks or ATMs, which students rarely have time for.
Regions Bank will soon be part of the Zelle network, which makes it easy to send money to friends electronically.
Zelle is a free service that transfers money directly from your bank account to someone else's.
All you need to know is the recipient's e-mail address or phone number.
Better yet, the recipient doesn't even have to have set up Zelle for you to be able to send money.
When you want to send money to someone, simply open up Regions Bank's app or website. Sign into your account and open Zelle, and you'll be prompted to enter the phone number or e-mail address of the person you want to send money to. You won't need to know anything about their bank or their bank accounts.
Enter the amount you want to send and confirm the transaction. The money will be automatically removed from your account. How much you can send or receive will vary based on the banks involved.
Once you've sent money, your friend will be notified that a payment is incoming. If they haven't set up Zelle yet, they'll be prompted to do so.
Once Zelle has been set up, the money will arrive in three business days.
Good ATM Access
Regions Bank primarily serves customers in the South and Midwest, so its ATMs and branches are primarily located in those regions.
If you travel north or too far west, you might have trouble finding Regions Bank ATMs.
Using a Regions Bank ATM is free. You can make any number of withdrawals without paying fees. You will have to pay a fee if you use another bank's ATM.
If you're using another bank's ATM in the US, you'll pay a $2.50 for each transaction.
Outside the US, the per-transaction fee is doubled to $5. These fees are charged by Regions Bank in addition to the fees charged by the ATM's owner.
If you're traveling, make sure you have enough cash that you won't have to visit an ATM regularly. If you're forced to use another bank's ATM on a regular basis, it could get quite expensive.
No Monthly Fee
There is no monthly fee of any kind to keep the Regions Bank Student Checking Account open.
Once you open the account with a $50 minimum deposit, there will be no fees regardless of your account balance.
Other Fees
Monthly maintenance fees are the most common fees you'll see charged to a checking account.
However, there are some other fees that are less common, but still good to know about.
Some of the fees that may apply to your Regions Bank LifeGreen Checking Account are listed below:
Regions Bank Student Checking Account Fees
| Type | Fee |
| --- | --- |
| Monthly Maintenance Fee | $0 |
| Non-Regions ATM | $2.50 |
| Overdraft Fee | $36 |
| Overdraft Protection Transfer Fee | $15 |
| Returned Item | $36 |
| Stop Payment | $36 |
| Deposited Item Returned | $15 |
| Domestic Wire Transfer (incoming) | $15 |
| International Wire Transfer (incoming) | $18 |
| Cashiers Check | $8 |
Convenience
The Regions Bank Student Checking Account offers all the convenience features you'd expect from a modern checking account.
This is important because you need to make sure your checking account is easy to use.
Like most banks these days, Regions Bank offers a fully-featured website and mobile banking apps. Once you log in to your account you can view your balances and transaction history. You can also make instant transfers or view, create, and cancel future transfers.
You also get free access to online bill pay. This service saves you the effort of writing and mailing checks each month to pay your bills.
Just tell Regions Bank who you need to pay and how much you need to pay, and the bank will handle the rest.
What Happens When You Graduate?
You won't be a student forever, which means you can't keep your Regions Bank Student Checking Account forever.
When you graduate or turn 26, your account will automatically be converted to a LifeGreen Checking Account.
The LifeGreen Checking Account is largely similar but charges a $10 monthly fee. You can avoid the fee on the account by meeting any of the following requirements:
Maintain an average monthly balance of $1,500
Receive one direct deposit of at least $500
Receive a combined total of $1,000 in deposits
How It Compares
The checking account is the most common type of bank account in the U.S.
Most banks offer more than one type of checking account, including a special student account. This means you have a lot of options to choose from when you're in the market for a new checking account.
When you're comparing checking accounts, the number one thing to consider is the account's fee-structure. You want to avoid monthly fees if at all possible. Also, make sure you won't be charged fees to use the ATMs in the areas you frequent.
Other things to consider when comparing accounts are:
Minimum deposit requirements
Fee waiver requirements
Interest rates
ATM access
Convenience features
Conclusion
The Regions Bank Student Checking Account isn't a bad choice, but there are better options out there.
Consider using an online bank instead.
Their checking accounts often have great features, like ATM fee reimbursement, rarely charge fees, and help your money grow by paying interest.