Step Teen Banking Account 2023 Review
Our review of the Step account looks at the fees and features designed for parents and teens to begin building strong financial habits at an early age.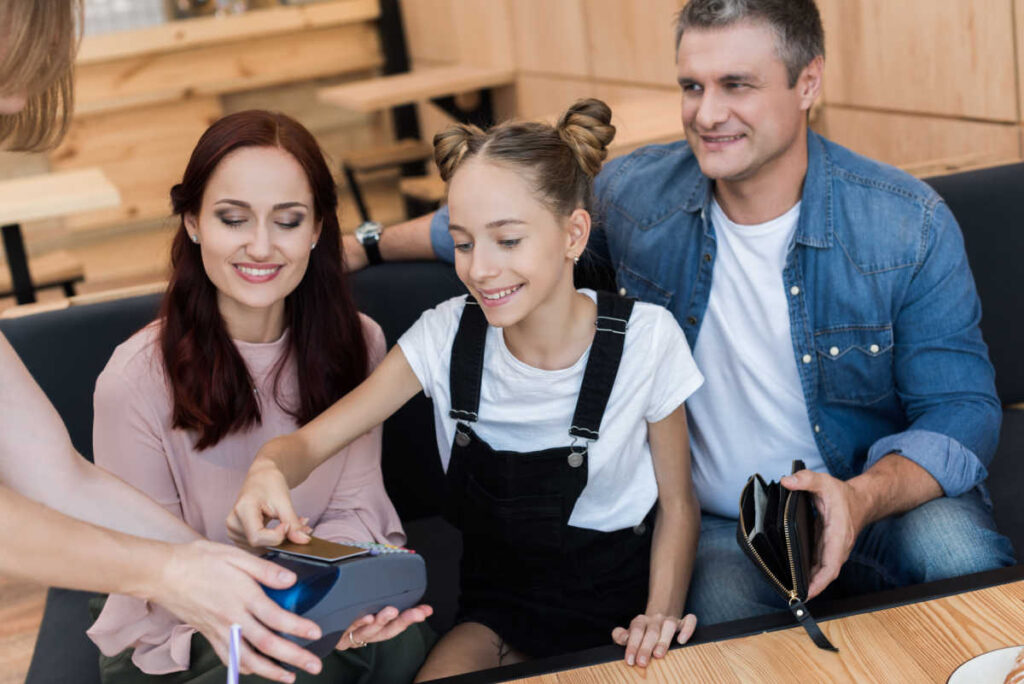 Introducing kids to money management basics early on can help them build lifelong good money habits. 
A teen checking account with a debit card is great for spending--and saving--money.
Step is a banking app that's built with teens in mind. When teens create an account, they get access to a mobile app, a Step account and a Visa card. 
The Step Card makes it easy to make purchases online or in stores. It even links to Google Pay and Apple Pay.
Wondering how the Step Card works and if it's right for your teen? Our Step Card Teen Banking review offers a closer look at the account's features and benefits. 
Step Banking Account Pros & Cons
Teen Banking With Zero Fees
Fees can take a toll on your bank account balance. Fortunately, Step offers mobile banking for teens with no monthly fees, minimum balance fees or fees of any kind. 
This account is designed for teens under 18. When a parent sponsors a teen's Step account, teens can:
Make purchases online or in stores with their Step Card
Deposit money using mobile check deposit in the Step banking app
Keep track of purchases
Send money to friends and family
Get paid via direct deposit
The Step card is not a typical debit card. Instead, it's designed to be a secured spending card.
This means teens can only spend the amount they have in their account. So there are no overdraft fees to worry about.
At the same time, the Step card is designed to help teens build credit. But they won't pay interest or finance charges. And they get the fraud protection benefits that come with any other type of credit card. 
Step does have some guidelines when it comes to balance and transaction limits.
$10,000 maximum balance limit
Add up to $500 to your Step account via debit card within a 24-hour period
$3,000 monthly limit on person-to-person payments (sending and receiving money)
$1,000 daily limit on purchases
$500 daily limit for Google Pay and Apple Pay transactions
Withdraw up to $250 from Step to a linked bank account within 24 hours
Withdraw up to $250 from an ATM daily and $1,000 per 30 days
Up to 10 ATM withdrawals allowed per month
These limits are designed to reflect the typical spending patterns and habits of teens. 
Is Step FDIC-Insured?
FDIC insurance can protect deposits if a bank fails, which can happen, albeit very rarely. 
Step is a mobile banking app but it's not a bank per se. The Step Card is issued by Evolve Bank & Trust, Step's partner. Evolve Bank & Trust is a member-FDIC bank.
That means accounts with Step are FDIC-insured up to the standard coverage limits.
As of 2021, the limit is $250,000 per depositor, per account ownership type, per financial institution. 
Step also protects accounts against fraud using bank-grade encryption and authentication. The Visa Step Card comes with a zero-liability guarantee. 
Withdraw Money at Any ATM
The Step Card makes it easy to access cash at any ATM. That doesn't mean, however, that it's fee-free.
While Step charges no ATM fees, the ATM owner or network can. And Step doesn't refund foreign ATM fees. 
There is, however, a workaround. Since this is a Visa card, it can be used anywhere Visa is accepted.
That means if teens are shopping in a store, they could request cash back at the checkout. 
Can You Earn Interest With a Step Card Teen Banking Account?
Earning interest can be a nice incentive to get teens to save. 
The Step Card doesn't charge any interest for purchases. But it doesn't pay any interest on deposits either.
If you want your teen to be able to earn interest on balances, you can look into a savings account elsewhere. High yield savings accounts, for example, can offer a competitive APY with minimal fees. 
Learn Smart Money Management for Teens
The Step banking app is designed to be the first "step" in a teen's financial journey. 
With the Step mobile app and Step card, teens have everything they need to spend, get paid or save money. 
As an added plus, they can build credit. Good credit history matters for getting the best interest rates and loan terms when it's time to borrow. 
You could add a teen onto one of your credit cards as an authorized user to help them build credit. But the Step card allows them to build credit using their own money. 
And since this is a secured card, they can't rack up debt or overspend. They can only spend the amount they have available in their account, which Step limits to $10,000.
So there are no overdraft fees to worry about and no monthly minimum payments to make. That means teens don't get stuck with fees or credit score damage associated with late payments. 
Parents must sponsor teens under 18. In terms of parental controls, you can:
View balances
Monitor real-time transaction activity
Add money to the account
Manage or free your teen's debit card
This is all done through the Step banking app. 
What Fees Will You Pay? 
The Step banking app is fee-friendly for both parents and teens.
There are no:
Monthly maintenance fees
Overdraft fees
ATM fees
Late fees
Interest charges
Minimum balance fees
Fewer fees mean fewer money headaches, since you don't have to worry about them draining away your teen's balance. 
Other Service Fees - Step Account
| Type | Fee |
| --- | --- |
| Monthly fee | $0 |
| Cash deposit | $3.95 (first 2 free) |
| Card replacement | $5 (first 2 free) |
How Convenient Is the Step Card Teen Banking Account?
Teens and parents can manage Step accounts entirely through the Step mobile banking app.
There are no branches to visit. If you need customer support, help is available via email only.
But the Step mobile app is convenient for doing everyday tasks, including:
Checking balances
Scheduling P2P payments
Reviewing transaction history
The Step card can be used virtually anywhere to make purchases. And you can withdraw cash at any time, though it's important to keep the daily and monthly limits in mind. 
Funding options include:
Transfer from a linked bank account
Deposits from a linked PayPal, Venmo or Cash App account
At this time, you can't make deposits into a Step account at an ATM. 
Opening a Step Card Teen Banking Account
In terms of the signup, teens do need to request that parents sponsor them for an account. They can send an invite via text or email.
Once you get the link, you can create a sponsor account and get your teen's Step account set up in minutes. 
You and your teen will both need to download the Step app. Once you have your account set up, you can add as many cards as you want for each teen you're sponsoring. 
Sponsors can be removed once a teen turns 18. 
Step Card Teen Banking vs. Other Teen Checking Account Options
With so many teen banking apps and teen checking accounts to choose from, it's important to find the right one. 
So how does Step Teen Banking compare to other options for teen checking? 
This account lacks some of the benefits you might find with other teen bank accounts. For example, there's no ATM network. And teens won't earn interest on balances.
But teens do get the benefit of being able to establish and build credit. That could serve them in good stead if they need to apply for private student loans, car loans or unsecured credit cards later. 
When comparing teen banking options, here are some of the most important things to consider:
Monthly maintenance fees, if applicable
Minimum balance requirements
Initial deposit requirement to open an account
Age restrictions for opening an account
Debit and ATM card availability
ATM network and fees
Mobile and online banking access
Mobile check deposit
Person to person payment services
Other fees, such as overdraft or returned item fees
Check-writing limits
Daily or monthly limits on deposits and withdrawals
Daily or monthly spending limits
Overdraft protection
Interest and APY
Customer support options
Extra perks, like ATM fee rebates, debit card rewards or relationship discounts
FDIC coverage
You may also want to think about whether teens will be able to upgrade to a regular or college checking account later. 
And consider branch banking access and whether that's important. Online banks and mobile banking apps can charge fewer fees and offer more benefits. But teens won't be able to visit a branch, which may be necessary from time to time. 
Should You Open a Step Card Teen Banking Account? 
Step is part of a new generation of mobile banking apps aimed at teens and families. 
Opening a Step Teen Banking Account and getting a Step Card could be right for you if:
You want your teen to be able to build credit while learning how to manage money
You'd prefer a mobile banking app and Visa card with no monthly fees or interest charges
You're comfortable with the transaction and balance limits imposed by Step
The bottom line is the Step Card offers something new for parents and teens, so it's worth considering if you want something more than what a traditional bank offers.