How to Fly to Spain Free Using Miles and Points
Find out which credit card travel rewards and airline frequent flyer programs are the best options for earning miles and points toward free flights to Spain.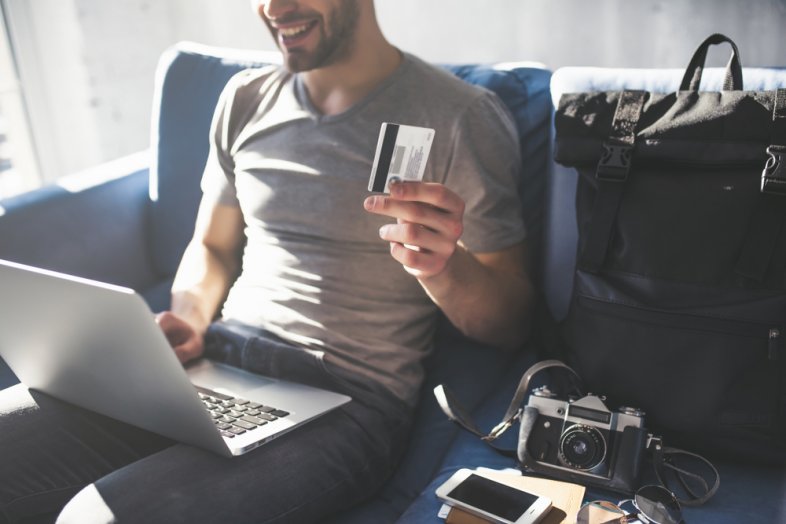 Spain is a top pick for many Americans looking for a home base for a European vacation.
From shopping at Passeig de Gracia in Barcelona, the Mediterranean or Atlantic coast beaches, the Prado Museum in Madrid, you'll find something for everyone.
If you're a history buff, there's plenty of ancient Roman artifacts and culture along the Iberian peninsula. And of course, you won't want to miss out on the Sagrada Família, Casa Milà, or other works of Antoni Gaudi in Barcelona!
Airline miles and points make it much easier to plan a vacation to Spain that has several stops.
Many cash flights charge a premium if you are planning anything more than a simple round trip to one destination.
But with airline miles, a one way flight is almost always exactly ½ of the round trip price. That makes it easy to incorporate many stops on your Spanish vacation.
Airlines AAdvantage
To start off, let's talk about how to fly to Spain for free using American Airlines AAdvantage miles.
American Airlines flies to Spain from:
Charlotte
Chicago--O'Hare
Dallas/Fort Worth
Miami
New York–JFK
Philadelphia
American is also a oneworld partner with Spain's Iberia Airlines, which gives you even more options to fly to Spain.
Iberia flies Spain from:
Boston
Chicago
Los Angeles
Miami
New York/JFK
Washington-Dulles
With American's extensive route map throughout the United States, you have tons of options!
The "sAAver availability" term is what American calls its lowest level of award availability.
You'll want to be as flexible as possible with your routes and dates to find this low level availability. If you can find it, then a one way flight from the U.S. to Spain in economy will cost 30,000 American AAdvantage miles if you fly during peak times.
One unique feature of American's award chart is that they do offer dates which they call "off-peak" travel. Off-peak dates between the U.S. to Europe are between January 10 and March 14 and from November 1 to December 14.
During these off-peak dates, you can book an economy flight for only 22,500 AAdvantage miles. Premium Economy costs 40,000 miles one way, while Business Class is 57,500 miles one way - no off-peak dates for premium cabin travel.
How to fly to Madrid using United MileagePlus miles
United's frequent flyer program is MileagePlus, and you can use MileagePlus miles as another option to fly to Madrid, Barcelona or Spain from the United States.
United flies to Spain from:
United's domestic route map gives you plenty of options to get to Madrid or Barcelona no matter where you live.
United is a member of the Star Alliance airline alliance, which includes airlines such as LOT Polish, TAP Portugal, Lufthansa and Swiss Airlines, which provides even more options to fly to Spain for free using miles and points. 
The MileagePlus program charges 30,000 miles for a one-way economy ticket from the U.S. to Europe. That includes Madrid, Barcelona or anywhere in Spain.
For business class if you fly on United itself, it costs 60,000 MileagePlus miles one way.
If you want to fly business class on one of United's Star Alliance partners, the cost is 70,000 MileagePlus miles. All flights include taxes, fees and fuel surcharges besides to the cost in miles.
The Excursionist Perk
One unique feature of United's MileagePlus program is that they offer a program called the Excursionist Perk.
The Excursionist Perk allows you to get one leg of your flight for no more miles within the region of your destination.
So you could fly from the U.S. to Madrid (30,000 miles), Madrid to Barcelona (free with Excursionist Perk) and then Barcelona back to the US (30,000 miles).
The Excursionist Perk only works with a round trip ticket, and you do still have to pay taxes and government fees on your free leg.
United is a 1:1 partner with Chase Ultimate Rewards, so that is a great way to top off your MileagePlus balance if you need more MileagePlus miles for your award ticket. 
Delta SkyMiles
One more option to consider is using Delta SkyMiles for your trip to Madrid, Barcelona or Spain.
Delta flies to Spain from:
Delta is a member of the SkyTeam airline alliance, which includes European-based members such as Air France / KLM, Alitalia, and Air Europa. Air Europa's headquarters are in Madrid and flies most of its flights within Europe but does also fly from New York/JFK to Madrid.
Delta's award chart no longer has published redemption amounts between cities or regions.
Instead, their award flights have a dynamic cost, depending on the dates, routes and even flights that you're looking to take.
With Delta SkyMiles more so than any other airline, you'll want to take extra care to be as flexible as possible when you're looking for redemptions.
Delta does run regular SkyMiles sales and promotions, so that can be a good opportunity to get a bit of a discount on flights to Spain.
Delta is a 1:1 transfer partner of American Express Membership Rewards, so if you need SkyMiles, you can transfer from American Express to get more SkyMiles for your award ticket.
Cash or Fixed-Value Points to fly to Barcelona
So far we have focused on using airline miles to fly to Barcelona, Madrid or other parts of Spain.
With airline miles, you can only use them with the airline in question, and often the cost of a flight in airline miles is not related to the cost of that same flight in cash.
Another option to consider to fly to Barcelona or Madrid is using cash or fixed-value points. 
The best use of fixed-value points is going to be for economy class travel, where you can often find round trip flights between the U.S. and Europe for under $400.
Here's an example of a round trip, non-stop flight between New York and Barcelona for only $258!
It will almost always be cheaper to book economy class tickets from the U.S. to Madrid, Barcelona or anywhere else in Spain or Europe like this instead of booking award tickets using airline miles.
And remember that you can still use miles and points to book this fare - you don't have to actually shell out any cash!
Chase Ultimate Rewards
One option would be to use the Chase Ultimate Rewards travel portal to book this flight.
If you have the Chase Sapphire Reserve card, you can always use your Ultimate Rewards as 1.5 cents per Ultimate Reward point towards the cost of travel.
For this flight, it would cost you 17,200 Ultimate Rewards (25800 / 1.5) for a round-trip flight. That's only 8600 miles for each leg of the flight.
That's less than one third the cost in miles that it would take if you were using airline miles like American AAdvantage or United MileagePlus
Besides Chase Ultimate Rewards, other types of fixed value miles and points that you could use to pay for a flight like this are points earned by cards issued from like the Capital One Venture and Citi.
American Express Membership Rewards
Another way that you can use miles and points to book a cash ticket like this involves The Business Platinum Card® from American Express (see Rates & Fees; terms apply).
You can always use your American Express Membership Rewards points to book flights at a value of 1 cent per Membership Reward point.
With the Business Platinum Card, there is a special perk for economy flights on your chosen airline where you receive a 35% rebate of the points you've paid.
Continuing with our earlier example, you would pay 25,800 Membership Rewards points for the Iberia flight to Barcelona.
If you have the Business Platinum Card and Iberia is your chosen airline with American Express, you would then receive a rebate of 9,030 Membership Rewards points.
This would mean your net cost would be 16,770 Membership Rewards points for your round-trip flight.
Other Options to Fly to Spain With Award Points
There are a few other options to use airline miles to fly to Spain.
Here are a couple other airline mileage programs to consider:
Alaska Airlines
Alaska Airlines does not fly directly to Europe itself, but is a partner of airlines like American Airlines, Aer Lingus, IcelandAir and British Airways.
So you can use your Alaska miles to fly to Madrid or Barcelona on one of those airlines. One way award tickets cost as few as 22,500 Alaska MileagePlan miles and Alaska also offers a free stopover, even on a one way award ticket.
Air France/KLM Flying Blue
The Air France / KLM Flying Blue mileage program has regular monthly promo awards, where you can book award flights for 25% or 50% off regular price.
Economy tickets can cost as low as 12,000 Flying Blue miles one way. Flying Blue is a transfer partner of American Express Membership Rewards, Citi ThankYou points, Marriott Bonvoy, Capital One Venture miles and Chase Ultimate Rewards.
Best Credit Card Options to Earn Free Flights to Spain
If you're looking to increase your airline miles and points, a great way to do it is with welcome offers included on many credit cards.
Here are a few cards that can directly give you airline miles:
Citi American Airlines Platinum card
Chase United MileagePlus Club card
Delta SkyMiles® Gold American Express Card
Another option is to apply for a card that offers bank-issued points. Then you can choose to use those points as fixed value points on a cash ticket or transfer them to airline partners.
Chase Sapphire Preferred
The Business Platinum Card® from American Express
CapitalOne Venture 
Citi ThankYou Premier
I hope that these tips will help you as you start to plan your next trip to Barcelona, Madrid or elsewhere in Spain for free with miles and points!
See the rates & fees for the mentioned American Express cards: The Business Platinum Card from American Express (Rates & Fees; terms apply).