Capital One Spark Miles Select Business Credit Card 2023 Review: No Annual Fee Travel Rewards
Our review of the Capital One Spark Miles Select for Business Credit Card analyzes the simple travel rewards program and other card benefits.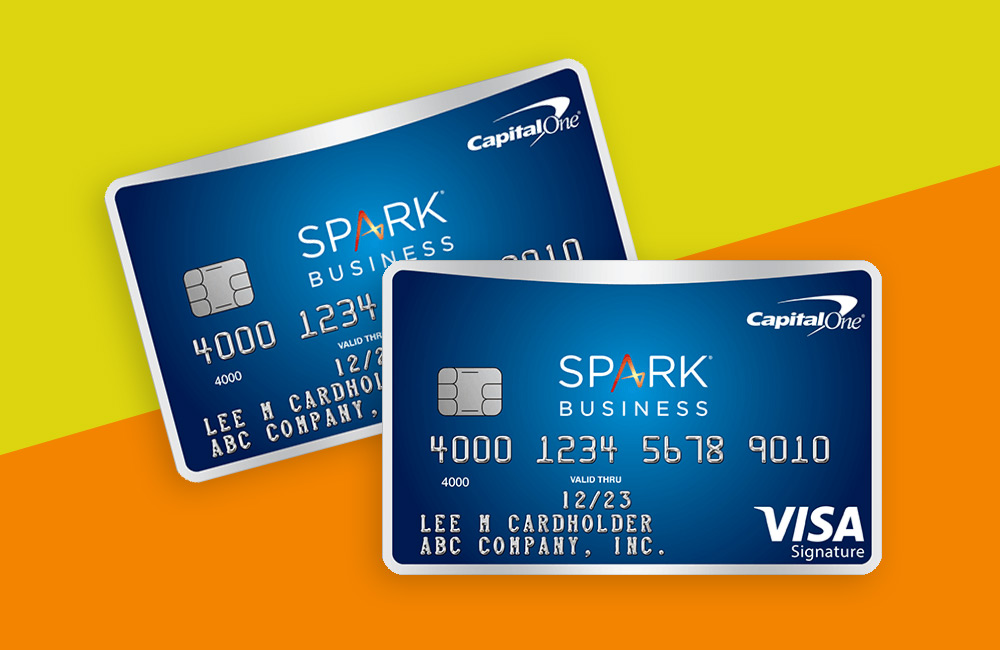 Capital One Spark Miles Select Business Credit Card
If you're spending money on business travel, then it makes sense to get some of it back, right? 
That's where a business travel rewards card comes in. With the , you can earn unlimited 1.5 miles on every purchase. 
On top of that, you can snag additional miles when booking hotels and rental cars through Capital One Travel.
You get those benefits with no annual fee and no foreign transaction fee. That might be attractive if you want to earn miles while avoiding fees. 
As you shop for your next business travel rewards card, here's a look at what the Capital One Spark Miles Select Business Card has to offer.
Capital One Spark Miles Select Business Credit Card Pros & Cons
Pros
Cons

Simple travel rewards program with no limits
No additional cost for employee cards
No annual fee
No foreign transaction fees
Earn Unlimited Miles on Every Purchase
When comparing business travel rewards cards, there are two ways you can go.
You can either choose a card with tiered rewards or one that offers flat-rate rewards. 
If you're leaning toward flat-rate rewards, Capital One Spark Miles Select fits the bill. This card offers unlimited 1.5 miles per dollar on every purchase. 
There are no spending caps or limits on the number of miles you can earn.
Better yet:
You can get even more mileage, so to speak, when you use your card to book hotels and car rentals through Capital One Travel. 
Those purchases earn unlimited five miles per dollar.
Here's an example of how your miles could add up, based on yearly spend:
$5,000 on hotels through Capital One Travel = 25,000 miles
$3,000 on car rentals through Capital One Travel = 15,000 miles
$5,000 on gas = 10,000 miles
$3,000 on dining = 6,000 miles
$10,000 on advertising = 20,000 miles
$4,000 on office supplies = 8,000 miles
$8,000 on miscellaneous purchases = 16,000 miles
Total miles earned = 100,000 miles
That total doesn't include the miles you could earn if you qualify for the introductory signup bonus.
Just be aware:
There's a minimum spending requirement you'll need to hit to earn those miles.
Easy Miles Redemption
One of the biggest headaches you can run into with business travel cards is trying to redeem your miles. 
For example, you might have to contend with seat restrictions for flights or blackout dates for hotels. This card removes those obstacles. 
With this card, you can redeem miles at any time, in any amount as a travel statement credit.
You can apply miles toward flights, hotel stays, rental cars, vacation packages and other travel purchases with ease. 
Capital One also has a network of travel partners that allow you to transfer miles.
The list of travel partners includes: 
Aeromexico
Air Canada
Air France KLM
Asia Miles
JetBlue
Qantas
Qatar Airways
Singapore Airlines
Capital One doesn't partner with larger domestic airlines, such as American or Delta.
But you could still apply your miles as a statement credit for flights booked with non-travel partners.
What Else Do You Get With the Card?
The Capital One Spark Miles Select Business Credit Card isn't a premium travel rewards card, so you don't get a lot of extra bells and whistles.
For example, there's no fee credit for Global Entry or TSA PreCheck and you don't get airport lounge access. 
But, you do get a few added benefits that can make managing your account easier, including: 
Payment flexibility, which means you can choose your monthly due date
Automatic payments so you never pay late
Detailed transaction records
Year-end summaries
Purchase records
Free employee cards with customizable spending limits
Fraud and security alerts
Extended warranty protection
Card lock
$0 fraud liability
All of those benefits help add value to the card.
APR
One nice feature of this card is that you do get an introductory APR on purchases.
That can give you time to pay off larger purchases interest-free for the duration of the promotional period. 
This card doesn't offer an introductory APR on balance transfers. But you won't pay a balance transfer fee for any balances you move to this card. 
That's unique, since most business credit cards that allow balance transfers charge a fee, typically around 3% of the transfer amount. 
Compared to Other Capital One Business Credit Cards
Capital One offers a few other business rewards card options that are worth checking out. 
Capital One Spark Miles
You may want to look at the if you don't mind paying an annual fee to earn travel rewards. 
This card has a $0 introductory annual fee, then $95 after. Instead of earning unlimited 1.5 miles per dollar, you earn two miles per dollar.
Plus, you also get the benefit of earning five miles per dollar on hotels and rental cars booked through Capital One Travel. 
One nice extra this card offers is a statement credit toward Global Entry or TSA PreCheck application fees.
The introductory miles bonus for this card also outstrips the Spark Miles Select card.
Capital One Spark Cash Select
If you'd rather pocket cash than bank miles, you might like the . 

This card allows you to earn unlimited 1.5% cash back on every purchase, with no spending caps. That's great if you don't use your card to charge travel exclusively. 
There's no annual fee for this card and you can get employee cards for free to earn cash back even faster. 
Capital One Spark Classic
The is designed for business owners with average credit. 
With this card, you can earn unlimited 1% cash back on every purchase. There's no annual fee. 
If you're looking for a business rewards card but you haven't established much business credit history yet, this one could be a good way to get started. 
Applying for a Business Credit Card
The actual process of applying for a business credit card isn't that different from applying for a personal credit card.
It just means you have to give the credit card company personal information and information about your business. 
That includes your:
Name 
Business name
Personal address and the address of your business
Social security number and/or tax identification number
Number of employees
Business industry or type
Annual business revenue
Number of years in business
You can get approved for a business credit card even if you have a newer business or it's not making any money yet. The credit card company looks at your personal credit history and income to decide whether you qualify. 
What's important to note about business and personal credit cards is that they're designed to serve different purposes. 
With a personal card, you might be spending on everyday purchases or travel. In the process, you could earn cash back, miles or points. 
Business credit cards are meant to be used for business. So you could charge travel, advertising, office supply purchases, utilities, tax payments--anything related to running your business. 
Aside from that business credit card activity is reported on your business credit report. Personal card activity shows up on your personal credit report. 
Keep in mind:
If you apply for a business credit card using your social security number, you may have to sign a personal guarantee. This guarantee means you can be held liable for any debt charged to the card if the business defaults.
Final Verdict
The may appeal to business owners who want to earn miles but don't want to pay an annual fee. 
Since this is more of a no-frills option, it may not be your best choice if you're looking for travel extras and perks.
Just keep in mind that the more travel benefits a reward card offers, the more likely you are to have to pay an annual fee to enjoy them. 
The bottom line:
This card could be suited to business owners who want to keep travel rewards as simple as possible.
The introductory APR period also makes it attractive if you need time to pay off purchases with no interest.