U.S. Bank FlexPerks Business Travel Rewards Credit Card 2023 Review
Our review of the U.S. Bank FlexPerks Business Travel Rewards Credit Cards looks at the travel rewards program, travel benefits, and other perks.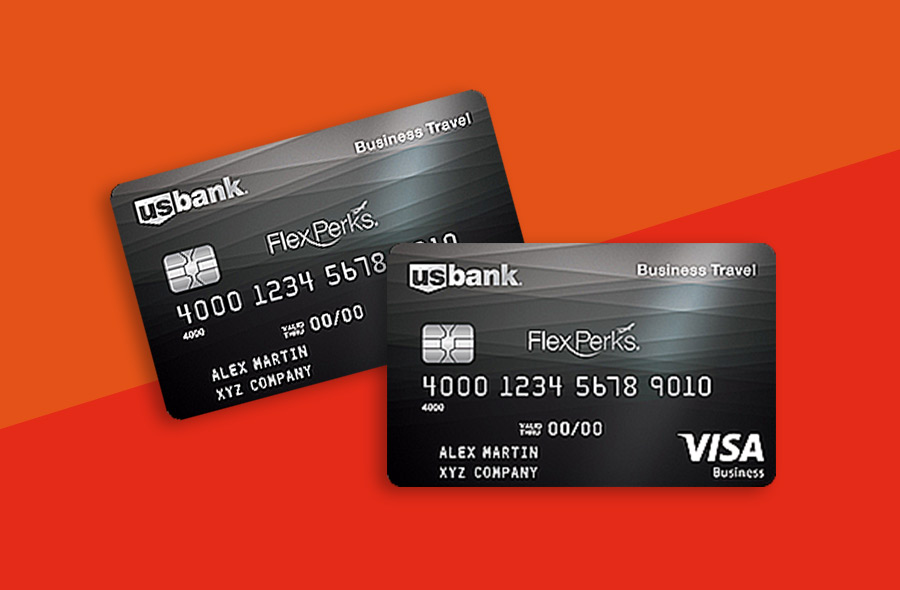 U.S. Bank FlexPerks Business Travel Rewards Credit Card
Earning points with a business rewards card is great from a money-saving standpoint. Especially if you can turn points into free travel. 
The U.S. Bank FlexPerks Business Travel Rewards Credit Card offers multiple ways to earn points toward travel. This card also comes with a few other perks that raise its value. 
Though not a premium travel rewards credit card, it's still a solid option if you want a no-fuss way to earn and redeem points.
We'll review this card's features and benefits for you to consider before you apply.
U.S. Bank FlexPerks Business Select Rewards Credit Card Pros & Cons
Bonus Rewards on Common Business Expenses
The U.S. Bank FlexPerks Business Travel Rewards Credit Card offers multiple ways to earn rewards. 
Earn 2X points per dollar on gas, office supplies or airlines, whatever you spend the most on each billing cycle
Earn 2X points per dollar on charitable donations to qualifying charities
Earn 2X points per dollar on eligible cell phone service provider purchases
Earn 1X point per dollar on all other purchases
This card offers flexibility, since you can earn two points per dollar on gas, office supplies or airlines without having to activate or choose any bonus categories.
U.S. Bank applies those rewards based on which category you spend the most money in each month. 
That makes it easy to rack up points consistently, even as your spending patterns change from month to month. 
So you might be spending more over business travel in the summer but shift to purchasing office supplies in the fall. Either way, you'd get the benefit of earning two points per dollar for the category with the highest spend. 
You also get rewarded with two points per dollar when you use your card to pay cell phone expenses or make charitable donations. And all other purchases earn one point per dollar. 
Points are unlimited so you have control over what you earn, based on how you spend. And that includes points earned with employee cards. 
Welcome bonus
There's also an introductory sign-up bonus, which can increase your points total for the first year. 
The bonus is on the smaller side, compared to what some other rewards cards offer. But if you qualify, it's an easy way to score extra points. 
Easily Redeem FlexPerks Points
Redeeming points earned with the U.S. Bank FlexPerks Business Travel Rewards Credit Card is simple.
You can redeem points for:
Air travel, hotel and car rental rewards
Merchandise from partner merchants
Gift cards
Statement credit
Real-time rewards
Real-time rewards means using your points to pay for purchases. You make the purchase, then you'll get a text notifying you that you can redeem points. You can then apply points to offset the purchase amount. 
Points value varies based on what you choose to redeem them for. Generally, you'll get the best value when using FlexPerks points for travel. 
The catch:
The points are only good for travel booked through U.S. Bank, either online or by phone.
So, you won't be able to redeem points directly with an airline or hotel. And, you can't transfer them to travel partners, the way some other business travel credit cards allow you to do.
What Else Do You Get With the Card?
The U.S. Bank FlexPerks Business Travel Rewards Credit Card offers some added perks and benefits, including:
$25 airline allowance on round-trip fares
$55 annual fee credit when you meet a minimum spending requirement
Auto rental collision damage waiver
Travel and emergency assistance services
Purchase security
Extended warranty protection
Discounts from partner merchants
Visa SavingsEdge benefits, which can you up to 15% on business purchases
Payment controls for employee cards
The $25 airline allowance can be applied to baggage fees or in-flight food and drinks. This reimbursement is good on round-trip air travel award tickets. 
If you spend $24,000 or more in net purchases each year, you can get a credit toward the card's $55 annual fee. That's a simple way to save your business a little money. 
Fees
Unlike other business credit cards, this card does charge a fee for employee cards. 
You'll pay $10 per card for each authorized employee. That's something to keep in mind if you were planning to issue employee cards to help generate more spending for points. 
Compared to Other Business Credit Cards
Here's a look at how this card compares to other business rewards options. 
U.S. Bank Business Select Rewards
The U.S. Bank Business Select Rewards Credit Card gives you flexibility when earning points. You can earn three points per dollar in one of these categories of your choosing:
Day-to-day expenses
Automotive
Travel and entertainment
All other purchases earn one point per dollar and points are unlimited. This card has no annual fee but it does charge a foreign transaction fee, making it less than ideal for international travel. 
Read the U.S. Bank Business Select Rewards Credit Card editor's review.
Chase Ink Business Preferred
The  offers three points per dollar on the first $150,000 in combined purchases annually across these categories:
Travel
Shipping
Internet, cable and phone services
Advertising purchases made with social media sites and search engines
A great incentive to consider this card is the ability to transfer points to transfer partners through Chase Ultimate Rewards. You can get 25% more points value when using rewards to book travel. 
This card has a $95 annual fee. 
Read the Chase Ink Business Preferred Credit Card editor's review.
Capital One Spark Miles for Business
The  is a flat-rate travel miles card. 
All purchases earn unlimited two miles per dollar, with no caps. You can redeem miles when you want and in the amount you choose for travel. 
If you book hotels and rental cars through Capital One Travel, you can increase rewards value to five miles per dollar. There are no blackout dates or restrictions to worry about. 
Members enjoy a fee credit toward TSA PreCheck or Global Entry. The annual fee is $0 the first year, then $95 thereafter. 
Read the Capital One Spark Miles for Business Credit Card editor's review.
Business Credit Cards vs. Personal Credit Cards
Business credit cards and personal credit cards aren't the same and it's important to note key differences.
First, business cards are designed for business spending. So the rewards you can earn and the card perks are more likely to be tailored to a business owner's needs. 
Personal cards, on the other hand, have rewards and benefits that reflect how you might spend in your everyday life. 
There can also be a difference when it comes to the APR and fees you'll pay. You're less likely to find 0% balance transfer offers with business credit cards versus personal cards. 
Notably:
Personal credit cards also come with more consumer protections against fraud than business cards.
But a business credit card can be a good way to keep business and personal spending separate.
Applying for a Business Credit Card
To apply for a business credit, you'll need to complete the application. Generally, credit card companies need to know:
Your name and the name of your business
Personal and business address information
Social security number or tax identification number
Number of employees, if any
Your annual revenue, if any
Business industry
How long you've been in business
All of these things can be considered when trying to get a business credit card. If you don't have a lengthy business credit history, the credit card company can check your personal credit score and income instead. 
Applying for a business credit card can ding your personal credit slightly if you apply with your social security number.
But once your account is opened, it can be reported to business credit bureaus to help you build business credit history.
Final Verdict
The U.S. Bank FlexPerks Business Travel Rewards Credit Card offers a decent rewards rate on purchases, with a simplified program structure.
The $55 annual fee isn't necessarily a dealbreaker, since other travel cards may charge two or more times that. 
This card could be good for someone who wants a basic travel rewards card and doesn't mind not being able to transfer points to other travel loyalty programs.
On the other hand, if that's a feature you're interested in you may want to try a different business travel rewards option.