The Best Credit Cards for a Trip to Hawaii
Learn about the best travel credit cards to use for a trip to Hawaii and find out how to earn more free flights to Hawaii.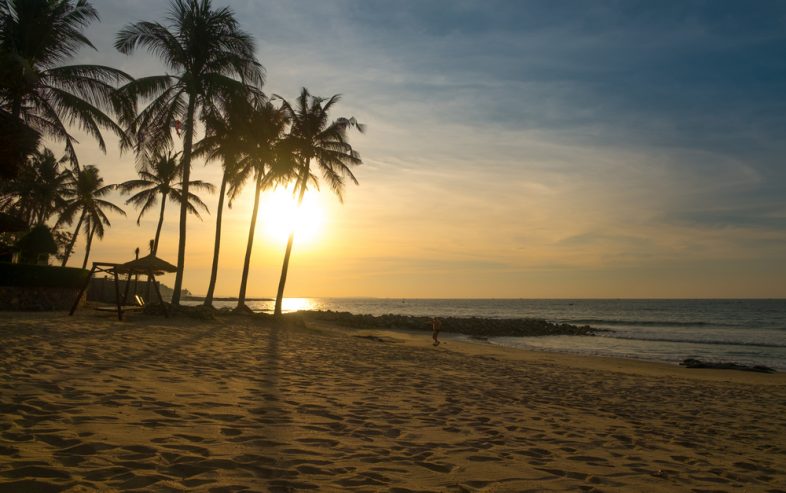 I grew up thinking that Hawaii was not a very nice place to take a vacation. My parents visited Hawaii before I was born, and were not impressed.
They went to Honolulu in the winter and found it to be a little cold and rainy, and didn't return to the islands for decades. Hawaii is also about the same distance from the east coast as much of Europe, so it just didn't seem worth the trip for me.
But after moving to Denver, I decided to give it a try and came away amazed. My first trip to Hawaii was to Maui in June.
It was warm, sunny, and had the right combination of being both exotic and familiar.  Compared to the mainland United States, Hawaii has its own distinct food, culture, geography and language.
But at the same time, you can still use your American Dollars, American mobile phone, and even visit Costco if you'd like.
If Hawaii has one major drawback, it's the 2,000 miles of ocean that separates it from the rest of the United States. Its distance makes it the most expensive domestic destinations you can travel to, and a popular choice for award travelers.
Choosing the Best Credit Cards for an Award Trip to Hawaii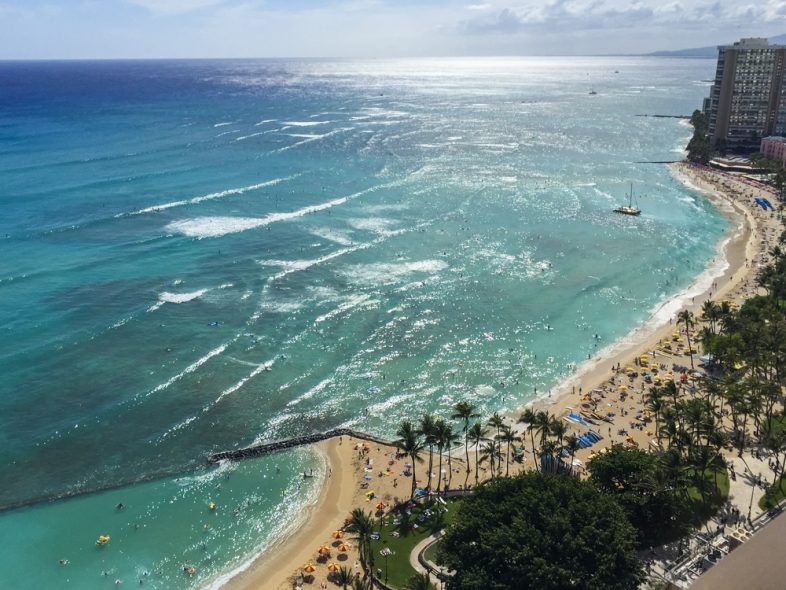 Chase Sapphire Preferred
The is a premium rewards card that offers a generous sign-up and earns 2x on travel and dining charges.
Points are earned in the Chase Ultimate Rewards program, which allows you to transfer points to miles with seven different airline partners, and points with four different hotel programs.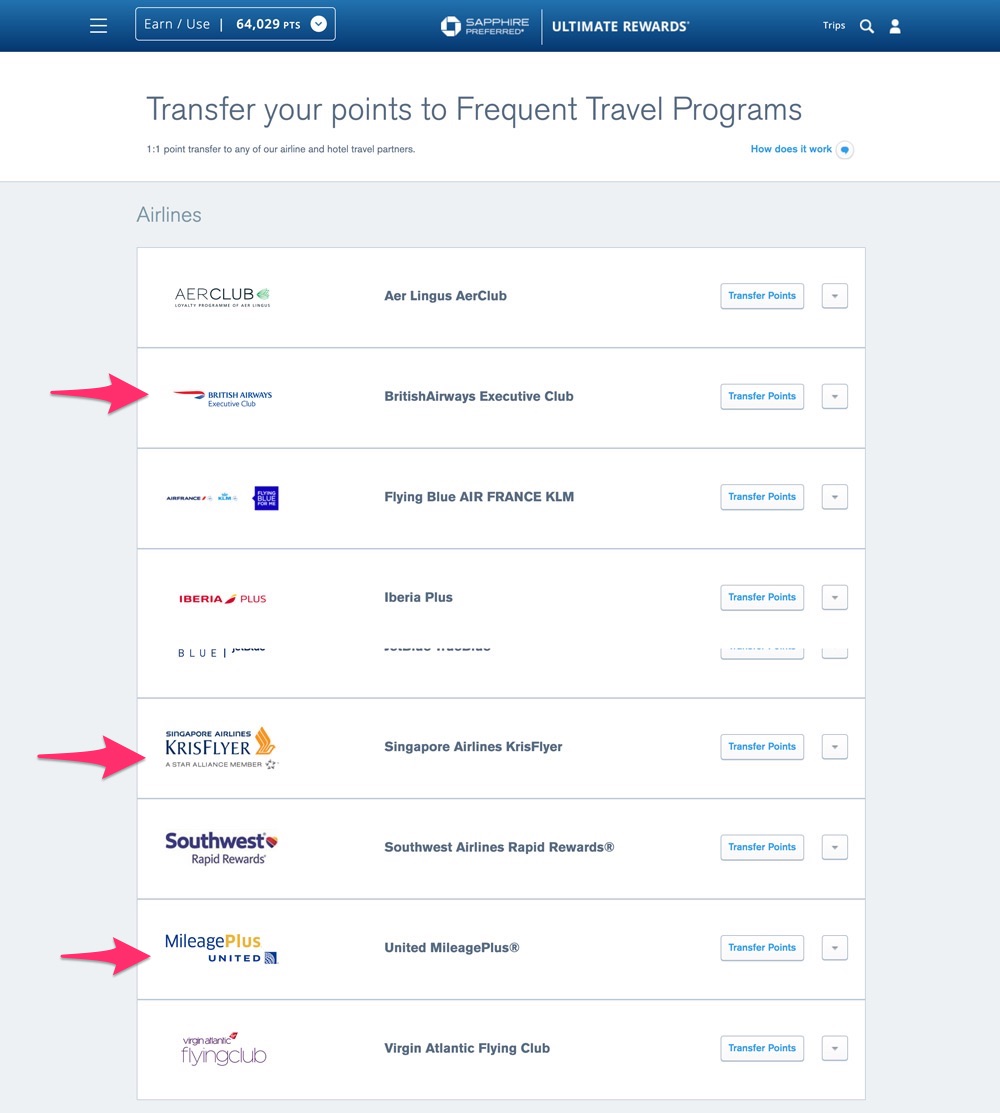 Chase Ultimate Rewards Portal
One option is to transfer your points to British Airways, which offers awards to Hawaii from the west coast using Alaska or American Airlines, for 25,000 miles round-trip in economy class.
However, flights from the rest of the U.S. will be more expensive due to its distance based award chart.
United is another partner of Chase Ultimate Rewards, but it charges 45,000 miles in economy and 80,000 miles in first class, round-trip.
But if you are going to transfer your miles to United for an economy class award ticket to Hawaii, don't.
Instead, transfer your points to Singapore Airlines, which is a partner of United. It offers round-trip award to Hawaii on the same flights, but for only 35,000 miles in economy and 60,000 miles in first class, round-trip.
You can also transfer your Ultimate Rewards points to Hyatt, which has several properties in Hawaii.
I've stayed at the Hyatt Regency Maui twice, and really enjoyed it.
Finally, points are worth 1.25 cents each toward travel reservations booked through the Chase Ultimate Rewards travel center, including airfare, hotel, car rentals, and even activities.
For example, I've used my Ultimate Rewards points to book a Luau, a submarine ride, and even a rental car on my first trip to Maui.
This card has a $95 annual fee that's waived the first year.
Read Chase Sapphire Preferred Card Editor's Review
Citi / AAdvantage Platinum Select World Elite MasterCard
In addition to a decent sign-up bonus, the lets you earn double miles on all American Airlines flights and one mile per dollar spent elsewhere.
Other benefits include a free checked bag, priority boarding, and discounts on in-flight food and beverages.
American airlines offer off-peak awards to Hawaii for just 40,000 miles round-trip in the economy, which are 45,000 miles normally.
First-class awards start at 80,000 miles round-trip. You can redeem these awards for flights on American or its partner Alaska, as well as inter-island flights on Hawaiian.
There's a $95 annual fee for this card that's waived the first year.
Read Citi /AAdvantage Platinum Select World Elite MasterCard Review
Starwood Preferred Guest card from American Express
This card usually offers sign-up bonuses to new cardholders and there are plenty of options to earn more points through spending.
One notable benefit is that you can transfer your points to miles with 30 different airlines including Korean, British Airways, American, Singapore, and Delta.
Therefore, one of the best uses of Starwood points is topping off a frequent flyer account in order to get enough points for an award trip.
And since this program offers a 5,000 bonus when you transfer 20,000 points to miles, you'll quickly accumulate the points need to earn free travel to Hawaii.
An interesting option to transfer your points to is Hawaiian, which offers award flights starting at 25,000 miles round-trip in economy class and 80,000 in first class.
Alaska is another transfer partner that offers plenty of flights to Hawaii. Its award flights start at 35,000 miles in economy class and 80,000 miles in first, round-trip.
You can also redeem Alaska miles for flights on its partners American and Delta, but the prices are higher. Alaska also offers free stopovers on its awards.
Another benefit of the Starwood card is that you can use its rewards to stay in several hotels in Hawaii.
And when you redeem four consecutive award nights with your Starwood points, your fifth night is free.
The $95 annual fee for this card is waived for the first year and there are no foreign transaction fees.
Amex EveryDay Preferred
The Amex EveryDay Credit Card Preferred card offers a great way to earn Membership Rewards points, which can be transferred to miles with 17 different airlines.
But what I love about this card is that It features 3x points at U.S. supermarkets (on up to $6,000 spent each calendar year), 2x points at U.S. gas stations, and 1x elsewhere.
In addition, you also get a 50% points bonus each billing period that you make 30 or more transactions, which allows you to earn 4.5x, 3x and 1.5x respectively.
To use this card for an award trip to Hawaii, you can choose from one of its 17 airline mileage transfer partners.
The best options are Hawaiian, British Airways, and the Flying Blue program of Air France and KLM.
Flying Blue offers award trips to Hawaii in economy class for 30,000 miles round-trip on flights operated by Delta or Alaska.
There's a $95 annual fee for this card, but it does have 2.7% foreign transaction fees.
Citi ThankYou Premier
This card offers new applicants a sizable account-opening bonus.
It also features 3x points for travel and gas, 2x on dining and entertainment, and 1x elsewhere. Points can be transferred to airline partners including Singapore and Air France/KLM Flying Blue.
Points are even worth 1.25 cents each towards airfare booked through Citi's travel agent.
There's a $95 annual fee for this card that's waived the first year.
Using a Credit Card in Hawaii
Compare Best Accounts Now
You might also like