Citi / AAdvantage Platinum Select World Elite Mastercard 2023 Review
If you fly often with American Airlines, you could save money from free checked bags with the Citi® / AAdvantage® Platinum Select® World Elite™ MasterCard®.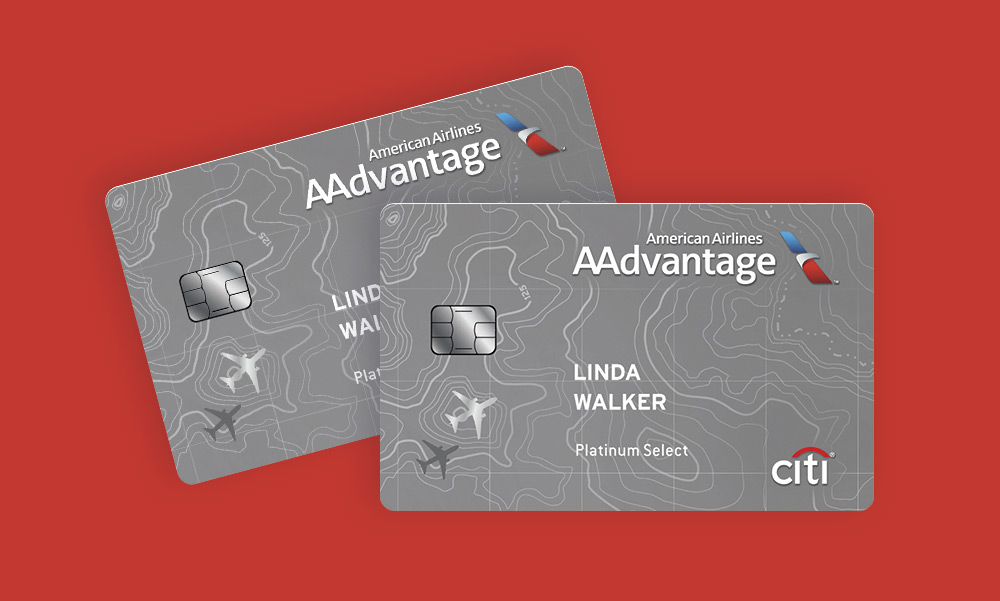 Citi / AAdvantage Platinum Select
Frequent flyer programs are one way to earn miles towards free flights. A travel rewards credit card is another.
If you prefer American Airlines to other carriers, the Citi / AAdvantage Platinum Select World Elite MasterCard may be right for you.
This card is designed for people who want to enjoy travel perks and rewards for being loyal to American.
The AAdvantage Platinum card comes with money-saving travel extras like priority boarding and free checked bags.
Travelers who head to destinations outside the U.S. will appreciate the lack of a foreign transaction fee.
After the first year, you'll pay an annual fee of $99. This review helps you decide whether the card's rewards and benefits are worth it.
Citi AAdvantage Platinum Select World Elite MasterCard Pros & Cons
Earn Rewards and Save on Trips When You Fly American
The Citi / AAdvantage Platinum card is best for someone who picks American Airlines over other air carriers.
The American Airlines frequent flyer program is called AAdvantage. You earn AAdvantage miles on every purchase but you'll get the most miles when you fly with American.
You'll earn 2 AAdvantage miles per dollar on:
American Airlines purchases
gas stations
restaurants
All other purchases earn one mile per dollar.
The card offers a generous one-time AAdvantage miles bonus for qualifying card members.
Note: American Airlines vacation packages and AA Cargo products and services don't qualify for the two miles per dollar rewards rate. For those purchases, you'll earn 1 mile per dollar.
Redeeming Your AAdvantage Miles
When you're ready to redeem your miles you've got a few different options.
First, you can use miles for travel on American Airlines, American Eagle, any oneworld airline, or one of American's partner airlines. The list of oneworld and partner airlines includes:
Qantas
Finnair
Japan Airlines
Hawaiian Airlines
Jet Airways
WestJet
If you're booking on American Airlines, you can redeem miles two different ways.
AAnytime Awards
AAnytime awards are good on American Airlines or American Eagle flights. Redemption starts at 20,000 miles for a one-way ticket.
Individual award levels vary by region, fare class, and when you plan to book.
For example, a Level 1 AAnytime award ticket to California would require 20,000 miles. If you want to book a Level 1 ticket to Asia, you'd need at least 62,500 miles.
The upside of redeeming miles for AAnytime awards is that there are no blackout dates to worry about. That means you can use your miles for award travel without having to juggle your travel dates.
You can also take advantage of things like complimentary access to Preferred seating.
Mile SAAver awards
Mile SAAver awards work a little differently. You can book a one-way flight with as little as 7,500 miles, depending on where you're traveling to and the flight distance.
Mile SAAver Off-Peak awards can cut down even further on the number of miles you need to fly for free. For instance, you could fly to the Caribbean with just 12,500 miles.
The biggest drawback of redeeming miles for Mile SAAver awards is that you don't have as much flexibility in when you can book.
These awards are available on a limited basis so they're better for someone who can change their travel dates if needed.
Reduced Mileage Awards
Another upside of this card is the ability to get a miles discount on flights.
When you book a round-trip Mile SAAver award flight of 500 miles or less, you can get a 2,000-mile discount. For flights over 500 miles, the discount increases to 7,500 miles.
Reduced mileage awards are available for flights within the U.S. and Canada. You can get the miles discount whether you're flying coach, business, or first-class.
That's a nice incentive to sign up for this card if you want to be able to book award travel with as few miles as possible.
Note: Award travel redemptions only cover the cost of the ticket. You'll still be responsible for paying taxes and carrier fees for your flight.
Get Back 10% of Your Redeemed Miles
Each calendar year, card members can get 10% of their redeemed miles back. The bonus tops out at 10,000 miles. So if you do a lot of traveling, you can add even more miles to the pile.
Other Ways to Redeem
Besides award flights, you've got a few other ways to use your miles. You can redeem them for:
Upgrades on domestic and international American Airlines flights
Upgrades on British Airways and Iberia flights
Car rentals, hotel stays, and vacation packages in over 500 destinations worldwide
You can even redeem miles for membership in the Admirals Club. As a member, you'll have access to more than 90 airport lounges and clubs around the globe.
The basic Admirals Club membership fee for an AAdvantage frequent flyer program member is $550 per year. If you can use your miles to cover the cost, that could save you some serious dough.
American Airlines Admirals Club membership fees
| Membership type | AAdvantage | AAdvantage Gold | AAdvantage Platinum | AAdvantage Executive Platinum |
| --- | --- | --- | --- | --- |
| Individual | $550 / 85,000 miles | $525 / 75,000 miles | $500 / 70,000 miles | $450 / 60,000 miles |
| Individual (renewal) | $500 / 75,000 miles | $475 / 65,000 miles | $450 / 60,000 miles | $400 / 50,000 miles |
| Household | $925 / 135,000 miles | $850 / 120,000 miles | $775 / 105,000 miles | $675 / 85,000 miles |
| Household (renewal) | $875 / 125,000 miles | $800 / 110,000 miles | $725 / 95,000 miles | $625 / 75,000 miles |
Flight Discount
After spending $20,000 or more on purchases a card year and you renew your card, you'll get a $100 American Airlines flight discount.
This is a nice added perk if you find that you're spending enough to earn this discount.
Enjoy Your Travel Experience Even More With These Benefits
There are a few other reasons to consider this card besides rewards.
Your first checked bag is free for yourself and up to four companions when you travel on the same reservation aboard domestic flights.
You'll get Group 1 boarding access (priority boarding), plus a 25% discount on eligible in-flight purchases made with your card.
This card comes with several security features and protections to make every trip as smooth as possible. They include:
Trip cancellation and interruption protection
Lost baggage protection
Worldwide travel accident insurance
24/7 travel and emergency assistance services
Worldwide rental car insurance coverage
Your card has an EMV security chip, which makes in-store purchases more secure. Purchase damage and theft protection and an extended warranty program also come included.
Adding Up the Card's Cost
This card doesn't have a 0% introductory offer for purchases or balance transfers. That may be disappointing if you were planning to book an expensive getaway or transfer a balance over from another card.
The regular variable APR for purchases and balance transfers is based on your creditworthiness.
If you're angling for the best rate possible, boosting your score can help. Take a look at our uncomplicated guide to hacking your perfect credit score before you apply.
The fees are about what you'd expect for a card that offers premium travel rewards. The $99 annual fee is a little high but it's waived for the first 12 months.
You'll be able to get the most upfront value from the card through the savings on checked bags.
The first checked bag per passenger is usually $25 each. On a roundtrip flight for 5 people with one checked bag each, you'll save a total of $225.
Is This the Best Citi Rewards Card for Travel?
Wondering how Citi's other travel rewards cards measure up? Here are four alternatives to the Citi / AAdvantage Platinum Select World Elite MasterCard.
Citi AAdvantage Gold World Elite MasterCard
The Citi AAdvantage Gold MasterCard may be better for someone who doesn't travel as often.
This card has a $50 annual fee instead of $99. You earn one AAdvantage mile per dollar on every purchase.
You still get a new account miles bonus and access to reduced mileage awards.
To redeem for AAnytime awards, you'll need a minimum of 25,000 miles instead of 20,000.
However, you have to weigh paying a lower annual fee against having to use more of your miles to redeem for award travel.
Citi AAdvantage Executive World Elite MasterCard
The Citi AAdvantage Executive World Elite MasterCard is aimed at luxury travel lovers.
This card lets you earn 2 miles per dollar on American Airlines purchases and 1 mile per dollar on everything else you spend.
It's the card's added features that make it a standout.
For instance, you get all the benefits of Admirals Club membership. You also get a Global Entry or TSA Pre✓ application fee credit.
Your first checked bag aboard domestic American Airlines flights is free for you and up to eight companions. You even have your own personal concierge to help with making travel arrangements.
The catch? The annual fee is $450, which isn't exactly small potatoes.
Citi Premier® Card
The Citi Premier Card allows you to earn travel rewards beyond just American Airlines purchases.
With this card, you earn three points per dollar on travel, including airfare, hotels, car rentals, taxi fares, and gas.
You earn:
3x points at restaurants, supermarkets, gas stations, airtravel, and hotels
1x points on all other purchases
Your points are worth 25% more when you redeem for travel through the ThankYou Travel Center.
There's no foreign transaction fee but you'll pay a $95 annual fee. All in all, this card could be a good fit if you aren't loyal to any particular airline when you travel.
Citi Prestige Card
Last but not least is the Citi Prestige Card -- one of the premier travel rewards cards.
This card offers three points per dollar on airfare and hotels, two points per dollar on dining and entertainment, and one point per dollar on all other purchases.
Like the Citi  AAdvantage Executive World Elite MasterCard, this card also has a $495 annual fee.
As a trade-off, you get a $250 annual Air Travel Credit which can be applied to baggage fees, upgrades and more.
When you book four hotel nights or more through the Citi Prestige Concierge, your fourth night is free.
As an added plus, you can transfer them to participating airline loyalty programs, including Virgin Atlantic and Flying Blue.
Should You Get This Card?
The Citi / AAdvantage Platinum Select World Elite MasterCard could easily save you money on travel if you routinely fly with American Airlines.
Someone who wants to be able to transfer their rewards to any frequent flyer program or earn a higher number of miles with a different airline should probably look elsewhere.
This card is also going to be a better fit for someone who doesn't mind paying an annual fee to score big rewards.