Homeowners Insurance and Mold Damage: When You Are and Aren't Covered
Find out how your homeowners insurance may cover mold damage in your property, especially when it's not be covered. Additionally, learn to prevent mold growth.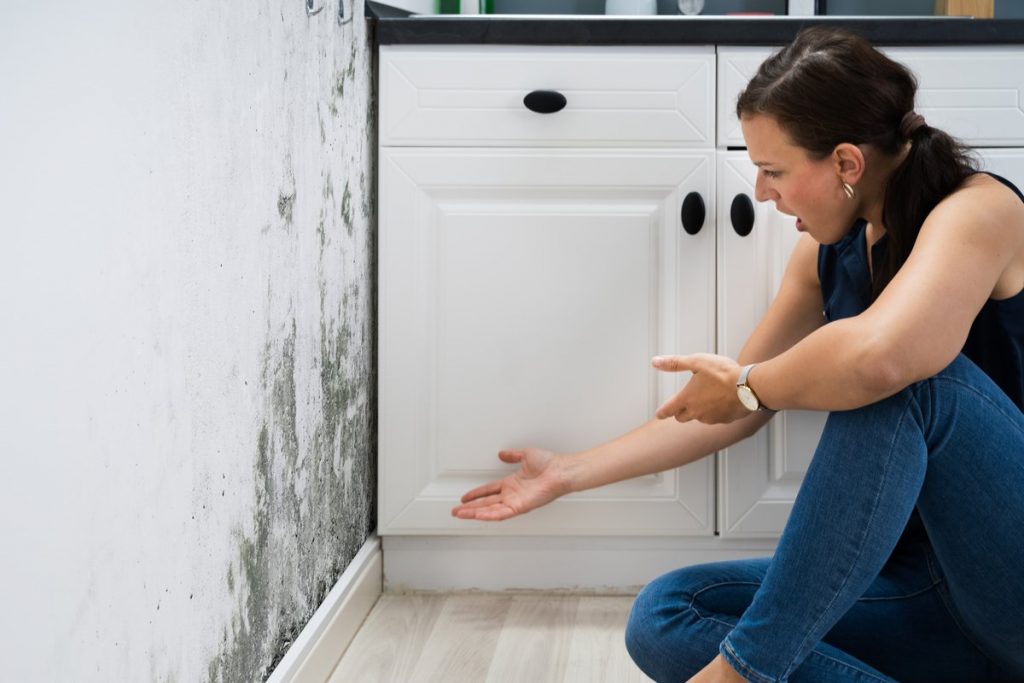 Mold is a type of fungus that grows in damp, moist areas. So it's not uncommon to find mold where there's water and humidity.
Although mold lives outdoors in plants and soils, it can also live and thrive indoors.
Black mold exposure is dangerous to health.
So if you find mold inside your home, it's important to remove it as soon as possible.
But given the costly nature of mold removal, you might ask:
Does homeowners insurance cover mold remediation?
Here's a look at standard coverage with a standard homeowners insurance policy, including whether it covers mold damage.
When Does Homeowners Insurance Cover Mold?
While homeowners insurance offers a lot of coverage, it doesn't cover everything.
With regard to mold damage, the cause of the damage determines whether your insurance provider will pay for remediation.
To put it plainly:
Your homeowners insurance will only cover mold damage caused by a covered peril.
For example, let's say a pipe bursts in your home. This sudden incident could release gallons of water into your home. This water can damage your drywall, carpet, and other flooring.
Plumbing
If a broken pipe floods a home, it might take more than a day to remove the water and completely dry out surfaces. Even with quick action, mold can start to grow within 24 to 48 hours of water damage
If you find mold after this incident, your insurance company will cover the cost to repair your pipes, and remove the mold.
Weather
Similarly, if the weight of ice or snow causes a roof leak, which leads to mold growth, your home insurance company will cover the cost of mold remediation.
Appliance breaks
Another covered scenario is when an appliance breaks and floods the home, causing mold to grow.
As a general rule, insurance companies cover mold that occurs from "sudden and accidental" incidents.
When Doesn't Homeowner's Insurance Cover Mold?
Be mindful, though, your insurance provider will only cover mold damage when you take immediate action.
In other words:
If you notify your insurance company of water damage within a reasonable timeframe, and you take steps to stop the water damage, you're covered.
But if a water leak from an appliance or pipe goes unnoticed for several weeks, your insurance provider might not cover the mold damage.
Your insurance company might also deny coverage if you wait days or weeks to repair a known leak or file a claim.
Negligence
Insurance companies can deny claims for negligence, too.
For example, maybe you neglected to replace an old roof. And as a result, water leaked into your attic resulting in a mold infestation.
Your insurer might also deny a claim when mold results from too much humidity in your home, or from exterior flood damage.
Floods
Keep in mind that standard homeowners insurance policies do not cover flood damage.
If you live in a flood zone, you'll need to buy a separate policy through the National Flood Insurance Program. Or, ask your insurance company to add a flood rider to your existing policy.
Understand, though, that flood insurance policies only cover mold damage under certain circumstances.
The insurer might cover this damage when weather conditions prevent immediately entering the property and beginning the cleanup process.
Delays in water removal create opportunities for mold to grow.
If you're concerned about mold damage—maybe because you live in a flood zone or a humid climate—ask your insurance provider about adding a mold rider to your policy.
Unfortunately, this extra coverage isn't offered by all home insurance companies.
But if it's an option, extra mold coverage is helpful when the cost of remediation exceeds the amount your insurer will pay for damages.
A mold rider or endorsement can cost between $500 and $1,500 a year.
What Does Home Insurance Include?
Mold coverage is a small part of your home insurance coverage, which is an essential insurance policy. It protects your home from damages or losses caused by different perils.
Incidents covered under a policy include:
fire
lightning
hailstorm
vandalism
theft
explosion
damage by vehicle
broken pipes
water damage from appliances
windstorms
But although these policies are important, they're not required by law.
So each homeowner has the responsibility to buy a policy to protect their property.
If you have a home loan, though, your mortgage lender will require an active policy for as long as you have the loan.
Basic homeowners insurance policies offers four standard levels of protection. If your insurance provider covers mold damage, this coverage falls under dwelling protection.
Dwelling protection is the part of your home insurance policy that protects the actual structure. It also protects other structures on the property. Other structures include a detached garage, fence, or outdoor shed.
You need enough dwelling coverage to completely rebuild your home. Coverage for other structures is 10 percent of your dwelling coverage.
Depending on the extent of mold damage, you might have to move out during the mold remediation process. If so, your policy also offers loss of use coverage.
What does this entail? Basically, if the home is uninhabitable after a covered peril, your insurer pays your extra living expenses. This coverage is 20 percent of your dwelling coverage
Other parts of a home insurance policy include:
Personal property protection
This protects your personal property such as clothes, furniture, jewelry, and electronics.
Personal property protection is usually 50 percent to 70 percent of dwelling coverage.
Personal liability protection
This part of your policy provides protection if someone becomes injured on your property. It pays their medical expenses and any court-ordered awards.
Standard policies include $100,000 in liability protection.
If necessary, you can increase your liability protection up to $500,000.
How to File a Mold Claim
Contact your provider to file a claim as soon as possible
An adjuster will visit your property to assess the damage
The insurer will notify you of claims status
Since home insurance providers only cover mold damage that coincides with a covered peril, the first step to removing mold is contacting your provider to file an initial water damage claim.
File this claim immediately after water damage to avoid issues or delays. Before covering mold damage, the insurance company will confirm that a covered peril caused this damage.
An insurance adjuster will visit your property to assess the damage. Based on their report, your insurer will then determine whether to cover mold removal. You're likely covered when a burst pipe, broken appliance, or other sudden accident causes water damage and mold damage.
As you await the adjuster's arrival, take steps to dry out your home. This includes using a fan or dehumidifier to limit mold growth.
When a covered peril causes initial water damage and mold, you'll likely pay a single deductible. The deductible is what you'll pay out-of-pocket before your insurance provider pays a claim.
Home insurance deductibles can range from $500 to $2,500.
If a company charges $10,000 to remove the mold, and you have a $500 deductible, your insurance company will pay $9,500.
How to Prevent Mold Damage
Here are a few tips to prevent mold damage:
Inspect your roof and crawlspace for signs of dampness or moisture
Check underneath your kitchen and bathroom sinks for water leaks
Use a dehumidifier to keep your home's humidity level between 30 percent and 60 percent
Use exhaust fans in the bathroom to reduce humidity
Keep up with home maintenance (replace an old roof, shingles, and appliances in a timely manner)
Check your refrigerator and dishwasher hoses for leaks
If water leaks or damage occur inside your home, take immediate action to prevent the growth of mold.
This involves turning off the water to your home, patching a leaky pipe, and then using a wet vac to remove water from surfaces. You can also open your windows and use fans to keep the area dry.
Also, learn how to detect mold.
If you know how to recognize signs, you can check for moisture or dampness when signs appear.
Common signs of mold in your home include bubbles forming on painted walls and a musty smell. Signs of too much moisture or humidity include rust developing on metal, rotting wood, and foggy windows.
You might even develop physical symptoms of mold exposure. These include unexplained sneezing, nasal congestion, skin rash, chest tightness, and other allergy symptoms.
Conclusion
Mold can cause costly damage to homes, with remediation costing tens of thousands of dollars.
The good news:
Your home insurance policy will likely cover mold damage caused by a covered peril like a broken pipe. But in these situations, you have to take quick action.
Notify your insurance company of water damage immediately.
Any delays on your part could prompt your insurance company to deny your claim.
In which case, you would pay for mold damage yourself.