Homeowners Insurance and Roof Leaks: Does Your Policy Cover Damages and Repairs?
Find out if your standard homeowners insurance policy will cover roof leaks and repairs for any damage done -- in addition to other factors that affect claims.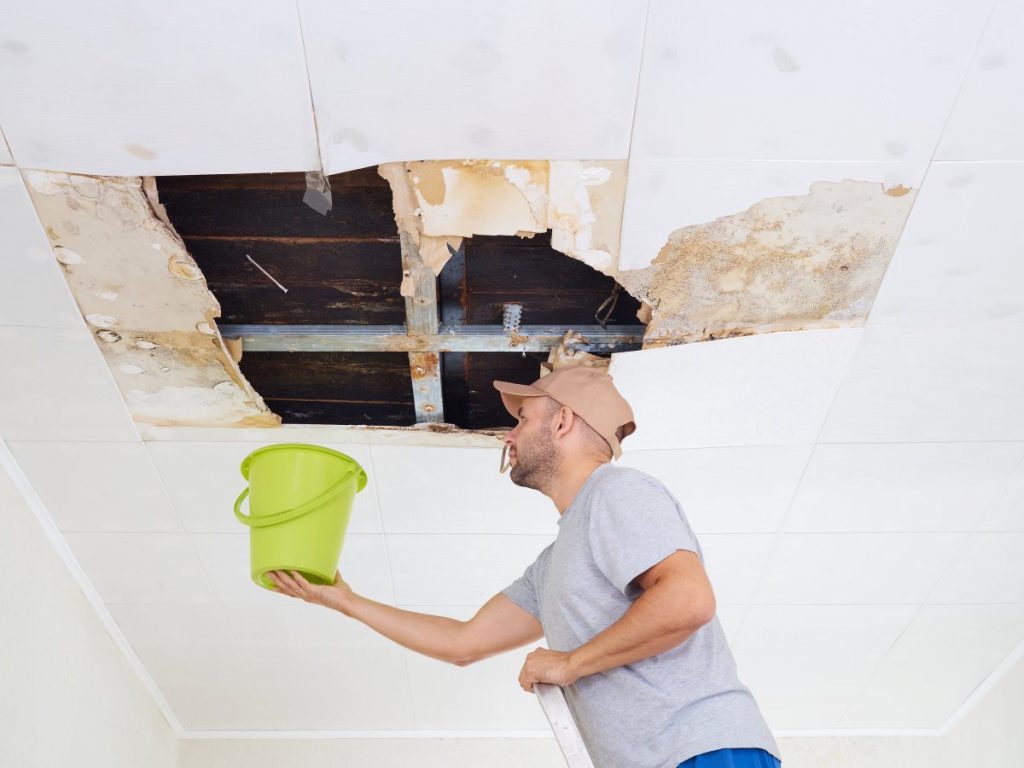 A leaky or damaged roof needs quick attention, or else there's the risk of mold developing and spreading through the home. But depending on the extent of damage, fixing a roof can be expensive.
The good news:
Your homeowners insurance policy might cover the repair cost.
This can reduce your out-of-pocket expense, allowing you to complete a repair sooner rather than later.
But while homeowners insurance does provide some protection, it doesn't cover every type of roof damage.
Here's what you need to know about homeowners insurance, as well as coverage limits.
Does Homeowners Insurance Cover Roof Leaks and Damage?
In some cases, yes—a homeowners insurance policy will cover roof leaks and damage.
Understand, though, this coverage has limits.
If your roof sustains damage or starts leaking, your home insurance company will investigate to determine the cause of the leak or damage. This is necessary because the company will only cover damages that result from a covered peril.
For example, they'll cover the cost to fix your roof when vandalism causes the damage. They'll also repair your roof when damage is due to the weight of snow or ice, falling objects, or a fire.
Depending on your policy, your provider might also cover damage due to a windstorm (more on this later).
Your homeowners insurance policy includes different parts. The specific circumstances surrounding the damage determines which part of your policy pays the roof cost.
1. Dwelling coverage
Dwelling coverage is the most important part of a homeowners insurance policy. This part protects the actual structure, as well as other structures on your property. Other structures include a fence, a detached garage, or maybe a shed.
Dwelling coverage will rebuild your house after a major disaster.
If a covered peril damages your roof, the dwelling portion of your policy also covers this damage.
You'll need enough dwelling coverage to completely rebuild your property. Coverage for other structures is 10 percent of your dwelling coverage.
2. Personal property coverage
But dwelling coverage isn't the only component that offers protection after roof damage. Depending on the extent of damage, a roof leak might damage personal property within the home. This includes clothes, furniture, and electronics.
In this situation, your policy's personal property protection kicks in. Your provider will offer reimbursement for lost or damaged items.
This provides added peace of mind, since you don't have to replace these items with your own funds. In most cases, personal property coverage is 50 percent to 70 percent of dwelling coverage.
Keep in mind, though, your policy will only cover certain items up to a certain amount.
So if you have high-value items in the home like jewelry, musical instruments, or collectibles, you'll need to add a rider or endorsement to your home insurance policy.
This allows you to insure high-value items up to their full replacement value.
3. Loss of use coverage
Also, your home insurance policy includes loss of use coverage. This part of the policy kicks in after major damage.
If your home sustains significant damage, you might have to live elsewhere on a temporary basis. This is an added expense. But whether you live in a hotel or rent another home, your insurance policy helps cover some of your additional expenses.
Loss of use coverage is often 20 percent of your dwelling coverage. The good news is that it doesn't only include accommodations. It also covers other extra expenses like restaurant meals.
When Doesn't a Home Insurance Policy Cover Roof Damage?
To be clear, your home insurance policy will not cover every type of roof leak or damage. It will only cover damages caused by a covered peril listed in your policy.
For this reason, roof damage caused by an earthquake, flood, mold, negligence, or rodent infestation isn't covered under the policy. You would have to pay these damages out-of-pocket.
Mold
One exception is when a covered peril causes mold.
Let's say heavy snow or ice damages your roof and causes a leak. This event might trigger mold. If so, your insurance company will likely cover the cost of mold remediation.
Earthquakes
If you're concerned about earthquakes damaging your roof, another option is to buy additional coverage. If you live in an area prone to earthquakes, you can add an earthquake endorsement to your existing policy.
Hurricanes and floods
Similarly, you might need extra coverage to protect against heavy rain due to a natural disaster like a hurricane.
If rain from a hurricane damages your roof, your insurance provider might classify this as flood damage, and not water damage. In which case, your standard home insurance policy will not pay for damages. You would need to buy a flood insurance policy.
On that note, it's important to understand the difference between water damage and flood damage. Water damage is damage caused by plumbing issues within the home. It also includes damage caused by a broken appliance in the home.
Flood damage is water damage caused by a natural disaster or a heavy rain event.
What You Need to Know About Windstorm Protection
If you live in an area prone to windstorms like tornadoes and hurricanes, confirm that your standard homeowners insurance policy includes windstorm protection.
In areas hit hard by storms in recent years, some insurance companies have started excluding windstorm protection.
If you don't have this protection, your provider will not cover roof damage caused by a tornado or hurricane. You would need to buy separate windstorm protection.
Deductibles
Even if your standard policy includes windstorm protection, these types of events often have their own deductible.
The deductible is what you'll pay out-of-pocket before your insurance provider pays a claim.
Deductibles can range from $500 to $2,500. But windstorm deductibles are usually a percentage of the home's insured value.
To illustrate, imagine a 2 percent windstorm deductible on a home valued at $200,000. If a tree falls on your home during a storm, you would have to pay $4,000 out-of-pocket before your insurance provider pays the claim.
Additional Homeowners Insurance Tips
Here are a few general tips to protect your roof and save on homeowners insurance.
1. Schedule annual roof inspections.
Leaks can go undetected for long periods of time, causing expensive damage to your roof and home. So periodically inspect your roof for any signs of moisture or damage.
Walk around your attic after a heavy rainstorm and check for leaks, or have your roof professionally inspected.
2. Know when to file a claim.
If you detect a roof leak, get a quote from a roofing contractor immediately. Depending on the cost to repair your roof, though, you might forgo filing a claim.
Filing a claim can trigger a premium increase. For smaller, inexpensive repairs, you might pay these yourself to avoid an increase.
Keep in mind:
Your insurance provider will only cover repairs that are greater than your deductible.
So if you have a $500 deductible, but a repair is only $400, you wouldn't receive reimbursement. In which case, there's no need to file a claim.
3. Shop around
When getting a home insurance policy, it's also good to shop around and get quotes from multiple insurance providers. You should contact at least three to five insurance companies to get rate quotes.
You can compare coverage, deductibles, and monthly premiums. If you get a policy through the company that provides your auto insurance, you might qualify for a loyalty discount.
Conclusion
Roof leaks and damage can worsen over time and they're often costly to repair. But while homeowners insurance will cover some damages, it doesn't cover all types of damage. So it's important to understand how your policy works.
And if necessary, get additional protection.
You can also protect your roof by conducting regular inspections, either yourself or through a roofing company. Detecting roof damage early can prevent costly repairs and claims.