Should You Switch Car Insurance After an Accident?
Find out if it is a good move to switch car insurance policies after you've been in an accident -- whether you want to lower premiums or other policy terms.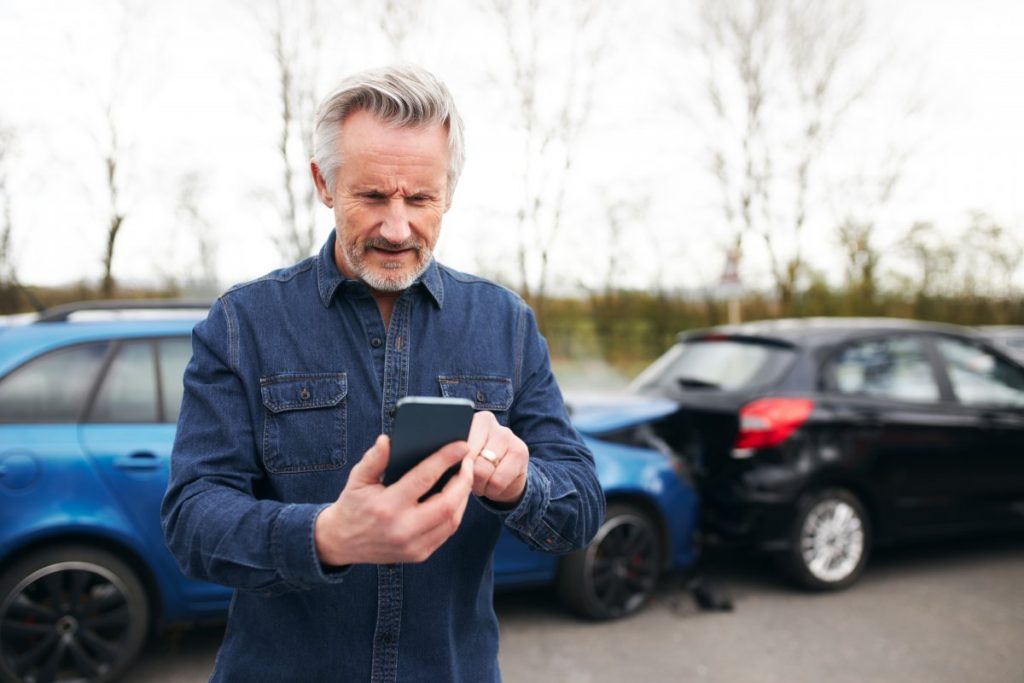 The good news:
You can switch car insurance at any time – but that doesn't necessarily mean you should.
There may be compelling reasons to stay with your current carrier. 
Switching to get a lower rate or better benefits for an already claimed accident will not be possible. The insurer you have at the time of the accident will be the one you'll go through for that claim.
But as long as the accident claim has been filed with your original insurance company, you should be able to switch carriers, but only if that will be to your advantage.
Why You Might Consider Switching
We get it:
The premium increase is the most common reason to consider switching car insurance companies.
And if that increases after an accident, it'll be all the incentive you'll need.
But be careful not to jump too quickly with that change.
Whether or not your policy is up for renewal, you can still switch your policy. It could even save you money, whether you're getting full coverage or just the state minimum amount required.
Ensure adequate coverage
The switch shouldn't be just about a lower premium either.
You'll want to be sure the lower price you might pay for a new policy doesn't come at a cost of reduced coverage.
It's important to always have enough coverage to protect you in any situation. Cutting corners to save money may end up costing you even more in the end.
If you plan to cut coverage when switching to a new company, first give your current insurance company an opportunity to give you a quote for the same level of coverage. You may be able to reduce your premium without changing carriers.
When Switching Makes Sense
In general, the reason most people switch companies is to save money.
Here's a few other reasons why you may want to switch insurance companies:
A major life event
Even better rates may apply to you if you've recently purchased a new car, moved, or added (or removed) someone to your policy.
Bad customer service
A series of bad experiences may leave a sour taste in your mouth about your current car insurance company. That may be even more pronounced after an accident. It may be that the company handled the claim poorly, or there were serious delays in processing.
A denied claim
The whole reason for having car insurance is to pay a claim for an at-fault accident. If the company fails to do that, it might make sense to switch.
An insecure insurer
Not many consumers concerned themselves with the financial strength of their insurance company.
But if you do, you may become aware that your current insurer's financial stability has fallen, and you'd like to go with a more secure company.
For better or worse, the willingness of an insurance company to pay a claim is closely connected with their financial strength.
Switching Car Insurance Due to Premium
It's natural to shop after your premium has been increased due to an at-fault accident.
But not all insurance companies charge the same premium level for at-fault accidents.
If you find your new premium is high compared to the competition, it'll be time to make a switch.
Each insurer assesses risk differently, and other variables are factored into determining rates.
Age, gender, location, driving history, credit, vehicle type, and previous insurers can play a large role in switching companies.
If you're a higher-risk driver, you'll want to find a company that's more lenient or forgiving, especially after your recent accident.
But if you do switch companies after an accident, it's important to fully disclose the accident and all details accurately to the new company.
Rest assured:
The new carrier will get the details at least eventually.
And when they do, they'll either increase your premium accordingly, or even drop your coverage due to potential insurance fraud.
When the Switch Doesn't Make Sense
As easy as it could be to switch, it's not for everyone or under all circumstances.
Here are some reasons why it may not be the best choice for you:
Switching before an accident claim is filed
If you get into an accident, rushing to switch to avoid paying a higher rate before a claim is filed is not the way to go.
The company that will pay your claim will be the one that you had at the time of the accident. If you switch carriers before filing that claim, the company may not pay.
Be sure to file your claim before making any changes. It's even better if the claim has already reached approval status.
A new company will not pay a claim from an accident that occurred before the policy went into force.
The premium hike is minor
Most insurers won't make changes to your policy before renewal.
If you do get into an accident, it's highly likely that you won't see any changes to your premium until the renewal period.
And even when it does fit, it may not be worth making a change if the increase is small. Shop around, sure. But don't change for what may prove to be a small premium decrease.
Perks and discounts
You may not realize that you already have the best rate possible for the coverage you require.
Your current insurer could already be providing you with the best benefits for the rate you are paying.
Excellent examples are loyalty discounts, accident-free discounts, and a vanishing deductible. Insurers may not look at your driving record each year because of your loyalty to them.
Switching companies may take some of those benefits away.
The company you may be thinking of switching to may not have the same benefit package, and you may find you're not eligible for all that are available as a new customer.
Claim service
If the current company does a good job of handling your accident claim, you may want to think twice about changing carriers.
If they paid benefits to you and to the other party in the accident in a sufficient amount and in a timely fashion, you may not want to make a jump.
It's an indication your current company stands behind their policies.
Not all insurance companies may be as good.
Bundling
Your current insurer may be offering you savings for having other policies with them, such as your home and auto insurance.
Other companies may not offer that same discount, or even an option to bundle at all.
Keeping everything insured under the same company makes it easier to save.
How to Switch Car Insurance After an Accident
Before deciding to make that switch, look at the pros and cons of your company and any others to make sure you're making the right choice.
Research is key
Switching companies may bring you more benefits at a lower rate.
However, your current insurer may be providing you with the best benefits for your needs.
Be sure to give your old insurer notice of cancellation, especially if it's close to your policy renewal.
Requirements
Decide when you want to start your new policy. Find out the requirements for you to cancel with your old insurer.
They may require the cancellation be in writing and mailed to them.
Make sure they confirm cancellation!
Never assume the cancellation will happen. If your car is leased or financed, be sure to let your finance company know about the change.
Failing to inform your old insurer may lead to continuous billing, and if payments aren't made, the insurance company will notify the state department of motor vehicles.
That can result in penalties or even license suspension.
Activate
When you decide to switch companies, purchase your new policy and make sure it's active.
To avoid a lapse in time, it may help to have it overlapping the old policy so there's no missed coverage.
Make sure you get proof of activation from your new insurer. When you get proof from your new company, contact your old insurer to cancel your policy.
A refund will be provided for however much time is left on your current policy, and an even bigger refund if its mid-policy.
Watch out for a cancellation fee
The downside may be a cancellation fee (typically around 10% on your remaining premium) depending on the company you have.
Check before making the switch, especially if you're switching mid-policy. The fee won't apply if you wait until your policy renewal.
Shop around
There's nothing wrong with shopping between several companies.
Most offer discounts and some may offer better benefits for lower rates. The difference in rates between companies can be hundreds to thousands of dollars.
Insurer reputation, financial strength and customer service should be taken into account.
Other Ways to Lower Your Premium After an Accident
A poor driving history can have the most impact on your premium.
That's especially true if you've recently had an at-fault accident.
Going forward, be sure to drive safe and avoid any violations or at-fault accidents. You'll need to keep your driving record clean for at least the next three years.
Complete a safe-driver course
Because of your recent accident, look into completing a safe driver course. Your insurance company may allow you to complete an approved safe driver course, lowering your premium by 10% or more.
Whether you stay with your current company or switch to a new one, review all the discounts they offer.
There may be some you've overlooked in the past, or didn't consider important. But after an accident, every discount will matter.
Personal credit
And though most drivers don't think much about this, your credit history can have a big impact on your car insurance premium.
A poor credit history can increase your premium by 50% or more.
Keep your credit clean for at least two or three years, and you'll help yourself get a better rate.
Bottom Line
There's no escaping the unfortunate reality that an at-fault accident is likely to bring a big change in your car insurance premium.
You may need to consider switching car insurance companies to minimize the damage. But don't jump too quickly.
You may find that your current car insurance company is already providing you with the best deal possible.