Cashier's Check, Money Order and Personal Check: Which One Clears the Fastest?
Cashier's checks, personal check and money orders may clear the bank at different times. See how many days it takes for these funds to become available.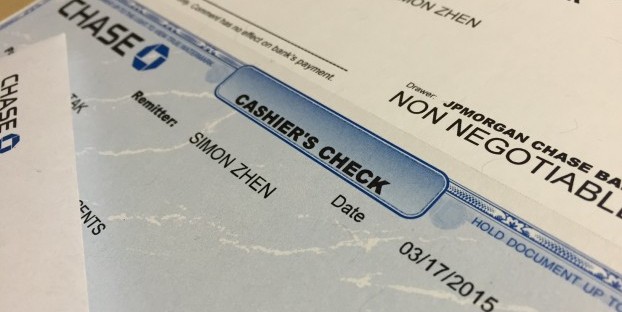 I tested deposit speeds of each one to find out the fastest way for you to send -- or collect -- payments in physical form.
This week, I deposited three different types of paper payments to see the actual time that it would take for them to clear (as in when the money actually transferred).
Quick answer: Cashier's checks and money order cleared the fastest -- within the next business day.
For this "experiment," I used my personal check from Ally Bank, a money order from the United States Postal Service and a cashier's check from Chase.
Each one was for $100 and they were deposited into our editor's account, who has a checking account with Chase.
Did you know? A cashier's check guarantees the payable amount because the money is taken by the bank from the payer when the payer asks for a cashier's check. Money orders also carry prepaid funds. Both are safer than personal checks, which can be considered as paper promises that someone has enough money in his or her account. You don't really know until your bank verifies the personal check with the payer's bank.
Before I get to the deposit times, I want to touch on the process of getting cashier's checks, which turned out to be quite difficult if you're not a customer of the bank.
When I tried to get a cashier's check
The personal check was obviously the easiest payment method to obtain, while the USPS money order just required cash, plus a fee of $1.25 (they also accept debit card payments for money orders, but no credit cards).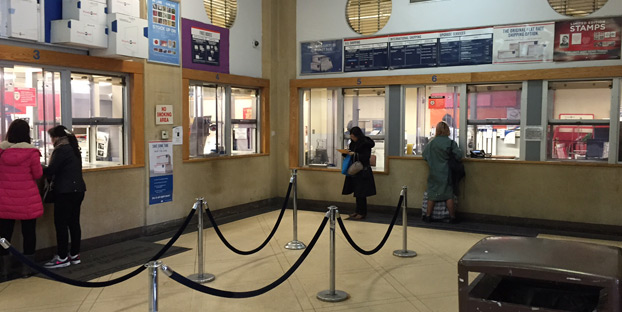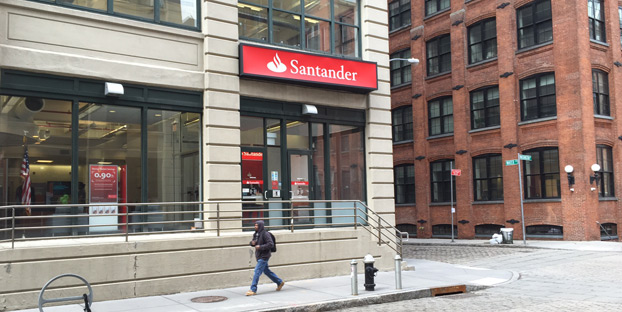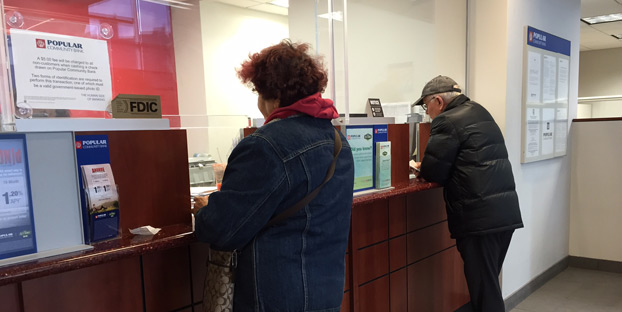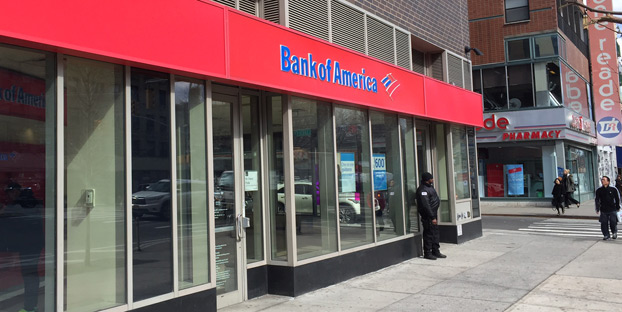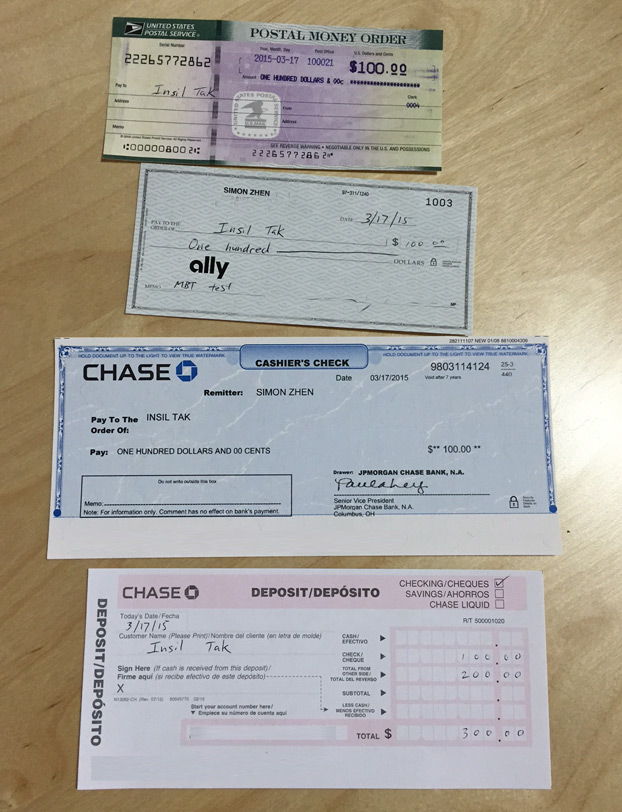 Here are all three checks, totaling $300.
How quickly deposits were available
Almost immediately after depositing the funds, our editor logged into her online account to find that $200 from the USPS money order and Chase cashier's check was already available for withdrawal.
Meanwhile, the $100 from the Ally personal check was unavailable.
Tip: When there are transactions that haven't been processed completely, you'll often see a "pending balance," which is different from your "available balance" (the actual amount of cash that you can withdraw).
At around 11 a.m. ET on Wednesday, our editor found that the entire $300 was available for withdrawal.
However, my Ally account activity did not even indicate that a $100 check was deposited.
Our editor had access to that $100 because of Chase's fund availability policy, which stipulates that up to $200 of a check may be available on the next business day.
Essentially, Chase is fronting that portion of the check deposit while it waits for the funds to clear with Ally. Since the check was less than $200, Chase made the full amount available to her.
The funds from the Ally personal check cleared my account Thursday night, so I would say that it took two business days for the check deposit to clear.
Faster and safer deposits cost more
The cashier's check and money order cleared the fastest -- the money was immediately available since both of them are considered guaranteed funds.
But, as you can see, I had to pay fees to offer these fast and secure forms of payment.
Given that the cashier's check and money order cleared equally as fast, you might wonder why anyone would use cashier's checks -- remember I paid $8, while the fee for the money order was $1.25.
The reason is because there limits for money orders. The USPS only sells money orders for a maximum amount of $1,000, while cashier's checks have no maximum (your account balance is your limit).
Regardless of the limits, the speed of the deposit is often a secondary thought when it comes to why people prefer cashier's checks and money orders. It's more about getting paid.
If I was ever skeptical about a payer's financial credibility, I would ask for a cashier's check or money order every time.
As for which one makes me feel safer -- cashier's check by just a little bit because it is guaranteed by the bank, but a money order is still cheaper.
It's also safer than a personal check.
Compare Money Order Fees at Banks & Retailers
| Company | Fees | Limits |
| --- | --- | --- |
| Chase | $5 | $1,000 |
| Bank of America | $5 | $1,000 Not available in Arizona, California, Nevada. |
| Wells Fargo | $5 | |
| Citibank | $5 | |
| U.S. Bank | $5 | |
| PNC Bank | $5 | |
| BMO Harris Bank | $5 | $1000 |
| TD Bank | $5 | |
| Capital One | Does not issue money orders | |
| SunTrust | $5 for customers $10 for non-customers | |
| Regions Bank | $1 | $1000 |
| Santander | $5 | |
| BMO Harris Bank | $5 | $1000 |
| M&T Bank | $6 | |
| CVS | $0.70 | $500 |
| USPS | $1.20 | $500 |
| Walmart | $0.70 | $1,000 |
Why check deposits might take longer to clear
While my experience with cashier's checks came without flaws, the comments from our check clearing story at the top 10 banks in the U.S. serve as proof that there are times when these check deposits do not go as smoothly as anticipated.
Unhappy commenters complained about long hold times of five to seven days or longer, but they also deposited very large amounts ($50,000), which can complicate the process.
So to get to the bottom of it, I asked a Chase banker whether the check deposit amount has an effect on how long it takes to clear.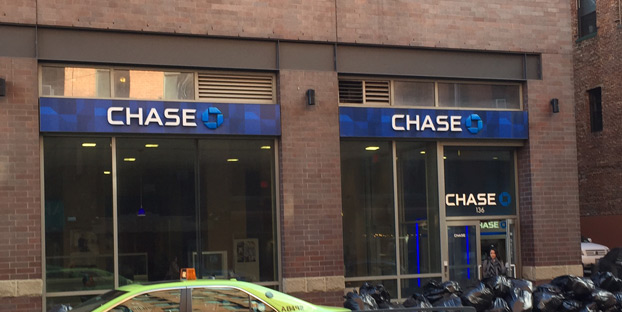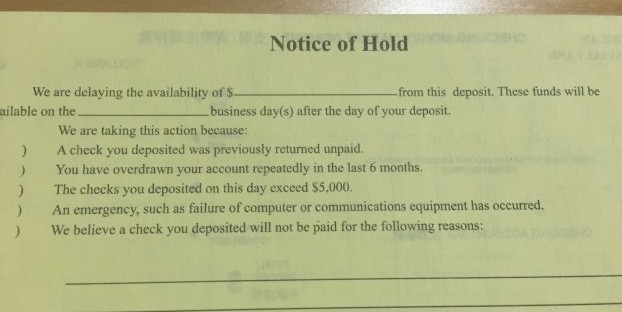 Compare Best Accounts Now