5 Ways Google Maps Cuts Your Travel Costs
GPS-based maps provide convenience and clarity to any trip. Google Maps, the most popular app, can save you money on everything from data to gas consumption.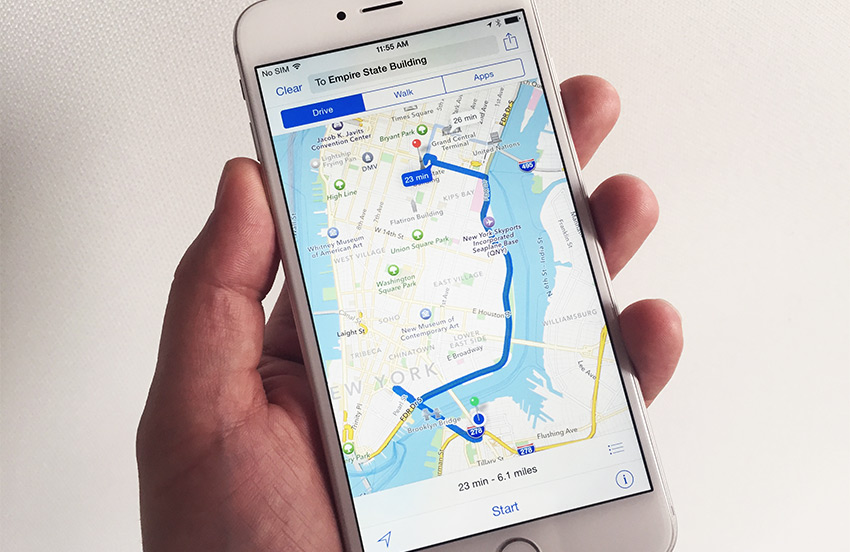 GPS apps are convenient, user-friendly and can help you reach destinations faster and easier. Whether you have a Windows, Android or an iOs device, you can take your pick of navigational apps and never get lost again. These include Apple Maps, Waze, MapQuest and CoPilot, just to name a few. Every GPS app provides turn-by-turn directions and gets you where you need to be, but not all apps have the capabilities to save you time and money like Google Maps.
1. Save money by avoiding traffic.
If you commute or live in a heavily populated area, you're no stranger to traffic congestion. A traffic jam does more than spark your inner road rage and make you late for just about everything, it costs you money. A 2013 study conducted by INRIX and the Centre for Economics and Business Research found that Americans wasted $124 billion sitting in traffic, and the "annual cost of traffic per American household is $1,700 today."
Google Maps not only finds the shortest route to your destination, it also takes into account traffic conditions and incorporates live traffic in its turn-by-turn directions, finding alternative routes so you don't have to sit in traffic, says Brett Bastello, SEO manager with Inseeve Interactive, a full service digital marketing company in San Diego.
"By limiting the time spent in traffic," says Bastello, "the user is able to be more productive within their day and eliminate the sunk costs of sitting in traffic from their monthly gas expenses."
2. Avoid roaming fees and extra data charges
Google Maps recently introduced a major update allowing users to access maps offline. Before, turn-by-turn directions required a cellular connection, and if you used the app outside your wireless carrier's network, you could incur roaming charges.
Now, you can download maps for a specific city, state or country to your device over Wi-Fi, and then access these maps offline when you have a weak signal or no signal. The feature is cost-effective because it helps you avoid expensive roaming charges when traveling outside your coverage area or abroad, plus offline mode can be used when you're low on available data and you don't want to risk overage charges.
Simply open the app and search for a city. Tap the bar at the bottom of the screen with the name of the city, and then click download. Once the map downloads, you can search for specific destinations within the saved area and request turn-by-turn directions. Unfortunately, downloaded maps do not offer live traffic updates.
3. Take a subway, instead of a cab
I used Google Maps for the first time during a trip to New York City. I had heard of the app, but didn't know it offered public transit directions. This was before Apple Maps rolled out this particular feature. I was always more comfortable grabbing a cab in the city since I wasn't that familiar with the subway system. But after two expensive taxi rides, we took a chance with the subway. I made the switch to Google Maps and never looked back.
Depending on the city, you can search for a destination and Google Maps will provide standard driving directions, plus the option of selecting walking directions or public transit directions.
The app gave us specific directions to the subway platform, including walking directions from our current location and the approximate arrival time of the next train. The directions also provided the letter of the subway, transfer information and where to get off. Thanks to Google Maps, we were able to get around New York City for $2.75 one-way, instead of $10 to $15 per cab ride.
4. No more driving around and wasting gas
Google Maps is a godsend when searching for destinations on the spot. Before the days of navigational systems, many of us remember driving around unfamiliar territory looking for restaurants, gas stations, etc. GPS removed the guesswork, but Google Maps took it a step further by offering price comparisons.
Tap the search bar and type in the name of a restaurant and you'll not only receive a list of nearby options and driving directions, but also price information so you can select a restaurant within your range of affordability.
This isn't the only cost-savings feature with Google Maps. According to Google Maps product manager, Aditya Dhanrajani, "recent updates to Google Maps also makes your next gas stop more convenient and affordable." Tap the search bar and type in gas stations. In addition to receiving directions to the nearest gas stations, you'll also receive each gas station's price for regular gasoline.
You can even use Google Maps to find cheap parking in select cities.
"Hotel parking is notoriously expensive, but if you use Google Maps, it shouldn't be too hard to find nearby parking lots that are much cheaper. Once you've found a lot, simply Google the name or intersection and you should be able to find what their rates are online," says Barry Choi, personal finance and budget travel expert. "I did this in downtown Los Angeles and paid $11 a day versus $28. I was there for six nights and saved $102."
5. Avoid toll roads
GPS is designed to save you time and get you to destinations faster. But sometimes, getting to a location fast comes with a price.
Paying a $0.10 or $0.25 toll may be a drop in the bucket, but depending on where you live, highway tolls may run as high as a couple dollars, adding up over time. If you're tired of being nickeled and dimed by the local Department of Transportation, or if you never have spare change in your car for tolls, Google Maps gives the option of avoiding toll roads when requesting driving directions.
After plugging in your destination, tap the bar at the top of your screen. Select "route options," and then select "avoid toll roads."