5 Life-Saving Money Rules for New College Graduates [Infographic]
As college grads around the country prepare to head out into the real world, one of the most important things they need to do is get a grip on their money.
You can learn a lot of things in college but Personal Finance 101 typically isn't one of the classes you'll see on your course schedule. If you recently earned a degree but you're still clueless about things like credit, debt and saving, you could be setting yourself up for some costly money mistakes. With graduation season in full swing, it's time to stop resting on your laurels and take control of your financial future.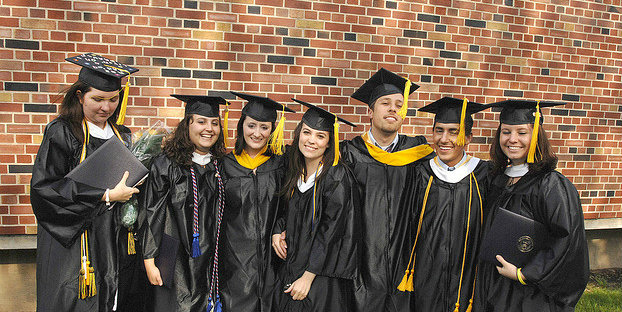 Nearly 2 million students are gearing up to receive their bachelor's degree this year and if you're one of them, you can't afford to start your post-college life on the wrong foot. The decisions you make with your finances in your 20s can haunt you well into your 30s and impact whether you're able to get a car loan or buy a home.
Working on improving your credit score, knocking out bothersome student loan debt, making an effort to save for retirement and building up a buffer for emergencies are among the most important steps you should be taking as a new grad.
When you're in the process of searching for your first job, relocating to a new city or signing the lease on your first apartment, it's easy to let your finances get lost in the shuffle. Putting it off too long can leave you feeling overwhelmed and it's a lot harder to get motivated to stay on the right track.
Even something simple like drawing up your first budget, opening a new bank account or paying your bills can feel like a monumental task. If you're not sure where to start with getting your finances in check, take a look at this downloadable infographic from MyBankTracker that outlines the five most important money rules new college graduates need to live by.