5 Signs You Need a New Checking Account
Find out how your checking account could be hurting your finances and what you should look for in the best checking account for you.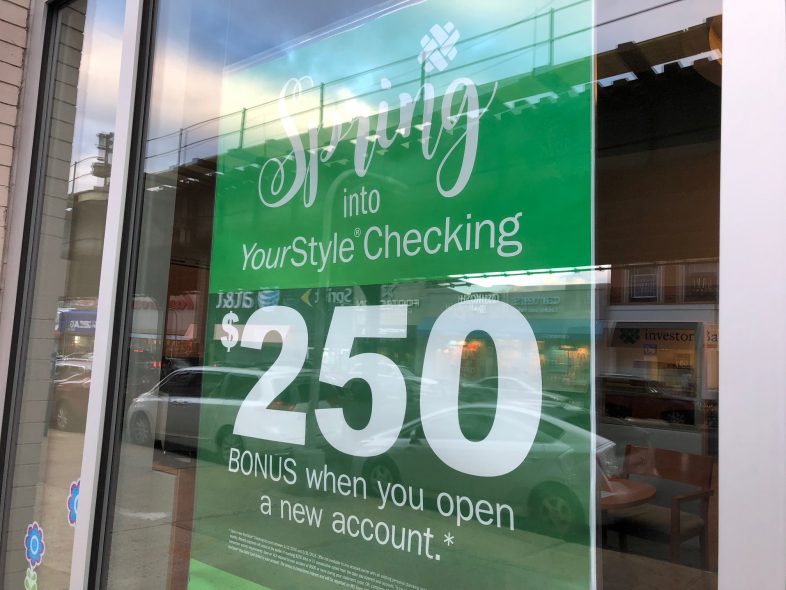 Switching checking accounts to a new bank can be a major pain.
Besides transferring your money to the new bank, you'll have to make sure you switch all automatic deposits and payments to the new bank account.
It can be frustrating to think of the changes you'll have to make with your direct deposits and the vendors you deal with on a regular basis.
You'll have to get new checks and a new debit card, too. That means changing auto-filled credit card information on every website you shop at, as well.
Unfortunately, these reasons are why many people decide not to switch banks.
You shouldn't let this potential temporary frustration keep you from having the checking account your money deserves. Switching is definitely worth the hassle if you're currently stuck with an awful bank.
It doesn't make sense to keep paying fees and dealing with banks that don't offer the technology you need.
Competition in the banking industry has resulted in some decent checking account options.
There are plenty of banks out there that don't charge fees and are up to date on their technology. You could be saving a decent amount of money by using a better checking account.
But how do you know if your current bank is bad enough that you should switch to a new bank? Here are a few signs that switching to a new bank could be a great move for you.
1. You're Paying Monthly Fees
While some banks offer fee-free checking accounts, there are plenty of banks that nickel and dime their customers with fees. After all, banks are in the business of making money.
Fees are one of many revenue sources for banks. Sadly, they can make managing your finances difficult.
This is especially true if you aren't good at keeping up with the balance in your checking account.
If you aren't up to date on what fees your bank charges, it's possible that a fee could be taken out of your account balance without your knowledge.
If you continue banking as normal and don't check your account balance on a regular basis, you could end up overdrawing your account. That will likely leave you stuck with another expensive fee.
Here are some of the most common checking account fees you might find at your bank.
You shouldn't have to deal with any of these fees if you choose the right bank and set up your bank account the right way.
To see if your bank account charges any of these fees, compare the below list to your bank's schedule of fees.
You should be able to find the list of fees on your bank's website. If not, you should at least be able to request it next time you're in a branch.
Account maintenance fees
Some banks charge you a fee to have a checking account.
The name of the fee may differ from bank to bank, such as a service fee or an account maintenance fee. No matter what the fee is called, these fees are crazy and shouldn't be tolerated.
If your bank account drops below a certain balance or has an average balance throughout the month that's below the minimum, the bank may charge you a fee for not meeting the minimum balance requirements.
Overdraft fees
Overdraft fees are a staple at almost every bank. These fees allow you to overdraft your account in exchange for paying a fee to do so.
That said, you should be able to turn overdraft protection off to avoid this fee. If your bank gives you a hard time about turning off overdraft protection, it's time to switch.
Paper statement fees
Bank statement fees have started popping up if you don't elect to receive your statements electronically.
While electronic statements can be easier to manage, you shouldn't have to pay to get a paper statement if that's what you want.
Account inactivity fees
Inactivity fees are another fee that some banks charge their customers. You usually pay this fee if you don't reach the activity requirements of your particular bank account.
The time period differs from bank to bank, but a quarterly inactivity fee shouldn't be a surprise at many banks.
That said, if you don't have activity in a checking account over a three month period, you may be better served by using a savings account, instead.
2. It's Gotten Tougher to Manage Your Money
A few years ago, banks didn't offer as many features as some banks offer today.
If you wish your bank was better at keeping up with the technological changes that occurred over the last decade, it may be time to switch banks.
Many banks now offer easy to navigate online banking, banking apps for your phone, mobile check deposit, Zelle personal payments, online bill pay and account alerts based on any requirement you desire to name a few features.
A decade ago, many of these features didn't exist or weren't as popular as they are today. However, these features make keeping up with your banking a much easier task.
If you'd use these features and don't currently have them, switch to a bank that has these features and more.
3. You Don't Visit Branches Anymore
Visiting bank branches used to be a common occurrence.
Whether you needed to cash your paycheck or you wanted to get a cashier's check, bank branches were a necessity.
However, with the rise of online banking and mobile banking apps, visiting a branch is now a rare event.
If you can't remember the last time you visited a bank branch, you may want to look into switching to an online bank.
Online banks don't have as much overhead as traditional brick and mortar banks.
They use this to their advantage by passing some of the savings to you. Most often, they do this in the form of higher interest rates and lower banking fees.
Additionally, online banks offer customer support options that extend beyond the normal hours most brick and mortar banks stick to.
Online banks typically offer better technology, too. Part of that technology could include higher mobile deposit limits and no mobile deposit fees.
They may even offer free checks, if you still use them, and ATM fee refunds in some cases.
4. You Like Keeping a Large Balance in Your Checking Account
If you like keeping most of your money in your checking account, you need to check your bank's checking account interest rate.
If your interest rate is less than 0.10% APY, like many traditional banks offer on checking accounts, it's time to switch.
While you're probably better off keeping excess money in a savings account that offers a higher interest rate, there are a handful of banks that offer decent interest rates on checking accounts, too.
Find one of these banks and evaluate their offerings to see if they're a better fit for you.
If you have $20,000 sitting in a checking account paying 0.10% APY and you switch to a checking account that offers 1.00% APY, you'd earn roughly an additional $180 in interest over a year.
The extra interest doesn't even factor in any potential fee savings.
5. You're Using Out-of-Network ATMs Frequently
If you're still using a checking account that doesn't have an ATM network that fits your needs, it's time to switch banks.
Some banks charge you to use out-of-network ATMs. What's even worse is you still may have to pay the ATM operator's ATM fee, too.
Whether your bank's ATM network has never been good to begin with or you've moved since you opened your bank account, you shouldn't be paying ATM fees.
The easiest solution is switching to a checking account that reimburses you for ATM fees you're charged. Sometimes switching to a bank with a better ATM network works, too.
If you're a frequent ATM user, make sure you understand the limitations of ATM fee reimbursements at the bank you're considering switching to.
Some banks won't charge you an out-of-network ATM fee and will reimburse ATM operators' fees.
Other banks may limit which ATM fees are reimbursable or how much you can be reimbursed each statement period.
Don't keep paying ATM fees when there isn't any logical reason to do so.
Switching to a New Bank
If your current checking account is awful, switching to a new bank will likely save you time, money and hassle.
Unfortunately, you'll still have to deal with the hassle of making the initial switch.
When you go from a bank that charges you fees just to have a checking account to a bank that offers ATM fee rebates, the decision is clear.
Switch from your awful checking account to an amazing checking account today. You'll start seeing the difference using a good bank can have on your finances.