How My Single Mother Saved for College to Keep Me Debt Free After Graduation
Raising kids in a two-parent household is tough enough, imagine how difficult it is with just one income. Advice for single parents saving for college.
Raising kids in a two-parent household is tough enough on the pocketbook -- imagine how difficult it is with just one income. Planning financially for your kids' future is essential for any parent, but because of the stress and financial pressures single parents face, it's especially important to take action early.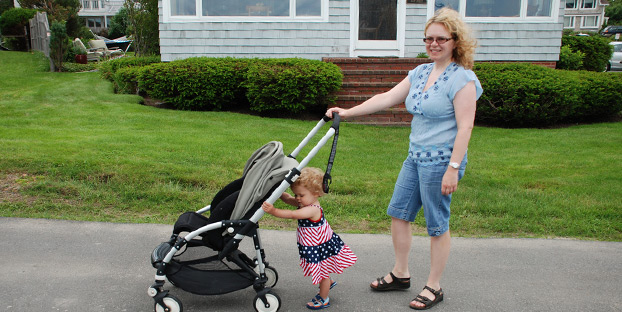 According to the most recent data available from the U.S. Census Bureau's Custodial Mothers and Fathers and Their Child Support report, there are approximately 14.4 million single parents in the U.S. caring for more than 23 million kids under the age of 21. More than one in four children live in a single-parent home with more than 80 percent headed by mothers. I was one of those kids.
My mother raised my brothers and I on a single-parent income from the time I was in fourth grade. Because she valued education, she sent us to private elementary and high schools. She made saving for college a priority, which meant little was spent on material items and other unnecessary expenses. My mother's frugality and budgeting skills allowed me -- and my two brothers -- to attend four-year public universities. While we all took out loans to pay for school, she was able to help us cut down on many costs, including tuition and housing, because of how she saved.
Everyone knows that the costs of attending college are enormous. The National Center for Education Statistics reports that the average cost of attending a four-year college costs approximately $23,000. That's a huge burden families face. While loans certainly help pay for a big chunk of a student's higher education, it's natural for parents to want to help their child graduate without a mountain of debt to pay back. Here are five ways single parents can save for college without resorting to financial extremes:
1. Cut child care expenses
One of the biggest expenses for single parents is child care -- and increasingly, it's become a financial strain for many families. Research from the U.S. Census Bureau shows that in inflation-adjusted dollars, average child care expenses for families with working mothers increased from $87 in 1985 to $148 in 2011. Altogether, that adds up to nearly $7,700 spent on child care annually.
According to a 2013 Child Care Aware of America report, the cost of child care fees for two children exceeded housing costs for homeowners with a mortgage in 19 states. With child care expenses taking such a big bite out of a family's budget, single parents should look for alternatives to try and save money.
The easiest way to save money on child care, of course, is to rely on the help of family members or close friends. That's why my mother did. I spent many afternoons under the watchful eye of my aunts and grandma. If relatives aren't around to help care for your kids, there are other ways to cut down on child care costs. Single parents can join or start a babysitting cooperative, barter services for babysitting, explore charitable options (care provided by the YMCA or local church), or adjust their work schedules. The thousands of dollars single parents save on child care can go towards saving for college.
2. Increase your income
My mother worked two jobs to earn more money. She had a regular 9-5 job as an accountant and worked on the weekends to earn supplemental income. It wasn't easy -- she was often tired and it meant spending less time at home, but she did what she had to do in order to provide for my brothers and me. If you're a single parent looking for extra income, you can become a child care provider on the weekends, freelance while you're at home (there are many companies looking for proofreaders or writers), become a virtual assistant, or pet sit.
If working another job isn't a realistic option, there are other opportunities to earn money. Monetize your hobbies, sell stuff on eBay or Craigslist, sign up to drive around folks with Uber or Lyft, or become a tasker on TaskRabbit. The important thing is that you find an opportunity that is right for you. It won't be easy taking on a second job or finding ways to increase your income, but it's a sacrifice that will pay off in the end.
3. Save, save, save
It goes without saying that single parents need to be mindful about their budget. My mother developed stringent saving habits after she got a divorce. She cut the weekly grocery budget, never spent big during birthdays or holidays, avoided taking on unnecessary debt, and limited discretionary spending. Another thing she did -- even before her divorce -- was save her money in a savings account.
So that you're not tempted to spend money that you save, single parents should look into savings account options. There is a 529 plan, of course. But if you're like my mother, you might prefer to save your money in a savings account. If that's the case, begin your search for the right saving account at your current bank. Even if you have a savings account with them, there might be other products that better suit your needs.
Also, compare rates for a high-yield savings account, as many online banks offer competitive rates that will beat out your big bank's rates. Keep in mind that the highest rate might not be the best option. Choose the bank that fits your banking habits. Another option you might consider is a money market account, which holds deposits that earn interest. Unlike a savings account, though, MMA's usually require higher balances and tend to carry higher savings rates. While it may not seem like these accounts yield you much money at first, over the long term, they do pay off. These kinds of bank services are important tools for single parents saving for college.
4. Take advantage of tax breaks
As a single parent, you qualify for range of tax breaks. Having children in general qualifies you for a Child Tax Credit, which provides up to $2,000 for each child under 17 in your care if you meet income requirements. As a single parent, your amount of credit will begin to phase out if your adjusted gross income exceeds $75,000. Another tax break you can take advantage of is the Earned Income Tax Credit, which is a benefit you can enjoy if you're working and earn a low or moderate income.
In addition, single parents can also get a break if they spend a lot on child care. Paying for child care can be a huge burden for single parents, which is why you can get a break by taking advantage of the Child and Dependent Care Credit. It covers up to 35 percent of child care expenses or up to $3,000 for a child under 13. Also, you should look into whether your workplace offers an exclusion for child care expenses.
If your child is already in school, don't forget to look into school tax benefits. The American Opportunity Credit, for example, allows for a credit of up to $2,500 for tuition and related expenses for each of the first four years your child attends college at least half of the time. Other benefits to look into include the Hope Credit and Lifetime Learning Credit. If you don't know what tax benefits and credits are available to you, ask a tax professional. These benefits will help you save money you can put towards college.
5. Keep an eye out for scholarships
Recognizing my writing talents, my mother consistently encouraged me to apply for scholarships. There are tons of scholarships students can apply for that will reward you for any number of traits, characteristics, or abilities. Work with your son or daughter to find relevant scholarships and apply to all of them. You may not necessarily get one, but it doesn't hurt to try. Plus, it can help boost your kid's application when it comes time to apply for college.
In addition, take advantage of scholarships offered to children of single parents. Many organizations and institutions realize the financial hardships that single parents face, so there are specific scholarships geared to single-parent children. If I have one regret, it's not applying to these types of scholarships -- or to many scholarships in general. Single parents saving for college should take advantage of these scholarships. There is so much free money out there waiting to be rewarded to a student, so apply today.
Whether you use these five strategies to save money for your kids' education or others, the most important thing you must do as a single parent is create and implement plan of action.
I didn't know back then why I couldn't travel much or buy new clothes, but my mother had a plan -- and it allowed me to go to college and graduate without an obscene amount of debt.