Avoid 6 Checking Mistakes With These Solid Student Banking Tips
When you sign up for a checking account, be sure to avoid these common mistakes -- take a look at our wise student banking tips.
Every college undergrad needs solid student banking tips... and a checking account. Having a checking account allows a student to make deposits and withdrawals, of course, but it's also valuable for many other reasons. Anyone who has ever been to college knows that you're going to need a way to access cash quickly and cheaply. Without a college student checking account, undergraduates will have to rely solely on cash, which is dangerous in an environment that is a playground for thieves. Or you could get a reloadable prepaid debit card, but these cards might have high fees and don't have the same consumer protections as other banking tools. The easiest solution for handling your day-to-day spending expenses as a college student is opening a checking account. But once you have one, be sure not to mess it up.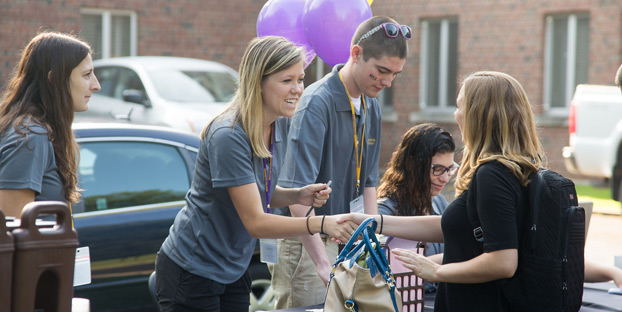 Choosing your first checking account is a major decision for many college students. It's one that should probably be made before school begins. But if you haven't picked one out yet, then you need to carefully consider your options. The best checking accounts for students yield high savings and have no or low fees, but there are other things to consider and questions to ask yourself before picking a college student checking account. And there are certain mistakes that you must avoid. Here are a few ways you can mess up your checking account when you sign up for one:
1. You choose a bank that's far from your school.
When you choose a student checking account, location needs to factor heavily into your decision. This is particularly important if you don't have a car and public transportation is not very convenient in your college town. You don't want to travel for miles and miles away from campus just to withdraw money. When choosing where to open your checking account, keep in mind that you want an institution that has branches close to your school and your hometown too, if possible. Chances are likely that you won't be spending all year at your school. Plus, if your parents are going to be depositing money routinely, you want to make sure there's a branch near them too.
Choosing a financial institution close to your school will make conducting business transactions -- like withdrawing money from an ATM with your debit card -- much easier. You do not want to get stuck paying for out-of-network ATM fees. While technology and online banking has made location less important than it was in the past, it's still something that you should weigh carefully when deciding where to open your account.
2. You blindly choose your school's affiliated bank.
There will be no shortage of institutions trying to woo your business because you're a pretty attractive candidate. Financial institutions know that if you're happy with their business while you're in college, you might become a lifelong customer. Some colleges have agreements with banks or other financial institutions and might encourage students to sign up for affiliated accounts. In some cases, the school might even mail you a debit card automatically. You are not required to activate that card or open an account with your school's affiliated financial institution. It's better to open a checking account at an institution that makes sense for your lifestyle. If that happens to be the bank your school is affiliated with, that's great. But don't feel pressured to use your school's affiliated bank.
3. You forget about fees.
What good is having a bank or credit union close to your college if you have a checking account that has high costs or expensive fees? Ideally, the checking account you open will be at an institution that offers free checking to students or at least allows you to open an account with low fees. If you're paying a large fee just to maintain and open a student account, something's wrong because there are lots of banks and credit unions that will allow you to open a student checking account for no or low fees. Some might even waive the maintenance fee if you can prove you are a full-time student.
One thing you must be sure to do when choosing a checking account: avoid paying unexpected fees. Dig deeper when you find checking accounts marketed as "free" or "easy." Ask yourself: What monthly fees will I be charged? What are the minimum balance requirements? What fees might you have to pay for, say, overdrafting or bouncing a check?
You need to know about every fee associated with the checking account. There are minimum balance fees, paper statement fees, and some that might even be hidden. These fees can add up -- wasting you a lot of money. And since you are likely inexperienced at banking, it's probable that you might make a mistake or two with your new checking account. For instance, you might overdraft when you use your debit card a little too much. The median overdraft protection fee is around $35, an amount that can really hurt you financially if you consistently overdraft. Be sure to read all the fine print when you sign up for your checking account so you are aware of how much it will cost you -- and how much it could cost you if you're not careful with your money.
4. You opt into all the checking account add-ons.
When you sign up for a checking account, the bank's customer service representative will try to push other banking products your way. He or she might get you to sign up for even greater security protection or encourage you to open another account at the bank. Don't feel pressured by the customer service representative to opt into any programs or additional offers. For instance, you might be offered a chance to opt into overdraft protection for debit purchases. The bank will cover your shortfall for a period of time, but you'll get charged a fee for that overdraft service. Those fees can add up over time. If you opt out of overdraft protection, your transaction will just be declined without any fee. Before you agree to any additional banking products, ask yourself whether you really need what's being offered. If the answer is no, don't let the customer service representative sway you otherwise.
5. Not fully doing your research and not knowing that online checking is an option.
While it's likely that most college students will open a checking account at a major financial institution or even a credit union, it's not a bad idea to consider online banking. The big appeal of online banking is that it's more convenient and speedy than traditional banking. As a college student, you probably have lots of activities on your plate, so convenience is definitely attractive.
There are other reasons you should consider opening an online checking account. One big reason: An online checking account is likely to fetch better yields than a brick-and-mortar institution would offer, though admittedly that might not be your biggest concern as a college student. Another big plus of opening an online checking account? Many online banks offer checking accounts with no fees and lenient ATM withdrawal policies. Some virtual banks might even reimburse your ATM fees. That said, some online banks might impose fees for things like low account balances, so be sure to pay attention to the account's requirements. One last benefit of opening a checking account at an online bank is that many of these banks offer personal finance tools to help you budget. If you're interested in learning about personal finance -- and you should be -- these tools might be useful for you.
There are disadvantages of opening a checking account at an online bank. If you prefer face-to-face interaction, you won't get it at an online bank. For college students who are new to the banking world, being able to talk with someone in person to get questions answered might be appealing, so consider your need for human interaction carefully. Also, while the majority of online banks do a good job with security, hacking is an issue (though not one limited to just online banks). Another big drawback of an online bank is that there is no easy way to deposit cash into your checking account, though there are several ways you can add money into the account.
While online banking might not be the best option for everyone, it's a good option for many folks, including college students. It's something you should consider if you think the positives outweigh the negatives.
6. Once you open an account, watch out for these dumb mistakes.
Once you have your checking account, it's easy to make stupid mistakes that will get you into big trouble. For instance, not checking your balance routinely. If you don't check your balance, you won't know how much money you have to work with each month and you might overdraft on your account. Keep in mind that mistakes can and do occur, so don't just assume that money will be deposited without any errors. Don't assume that the charges you make will show up automatically either. It takes time for some charges to register. Hacking is another thing to watch your account closely for -- and you're certainly not immune to it more than anyone else.
Besides not checking your balance, there are a ton of other mistakes that you might make as a college student. You might use an out-of-network ATM and get charged a fee, but did you know that your bank might have partner ATMs that you won't get charged for using? Maybe you foolishly choose to give your PIN to a friend and he or she takes funds from your account. Perhaps you deposit a check from a friend and think that it will automatically clear -- without knowing that it might take a few days for the funds to get posted or could even bounce -- causing your account to go into overdraft. Maybe you have a negative balance that goes unpaid. If that happens, did you know that you could end up in ChexSystems, which could prevent you from obtaining another checking or savings account?
The bottom line is that getting a checking account as a college student is a step towards financial freedom, but with that freedom comes a lot of responsibility. Avoid these checking mistakes as a college student and learn as much as you can when it comes to the best student banking tips, so you can charge of your financial future.