Axos Bank Personal Loans 2023 Review - Should You Apply?
Learn all the detail about personal loans from Axos Bank, which is an online bank that also offers great savings and checking accounts. Find out what interest rates, fees, and features are available. See what credit score you need to get approved. Compare it to personal loans offered by other lenders.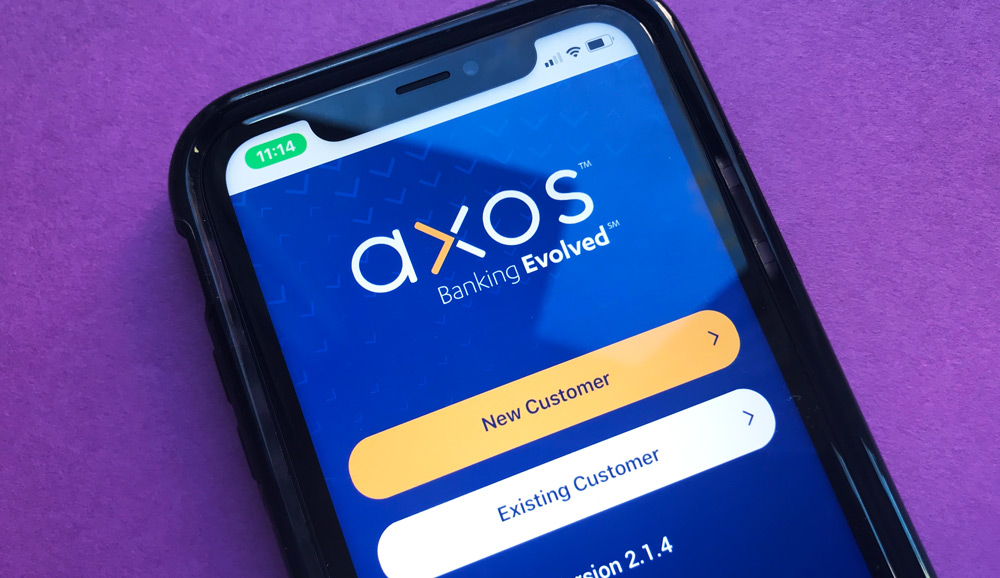 Axos Bank iPhone App
The Positive | With an Axos Bank personal loan you can qualify for a very low borrowing rate while you have a broad selection of repayment terms (and no prepayment penalties).
The Negative | There is an origination fee that increases the total cost of your loan. Also, the range for borrowing amounts may be restrictive, especially if you're either looking for a very small or very big personal loan.
The Bottom Line | An Axos Bank personal loan is worth considering if you have great credit to lock in the low rates. Just remember to include the cost of the origination fee when comparing rate quotes.
---
Personal loans are popular borrowing options due to their flexibility and convenience.
You can use a personal loan for almost anything, from home improvement to an unexpected bill.
Personal loans are also great for consolidating other debts that you have.
Axos Bank is an online bank that you might come across when looking for personal loans. (After all, it is a great option as well for core bank accounts, including checking and savings accounts.)
In this review, learn everything you need to know about personal loans from Axos Bank to see if they're the right fit for you.
Wide Range of Borrowing Amounts and Terms
The first thing to figure out when you're trying to get a personal loan is how much money you need to borrow. Look for lenders that allow you to borrow that amounts since there's no point in applying for a loan that is too big or too small.
Axos Bank offers loans that range in size from $5,000 to $35,000. That makes Axos Bank a good choice for most needs, but people with very small or very large financial needs might need to choose another lender.
After you've decided how much you need to borrow, you have to decide on how long you'll need to pay the money back.
Axos Bank offers loans with 12, 24, 36, 48, or 60 months terms, so you can customize the loan to your specific needs.
Keep in mind that both the loan size and the loan term affect the size of your monthly payment. Shorter loan terms make for larger payments, but a lower overall cost of the loan. Longer terms let you pay less each month, but you'll pay more over the life of the loan.
Aim for a loan term that leaves you with manageable monthly payments without causing the total cost to be too high.
Personal Loan Calculator
Flexible Application Requirements
Axos Bank does not state specific requirements that you must meet to be eligible for a loan. But, having a good credit score and high income will be always helpful here, but aren't the be-all-end-all.
Your income, employment history, and assets are also going to be used to approve or deny your application.
Axos Bank stands out among many other personal lenders because it doesn't entirely rule out applicants who have bad credit. So, even if you don't qualify for other lenders, you can try Axos Bank, which allows you to get a pre-approved offer before submitting your application.
Fees and How Long It Takes to Get the Money
Whenever you're applying for a loan, you have to be on the lookout for fees.
One of the most common personal loan fees is the origination fee. Origination fees are charged as a percentage of the amount that you borrow and are added to the balance of your initial debt.
Axos Bank may charge an origination fee, depending on your creditworthiness. It uses the income from those fees to provide many of the other services and benefits available to its customers.
One benefit of working with Axos Bank to get a personal loan is that your loan can be funded in as little as 2 days. If you need money quickly, this is important, as many lenders can take a week or more to get your money to your bank account.
And, if you choose to pay off your loan early, note that there aren't any prepayment penalties.
Get a Preliminary Offer Without Impacting Your Credit
Every time you apply for a loan, the lender will request a copy of your credit report from a credit bureau. The bureaus keep records of these requests for two years. Each request causes a small drop in your credit score, so applying for lots of loans can cause a big drop in your score.
This can make it hard to shop around for a personal loan because every application makes it harder to get approved for the next one you apply for.
Axos Bank offers the option to let you prequalify for a loan before it contacts the credit bureau. Once you enter your income, credit information, and the other information that is needed, you'll see the prequalified terms of your loan approval, such as interest rate and fees. If those look good to you, you can then authorize Axos Bank to request your credit file from the credit bureau to confirm your information.
It's possible that your actual approval will have different terms than your prequalification, but this lets you get an idea of the terms of your loan before applying.
How to Get Approved
The first step on the path towards getting approved for a personal loan is applying for the loan. When you apply, you'll be asked for some personal information. The lender will use your answers to make a decision on whether it should lend you money.
Some of the information you'll be asked to provide may include:
Name
Address
Date of birth
Proof of identity, such as a driver's license
Social Security number
Annual income
Proof of income, such as bank statements or pay stubs
Verification of employment
It might sound daunting to get all of this information together, but it's important that you do it as best you can. If you leave a lender without a clear picture of your finances, it could lead to delays in your loan or even a denial.
How Does It Compare?
There are many offering personal loans. Axos Bank is just one of them. Take the time to find the right lender for your situation.
When you're comparing personal loans, look closely at these factors:
The interest rate on the loans is the first thing to compare. The interest rate impacts both the monthly payment on the loan as well as the total cost of the loan. The lower the interest rate is, the better the loan is.
Similarly, compare the fees that are charged. Choose the loan with the lower fees.
Finally, make sure that the lender offers a loan term that works for you. Strike the balance between affordable monthly payments and a low total loan costs.
Conclusion
Axos Bank is a lender that's worth considering for people that need to borrow a moderate amount of cash and want flexibility in choosing the loan's term.
More importantly, it's more accommodating of people who don't have the best of credit.
How to Improve Your Chances of Approval
Before you apply for a personal loan, you should take steps to improve your chances of getting an approval. These tips can help you maximize your chances.
Increase your credit score
Increasing your credit score is an obvious way to improve your chances of getting a loan. Nearly every lender takes it into account when looking at loan applications. Your credit score will impact your chances of getting approved for a loan, as well as the terms of that loan, such as the fees and interest rate.
The question of how you can improve your score is where things get more difficult.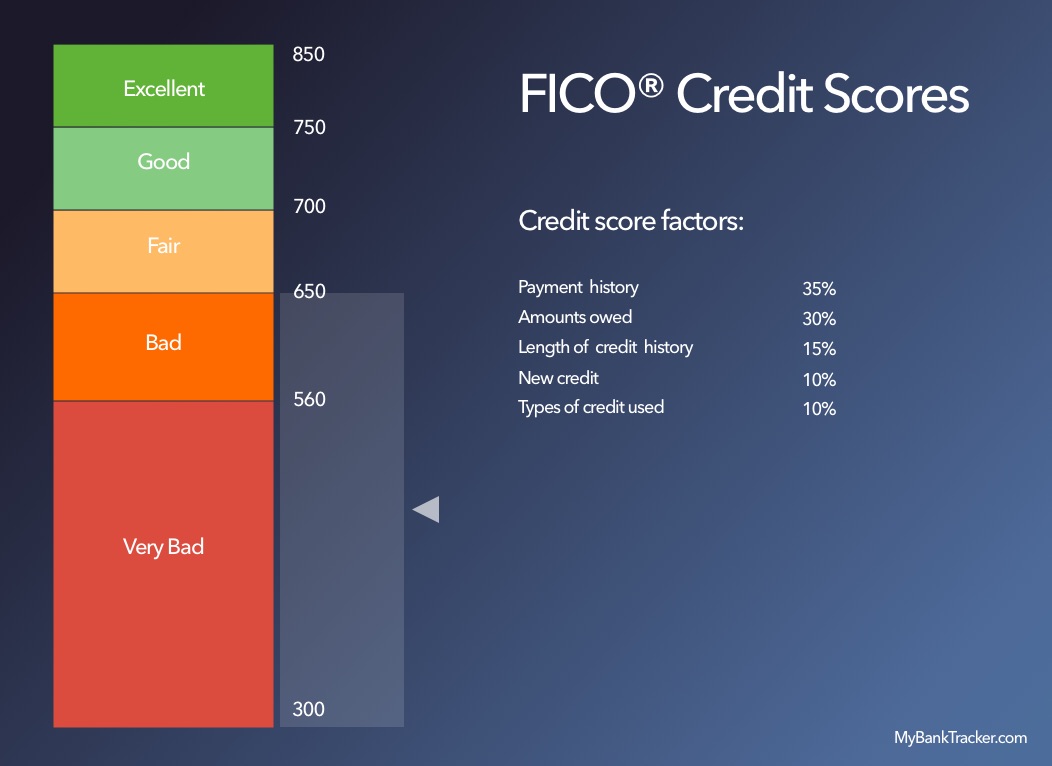 Unfortunately, the best way to improve your credit score is also the slowest. Your payment history makes up the largest portion of your score. Making on-time payments over a long period of time will cause your score to increase.
If you're in a position where you need a personal loan, you're unlikely to have the time needed to let your payment history improve your score.
One short-term trick to improve your credit score is to reduce the amount you owe or increase your credit limits. Either of these options will reduce the percentage of your credit limits that you're using. Lenders look at your credit utilization to determine whether you're in a bad place financially. A high utilization is seen as a bad sign.
Request credit limit increases on your current cards (so long as it won't trigger a hard pull on your credit) and try to make extra payments towards your loans to improve your score.
Another thing to do is to avoid applying for new credit cards and other loans before applying for important loans. Each application will reduce your score by a few points, so think carefully about whether applying for an individual loan is worth it.
Reduce your debt-to-income ratio
Another thing to do to improve your chances is to reduce your debt-to-income ratio. This ratio is calculated by dividing the total sum of your debts by your annual income. The lower the result, the better it looks to lenders.
You can improve this ratio in two ways.
One option is to pay down your existing debts. This has the benefit of also increasing your credit score.
The other option is to increase your income. You can do this by getting a side job or working for a raise at work. If you go the side job route, make sure that you can prove the source of the income. Undocumented income won't be considered by lenders.