Citizens Bank Personal Loan 2023 Review
Learn all the details about unsecured personal loans from Citizens Bank and compare them to the interest rates, limits, and fees of online lenders.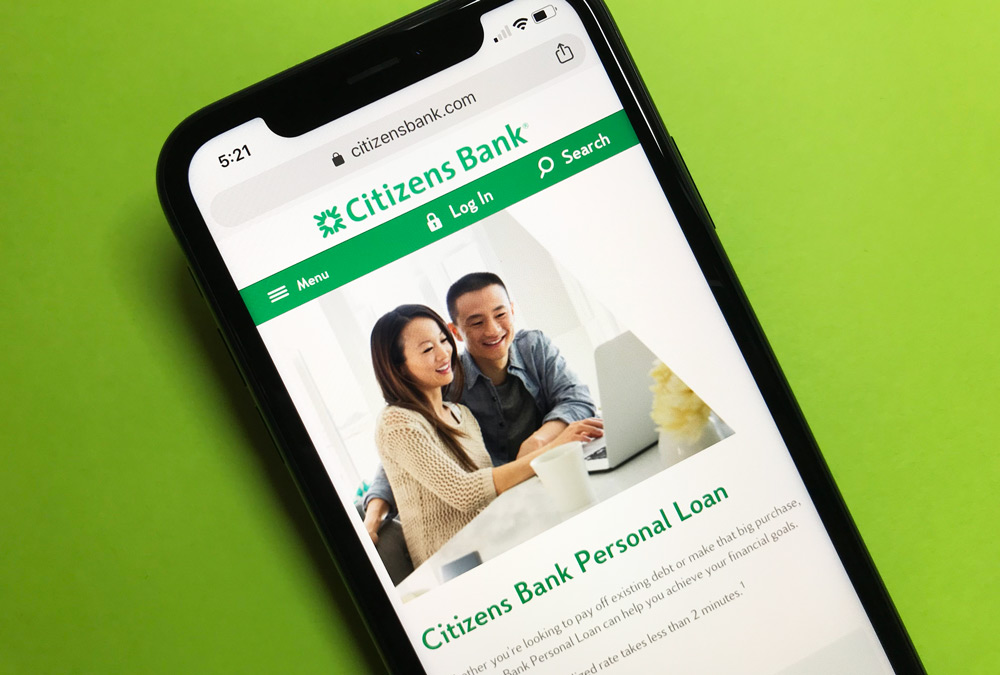 Citizens Bank Personal Loans
Personal loans are a convenient and flexible way to borrow money.
You can use a credit card to make purchases or get a cash advance, but that can come at a high cost.
With a personal loan, you could:
Finance a major purchase, like new appliances
Turn your side hustle into a full-time business
Put a new roof on your house
Pay for medical expenses or a major car repair
Pick up the tab for wedding expenses
Take an extended vacation and see the world
When you get a personal loan, you're giving a lump sum of money that you can use virtually any way you'd like. But personal loans aren't all identical.
Every lender -- whether it's a traditional bank or an online lender -- offers different terms and incentives to borrowers.
Citizens Bank, the 13th largest retail bank in the U.S., offers personal loans to qualified borrowers in all 50 states.
The bank has branches in 11 states but if you don't live nearby, you can apply for a loan in minutes online.
In this review, learn whether the Citizens Bank personal loan makes sense for you.
Citizens Bank Personal Loans Pros & Cons
Citizens Bank Personal Loans
Citizens Bank offers personal loans for four distinct purposes:
Debt consolidation
Paying for a vacation
Planning special occasions like weddings or honeymoons
Major purchases
That covers a fairly wide range of goals. But that's just one thing you need to know about these loans.
It's also important to understand how much you can borrow, what kind of repayment terms there are and what you need to qualify for a loan.
Personal loans for goals big and small
With a Citizens Bank personal loan, you can borrow between $5,000 and $50,000.
So if you want to do a full-scale kitchen remodel or just pay for your daughter's braces, you're covered either way.
The $50,000 max on loans is higher than some traditional banks, which cap loans at $30,000.
It's also higher than what you can find at some online lenders.
There is a caveat, though. Borrowers in certain states are limited to borrowing $15,000 or less if their FICO credit score is lower than 740.
If you live in what Citizens Bank dubs an "out-of-footprint" state, you'll have to double-check your credit score if you need to borrow more than $15,000. More on how credit affects your odds of approval for a loan later.
Get more time to repay your loan
The Citizens Bank personal loan features repayment terms ranging from 36 to 84 months.
So you'd have three to seven years to repay what you borrow. That's longer than what some banks and online lenders offer.
Typically, repayment terms top out at five or six years.
Getting a longer loan term can be to your advantage if you're borrowing a higher amount. A longer term means lower monthly payments.
But, there is a downside. Over time, the total interest paid on the loan could be much higher.
Citizens Bank Personal Loan Calculator
Citizens Bank Personal Loan Income and Credit Requirements
Any lender's going to consider your credit score and income when you apply for a personal.
These, along with other factors, are used to gauge how much of a risk you are. After all, the bank doesn't want to lose any money on the deal.
At Citizens Bank, the minimum income required to apply for a personal loan is $24,000 annually. That's a relatively low threshold you have to hit.
On the credit front, Citizens Bank says it expects applicants to have "a reasonably strong credit history".
The website doesn't offer any specifics on the minimum credit score Citizens Bank requires.
There is a tool that lets you estimate payments, however, and that tool uses 680 as the minimum for credit scoring.
So what's considered a good credit score?
Generally, a credit score would fall between 700 and 750. An excellent score would be anything above that. A fair score would land in the 650 to 700 range.
If you're newer to using credit, your score may be at the lower end of the scale.
A strong credit history, for the sake of getting a personal loan, would generally mean having several years of credit use under your belt.
A positive payment history with no late or missed payments, higher credit limits with low debt balances and using different types of credit can also fuel a higher score.
Get loan funding quickly
Technology is making it faster and easier to get approved for personal loans these days. It also makes loan funding faster.
With Citizens Bank personal loans, the application process can be done entirely online in minutes.
And once you're approved, your loan can be deposited in your bank account in as little as two days.
That's comparable to what many online lenders and some traditional banks now offer.
Personal Loan Fees and Interest
If you're considering a personal loan, the cost is likely something you're wondering about. With Citizens Bank personal loans, the costs are minimal, in terms of fees.
There's no application fee, no origination fee, and no disbursement fees.
There's also no prepayment penalty if you repay your loan early. There is a fee for late payments. The fee is 5% of the amount due.
Citizens Bank loans can have a fixed or variable APR. A fixed rate stays the same for the entire loan term. A variable rate can increase or decrease over time.
Overall, the APR range is competitive with what over banks and online lenders offer. Remember, though, that to qualify for the lowest fixed or variable APR, you'll need a solid credit score.
Are there any drawbacks to these loans?
Again, the biggest thing to watch out for is the limits on how much you can borrow if you live in an out of footprint state.
Checking your credit score can help you determine whether you'll be able to get the money you need with a Citizens Bank personal loan.
Select Customers Enjoy Discounted Rates
Shaving a fraction off your APR can make your loan less expensive in the long run. Citizens Bank offers two ways to snag a discount on your personal loan rate.
The first is a Loyalty Discount. This is a 0.25% discount for eligible borrowers. To qualify for this discount, you need to have an existing account with Citizens Bank. That includes:
Checking, savings and money market accounts
A certificate of deposit
Auto loans
Home equity loans or lines of credit
Mortgages
Credit cards
Students
Other personal loans
The second discount is the Autopay Discount. This discount knocks another 0.25% off your rate when you sign up to make your loan payments automatically from your checking account.
If you qualify for both discounts, that's 0.50% off your loan, which could add up to some decent savings.
Getting Approved for a Citizens Bank Personal Loan
Applying for a Citizens Bank personal loan starts with getting a rate quote. To do that, you'll need:
Your name
Social Security number
Date of birth
Address
Email address
Phone number
Requested loan amount
Once you get a rate quote, you can move on to the full loan application. Note: the rate quote involves a soft pull of your credit score, but it won't affect your credit report.
When you fill out the application, you'll need to give Citizens Bank information about your income, employment history, monthly housing costs, and your other debts.
The bank then does a hard pull of your credit report and score.
Improving Your Odds of Getting a Loan
If you want to shore up your chances of getting approved for a Citizens Bank personal loan, there are a few preliminary steps you can take.
Check your credit report and score
Although Citizens Bank doesn't specify a minimum score, you may want to use the 680 score on the payment estimator as a guideline.
If your score is below that, you'll want to work on bringing it up if you want to pursue a loan with Citizens Bank.
Some simple ways to do that include paying your bills on time every month, paying down some of your existing debt and holding off on applying for any new credit.
Add up your income
If you're at the $24,000 mark already, then you're off to a good start. As you look at your income, look at how much of that income is going to pay your debts each month.
If you can minimize how much you pay toward debt, or minimize your expenses overall, that could make you a stronger candidate for a loan.
Consider applying for a loan with a co-applicant
Your co-borrower's income and credit score will also be reviewed for the application but if they have a higher income and score, that could make you a lock for approval.
Citizens Bank Loans vs. Other Personal Loans
It's important to shop around when you're looking for a personal loan.
As you compare lenders to Citizens Bank, look at:
The APR for the loan. Is it fixed or variable? What's the range?
The loan limits. What's the minimum and maximum loan amount?
The loan fees. Will you pay a fee to apply? Is there an origination fee or prepayment penalty?
Loan funding speed. How long does it take to get approved? How quickly will you be able to have the money deposited into your bank account?
Loan perks or bonuses. Is there a loyalty discount for being an existing customer? Will you get a discount for automatic payments?
Is Citizens Bank the Personal Loan Lender for You?
A personal loan from Citizens Bank may be ideal for someone who's got a great credit score and is already a Citizens Bank customer.
The APR range is lower than what some other lenders offer and the loyalty and autopay discounts are nice extras.
But, if your credit score is below 700, you might have a harder time getting approved.
Overall, we'd suggest this loan if you have good to excellent credit and you're looking for a loan with flexible terms and low rates.