PenFed Credit Union Personal Loan 2023 Review
We analyze the features of personal loans offered by Pentagon Federal Credit Union (PenFed) to determine whether they're worth your consideration. Find out what interest rates are charged, the fees that may apply, and terms (borrowing terms and amounts). Compare them to the best personal loans available with other lenders.
Personal loans are a useful financial tool that can help you in a variety of financial situation. You can use personal loans for almost anything.
A personal loan can help you refinance other debt, pay for home improvement, or help you meet an unexpected financial need.
No matter what you need money for, a personal loan might be able to help.
Pentagon Federal Credit Union is one of the biggest credit unions that offers personal loans -- a potential option for borrowers.
If you need a personal loan, in this review learn all the details that you need to know about PenFed's personal loans to decide if they're worth considering.
Great for Small Personal Loans
PenFed Credit Union Personal Loans Pros & Cons
The biggest benefit of a personal loan is that you can use the money you borrow for almost anything.
Whether you need a large loan or a small one, a personal loan can meet your need. All you need to do is find a lender who will lend the right amount of money.
PenFed offers loans as small as $500 and as large as $25,000, so unless you need a lot of money, you should be able to get a loan for the exact amount of money you need.
When you decide how much you'd like to borrow, you'll have to choose the term of your loan.
This is the amount of time that you'll have to pay the loan back.
Longer-term loans result in lower monthly payments, but higher overall costs for the loan. Shorter-term loans cost less overall but involve higher monthly payments.
PenFed offers loan terms of
36 months
48 months
60 months
The minimum size of your loan is affected by the term you choose.
You can borrow as little as $500 with a 36-month loan. A 48-month loan requires a minimum loan amount of $5,000.
PenFed will only make 60-month loans for at least $10,000.
When choosing a loan term try to strike a balance between manageable monthly payments and a low total cost of the loan.
You want to have a monthly payment that won't strain your budget too much, but one that's large enough to let you pay the loan off quickly.
Application Requirements
PenFed does not have any specific requirements that you must meet to be approved for a personal loan.
Instead, you'll have to prove that you have the means to pay the loan back and that you can be trusted to do so.
Generally, PenFed will look at your income and your credit when deciding on your application.
If you can show a good history of paying loans back, that should help you get the loan.
Similarly, the more money you make, the more money you have to pay a loan back. This will help you get your application approved.
Easy membership eligibility
There is one requirement that you must meet in order to apply for a loan. Because PenFed is a credit union, you must be a member of the credit union to use its services.
Thankfully, it is very easy to become a member of PenFed.
To be eligible to become a member of PenFed, you must meet one of these requirements:
Serve in the U.S. military or Uniformed Services or be an employee of the US government
Be related to a member of the military or Uniformed Service or an employee of the U.S. government
Be or a member of one of the dozens of organizations that confer eligibility, such as the National Military Organization or Voices for America's Troops
Anyone can join the National Military Organization or Voices for America's Troops. The only requirement is a small donation.
This means that anyone can join PenFed so long as they are willing to make a one-time donation.
Once you've joined, you need to open a checking or savings account and keep a balance of at least $5 to remain a member of PenFed.
Interest Rates Are Competitively Low
The PenFed personal loans may come with competitively-low interest rates.
However, you're like to require excellent credit and a solid income to ensure that you'll qualify for the best rates. 
The loans come with fixed rates -- meaning the APR won't change for the life of the loan.
Fees and How Long It Takes to Get the Money
Some personal lenders specialize in getting money to you quickly, while others take their time.
PenFed prides itself on having a quick approval process so that you can get the loan that you need quickly.
You can get approved for a loan the day after you apply, and the money will arrive in your account shortly thereafter.
Many lenders with quick approval processes will charge origination fees to compensate for this.
PenFed does not charge an origination fee on its loans.
The amount you borrow is the amount that you will owe, making the loan a good choice for people who want to avoid loans with fees.
How to Get Approved for a Personal Loan
Once you've decided to apply for a personal loan from PenFed or another lender, you'll need to do your best to make sure your application is approved.
Of course, to get approved for a loan, you need to actually submit an application.
During the application process, you'll have to provide some personal information. This will be used by the lender when it makes a decision on your application.
The information you'll be asked to provide will often include:
Name
Address
Date of birth
Proof of identity, such as a driver's license
Social Security number
Annual income
Proof of income, such as bank statements or pay stubs
Verification of employment
It might sound daunting to get all that information and paperwork together, but it's important to do it properly.
If you submit an application without the required information, you'll reduce your chances of getting a loan.
If you leave a lender with questions, it might delay the process as the lender will contact you with follow-up questions. In the worst case, your loan application might be denied outright.
Improving Your Chances of Getting Approved
There are a few things that you can do to improve your chances of getting a personal loan that you apply for.
Keep these tips in mind when you're planning on applying for a loan.
Increase your credit score
The number one factor in your chances of getting a loan is your credit score.
Your credit score is a numerical indicator of your financial trustworthiness. The better your credit score is, the less a lender will worry about you not paying your bill on time.
If you have a poor credit score, lenders might think twice about giving you their money.
Good credit gives you access to the most loans from different lenders and qualifies you for better interest rates, making your loans cheaper.
Your credit score is calculated from five factors: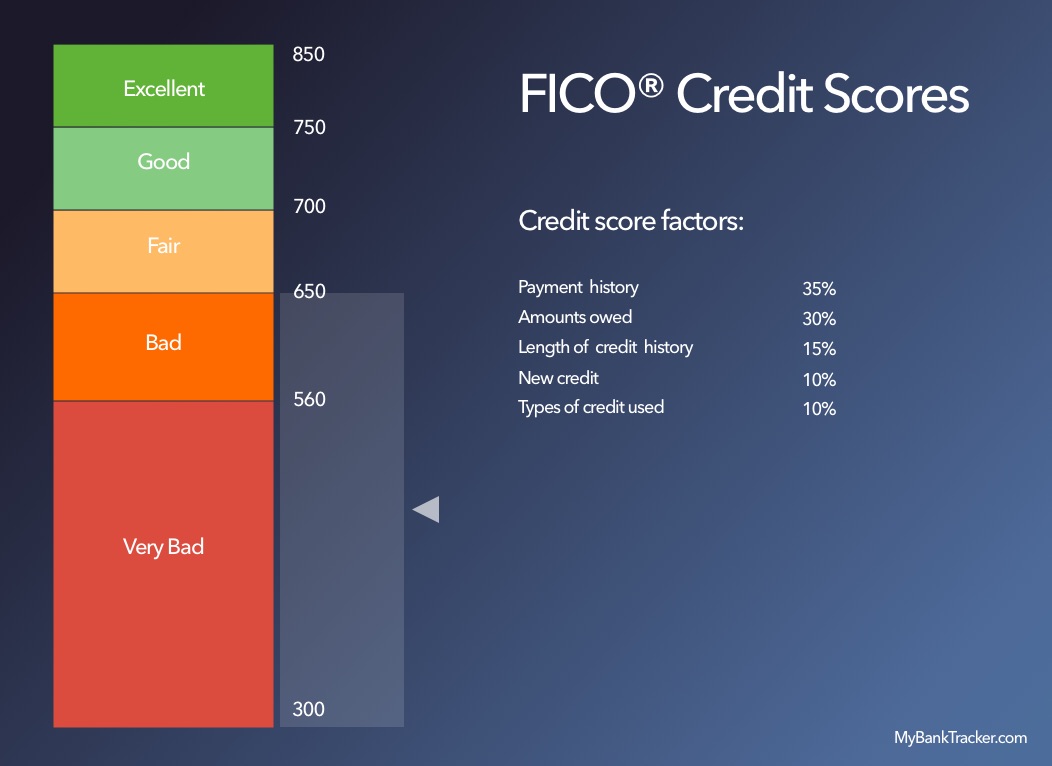 The biggest factor in your credit score is your payment history.
That means that the best way to improve your score is to make on-time payments on your bills over the course of months and year.
Unfortunately, this is also the slowest way to improve your score, and most people in need a loan don't have the luxury of time.
If you find yourself in that situation, there are some short-term credit-boosting tricks.
The first thing you should do is stop applying for new credit cards or loans in the months leading up to your application for an important loan.
Each time you apply for a loan, it shows up on your credit report and your score drops by a few points.
After a few months, your score recovers slightly, and record of the applications is dropped from your report after two years.
Another thing to do is to pay down your existing debts as best you can.
The more debt you have, the worse your credit score will be, so reducing your balances will give your score a quick boost.
You can also stop using your credit cards to reduce the balance that the card issuers report.
Reduce Your Debt-to-Income Ratio
Another significant factor that lenders consider is your debt-to-income ratio. You can calculate this ratio by dividing your total debt by your annual income.
The lower this ratio is, the better.
You can improve this ratio by paying down your debts or increasing your income.
Paying down debts will also boost your credit score, giving your chances a significant boost.
If you earn more money with a side job, make sure the income is documented. Otherwise, lenders won't consider it when making a lending decision.
How Does It Compare?
You can get a personal loan from a number of companies other than PenFed. Take the time to find the right loan for you.
When comparing personal loans, start by looking at:
Interest rates. Lower rates are better because they result in a lower loan cost and lower monthly payments.
Fees. They mean that a loan costs more, both in total and each month. Look for loans with low or no fees.
Fits your needs. If you need to borrow $40,000, make sure that the lender will let you borrow that much. If you need five years to pay the loan back, make sure the lender offers five-year loans.
Conclusion
PenFed offers low-cost loans with a wide range in the amount you can borrow.
If you meet the eligibility requirements, it is worth considering a personal loan from PenFed.