RocketLoans Personal Loans 2023 Review
Learn all the details about personal loans from RocketLoans, a part of Quicken Loans. Compare the APRs, borrowing limits, fees, and terms to personal loans offer by other banks and online lenders. Find out what credit score and income you need to get approved for a personal loan.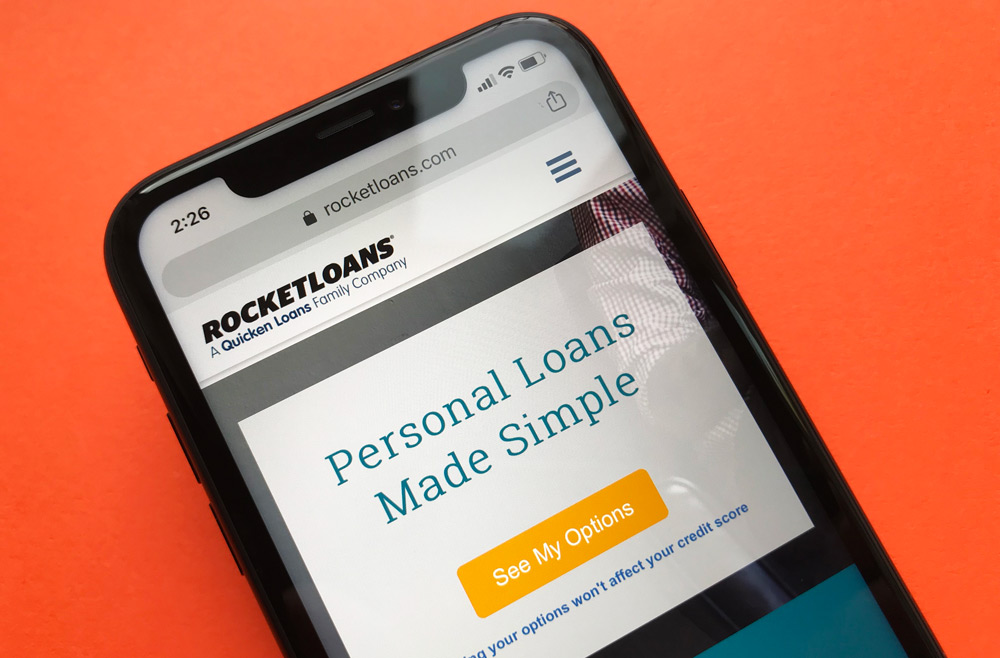 RocketLoans Personal Loans
Personal loans are a great tool for tackling your financial goals, big, small and in-between.
They're flexible enough that you can use them to plan a vacation, consolidate debt, pay off medical bills or just about anything else.
But where do you turn to for a personal loan? You could start with your bank or local credit union.
Both these types of traditional lenders offer personal loans.
Another option is to shop around at online lenders.
RocketLoans is one of the better-known players in the online lending business.
The company, part of the Quicken Loans family, offers mortgages as well as personal loans for qualified borrowers.
The RocketLoans name is meant in part to describe how fast and simple their lending process is.
Getting a loan with an online lender could be speedier than going through a bank.
If you need a personal loan without a lengthy wait, in this review learn whether RocketLoans is the lender for you.
RocketLoans Personal Loans Pros & Cons
Using RocketLoans Personal Loans
RocketLoans personal loans are designed to cover most any financial need or goal you might have. For example, you can use one of these loans to:
That pretty much runs the gamut of expenses you can use a personal loan to cover. You could use a credit card for most of these but personal loans tend to offer two advantages: higher borrowing limits and lower interest rates.
Note: There are 2 things that you can't use RocketLoan personal loans for:
A Low Borrowing Minimum
Before you commit to any personal loan, there are a few important things to review first. Let's start with how much you can borrow.
With RocketLoans, you can get a personal loan ranging from $2,000 to $35,000.
Those amounts are similar to what you'll find with other online lenders. Some offer higher limits, others less. Brick-and-mortar banks can also offer bigger loans, with some going as high as $100,000.
There are two loan terms: 36 months or 60 months.
The amount you're borrowing and the annual percentage rate on the loan influence which term you'll end up with.
If you need more flexibility with repayment, it's possible to find loan terms ranging 12 to 72 months with other lenders.
If you're approved for a RocketLoans personal loan, you may be able to get your loan funded the same day.
It all depends on your bank and how quickly RocketLoans is able to validate your account information. Same-day funding only applies to loans of up to $25,000.
RocketLoans Personal Loan Calculator
Fees Involved
Personal loans aren't free and there are two basic cost categories to consider: the APR and the fees.
RocketLoans offers an APR range to its borrowers. The APR you qualify for is based on your creditworthiness and income, among other factors.
Loan rates are fixed, meaning your APR won't change over time. In terms of the range itself, it's fairly wide.
There's a low end for borrowers who have the best credit scores and a higher end for borrowers with not-so-great credit.
Overall, the APR range is comparable to other online and traditional lenders.
You can get a discount on your rate when you set up your bank account to make automatic payments on your loan.
As far as the fees go, there are only three to be aware of:
Origination fee
Late payment fee
ACH return fee/returned check fee
Of those three, the origination fee is the big one. This is a one-time, non-refundable fee that's charged at your loan closing.
The ranges from 1% to 6% and it's deducted directly from your loan proceeds.
If you borrow $35,000 for example, and you pay a 3% origination fee, you'd pay $1,050 for the fee and receive $33,950.
That's important to know if you're counting on borrowing a certain amount. You may have to adjust your loan request a little higher to account for the fee.
Similar to loan approval and your APR, the origination fee is based on your personal financial profile.
The good news is there's no prepayment penalty for these loans. You can pay your loan off ahead of schedule to save on interest without being charged anything extra.
Minimum Income and Credit Requirements
Every lender has their own minimum requirements for income and credit scores to qualify for a loan.
Your income and credit score tell the lender about your ability to repay a loan and how likely you are to do so.
At RocketLoans, the minimum credit score to get a loan is 640 but borrowers typically average higher than that.
Borrowers ideally have at least two years' worth of credit history. The low end of the APR range is a giveaway that these loans aren't necessarily designed for people with poor credit.
In terms of income, you have to make at least $24,000 a year to be considered. On average, RocketLoans borrowers make close to $80,000 a year.
Again, that's an indication that these loans are geared towards seasoned credit users with strong financial backgrounds.
Do You Need Collateral for a Loan?
Personal loans can be secured or unsecured. Secured loans require some form of collateral to qualify.
For example, that could be a car title or cash held in a certificate of deposit. RocketLoans are unsecured, so no collateral is needed.
What You Need for Approval
Approval for RocketLoans personal loans may be easier for borrowers with solid credit and consistent income.There are six things the lender considers for approval:
FICO credit score
Monthly income
Debt to income ratio
Home ownership
Number of credit inquiries
Loan term
So how do you increase your chances of getting approved?
Start with your credit. Check your credit reports and score to see if you're above the 640-mark.
If not, or if your score is in the 640s and you'd like to improve it, make that your priority. Some things you can do to raise your score include:
Paying your bills on time each month
Reducing credit card balances
Requesting a credit limit increase for one or more of your credit cards
Disputing any errors or inaccuracies on your credit report and getting them removed
Holding off on applying for a new credit until you're ready to apply for a loan
All of these things can add points to your score. That's important not only for approval but also because a higher score can translate to a lower interest rate.
Next, work on getting your debt to income ratio down. This represents how much of your income goes towards debt repayment each month.
Ideally, this should be 30% of your income or less. Paying off a small credit card balance or two can result in a better DTI ratio.
Finally, consider looking for ways to boost your income if you can. Increasing your hours at work, taking on a part-time job or starting a side hustle are all ways to pump up your cash flow.
RocketLoans Personal Loans Compared 
As you consider RocketLoans, remember to weigh the alternatives.
A bank, credit union or another online lender may be better suited to your needs or financial situation.
No matter what bank or lender you get your personal loan from, always remember to focus on:
Loan limits and how much each lender allows you to borrow
Loan repayment terms
APR ranges and whether rates are fixed or variable
Origination and application fees
Prepayment penalties
Minimum income and credit score requirements to qualify
Speed of loan funding
For that last one, RocketLoans is hard to beat. The entire application process can be completed online in just a few minutes. And if you're approved, you could have the money in a matter of hours. Other online lenders aren't always able to guarantee that kind of speed.
Final Verdict: Is RocketLoans a Good Choice?
Generally, you should try to get a personal loan with one of the other lenders mentioned above because the extra fees make RocketLoans more expensive than its competitors.
Personal loans from RocketLoans offer a low APR, if you have the credit to qualify for it.
But, the actual cost is much higher when you count the upfront fees.