The Best Savings Accounts in Utah for 2023
Learn which banks in the Utah area provide the best savings accounts to its residents and compare them to online banks that have lower fees and higher rates.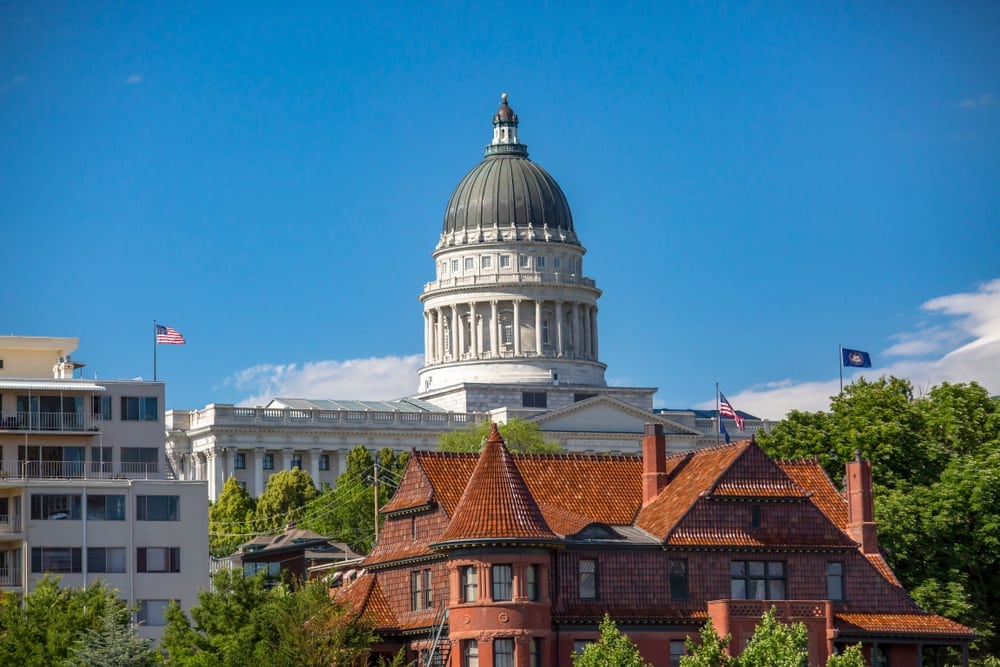 Utah is home to more than 3 million Americans. The vast majority of those Americans will need access to some type of banking service. To that end, dozens of banks operate in the state seeking to meet the needs of Utah residents.
The savings account is the second most common type of bank account in the U.S. Only the checking account is more prevalent. The popularity of savings accounts means that consumers have plenty to choose from. That forces banks to compete to offer the best account to draw new customers.
Taking the time to shop around for the right savings account can help you get a great deal.
If you live in Utah and need to open a savings account, this article will give you the advice you need to find the best one available.
The Best Savings Accounts in Utah
Advantages and Disadvantages of Savings Accounts from Local Banks
Benefits
Drawbacks

Lower fees than national banks (but not always)
Personal service for account management

Smaller branch and ATM networks
Interest rates are not the highest available
Capital Community Bank Savings Account
The Capital Community Bank Savings Account offers easy access to your cash with no fees.
To open the account, you'll need to make a $25 opening deposit. Once the account is open you can withdraw as much as you'd like: there's no minimum balance requirement. There are also no monthly fees.
You will get a free ATM card that you can use to make withdrawals at any ATM on the MoneyPass Network. There are no fees to use the ATM card. Interest will be deposited to your account once every quarter.
First Utah Bank Kasasa Saver
The First Utah Bank Kasasa Saver Account gives you the chance to earn a great interest rate by meeting a few requirements.
To open the account, you'll need to also open a free Kasasa checking account and make a $100 minimum deposit. Once the account is open there are no monthly fees and no minimum balance requirements.
You'll earn a low rate of interest on the account no matter what. If you meet a few requirements in your Kasasa checking account, you'll earn a significantly higher rate. The requirements you must meet each statement period are:
Make 12 debit card purchases
Receive one automatic payment or direct deposit
Be enrolled in and view your eStatement
How we picked
MyBankTracker applied a methodology when choosing the best savings accounts in Utah. Our top recommendations were selected based on a thorough analysis of savings accounts offered by the top 50 banks by deposit market share in Utah (based on FDIC June 2023 data)--serving major cities including Salt Lake City, West Valley City, Provo, West Jordan, and Orem.
We focused our choices on savings accounts with low monthly maintenance fees, easy-to-meet requirements to waive these fees, the bank's physical branch and ATM network, excess withdrawal fees, and any other convenience features.
Online Savings Accounts are Available Nationwide
After you've taken the time to look into local banks and credit unions, you should look at online savings account. You can open an online savings account from anywhere in the US and they offer a number of benefits.
Perhaps the greatest argument in favor of online savings accounts is their high interest rates and low fees. Online savings account cost much less to run than their brick and mortar brethren. The banks don't need to pay to operate ATMs or expensive branches. Instead, they can centralize their operations and pass the savings on to their customers.
Interest and fees on your savings growth
The fees that you pay and the interest that you earn is hugely important.
Over the course of a few years, even a small difference in interest rate can be worth hundreds of dollars. This example will illustrate how interest rates and fees affect the balance of your savings account.
Your plan is to open a savings account and to add $100 to the account each month. Four years from now, you'll withdraw the balance of the account and use it to fund a luxury vacation.
A typical savings account from a traditional bank may offers 0.10% APY. If you follow your plan, you'll wind up with $5,813.42 after four years. You'll have earned just $13.42 in interest over the four years.
Some online savings accounts offer interest rates as high as 1.60% APY. This makes a major difference in your ending balance. After four years, you would have $6,019.57 in the account if you used an online savings account.
That's an extra $200 just for choosing a different account.
Don't forget that the brick and mortar bank might charge a monthly fee to keep your savings account open. If you pay even $1 per month in fees, that will completely wipe out the interest that you earned. This is why finding a no-fee, high-interest account is so important.
Low deposit requirements
Another reason to work with an online savings account is that they offer low minimum deposits.
Brick and mortar banks typically require that you have as much as $50 or $100 before you can open a savings account. If you're just getting started with saving, you might have trouble getting that much money together at once.
Online banks can leverage the fact that they're cheaper to run to allow people to open accounts with a lower balance. Many online banks let customers open accounts with as little as a penny. That makes them a great place to start saving.
Safe like all banks
Many people wonder if online banks are truly safe. In fact, they are, because the Federal Deposit Insurance Corporation treats them just like any other bank.
The FDIC offers up to $250,000 in insurance per account type, per customer at a bank.
What that means is that you cannot lose the money you deposit at a bank, so long as you don't let your combined savings account balance exceed $250,000.
If the bank is ever unable to return the money you deposited, the FDIC will reimburse you for the amount lost.