The Best Savings Accounts in Alabama of 2023
Learn about the local Alabama banks that offer noteworthy savings accounts and compare them to options offered by the best online banks.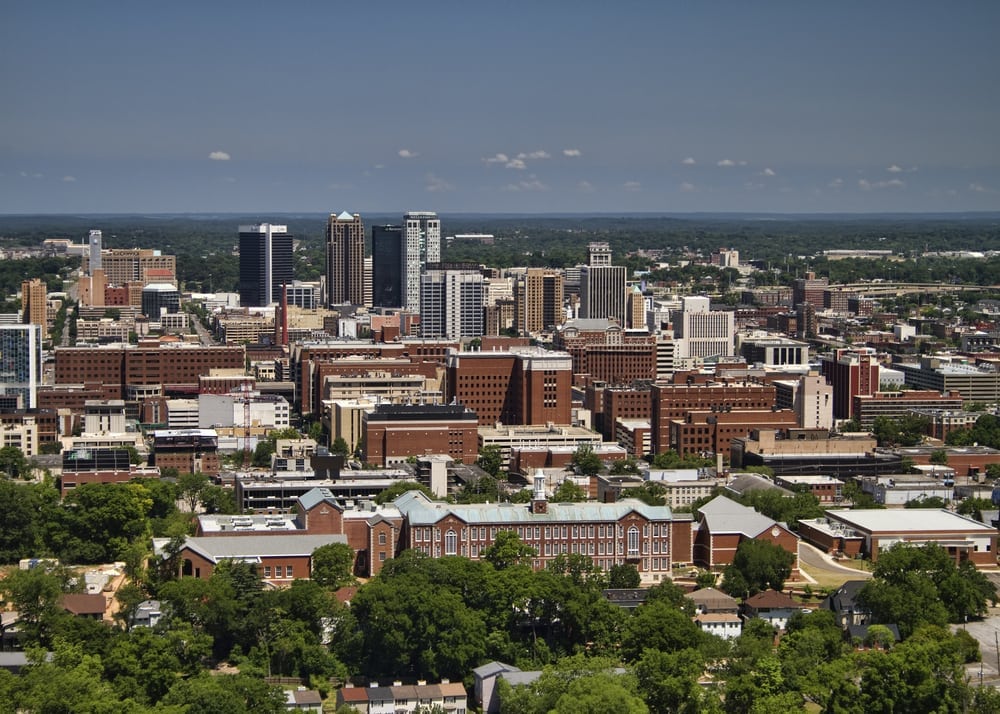 Nearly 5 million Americans call Alabama home, and each of those Americans needs access to banking services in one form or another. There are dozens of banks that operate in the state, looking to serve the financial needs of Alabamians.
One of the most basic financial needs of most Americans is to have a place to store extra money. To that end, nearly every bank in the U.S. offers some type of savings account. In fact, the savings account is the second most popular type of bank account, behind the checking account.
Because so many banks offer savings accounts, they have to compete for new customers. What that means for you is that you can get a great deal by taking the time to shop around.
If you live in Alabama and want to open a savings account, this article will cover the options that are available to you.
The Best Savings Accounts in Alabama
ServisFirst Bank ServisFirst Savings
The ServisFirst Bank ServisFirst Savings account is a no-frills account that charges no monthly fee.
Once the account is open, there is no minimum deposit to worry about. You'll earn interest no matter what your account's balance.
The biggest downside of the account is that you are limited to two withdrawals per month. Each withdrawal in excess of the second will incur a fee.
SunTrust Essential Savings
The SunTrust Essential Savings Account aims to be easy to open and easy to use.
It succeeds at being easy to open. Your opening deposit can be as small as a penny, making it a great choice for people who are just starting to save. There's also no minimum balance requirement to earn interest.
The only fee to worry about is the $3 monthly statement fee. Signing up for electronic statements makes it a fee-free account.
How we picked
MyBankTracker applied a methodology when choosing the best saving accounts in Alabama. Our top recommendations were selected based on a thorough analysis of savings accounts offered by the top 50 banks by deposit market share in Alabama (based on FDIC June 2023 data)--covering major cities including Huntsville, Birmingham, Montgomery, Mobile, and Tuscaloosa.
We focused our choices on savings accounts with low monthly maintenance fees, the least demanding requirements to waive these fees, the bank's ATM network, excess withdrawal fees, and any other convenience features.
Online Banks That Serve All States
Once you've looked into local banks and credit unions, you should also consider an online savings account. You can open an online savings account from anywhere in the U.S., and they offer a variety of benefits.
One benefit is that they are very convenient to use. Savings accounts generally don't require much maintenance. Just deposit your money and let it grow, and transfer money to your checking account as needed.
Having online and mobile access to do these things makes working with a savings account even easier.
Another benefit is that they offer much more interest and charge lower fees than brick and mortar banks. Online banks don't have to operate ATM networks or branches and save a lot of money because of it. That means that they can offer a better deal to their customers.
High savings rates with lower fees
Low fees and high rates are why online savings are so much better than other savings accounts. Over the course of a few years, the high interest rate on an online savings account can be worth hundreds or thousands of dollars.
Don't forget that many brick and mortar banks charge monthly fees. Even a $1 monthly fee would wipe out all the interest you earned. That makes online savings accounts an even better deal.
Low minimum deposits
Online savings accounts also win out over traditional savings accounts due to their low minimum deposits.
Many brick and mortar banks will require between $25 and $100 before you can open a savings accounts. Most online banks require $1 or less to open an account. That makes it easy to get started with saving.
FDIC insurance still applies
Online banks are just as safe as traditional banks, thanks to insurance from the Federal Deposit Insurance Corporation.
The FDIC offers up to $250,000 in insurance per account type, per customer at a bank. If you never let your combined savings account balances exceed $250,000, you can't lose money by depositing it to an online bank. If the bank is ever unable to return your money, the FDIC will reimburse you for the amount lost.
Local Alabama Banks With Noteworthy Savings Options
Working with a local Alabama bank brings a couple of significant benefits.
First, is the fact that local banks excel at providing the services that local customers need.
National banks have to offer generic services that are useful to the majority of consumers.
A local bank can offer services that are only useful to locals. For example, if you live in a more rural, farm-based community, your local bank might offer special loans for agricultural equipment.
Another benefit is that local banks are better at providing personalized service.
The longer you bank with a local institution, the better the staff at that bank will get to know you.
They'll also get to know your financial situation. This will let the staff provide personalized advice that you can use. Local banks are also generally better at waiving fees here and there or cutting you a break on occasion. National banks tend to have more strict rules.
There is one clear downside to working with a local bank. If you travel outside the region your bank serves, you'll have to rely on other bank's ATMs. That means you'll have to pay the ATM fees charged by those banks.
If you ever move outside of the region served by your bank, you'll be forced to open an account at an entirely new bank. With a national bank, you'll be able to find a new branch or ATM nearly anywhere.
Advantages and Disadvantages of Savings Accounts from Local Banks
Benefits
Drawbacks

Lower fees than national banks (but not always)
Personal service for account management

Smaller branch and ATM networks
Interest rates are not the highest available
Tips to Help Your Savings Grow Faster
Follow these tips to help your savings grow faster.
Limit access to your money
When you have money in a savings account, it can be very tempting to spend it on something fun. Try to resist that urge and let your money continue to earn interest.
Online savings accounts help with this by making your money harder to access. You might want to opt for a bank without ATM access, which makes it even harder to spend your money frivolously.
Set up automatic transfers
The best way to grow your savings is to add to it regularly. You can set up automatic savings transfers from your checking account to your savings account. If you do this, you won't even have to think about saving because it will happen automatically.
Because your savings account will pay far more interest than your checking, you'll get a double boost in savings growth using this strategy.
Direct deposit directly into savings
Many employers will let you split your paycheck into multiple accounts. If you can set up direct deposit to your savings account, go for it.
Depositing money directly into your savings account with each paycheck means you won't even see the money arrive in your checking account.
Instead, it will go right towards growing your savings.
If you have trouble with spending money before you're able to save it, this can help you avoid that temptation.