The Best Savings Accounts in Kansas of 2023
Find out which local banks in Kansas offer the best savings accounts and compare them to online savings accounts based on interest rates, fees, and convenience.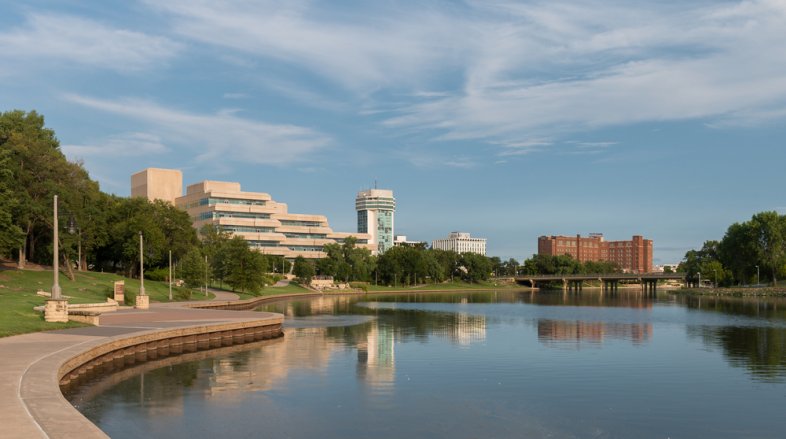 A savings account is a key part of your financial setup -- no matter where you are located.
In Kansas, there are a few big banks in the area, but many more regional and community banks that provide savings accounts to residents.
These local Kansas banks may be the first places that you turn to for a new savings account.
We analyzed the 50 largest banks in Kansas (based on deposit market) to recommend the best savings accounts worth considering from these banks.
As always, compare them to savings options from online banks because they are often the more attractive choices.
The Best Savings Accounts in Kansas
CrossFirst Bank
The CrossFirst Bank Savings Account is a good choice for people who are concerned about minimum balances and monthly fees.
There is no minimum deposit required to open the account and you won't pay any monthly fees. There are no hoops to jump through or requirements to meet.
You may make up to six withdrawals from the account each month and interest is paid once per quarter.
Community National Bank and Trust
The Community National Bank and Trust Savings Account is a relatively basic savings account but has high minimums and potential monthly fees.
To open the account, you must make a $100 minimum deposit. Once the account is open, you can let the balance drop below that amount but must keep it above $25 to avoid a monthly fee. Accounts with a balance below $25 will be charged a $2 fee.
You may make up to 12 withdrawals per six-month period. Additional withdrawals cost $1 each.
Emprise Bank
Emprise Bank offers the Savings Plus account to customers who have a linked Emprise Bank checking account--with the potential for attractive interest earnings when qualifying requirements are met with the checking account.
Even better, the account has no monthly fee or minimum balance requirements.
How we picked
MyBankTracker applied a methodology when choosing the best savings accounts in Kansas. Our top recommendations were selected based on a thorough analysis of savings accounts offered by the top 50 banks by deposit market share in Kansas (based on FDIC June 2023 data)--serving major cities including Wichita, Overland Park, Kansas City, Olathe, and Topeka.
We focused our choices on savings accounts with low monthly maintenance fees, easy-to-meet requirements to waive these fees, the bank's physical branch and ATM network, excess withdrawal fees, and any other convenience features.
Online Savings Accounts are Available Anywhere
If you've looked at both local and national banks and failed to find anything to your liking, you might want to consider an online savings account.
You can open an account at an online bank regardless of where you live. Whether you're from Kansas or Kentucky, an online savings account can be a great choice.
High-interest rates
One of the greatest perks of an online savings account is their interest rates. Online savings accounts offer some of the best rates on the market, beating brick and mortar banks by 10 to 100 times.
The reason that online banks are able to do is that they cost less to run that brick and mortar banks.
Traditional banks have to build branches, hire security and tellers, pay for utilities, operate an ATM network, and deal with all the other costs of having a physical presence.
Online banks can centralize their operation in just one or two locations, saving a lot of money.
Less physical access to cash
Another great reason to use an online savings account is that they can make it easier to not spend your money.
If you have a bank account at a traditional bank, it can be easy to walk past a branch or ATM and think about how much money you have in your account.
Thinking about all the money you have saved can tempt you into spending it on something that you don't need or that is contrary to your goal for the money.
Keeping the money out of sight and out of mind makes it easier to avoid this temptation.
Better digital experience
Every bank these days offers some kind of app and or online access to your account.
However, by their nature, online banks tend to offer the best tech experiences in the business. When the only way your customers can interact with your company is online, your online experience has to be good.
If you need a bank account that you can use while on the go, online banks are some of the best available.
FDIC insurance
The FDIC offers insurance that protects people who deposit money to protected banks.
This insurance covers up to $250,000 per accountholder, per account type at the bank.
Online banks are protected in the same way as brick and mortar banks, so you don't need to worry about losing your money to an online bank that goes under.
The Best Savings Accounts in Kansas
When you're deciding on which savings account you want to open or which bank you want to work with, you have to weigh the unique pros and cons of each.
National banks have a few obvious benefits.
They're large institutions, so you'll rarely have trouble finding a place to do your banking, even if you travel or move somewhere else in the country.
The truth is:
Local banks can't provide the same huge network as national banks can, but they do bring something else to the table.
A small, Kansas-based bank will know the unique needs of customers in Kansas and will be better equipped to provide personalized, customized service that meets your needs.
Pros and Cons of Local Banks
With the unique benefits that they provide, you may be very tempted to open a savings account at a local bank.
The primary benefit of smaller, local banks is that they can provide more personalized service.
You can visit your local branch and see someone who knows you and your unique financial situation. With a larger bank, it may be hard to get help from someone who is familiar with you and your needs.
Of course, local banks do have their flaws.
One is that they often have higher minimum balance requirements or fees. They also lack the reach of national banks, which can make it hard to get access to your money.
Advantages of Big Banks vs. Local Banks
| Big Banks | Local Banks |
| --- | --- |
| Widespread ATM and branch access | More intimate, personal service |
| Better and faster technology and adoption | Community-oriented products and services |
| Uniform service standard across branch network | More willing to negotiate and work with customers |
Helping You Decide
If you can't decide between a brick and mortar bank and an online bank, consider these questions.
Are you okay with digital banking tech?
If you're good with gadgets and enjoy being on the cutting edge of tech, then you won't have trouble adapting to an online bank.
If you prefer to keep things as they are or just don't like technology, stick with a traditional bank.
How frequent are your branch visits?
If you like to do all of your banking in-person at a branch, then you'll be losing out on that by changing to an online bank.
If you already do your banking at ATMs, then things won't change much with an online account.
What does personal customer service mean to you?
If you're the kind of person who wants to be able to get help, in-person, when you need it, you should stick with a traditional bank.
If you have no trouble with online support chats or phone calls, then you'll be able to handle any issues that arise with an online savings account.
Most Important Features of a Savings Account
After you've decided on the type of bank that you'll work with, you have to compare the different accounts that are available.
When comparing savings accounts, you should look at these factors.
Interest
The interest rate is what determines how much money the bank will give you each month in exchange for the privilege of holding your money for you.
All else being equal, you want to choose the account with the highest rate. Higher rates will help your savings grow more quickly.
Fees
Nobody likes paying fees and paying fees when you're trying to save money seems counterintuitive.
Look for a savings account that doesn't charge a monthly fee.
If you must choose an account that charges a monthly fee, look at the requirements to get that fee waived and make sure that you can meet them easily.
Ways to interact with your funds
If you're using your savings account for an emergency fund, you want to make sure that you can get to your cash when you need it.
Look for an account that offers an ATM card that you can use to make withdrawals or some other way to get your money quickly.