The Best Savings Accounts in Oregon for 2023
Find out which local Oregon banks provide the top savings accounts to its communities and compare them to online savings accounts.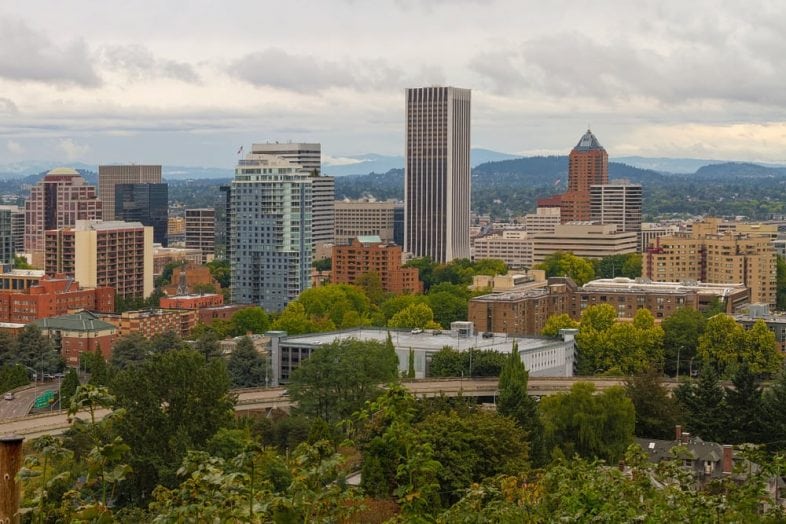 More than 4.1 million Americans call Oregon their home and nearly every Oregonian needs a bank account. Dozens of banks operate in Oregon to provide the populace with the banking services it needs.
Savings accounts are the second most popular type of bank account in the U.S. Their popularity means that nearly every bank in Oregon will offer some form of savings account. Only the checking account is more common and more popular.
Savings accounts meet two financial needs for consumers.
First, savings accounts offer consumers a safe place to keep their extra cash. Savings accounts are completely safe – you cannot lose money that you deposit to a savings account.
Despite their safety, savings accounts remain easy to access, which makes them a good place to keep emergency savings.
Second, savings accounts give people a way to grow their money over time. The money you deposit will earn interest, meaning the account's balance will slowly grow as time goes on.
If you live in Oregon and want to open a savings account, this article will cover the options available to you.
The Best Savings Accounts in Oregon
First Republic Bank Passbook Savings Account
The First Republic Bank Passbook Savings Account offers a fee-free experience with a number of restrictions.
One of the biggest disadvantages of the account is that you must make a $500 minimum deposit to open the account. Once the account is open, there is no minimum deposit to maintain. Another plus is that there are no monthly service fees.
If you ever want to make a deposit or withdrawal, you'll have to bring your passbook to a First Republic Preferred Banking Office. If you forget your passbook, you won't be able to make a transaction. You also won't be able to make any transaction at ATMs.
First Citizens Bank e.Savings Account
The First Citizens Bank e.Savings Account combines the benefits of an online savings account with the benefits of local banking.
You can open the account online with a minimum deposit of $25. There's no minimum balance to maintain once the account is open. You also don't have to worry about monthly maintenance fees. These features combine to make the account a good choice for people who are getting started with saving.
You can manage your account by logging into your online account or visiting your local branch. Deposits and withdrawal can be made in-person or at any First Citizens Bank ATM.
You may make two free withdrawals each statement period. The next four withdrawals will incur a $3 fee. Each withdrawal after the sixth in the statement will cost $15.
Riverview Community Bank Relationship Savings Account
The Riverview Community Bank Relationship Savings Account is a no-frills, no-fee savings account.
There is a $100 minimum deposit required to open the account. Once the account is open there is no minimum balance requirement or monthly fee.
There aren't any other notable account features.
How we picked
MyBankTracker applied a methodology when choosing the best saving accounts in Oregon. Our top recommendations were selected based on a thorough analysis of savings accounts offered by the top 50 banks by deposit market share in Oregon (based on FDIC June 2021 data)--serving major cities including Portland, Salem, Eugene, Gresham, and Hillsboro.
We focused our choices on savings accounts with low monthly maintenance fees, easy-to-meet requirements to waive these fees, the bank's physical branch and ATM network, excess withdrawal fees, and any other convenience features.
Online Savings Accounts are Available Nationwide
If you need to open a savings account but don't want to open one at a national bank, you don't have to settle for working with a local bank.
You can also choose from a number of online savings accounts, which can be opened from anywhere in the U.S. and offer a variety of benefits.
One of the most significant benefits of online savings accounts is that they help your savings grow much better than traditional savings accounts do.
Online savings accounts rarely charge monthly fees. If they do, the fees are easy to waive. Online savings accounts also pay far more interest.
Online banks can offer low fees and high rates because they are cheaper to run than brick and mortar banks. Take advantage of that fact to help grow your savings.
Bigger interest earnings
The interest rate paid and fees charged on a savings account can have a huge effect on the account's balance over time.
If you keep your money in a savings account for years, you could wind up with hundreds of dollars more if you choose the right account.
Low minimum deposit requirements (if any)
Another major benefit of online savings accounts is that they have low minimum deposits. Many brick and mortar banks won't let you open an account with a deposit of less than $50 or $100.
Some, like First Republic Bank, require $500 opening deposits.
Online savings accounts have much lower minimum deposits. Some banks will let you open an account with as little as a penny.
FDIC insurance still applies
Online savings accounts may seem risky to some people. Giving your money to a bank you can't see is understandably concerning.
The good news is that online banks get the same insurance as brick and mortar banks. The Federal Deposit Insurance Corporation insures all types of banks in the United States.
The FDIC will insure up to $250,000 per account type, per depositor, at a bank. If you don't let your combined savings account balances at a bank exceed $250,000, it is impossible for you to lose the money you deposit. If the bank is ever unable to return your money, the FDIC will reimburse you.
Adding a joint account owner will double your FDIC insurance to $500,000. You can also receive additional insurance by opening a joint account at the same bank.
May offer added ATM access
Not all savings accounts provide ATM access -- they might not come with an ATM card at all.
It can be seen as a way to prevent customers from pulling out their deposits, which is good to keep you focused on saving.
However, if you prefer ATM access for financial emergencies, some online savings accounts provide optional ATM cards to customers. Depending on the bank, there may also be ATM fee refunds that allow customers to use any ATM without worries of surcharges.
The Best Savings Accounts in Oregon
There a few reasons to consider working with a local Oregon bank.
Possibly the largest benefit is that local banks are better at providing personalized service than national banks.
As you work with a local bank, the staff at the bank will get to know you. They'll also get to know your unique financial situation. That will let them make more personalized recommendations and give more accurate advice.
They also may be able to give you a deal or waive fees here and there. National banks tend to have more rigid rules surrounding those types of things.
Local banks also have the advantage of focusing on local consumers. National banks have to appeal to consumers across the country, so they have to offer generic account benefits. Banks in Oregon can take the time to focus on account benefits that will be most useful to Oregonians.
There is one downside to working with a local bank. If you ever travel outside of the region your bank serves, you might have trouble getting access to banking services.
You'll probably have to use another bank's ATM if you ever need cash, and pay whatever fees that bank charges. If you ever move, you'll probably have to move your accounts to a new bank.
Advantages and Disadvantages of Savings Accounts from Local Banks
Benefits
Drawbacks

Lower fees than national banks (but not always)
Personal service for account management

Smaller branch and ATM networks
Interest rates are not the highest available