Betterment Everyday Cash Reserve Account 2023 Review
Learn about the Betterment Everyday Cash Reserve account and compare its fees, interest rate, and features to the top online savings accounts.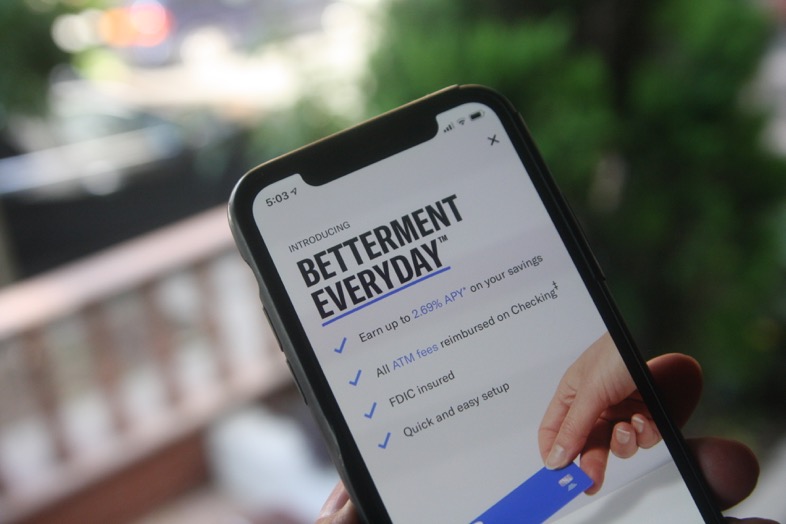 If you're looking for a big push in savings growth, the Betterment Everyday Cash Reserve Account is probably on your radar. 
Now:
Betterment isn't a bank. It is better known for its popular robo-advisor services that simplify the chore of investing.
It's a great option if you're looking to manage all of your finances in one place. In addition to saving your money, you can also receive retirement and investing advice based on your personal needs.
Betterment's savings account aims to attract more of your money with the temptation of a market-leading interest rate.
Here's what you can expect from Betterment's Everyday Cash Reserve account:
Earn a high APY
FDIC insurance up to $1 million
No withdrawal limits
No minimum balance
No fees on balances
This is a new way of banking, so naturally, you might have questions.
Read on to learn how this savings option can grow your money, and then decide whether it's the right account for your money.
Compare Savings Options
Be sure to check out more savings accounts worth considering:
A Market-Leading Interest Rate, With a Catch
Undoubtedly, the biggest selling point:
The Betterment Everyday Cash Reserve account offers a market-leading interest rate.
The savings rate beats most of the top online savings accounts.
No matter your savings goals, a higher interest rate can grow your savings account faster and help you hit your goals sooner.
A higher savings account rate is ideal for purposes such as:
a home down payment,
a nice vacation,
higher education tuition and expenses
wedding costs
Or maybe you're looking for a way to increase what you already have in your emergency fund.
Whatever the goal, this account can get you there faster.
Extra FDIC Insurance Up to $1 Million
Most banks only offer FDIC insurance up to $250,000. This is adequate coverage for most customers.
But what if you keep a much higher balance in your savings account and need more protection? 
If so, this account has you covered. Open an account and your balances are insured up to $1 million.  
You might ask:
How can Betterment offer so much protection?
The answer is simple. 
When you sign up for Betterment Everyday Cash Reserve, your funds are deposited into one or more of Betterment's program banks, up to at least four. And because your funds are split amongst four banks, you'll receive four times the protection.
The partner banks include (can change over time):
The Bancorp Bank
Barclays Bank
Citibank
ConnectOne Bank
East West Bank
Georgia Banking Company
Seaside National Bank & Trust
State Street Bank and Trust Company
Valley National Bank
Wells Fargo
Keep in mind:
You can choose to exclude any of the program banks, in which case your money isn't deposited into an excluded bank. If so, your FDIC insurance coverage may be reduced. 
This type of coverage is ideal if you have a lot of assets to protect. FDIC insurance essentially protects your money against bank failure. There's confidence in knowing that you will not lose your money.
No Limits on Cash Withdrawals
The ability to access money in your savings account without limits is also important. 
Needless to say, the goal of a savings account is to leave most of your cash in the account untouched. This is how you grow your balance. But, of course, life happens.
Sometimes, you'll need to tap your account for an emergency. 
This can include a home repair, a car repair, or another unexpected expense. Since this is an online savings account, you'll first need to transfer funds to an offline linked account. 
As you're probably aware, many traditional and online savings accounts limit the number of customer transfers within a statement cycle.
Typically, you're allowed up to six transfers before the bank charges an excessive withdrawal fee. This fee and others can add up and eat away at your balance.
If you're tired of fees and restrictions, you'll like that Betterment's Everyday Cash Reserve account doesn't limit your number of withdrawals or transfers. You can take money from your account as often as you like.
No Account Fees
It seems as if banks are always looking for a way to nickel and dime their customers. 
Bank fees are far too common, but you don't have to waste your money.
Another key feature of Betterment's Everyday Cash Reserve account is that there are no monthly fees.
This is a huge deal because many savings and checking accounts charge monthly maintenance fees. Fees typically cover the cost of managing the account.
Even better:
There are no other account fees.
But, there's a reason for that -- many other transactions and services are not available with this savings account. Strictly, you can deposit and withdraw funds as you please but other types of transactions are not offered through this account (at least not yet).
How Betterment makes money
But while Betterment has no fees on balances, the Everyday Cash Reserve account isn't free, per se. 
Betterment doesn't deduct fees from your balance, but it does take a small portion of your earned interest.
But don't worry:
The advertised rate that you're quoted is the actual rate that you'll receive. It already takes into account the portion of interest that Betterment receives.
No Minimum Balance Requirement
Also, when you open a this account, you don't have to worry about minimum balance requirements. 
Some banks charge a fee if you don't maintain a certain minimum balance each month. This isn't the case with Betterment. You can keep your account whether you have hundreds in the account or $0. 
But while there's no minimum balance requirement, keep in mind that any deposits you make into your account must be at least $10.
Compared to Other Savings Products
Because this savings account isn't offered by a bank, but rather an online investment company, it differs from other savings accounts.
So it's important to shop around and compare options available to you. 
Although Betterment's Everyday Cash Reserve account works for some, it might not work for you. You should never settle or choose a random savings account. If an account doesn't meet your needs, you won't be happy with the account. And as a result, you'll always be on the hunt for a new account.
With any savings product, pay attention to the advertised interest rate. Granted, rates are subject to change. But if an account offers a rate that's higher than the competition, it might continue to be a leader in this area. 
The rate essentially determines how fast you're able to grow your balance. Betterment is definitely a winner when it comes to interest. The rate is more than what you'll get with many traditional and online savings account, and even with some money market accounts. 
The speed that transfers are processed is comparable with other online savings accounts. Typically, it'll take one to two business days for money to transfer in and out of your Betterment account.
With regard to monthly fees and minimum account balances, Betterment's Everyday Cash Reserve account is also comparable with similar accounts.
This is because online banks and investment companies don't have as much overhead. So they can typically offer checking and savings accounts with no fees and higher rates.
Final Verdict
The Betterment Everyday Cash Reserve account is best described as a cash management solution.
So if you're looking for an online savings account, an online checking account, and an online investment account, this might be a great all-in-one solution. 
Additionally, the Betterment Everyday Cash Reserve is ideal if you'll keep up to $1 million in your savings account and need ample protection.
But while this account has its perks, you must honestly consider whether an online savings account is right for you. Sure, you can withdraw cash from your account anytime without limit. Yet, it'll still take between one and two business days to get your funds. 
Keep in mind:
This savings account doesn't come with an ATM card. So you can't visit a nearby ATM to withdraw cash from the account.
If you open this savings account, you may still consider a traditional savings account from a local bank for immediate cash needs.