CIT Bank High Yield Savings Account 2023 Review
Compare CIT Bank Savings Account rates, fees and services to other national and online banks. Learn if this saving account is the best option to grow your savings for your goals.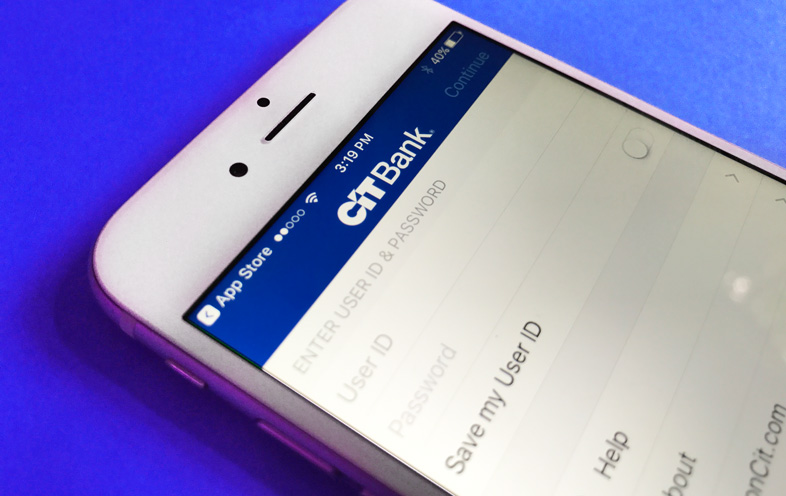 CIT Bank compounds interest daily to give you maximum earning power.
According to CIT Bank, this account offers returns of over 15 times the national average APY.
Tip: Crunch the numbers using MyBankTracker's APY Calculator to see how quickly your savings could grow.
Compare Savings Options
Be sure to check out more savings accounts worth considering:
Compound interest explained
The following example will illustrate the power that interest can have on growing your savings.
You place $1,000 in a savings account and plan to put another $100 into the account each month. After two years, you've saved about $2,400.
That's a nice savings, however with compounding interest, you can earn interest on your interest.
After another year, you've saved a total of about $3,700. Continue on for another six years, and you'll have put away $7,600.
Compare that to a savings account that offers 0.01% APY, which is common at many national banks.
The higher interest rate that CIT Bank offers would have earned you more than some other banks with a lower APY. 
No Monthly Maintenance Fee
As far as the fees go, CIT Bank keeps them to a minimum. There's no account opening fee and no monthly maintenance fee.
You don't even have to meet a minimum balance to avoid the fee. You'll never be charged a fee just for keeping the account open.
The only minimum balance you have to note is the opening deposit of $100 to start the account.
24/7 Customer Service
CIT Bank is known for their unparalleled and always available customer service.
With customer service available 24 hours a day, seven days a week, for both Online Banking and Mobile Banking, CIT remains on top.
The bank can be contacted by email or by automated telephone banking.
However, in this day and age, it's worth pointing out that CIT Bank doesn't have much of a social media presence. So you can't expect to send a message via Facebook or Twitter to solve any of the banking issues you may run into.
Funding Your Account
Since CIT Bank is a fully-online bank, there are select options for ways to deposit money into your savings account.
Withdrawals and deposits can be done in any of the following ways:
Electronic funds transfer (ACH)
By check mailed to CIT Bank's home office
Outgoing wire transfers
However, it's important to note there is a limit of six (6) pre-authorized or automatic transfers or withdrawals, electronic banking transfers to other accounts or similar orders per statement cycle.
Withdrawal and transfer requests submitted by mail do not count toward the limit, nor do withdrawals requested by telephone if the funds are mailed to you in the form of a check.
Deposits are unlimited and can be done via any of the methods outlined above.
Funds made by electronic transfer are available in five business days, whereas if you mail in a check, it can take up to 10 days.
Other Fees to Watch Out For
The best part about this savings account?
There are no fees for opening or maintaining CIT Bank Savings account.
One fee you do have to note is a wire transfer fee if you're transferring money to your new account from another bank.
You'd also pay this fee if you use a wire transfer to move money out of your CIT Bank account to another bank.
However this fee is only assessed if your average daily balance is less than $25,000.
Here's a snippet of some of the main fees from the account:
CIT Bank High Yield Savings Fees
| Type | Fee |
| --- | --- |
| Minimum Opening Deposit | $100 |
| Monthly Maintenance Fee | $0 |
| Account Closing Fee | $0 |
| Online Transfer | $0 |
| Incoming Wire Transfer Fee | $0 |
| Outgoing wire transfer for accounts with an average daily balance of $25,000 or more | $0 |
| Outgoing wire transfer for accounts with an average daily balance of less than $25,000 | $10 per wire transfer |
How it Compares to Other Online Savings Accounts
CIT Bank isn't the only online bank that offers high yield savings accounts but it's one of the few that does so with a high APY. 
With little to no fees, free online banking, and stellar customer service, CIT Bank's High Yield Savings Account is a solid choice to store your money and watch it grow. 
However, the bank offers little perks and bonus features, so if you're looking for a bank and account that offers any kind of rewards savings, this account may not be your first choice. 
CIT does offer a mobile banking app where you can check your account balances and transaction history.
So, is the account worth opening?
Generally, this account is a good choice based on the high APY and fees, even if you're still working on building up your savings.
The rates are competitive when compared to some of the top online savings accounts. Plus, it has no fees to worry about. Just focus on increasing your savings.