CIT Bank Money Market Account 2023 Review
Find out whether the CIT Bank Money Market Account is a strong savings option based on its interest rates, fees, and features.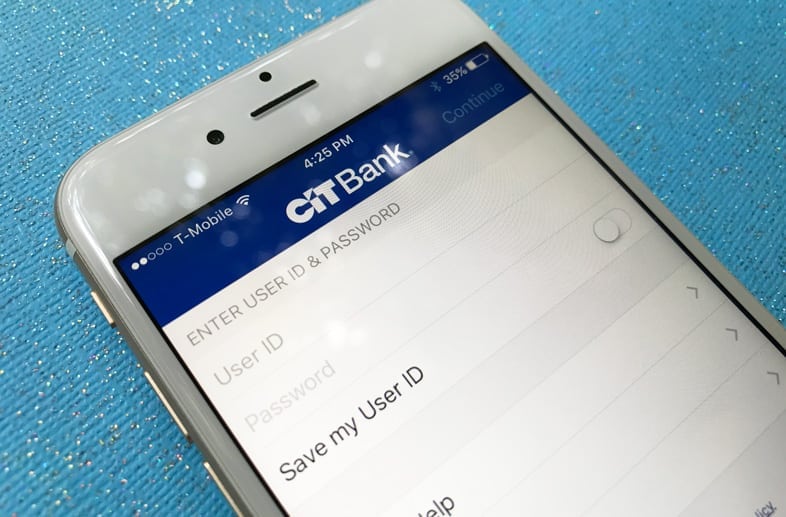 CIT Bank Phone App
Why earn next to nothing in interest when you can open a savings account that pays much more.
CIT Bank offers a nice selection of high-yield savings options. This makes the bank an excellent pick for better earnings.
Opening the right type of savings account can put you steps closer to hitting your biggest goals.
Buying a house, taking a dream vacation, or paying for a child's future college expense.
But if you're relying on a regular savings account to get you to the finish line, you might be disappointed in the results.
The CIT Bank Money Market Account is a great choice. It might offer exactly what you're looking for and more.
Learn more about this account and decide for yourself whether this is the right place for your money.
In this CIT Bank Money Market Account review, we'll compare rates, fees, and services to other national and online banks.
Grow Your Account Faster With a High APY
One feature that sets money market accounts apart from regular savings accounts is their higher APYs.
When you're looking to grow your savings and hit a target amount, getting a high APY is pivotal to your success. A low interest rate means you're not earning as much as you could for keeping your money in the bank. As a result, you'll have to save longer to get what you need.
The good news about this account is that the rate is greater than rates you'll find at similar institutions.
To enjoy a higher rate and increase your account faster, resolve to deposit money into your money market account on a regular basis. Additionally, don't touch the money in your account until you are ready to make a withdrawal for a specific goal.
Compare Savings Options
Be sure to check out more savings accounts worth considering:
Get Started with Less Cash Out-of-Pocket
Some people favor regular savings accounts because it takes less money out-of-pocket to open one. Many savings accounts can be open with as little as $25, and other accounts don't have any opening deposit minimum.
Money market accounts, for the most part, come with higher opening deposit minimums. But the upside to a CIT Money Market Account is that this minimum is low compared to other money market accounts
You only need $100 to open a new money market account with this bank. 
Skip the Monthly Service Fee
Monthly service fees, also called monthly maintenance fees, are a big annoyance. It's understandable why banks and credit unions charge this fee. This amount helps cover the maintenance cost associated with an account.
But while these fees make sense from a business standpoint, you may prefer a bank account that won't nickel and dime you.
Another excellent feature is that you don't have to pay any monthly maintenance or service fees. This is somewhat unique. Other banks only waive the monthly maintenance fee when you meet certain conditions and requirements.
For example, you might have to maintain a minimum monthly balance. And some banks only waive the monthly fee after a certain number of direct deposits into your account per statement cycle.
When you don't have a monthly service expense for your money market or savings account, the account can grow without fees chipping away at the interest you earn.
Free Online and Mobile Banking for Convenience
You deserve a way to seamlessly manage your money and check your account status in real-time. This is what CIT Bank offers its customers.
There's the ability to manage your account 24 hours a day, seven days a week. Online banking and mobile banking makes it easier to check the status of your account no matter your location.
Use online banking to schedule money transfers between all your accounts with a few clicks of a button. This includes accounts you have with CIT Bank, as well as accounts you have outside the bank.
Mobile banking is also an effective way to manage your account, especially if you're always on the move. Like online banking, you can check account balances and schedule transfers. One of the best features is the ability to use mobile banking to deposit checks into your money market account.
Also, once you open a money market account with CIT Bank, you can use this account with People Pay. This is a fast and reliable way to send money to anyone by text or email.
Maximize Earnings with Daily Compounding Interest
As if the above features weren't exciting enough, CIT Bank is also a game-changing money market account for the simple fact that interest compounds daily.
This is different from many other savings accounts. Sometimes, interest only compounds monthly or quarterly.
Compounding refers to when the bank adds interest to your principal balance. The benefit of daily compounding interest is that you get paid on your money more often. In this case, every day.
On the other hand, if you were to choose a money market account where interest compounds quarterly, you would only get paid on your money four times a year.
Even though interest compounds daily, keep in mind that interest is only paid monthly.
Keep Watch for Other Fees
While the CIT Money Market Account comes out on top because you can open an account and start saving with only $100, and it doesn't charge a monthly maintenance fee, there's a fee to watch out for.
A good savings routine involves frequent deposits and self-control. The latter is a must so that you don't dip into the account too much, unless it's for a good reason.
Of course, unexpected situations can pop up and force you to take money from your savings account early. These might include a home repair or a car repair.
Just keep in mind:
You can only make up to six transfers or withdrawals from the account per statement cycle. This is known as an excessive withdrawal fee.
If you exceed this amount, the bank charges $10 per transaction over six. Up to $50 per statement cycle.
CIT Money Market Account Fees
| Type of Fee | Fee |
| --- | --- |
| Monthly Maintenance | $0 |
| Excess Withdrawal | $10 |
| Stop Payment Fee | $30 |
| Non-Sufficient Funds Fee | $25 |
| Domestic Incoming Wire Transfers | $0 |
| Domestic Outgoing Wire Transfer | $10 (if account balance < $25,000) |
How to Compare Other Savings Products
With so many different types of savings accounts on the market, you might wonder which one is right for you.
If you're looking to earn a higher interest rate and increase your savings faster, a money market account might be a no-brainer.
Even so, make sure you research all options available to you. This ensures you get exactly what you're looking for from a bank and a savings account.
A big mistake is thinking that all money market accounts are the same, or that it doesn't matter which one you select.
Interest rate
The rate that you're able to build up your account depends on specific account details — details that you shouldn't overlook.
Comparing interest rates is a good starting point when shopping for an account. The higher the rate the better.
Also, you should look for money market accounts with daily compounded interest.
Or at the very least, monthly compounded interest to help maximize your savings.
Fees
The more freebies the account offers the better, too. So it's just as important to find an account that doesn't charge a monthly maintenance fee.
Or if it does, make sure the account offers a way to waive these fees so you don't lose some of your earnings.
And of course, it never hurts to locate a money market account that lets you get started with the least amount of cash out-of-pocket.
Money market accounts vary. If you look around, you'll find that some accounts require a minimum opening deposit of $250, $500, and even $1000. These amounts might be more than you can afford at this time.
Final Verdict: Is This Account Right for You?
The bottom line is that a CIT Bank Money Market Account is a great account for earning a higher interest rate and getting started with a low opening deposit.
It comes with several impressive features if you're looking to earn more and spend less.
What's more, the bank's interest rates are among some of the highest for money market accounts.
This account is ideal if you're committed to putting money in your savings account and not touching your balance.
If you can't commit to leaving your money untouched and feel that you'll dip into the account several times throughout the month, you might be better off skipping the money market account and keeping your money in a checking account.
This way, you can make unlimited transfers and withdrawals from the account anytime.
Or you might keep your money in a local savings account, instead. This gives you the ability to make as many in-branch and ATM withdrawals without penalty.