First Citizens Bank Savings Account 2023 Review
Learn about the basic savings account offered by First Citizens Bank and compare its rates, fees, and features to other competing savings accounts.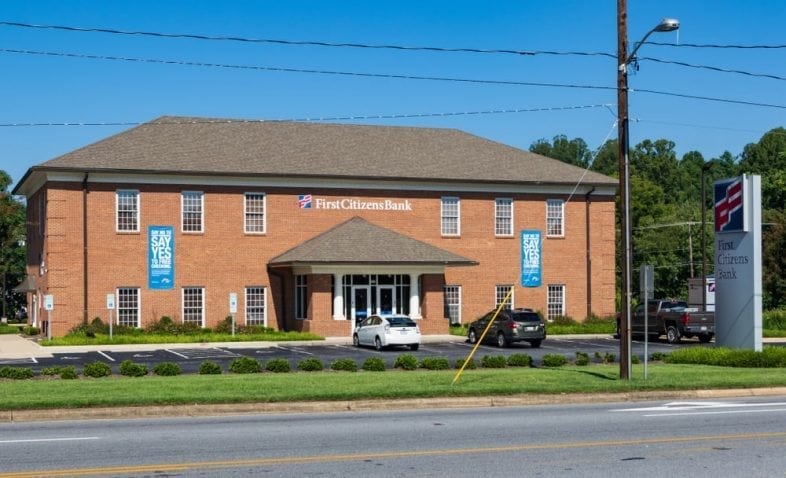 You want a safe place to put your money. A savings account fits the bill.
If you're located in the Southeast, you're likely to come across First Citizens Bank as an option.
The bank offers an online savings account (called the e.savings account) that doesn't have any monthly fee.
To stand out:
It offers an interest rate that will beat the savings rates offered by most big banks.
But, before you open this account, it is still a smart move to learn all about its fees and features and compare the account to savings accounts from other banks.
In this First Citizens Bank Savings Account review, we'll compare rates, fees and services to other national and online banks.
First Citizens Bank e.savings Account Pros & Cons
Compare Savings Options
Be sure to check out more savings accounts worth considering:
Competitive Rates for a Brick and Mortar Bank
The First Citizens e.Savings Account is a good place to keep your money if you want to keep it safe.
Like most U.S. banks, First Citizens Bank is covered by insurance from the Federal Deposit Insurance Corporation Protection from the FDIC makes a bank as safe as it can possibly be.
The FDIC protects up to $250,000 per account ownership type, per depositor at covered banks, even online banks.
What that means is that if you deposit money to your First Citizens Bank e.Savings Account and First Citizens Bank shuts down, the FDIC will reimburse you for lost money, up to $250,000. So long as you don't let your account balance exceed $250,000, you'll never lose money that you've deposited.
Note that this insurance limit is based on the account type and the bank. If you need even more insurance, you'll have to open accounts at a different bank.
The other benefit of savings accounts is that they pay interest. The more money you deposit, the more interest you'll receive. This helps your account balance grow over time.
Look:
Though the First Citizens Bank e.savings account is an online savings account, its rates are more similar to a brick and mortar bank account.
Online savings accounts typically offer much higher rates, but you'll have to go to a fully online bank to get the best rate available.
Keep in mind that the interest rate that you earn also plays a role in the safety of your money.
Inflation slowly reduces the purchasing power of your savings, and interest can help to fight that effect.
Inflation causes money to become less valuable over time. That's why you've heard stories of your grandparents buying a loaf of bread for a nickel when it now costs more than a dollar.
Like interest, inflation is expressed as a percentage. If something costs $1 and the inflation rate is 4%, it will cost $1.04 one year from now.
Ideally, you want the interest rate you earn to be greater than or equal to the rate of inflation.
In that scenario, your savings account will maintain or increase in value over time. If the interest rate paid on the account is lower than the inflation rate, your savings are actually losing value as time goes on.
No Monthly Fee
The First Citizens Bank e.Savings Account charges no monthly fees.
You don't have to worry about paying if your account balance drops too low or if you can't meet certain requirements.
That, combined with the low $25 minimum deposit, makes it easy to get started with saving.
Other Fees
Monthly fees are the most common type of savings account fee, but they aren't the only fees that you might face.
Though most of these fees are uncommon, it's good to be familiar with the fees that you might be charged.
First Citizens Bank e.savings Account Fees
| Type of Fee | Fee |
| --- | --- |
| Monthly Maintenance | $0 |
| Withdrawals (after the 2nd/month) | $3 |
| Excess Withdrawal (after the 6th/month) | $15 |
| Stop Payment Fee | $35 |
| Returned Item Fee | $12 |
| Domestic Incoming Wire Transfers | $16 |
| Domestic Outgoing Wire Transfer | $30 |
Get an ATM Card to Make Deposits
One of the biggest downsides of an online savings account is that most don't offer any way to deposit cash.
Usually, you'd have to open an account at another bank, deposit the cash there, and then transfer it to your savings account.
First Citizens Bank leverages its national ATM network by allowing you to make cash deposits at any of its ATMs. You can request a free ATM card when you open an account.
Then, just find the nearest ATM and deposit cash. It will become available in your account within a few business days.
How It Compares
If you're looking to open a new savings account, it's easy to get overwhelmed by the number of options available to you.
Though it might be overwhelming, it's worth taking the time to look into all of the options.
If you find the right account, you'll have a much easier time when it comes to saving money and avoiding fees.
In fact:
When you compare savings accounts, the first thing you should look at is the accounts' fee structures.
You should never pay a bank account fee if you can avoid it.
Choose a savings account that doesn't charge any monthly fees.
Many online banks are a great option for this. If you do have to choose an account that carries fees, make sure you can easily meet the fee waiver requirements.
Once you've found a few fee-free savings accounts, compare their interest rates. You want to choose the account that offers the highest rate.
Settling for a lower interest rate is like giving up free money. The inflation-fighting effects of the interest you receive make getting a good rate doubly important.
Finally, consider the special features that each account offers. Some savings accounts, like the First Citizens Bank e.Savings Account gives you the option to make deposits at ATMs. Others might give you discounts, rewards of meeting savings goals, or financial management software.
Regardless of the specific features, you need to think about the value of those features to you. Some people will find overdraft protection very valuable.
People who never overdraft their checking account probably don't care about whether that feature is available or not. Account features are the most subjective thing to compare, but they can make what seems like an average account into the perfect account for you.
Other First Citizens Bank savings options
First Citizens bank offers just one other savings account option.
First Citizens Bank Regular Savings Account
The First Citizens Bank Regular Savings Account is the bank's in-branch savings account options. It offers a low minimum deposit and easy access to your money with low monthly fees.
The account charges a $5 monthly maintenance fee.
You can avoid the fee by maintaining a $300 minimum daily balance. This is higher than the $100 minimum opening deposit.
You should try to build up a $300 deposit before opening the account so that you can avoid the fee from the get-go. You can also have the fee waived if you are under the age of 18.
Like the e.Savings account, you may make two free withdrawals each statement. There is a $3 fee for the third through sixth withdrawal and a $15 fee for each withdrawal after that. You can avoid the fee on the third through sixth withdrawal by maintaining a $2,500 minimum balance.
You can easily make withdrawals and deposits from any First Citizens Bank ATMs. The bank also offers the essential online and mobile banking services you've come to expect.
The Final Verdict
The First Citizens Bank e.Savings Account is an online savings account without the benefits of working with an online bank.
It doesn't pay a lot of interest, which is the main draw of online savings accounts.
The option to deposit cash is useful, but if you don't find yourself needing to deposit cash regularly, you'll be better off with a true online savings account.