UmbrellaBank Statement Savings Account 2023 Review
Learn about the interest rates and fees on the UmbrellaBank Statement Savings accounts and see how it compares to the top online savings accounts.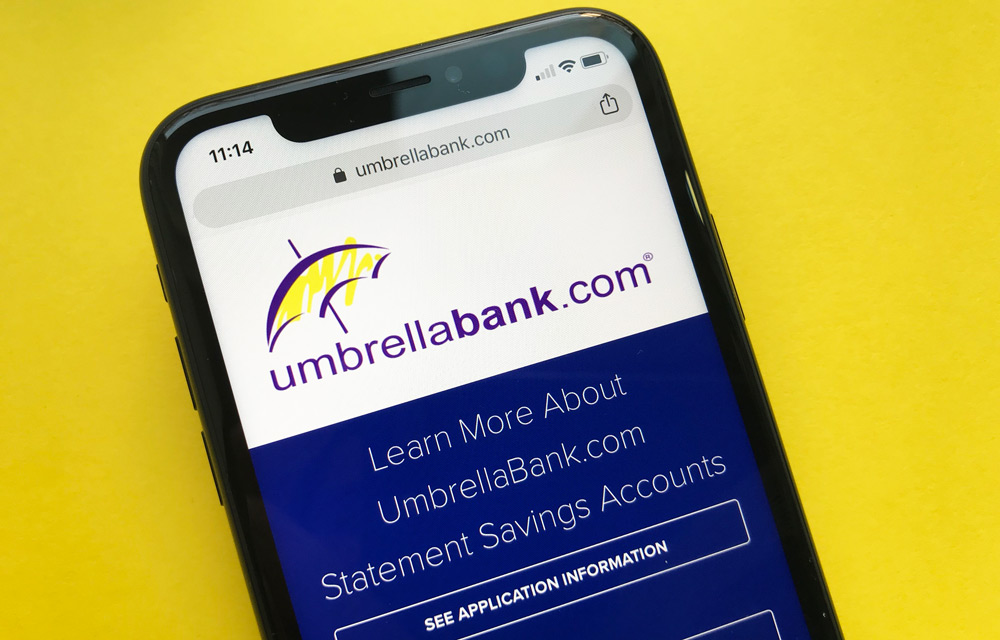 UmbrellaBank Statement Savings
UmbrellaBank is an online bank that offers a variety of options that let you grow your savings over the long term.
One of the services that UmbrellaBank offers is the UmbrellaBank Statement Savings Account.
This savings account gives you easy access to your cash while still offering some return.
If you're looking for a savings account, in this review learn everything you need to know about the UmbrellaBank Statement Savings Account and compare it to some of the top savings accounts.
UmbrellaBank Statement Savings Account Pros & Cons
Compare Savings Options
Be sure to check out more savings accounts worth considering:
Earn a Below Average Interest Rate for an Online Bank
Savings accounts fulfill two distinct needs for consumers.
The first is the need for a safe place to store extra money. Keeping all of your cash on you or stashed around your home can be dangerous.
Savings accounts let you keep your money in a single secure location to keep it safe and make it easier to get to.
Though some consumers might have concerns about online banks, UmbrellaBank keeps your savings very safe.
UmbrellaBank is insured by the Federal Deposit Insurance Corporation, which guarantees that you won't lose your money.
The FDIC gives consumers confidence in the banking system and preventing bank runs that cause banks to go bankrupt.
All accounts at FDIC insured banks are insured up to a limit of $250,000 per account type per depositor.
If the bank is unable to return the money you deposited, no matter the reason, the FDIC will reimburse you. Even if the bank runs out of money and closes, you'll get your deposits back.
So long as you don't let your savings account balance exceed $250,000, you cannot lose money in a FDIC insured account.
How Inflation Affects the Value of Your Savings
Though the FDIC ensures that you'll get the full dollar amount of your deposits back, they cannot guarantee that those dollars will be worth the same amount.
That's because inflation causes money to lose value over time. If you've ever heard someone talk about how a loaf of bread used to cost a nickel, you have inflation to thank.
Inflation is expressed as a percentage rate per year. So, if the inflation rate for the year is 3%, that means that if you had one dollar on January 1st, that dollar is worth just 97 cents on December 31st.
Put another way, something that cost one dollar at the start of the year will cost $1.03 at the end of the year.
With such a small effect each year, it can be hard to understand how inflation can cause the value of your savings to decrease. Over time, however, inflation can have a major effect on the value of your money.
If inflation is steady at 3% for ten years, something that used to cost $1 will now cost $1.34.
If inflation is 3% per year for twenty years, that same $1 product will cost $1.81. That's almost twice as much.
High savings rates to help combat inflation
If you want the money in your savings account to maintain its value, the interest you earn is essential.
The interest rate must be equal to the inflation rate for your account's value to remain the same, even if the balance appears to be growing.
Inflation is complicated and can be difficult to understand, so these rules of thumb are good to remember.
For your savings to keep up within inflation, you must earn an interest rate greater than the inflation rate
If your account's interest rate is less than the inflation rate, your savings lose buying power
Why Banks Pay Interest and How the Rate is Determined
Why do banks pay interest? Besides the fact that banks use their interest rates to attract customers, it's because your deposits are actually loans to the bank.
When you deposit money in a savings account, the bank takes that money and combines it with deposits from other account holders.
The bank uses that pool of money to extend loans, like mortgages or credit cards to its other customers.
The bank charges interest on those loans and passes some of that interest on to you.
The difference in the interest the bank charges and the interest the bank pays to accountholders is used to pay for the bank's operating costs.
Banks that can afford to offer better rates
Online banks like Umbrella Bank have an advantage when it comes to costs.
Because they don't need to pay for land or employees to staff physical branches of the bank, they cost less to run.
That allows them to pay much better interest rates than physical banks. Often, the rates can be 100 times the rates offered by physical banks or more.
UmbrellaBank's Statement Savings Account does offer an interest rate that exceeds the rates offered by physical banks.
However, the rate is far below the rates offered by most online banks. You're very unlikely to beat inflation with the interest you can earn from the account.
Maintenance Fees and Minimums
UmbrellaBank requires a slightly high minimum deposit to open the account. You'll need $500 for your first deposit. Afterwards, you can make deposits in whatever amount you'd like.
If you keep your account balance above $500, you won't have to worry about paying a maintenance fee.
If your account's balance ever drops below $500, you'll be assessed a $3 fee at the end of the quarter.
To avoid paying the fee twice, make sure you get your balance above $500 before the next quarter starts.
Another thing to note is that you will stop earning interest on your balance if it drops below $500. That makes it doubly important to maintain a balance of at least $500.
Other Fees
Beyond the maintenance fee, there are a few other fees to watch out for.
One fee is the excess transaction fee, which will be assessed on any withdrawal you make after the ninth each quarter.
The fee is only $1, but if you expect to withdraw from the account regularly, it's good to be aware of it.
The other fee to pay attention to it's the account closure fee. If you close the account within six months of opening, you'll pay a $15 fee.
UmbrellaBank Statement Savings Account Fees
| Type | Fee |
| --- | --- |
| Monthly Maintenance Fee | $0 |
| Excess pre-authorized withdrawals, transfers or checks | $1 each after the 9th withdrawal per quarter |
| Statements with check copies &/or deposit slips only | $3/Statement |
| Incoming wire transfer (domestic) | $0 |
| Outgoing wire transfer (domestic) | $15 |
| Stop Payment Fee | $25 |
Manage Your Account with Ease Using UmbrellaBank's Online Portal
One of the main concerns people have with online banks is how they'll be able to manage their account.
UmbrellaBank's website offers all the features and services you need to be able to get the most out of your Statement Savings Account.
From your account portal, you can check your balance, make deposits, and set up transfers.
You can also see the account's activity, so you can see how well you've been saving or check to see if you've paid any fees.
A Great Customer Service Experience
To further allay the fears people have about online banks, UmbrellaBank has focused on providing a great customer service experience.
If you have any issues or questions about your account, you can contact UmbrellaBank.
Customer service representatives are available by phone, e-mail, or physical mail so you can get in touch in the way that you prefer.
If you want to speak to a customer service representative, you can reach one by phone between 7 AM and 6 PM Central time.
In addition to providing assistance with account issues, they can also help you make transactions with the account.
How Does It Compare?
The savings account is the second most common bank account in the United States. That means there is no end of options available to you, so you should make sure you find the right account for your needs.
Each account offers a different combination of fees, interest, and special features, so it can take time to find the right one.
When you're looking for a bank account, don't just go to the local branch of a national chain. Consider an online bank, like UmbrellaBank. Online banks tend to offer better rates and lower fees.
Other important factors to look at when comparing accounts are:
ATM access
Sign-up bonuses
Quality of customer service
Online and mobile banking options
The Final Verdict
In the end, the UmbrellaBank Statement Savings account does not do enough to differentiate itself from other online savings account.
It's high minimum deposit and paltry interest rate make it an inferior choice to other online banks' offerings.
Another strike is that UmbrellaBank offers exclusively savings options, like CDs and money market accounts.
That means that you cannot use UmbrellaBank as your only banking institution.
If you're looking to move your finances to one online bank, consider one that offers a full range of services.