Zions Bank Savings Account 2023 Review: Should You Open?
Find out whether the savings account from Zions Bank is a good option for your financial goals. Compare it to the top savings accounts from other banks.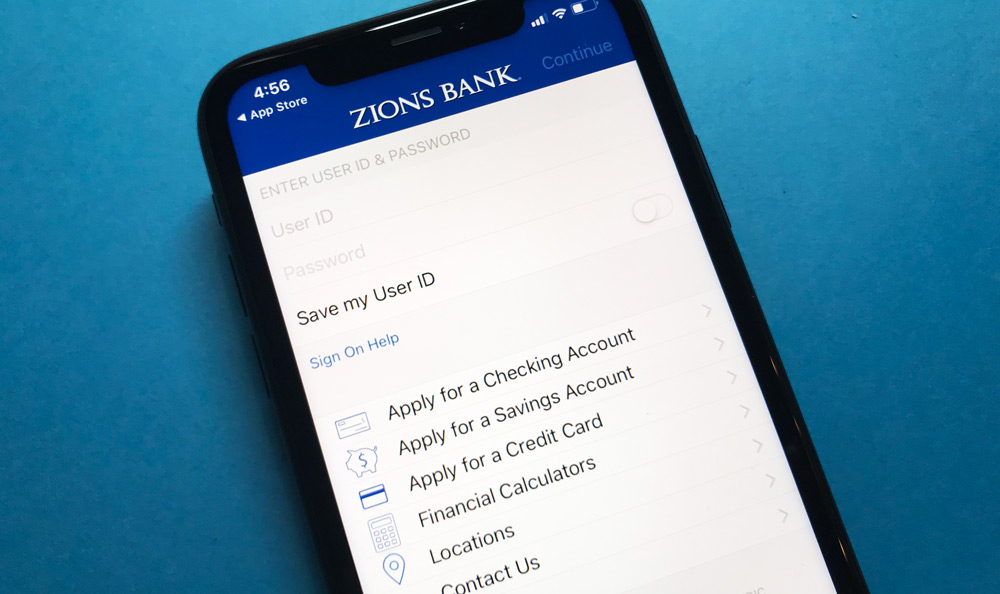 Zions Bank iPhone App
Zions Bank, headquartered in Salt Lake City, Utah, offers a variety of financial services to customers in the Midwest. One of its most banking services is the savings account.
It's easy to see why savings accounts are so popular. They offer a place to safely store extra money while helping that money to grow through interest payments. Nearly every bank in the US offers one or more types of savings account, each with its own features.
This wide variety of available accounts means that you have a lot of options to choose from if you're looking to open a savings account.
As the Zions Bank basic savings account, the Zions Bank Savings Account offers the bottom tier option that you need for your savings. This review goes over the key details of this account
Compare Savings Options
Be sure to check out more savings accounts worth considering:
Underwhelming Savings Rates
When you're looking to open a savings account, you're generally doing so for one or two reasons: keeping your money safe and helping your savings to grow.
The Zions Bank Savings Account is a place to keep your money safe.
Like most American banks, Zions Bank is insured by the Federal Deposit Insurance Corporation. This FDIC insurance makes a bank as safe as it can possibly be.
The FDIC was formed after the Great Depression. Its goal was to restore consumer confidence in banks and to help prevent a similar event from happening. It accomplished this task by giving free insurance to depositors at American banks.
Today, the FDIC continues to offer insurance, protecting up to $250,000 per depositor, per account type at a bank.
If you make a deposit to an insured bank, like Zions Bank, and that bank later closes without returning your money, the FDIC will reimburse you for the money lost, up to $250,000. So long as your account balance does not exceed that amount, you cannot lose money that you've deposited.
Note that this insurance limit is based on the account type and the bank. You can get another $250,000 in insurance through a Zions Bank Checking Account or Zions Bank Money Market Account. If you need even more insurance, you'll have to open accounts at a different bank.
Another major benefit of savings account is that they pay interest on the money you deposit. This helps your savings account's balance grow over time.
The rate that Zions Bank offers is nothing to write home about. It's in-line with most other brick and mortar banks' rates. However, it falls well short of the rates offered by online banks. If you want to get the best rate available, you'll need to open an online savings account.
Don't forget that the interest rate that your savings account pays is an important piece of keeping your money, or at least its spending power, safe.
Over time, inflation causes money to become less valuable. If you've noticed products increasing in price, or the price staying the same but packages getting smaller, you've seen the effects of inflation in your own life.
Like interest, inflation is expressed as a percentage. If something costs $1 and the inflation rate is 2%, it will cost $1.02 one year from now.
Ideally, you want the interest rate you earn to be greater than or equal to the rate of inflation. In that scenario, your savings account will maintain or increase in value over time. If the interest rate paid on the account is lower than the inflation rate, your savings are actually losing value as time goes on.
Two Ways to Avoid the Monthly Fee
Many banks now charge monthly fees to customers who have even the most basic checking and savings accounts.
The banks charge the fees for a couple of reasons.
The most obvious is that the banks make money by charging monthly fees. Managing your bank account isn't free for the bank.
They have to pay the employees you interact with and cover maintenance costs for the systems that are used to track your account and balances.
Fees also make it easier for banks to influence their customer's behavior.
Banks want you to do all of your banking and borrowing in the same place.
By offering to waive monthly fees with large balances or having other, linked accounts at the bank, they can make it more likely that you'll give them more business.
The Zions Bank Savings Account charges a $3 monthly fee. There are two ways to avoid this fee:
Maintain a $200 minimum daily balance
Make a transfer of at least $25 from a Zions Bank checking account
Other Fees
Monthly fees are the most common type of savings account fee, but they aren't the only fees that you might face. Though most of these fees are uncommon, it's good to be familiar with the fees that you might be charged.
Zions Bank Savings Account Fees
| Type of Fee | Fee |
| --- | --- |
| Monthly Maintenance | $3 |
| Excess Withdrawal | $5 |
| Overdraft Fee | $32 |
| Stop Payment Fee | $25 |
| Returned Item Fee | $10 |
| Domestic Incoming Wire Transfers | $15 |
| Domestic Outgoing Wire Transfer | $25 |
How It Compares
When you're in the market to open a new savings account, it's easy to get overwhelmed by the number of options available.
Still:
You should always take the time to compare different accounts to find the right one. Making the right choice will make it much easier for you to save money and avoid fees.
The first thing to do when comparing savings accounts is look at the fee structures.
You never want to pay a fee to give your money to a bank if you can at all avoid it. Many banks offer fee-free savings accounts. Online banks are especially good for this.
If you have to choose an account that charges a monthly fee, make sure you can easily meet the fee-waiver requirements.
After you've found a few fee-free savings accounts to compare, look at their interest rates. The higher the rate, the faster your savings will grow. Settling for a lower interest rate is like passing up on free money.
Finally, consider the special features that each account offers. Some savings accounts offer perks like ATM withdrawals and fee reimbursement.
Others might give you discounts, rewards of meeting savings goals, or financial management software.
Regardless of the specific features, you need to think about the value of those features to you. Some people will find overdraft protection very valuable.
People who never overdraft their checking account probably don't care about whether that feature is available or not. Account features are the most subjective thing to compare, but they can make what seems like an average account into the perfect account for you.
Should You Open a Zions Bank Money Market Account?
If you're looking to open a savings account, you might want to consider opening a money market account instead.
Money market accounts combine many aspects of savings and checking accounts. They make it easier to access your money when you need it while still paying interest. In fact, money market accounts often pay higher rates than savings accounts do.
The downside of this is the fact that most money market accounts have higher minimums and fees than savings accounts do. You're also limited in the number of withdrawals you can make. If you make more than six check transactions or debit card purchases in a statement, you'll incur fees.
If you have enough money to commit, Zions Bank does offer a money market account. You'll need a $500 minimum deposit to open the account. However, once the account is open, there is no monthly fee. You don't have to maintain any minimum balance or jump through any hoops.
The account does offer a better rate than the Zions Bank Savings Account.
Additionally, you'll earn a higher rate if you can deposit more money.
The different interest rate tiers are:
$1,000 - $4,999.99
$5,000 - $24,999.99
$25,000 - $99,999.99
$100,000 - $249,999.99
$250,000+
Some tiers share the same rate, but as you reach higher balances, your interest earnings will increase.
The Final Verdict
The Zions Bank Savings Account isn't a bad choice due to its easy to avoid fee. Still, there are better options out there.
Most people would be better off with an online savings account.
Online banks tend to charge low or no fees and they offer much higher interest rates.
That's very important for savings accounts given that growing your savings is such a huge part of the reason to open one.