The Best Checking Accounts in South Dakota for 2023
Find out which local South Dakota banks offer the best checking accounts available currently based on account fees and convenience features.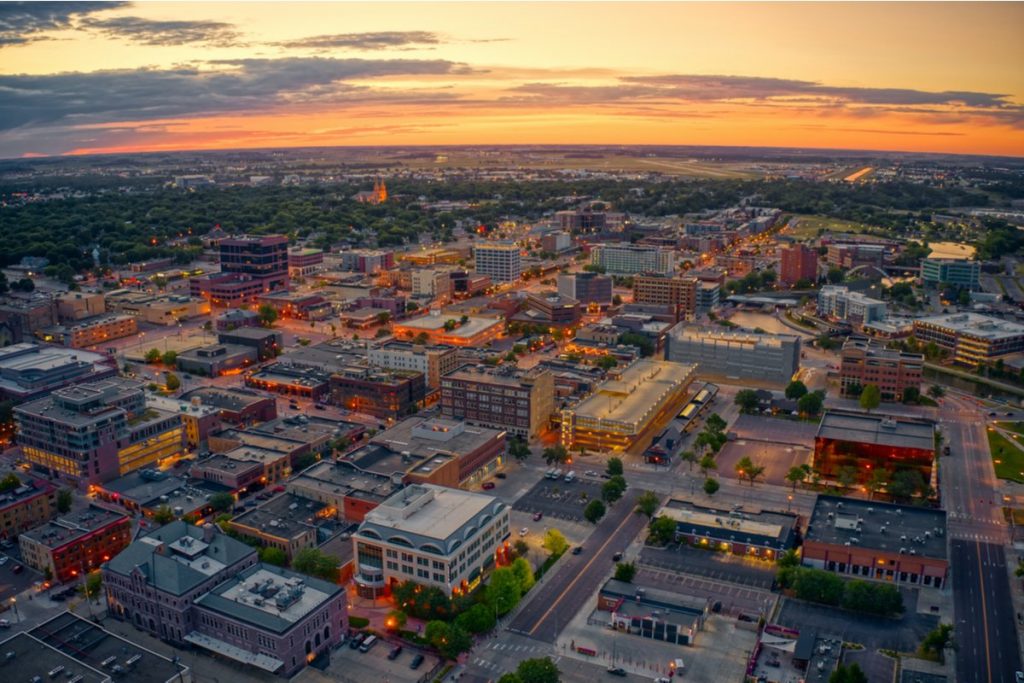 If you have a checking account that charges you monthly maintenance fees, it's time to switch accounts. Even if you aren't charged these fees or don't have a checking account, finding the right checking account can make managing your money much easier.
You likely have many banks to choose from. Each of those banks probably has several checking account options. The issue is taking the time to find the best bank for your personal needs.
To help speed up the process for you, we analyzed South Dakota's checking accounts to find the top five in the state. Here's what you should know.
Compare Checking Account Options
Make sure that you look at other checking accounts that could be better for you:
The Best Checking Accounts of South Dakota
First Premier Bank - FREE+ Checking
First Premier Bank's FREE+ Checking account has no monthly fee and no minimum balance requirement after you submit your initial deposit of at least $50. You can earn interest with this account at a negligible 0.01% on balances of $500 or more.
Once you have an account, you can take advantage of the following features:
Online banking with Bill Pay
Mobile banking with mobile deposit
eStatements
Instant-issue debit card
First Bank & Trust - Free Checking
At First Bank & Trust, you can choose from four checking accounts. We prefer their Free Checking account that has no minimum balance requirement or monthly service charges. It also doesn't pay interest.
You get the following features once you have a Free Checking account:
Debit card
Free ATM withdrawals at MoneyPass ATMs
Digital banking
Mobile deposit
First Dakota National Bank - FREE Checking
First Dakota National Bank's FREE Checking account is our choice out of their four checking account products. The account has no minimum balance requirement and charges no monthly fees. Account holders get:
Debit card
Unlimited check writing
Free First Dakota and MoneyPass network ATM withdrawals
eStatements
Mobile app
Dacotah Bank - Free Checking
Dacotah Bank also offers a checking account called Free Checking, which is our favorite of their five checking accounts. This account doesn't charge a monthly maintenance fee and has no minimum balance requirements.
Once you have a Free Checking account, you get these benefits:
Free CheckCard
Online personal banking
Mobile app
eStatements
Mobile deposits (costs $0.50 per deposit)
12 free online Bill Payments per month
The First National Bank of Sioux Falls - Kasasa Cash Checking
The First National Bank of Sioux Falls offers a reward checking account called Kasasa Cash Checking. This account does not have a monthly maintenance fee or service charges. You need $100 to open an account.
It can reward you with a 2.00% APY on balances up to $10,000 if you meet qualifications. A 0.10% APY also applies to balances over $10,000 if you meet the qualifications. If you don't, you earn 0.01% APY. Up to $20 in ATM withdrawal fees may be reimbursed if you meet qualifications.
To qualify, you must have:
At least one direct deposit, ACH credit, or ACH payment each month
12 debit card purchases post and settle each month
Enrolled in and receive eStatements
Enrolled in and log in to online or mobile banking each month
As an account holder at The First National Bank of Sioux Falls, you should receive the following benefits:
Debit card
Online banking with Bill Pay
Mobile banking with mobile check deposit
How we picked these accounts
We used the FDIC's June 2022 data outlining the top 50 banks in South Dakota by deposit market share -- with coverage of major cities including Sioux Falls, Rapid City, Aberdeen, Brookings, and Watertown. Next, we evaluated the checking accounts at these banks to find our top picks.
We focused on finding accounts with low or no monthly maintenance fees, ways to waive monthly maintenance fees if they exist, each bank's ATM network, and other convenience features that come with the accounts.
Big Banks vs. Online Banks
While local banks may fulfill your needs, two other types of banks may work better. Big banks and online banks are huge competitors for the more local banks listed above. Here are the pros and cons of these other banks to help you determine if they may be a good fit for you.
Pros of Big Banks
Many branch locations
One of the most significant benefits of large banks is their vast network of locations. In the areas they service, they likely have several branches. At least one or two should be convenient for your needs.
Several loan and account options
Bigger banks have support from corporate and their large size to provide more niche loan and account options in some circumstances. This could help if you're looking to fill a particular need.
In-person support
If you want to fix issues in person, you may be able to avoid calling a call center with a big bank thanks to their branch locations.
Digital banking
You get access to online and mobile banking with most big banks. Their technology may not have the latest features, but it should get the job done.
Cons of Big Banks
Fee schedule
To cover the high costs of a branch network, big banks often charge more fees at higher prices overall. This may not always be the case, so check the fee schedule.
Poor interest rates, if they exist
Checking accounts at these banks typically offer no interest at all. Rates are close to zero in most cases if a big bank does offer interest on their checking account.
Difficult fee waivers
You may technically have the ability to waive fees on some accounts, but it often comes with a significant requirement. You may need to keep thousands of dollars in an account to waive the fee.
Bureaucracy
As organizations grow in size, so does the bureaucracy. This may slow down some decisions as they pass through multiple processes or levels of management.
Positives of Online Banks
Less onerous fee schedule
Expect fewer fees with lower costs. This works for online banks because they don't have to pay for expensive branch locations.
Better interest rates
You can usually expect interest rates several times the national average at online banks.
Superior technology
Online banks know you primarily interact with them through technology. They focus on offering top-notch solutions to keep customers happy.
Accessibility
You can bank online from anywhere as long as you have a device connected to the internet.
FDIC insurance
Online banks offer the same FDIC insurance as brick-and-mortar banks, assuming the banks are FDIC members.
Negatives of Online Banks
No branches
Online banks don't have physical branches you can visit to complete transactions in person.
Cash deposits
You can't deposit cash at a branch because they don't exist. Your online bank may offer other options, but they could be more cumbersome.
Internet access required
Most banking is completed through the internet. If you suffer from bad service or a natural disaster knocks out service, accessing your money may be difficult.
Finding Your Perfect Checking Account
Banks know people bank in different ways and have their own priorities. For this reason, they offer several account types.
When looking for your perfect checking account, you should only focus on what's important to you. Here are some ideas to help you figure out your priorities.
Ways to access your money
Accessing your money is key with any checking account. Online banks aren't an option if you want to visit local branches. You'll likely stick with a big or local bank in this case.
However, people who only use ATMs and mobile or online banking may prefer an online bank.
Fees you have to pay
A bank's fee schedule is likely one of your top concerns because it can drain money from your account. You should be able to find a bank that offers a relatively fee-free account for your day-to-day tasks.
You should look at all fees to see which fees you may incur over an average month. For instance, wire transfers usually cost money. Then, you can compare banks and find the one with the lowest monthly cost based on your planned usage.
The interest rate you'll earn
Checking accounts aren't the place people usually store cash to earn interest, but some banks do offer interest on their checking accounts. Big banks and local banks usually offer no interest or rates close to zero.
Online banks may offer much higher rates. Still, it isn't often over 1%. Unless you keep a lot of money in your checking account, the interest you earn may be negligible.
One account type some local banks offer may pay much higher interest rates at or above 1%, though. Rewards checking accounts have several requirements to earn a higher rate on a limited balance. If you don't meet the criteria, you may not earn interest or earn a very low rate. Amounts over the balance often earn a low rate or no interest, as well.
Requirements can be cumbersome and you may not always meet them each month. You typically have to make over ten debit card transactions, have eStatements, and log on to online banking once per month. Other requirements could exist, too.
Other features from the bank
Banks offer several products and services in addition to checking accounts. Ignoring these features would be foolish if you're looking to set up a new banking relationship. If a bank's other products are outstanding, a less-than-perfect checking account may be worth considering.
You may want to look for features such as:
Savings accounts and certificates of deposits with high interest rates
Loans with several options and low interest rates
Investments with low fees and an on-site advisor
Cost and availability of money orders, cashier's checks, and safety deposit boxes
Technology options
Technology makes our lives easier as long as it offers the right features. Before moving forward with a bank, make sure online banking and mobile banking apps provide what you need. This could include free Bill Pay and free mobile check deposit.
You can also view a mobile app's reviews to see if it is hard to use. Reviews may also point out missing features or features that don't work well.
Pick Your Account and Get Started
Once you've determined what's important to you, compare your list of wants to the top checking accounts in South Dakota. After that, you can see how your top choice stacks up against online and big bank checking accounts.
Take action and open a new checking account once you decide on the best checking account for you. This way, you can stop paying unnecessary fees on your old account and start growing your checking account balance.