Capital One MONEY Teen Checking Account 2023 Review
Our review of the Capital One MONEY Teen Checking Account looks at the account fees and features that allow parents to provide their kids with spending power.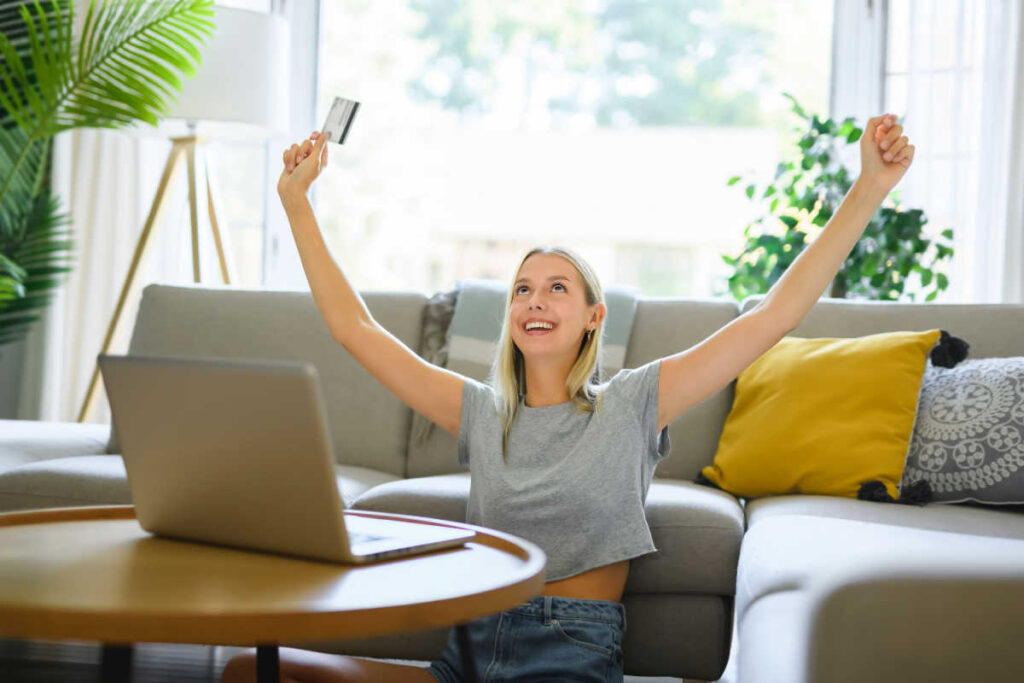 You want to open a bank account for your child? But where do you go?
Traditional banks are one option. But you could opt for an online checking account for kids and teens instead. 
MONEY Teen Checking from Capital One is a fee-free bank account for kids 8 and up that charges no monthly service fees. 
Kids get the independence of being able to spend with a debit card. Meanwhile, you get flexible controls to help you track their spending and saving. 
MONEY Teen Checking isn't the only banking option for teens. But it could be a good fit if you already bank with Capital One or you're looking for a low-cost bank account for kids. 
Read our MONEY Teen Checking review for a closer look at the account's features and benefits. 
Capital One MONEY Teen Checking Account Pros & Cons
Banking for Kids and Teens With No Monthly Fees
If you have a checking account, you know how frustrating monthly fees can be. Every dollar you pay to the bank in fees is a dollar you don't have to save or spend.
The good news is, MONEY Teen Checking is a fee-free checking account. 
Specifically, there are no monthly service fees or monthly maintenance fees. There's also no minimum balance requirement. 
Kids can use this account to:
Spend in stores or online
Make withdrawals at more than 70,000 Capital One ATMs
Send money via Zelle (for kids 13 and older who have parental consent)
Certain transactions are prohibited. For example, teens won't be able to use their debit card to make these kinds of purchases:
Car rentals
Online prescription drug stores
Some online retailers
Drinking establishments, such as bars, taverns or nightclubs
Liquor stores, meaning those whose primary business is selling beer, wine and/or liquor
Cigar stores and stands
Massage parlors
For kids under 18, total card purchases and withdrawals are capped at $500 per day. The daily limit is $5,000 for account owners over 18. 
MONEY Teen Checking accounts are managed through the Capital One mobile app.
You don't need a Capital One bank account to get started with MONEY Teen Checking. These accounts can be established for kids aged 8 to 17. 
Once your child turns 18, they can open a Capital One 360 Checking Account and transfer funds to it. 
Is Capital One FDIC-Insured?
FDIC insurance can protect deposits if a bank fails, including money held in teen bank accounts. 
The FDIC coverage limit is $250,000 per depositor, per account ownership type, per financial institution. Since Capital One is a member-FDIC institution, MONEY Teen Checking accounts are covered.
While it's rare for a bank to fail, it can be reassuring to know that your teen's account is covered in a worst-case scenario.
Access Funds Fee-Free at 70,000+ ATMs
The MONEY Teen Checking account comes with a debit card and teens can use it to withdraw cash.
The daily withdrawal limit is $500 for kids under 18. Kids can use their debit card fee-free at more than 70,000 Capital One and Allpoint ATMs nationwide.
Keep in mind that if your child uses an ATM that doesn't belong to the Capital One or Allpoint network, a foreign ATM surcharge may apply.
Can You Earn Interest With a MONEY Teen Checking Account?
Interest checking accounts can be just as rare as fee-free checking. But the MONEY Teen Checking account does pay interest on balances. 
Teens can earn a decent APY on balances, compared to what you might get with a teen savings account at a brick-and-mortar bank.
If you're opening a checking account for your child to teach them the value of saving, earning interest is a nice added benefit. 
Learn Smart Money Management for Teens
MONEY Teen Checking makes it easy for kids and parents to navigate the basics of money management. 
Kids and teens can use their account to:
Make purchases online or in stores with their debit card
Withdraw cash at ATMs
Manage their money through the Capital One mobile app
Set savings goals and track their progress
Meanwhile, parents can use the Capital One mobile app to monitor their child's account. For example, you can:
Schedule recurring deposits into their account
Track their spending history
Set spending and ATM withdrawal controls
Lock and unlock their debit card
Again, Capital One does block certain types of transactions. But that's designed to keep kids safe and give parents peace of mind. 
The Capital One website also includes a library of personal finance articles. You can use them as conversation starters for talking to kids about budgeting, saving and money management. 
What Fees Will You Pay? 
As mentioned, MONEY Teen Checking has no monthly service fee or maintenance fee. And there are no fees for making withdrawals at Capital One and Allpoint ATMs.
There are a few other fees to know about but these are less common. They include:
$25 fee for expedited card delivery if a debit card needs to be replaced
$10 returned check fee for foreign checks
$10 to purchase a cashier's check at a Capital One location
Other than that, the MONEY Teen Checking Account is fee-friendly for parents and teens.
How Convenient Is the MONEY Teen Checking Account?
The MONEY Teen Checking account and teen debit card make it easy and convenient for teens to spend or withdraw cash. And the Capital One mobile app lets parents and teens keep track of their accounts on the go. 
With the Capital One mobile app, teens can:
Check their balances
Review spending history
Send money through Zelle
Set savings goals
Deposit checks via mobile check deposit
Set up account alerts
They have the option to visit a branch if needed but virtually anything they might need to do can be done online. 
This is a Mastercard debit card so it can be used anywhere Mastercard is accepted. That includes in stores and online shopping. 
If you need help, Capital One customer support is available by phone daily from 8 am to 11 pm EST.
Opening a MONEY Teen Checking Account
If you want to open a MONEY Teen Checking account, you can do it online. In fact, you can only open these accounts online. 
You don't need a Capital One bank account to open a teen checking account. You can link any external account to a MONEY Teen Checking account for deposits and transfers. 
Accounts can be opened for kids 8 and older. Once you open a teen checking account with Capital One, you can transfer money for the initial deposit then set up recurring deposits. 
If your child is 13 or older, you can grant permission to use Zelle when you set up the account. 
MONEY Teen Checking vs. Other Teen Checking Account Options
Finding the right checking account for kids matters. Ideally, you want to choose an account that offers the best combination of convenience, features and cost. 
So is MONEY Teen Checking the best bank account for kids? 
It could be a good choice if you want to give your kids the option to spend with a debit card while still being able to keep an eye on their account activity. And you might prefer it to other teen bank accounts that don't offer interest on deposits or charge high fees. 
Comparing different teen banking options can help. As you shop around for a bank account for kids, here are a few things to consider:
Monthly maintenance fees
Minimum balance requirements
Minimum deposit to open an account
Age restrictions for opening an account
Debit and ATM card availability
ATM locations and fees
Mobile and online banking access
Other fees, such as overdraft or returned item fees
Check-writing limits
Daily or monthly limits on deposits and withdrawals
Daily or monthly spending limits
Whether overdraft protection is available
Whether the account earns interest
Customer service
Extra perks, like ATM fee rebates, debit card rewards or relationship discounts
You may also want to consider how easy it is for kids to convert their account to a regular bank account or college checking once they turn 18. 
And you may want a bank that offers multiple ways to help your kids get ahead financially. For example, that might include opening a kids' savings account or a college savings account. 
You can start with your current bank first to see what kind of banking options exist for kids and teens. From there, you can branch out to look at other traditional banks or online banks. 
Should You Open a MONEY Teen Checking Account? 
MONEY Teen Checking is one of the top-rated bank accounts for kids and teens. But is it right for you?
It could be if you:
Want to choose a teen bank account option with no monthly fees or minimum balance requirements
Are looking for an account that offers an extensive ATM network
Would like a teen banking option that includes parental controls and a user-friendly mobile app
The best way to teach kids about money can be to give them money of their own to manage. A MONEY Teen Checking account can help you get kids familiar with how spending and saving work.